Make Giant Paper Flowers for Summer with this Off-the-Mat Welcome Sign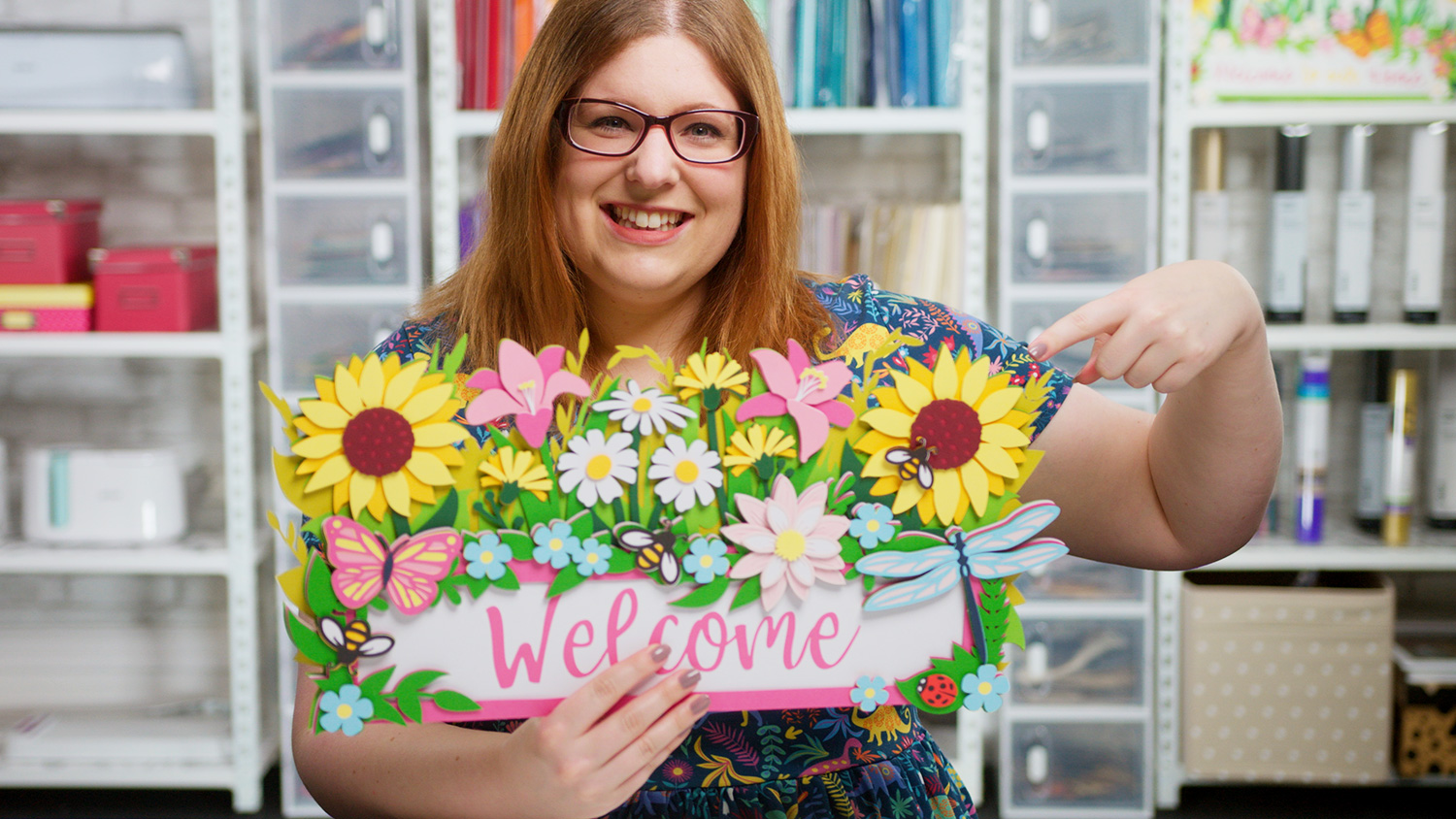 Make giant paper flowers for this DIY summer welcome sign that's bursting with sunflowers, lilies, daisies, bumblebees and butterflies.
The completed sign measures 20 inches wide and 10 inches tall BUT… the cut file comes in sections so it can be cut from regular 12×12, US Letter or A4 paper on your Cricut machine!
This design is part of my Summer Mega Bundle – a huge collection of summer themed cut files for papercrafters.
Or, purchase the giant sign file individually by clicking the button below.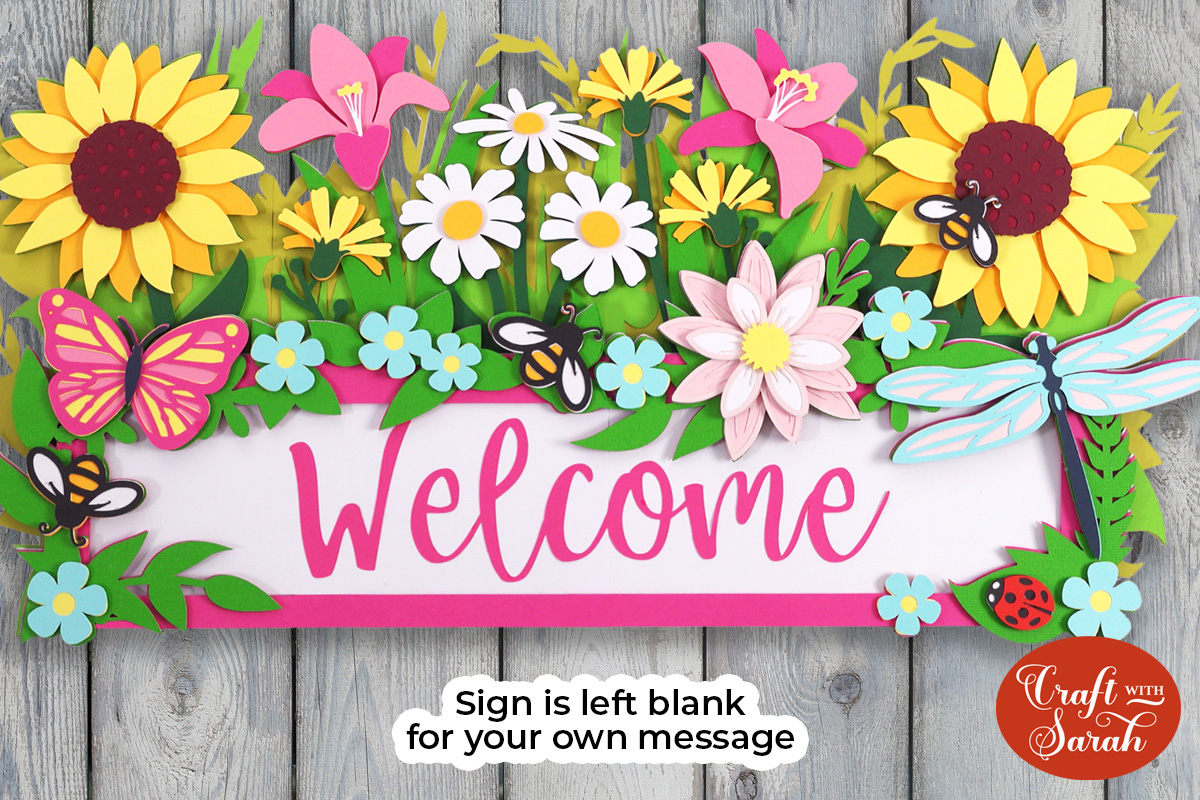 ---
Video tutorial: DIY Summer welcome sign
Watch the video below to find out how to cut and assemble this summer themed papercraft project. Or, keep scrolling for a written tutorial.
Note: This video was recorded with Design Space version 7.10.163. Later versions might look a little different.
---
Layered summer sign craft materials
Here is a list of the materials that I used to make this project.
Please note that some of the links included in this article are affiliate links, which means that if you click through and make a purchase I may receive a commission (at no additional cost to you). You can read my full disclosure at the bottom of the page.
Cricut machine (Explore or Maker models)
Coloured Card (I used 160gsm – 240gsm weight of card)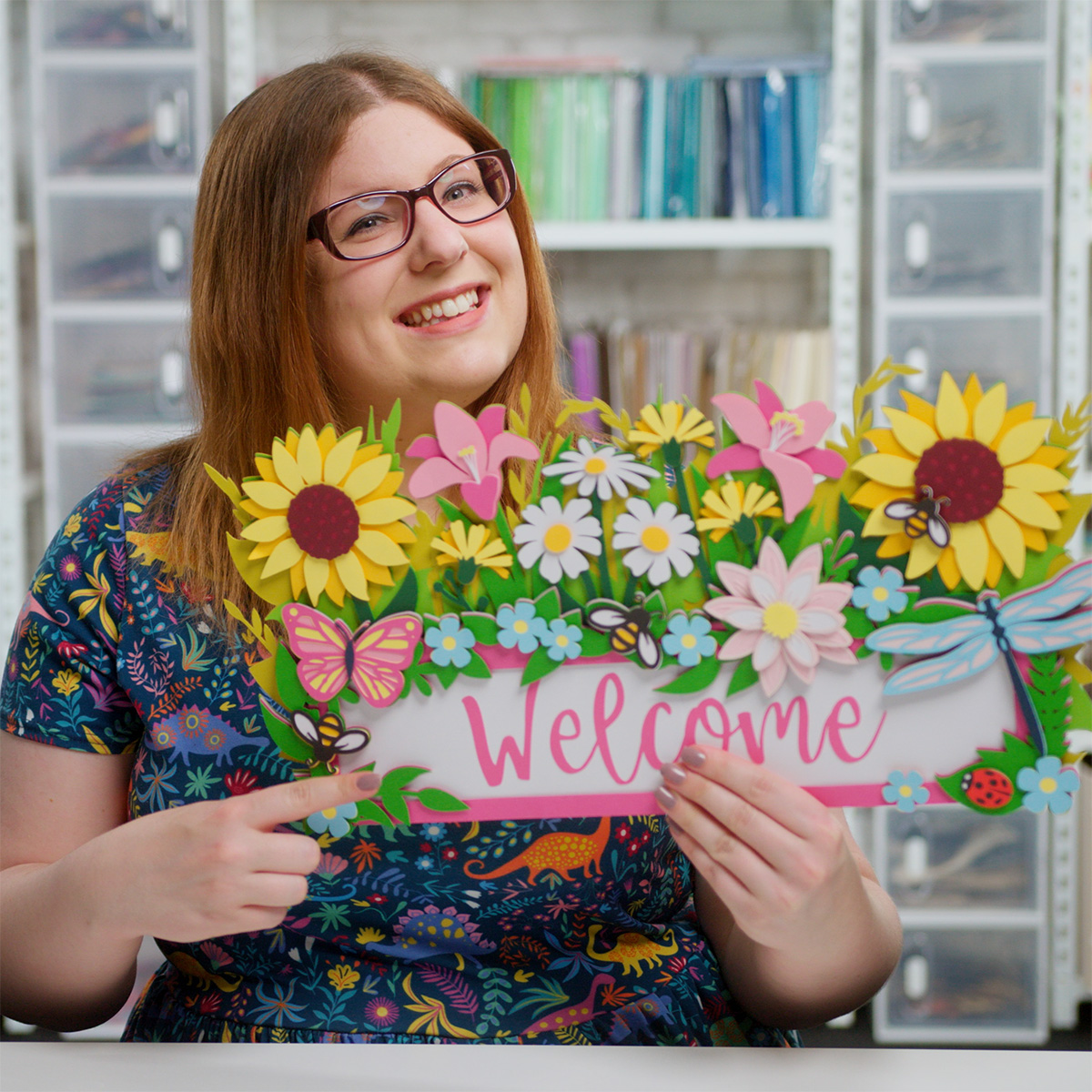 ---
Download the giant sunflowers welcome sign
Please note that this project only comes in SVG format due to the complexity of the design.
This design is available to purchase in my SVG shop.
Before you can use the file, you need to unzip the download folder that it comes in.
IMPORTANT – if you open the SVG file in a program that is NOT Design Space then it might appear "cut off" and you won't see the whole image. Don't worry – when you open it Design Space, it will show correctly.
Upload the file called SVG_Summer_Sign_CraftWithSarah.svg into Cricut Design Space.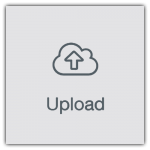 This is how it should look after you have uploaded the file: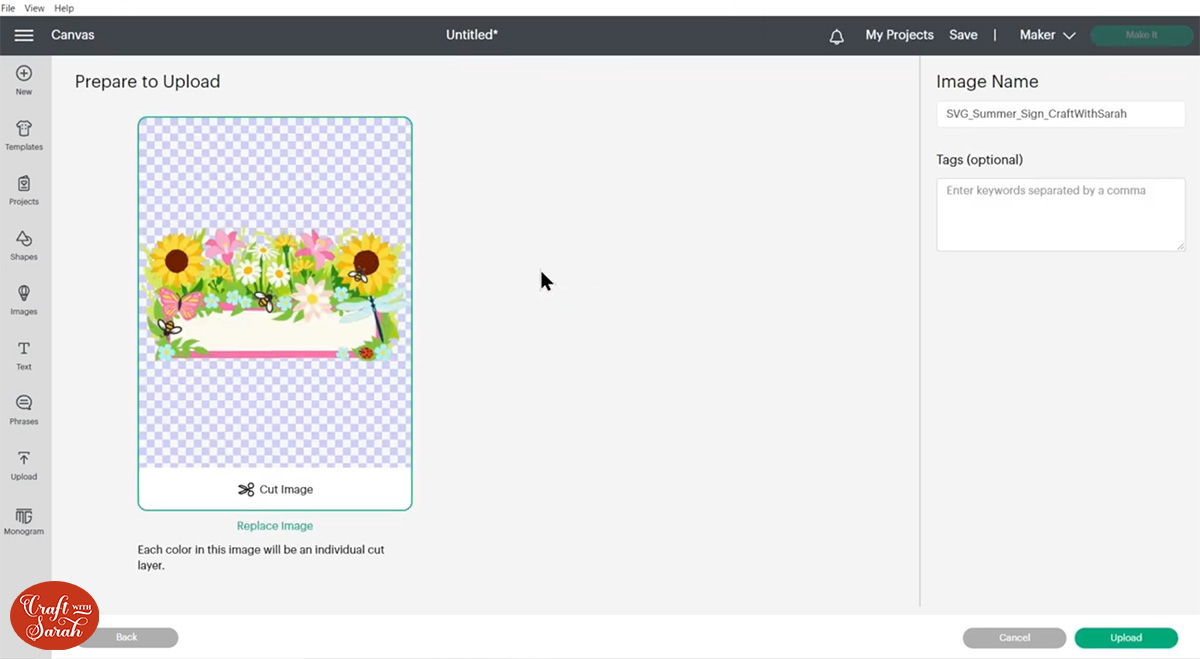 After uploading, the design will show in your "Recently Uploaded Images". Click on it and then press "Add to Canvas" to put it onto your Project.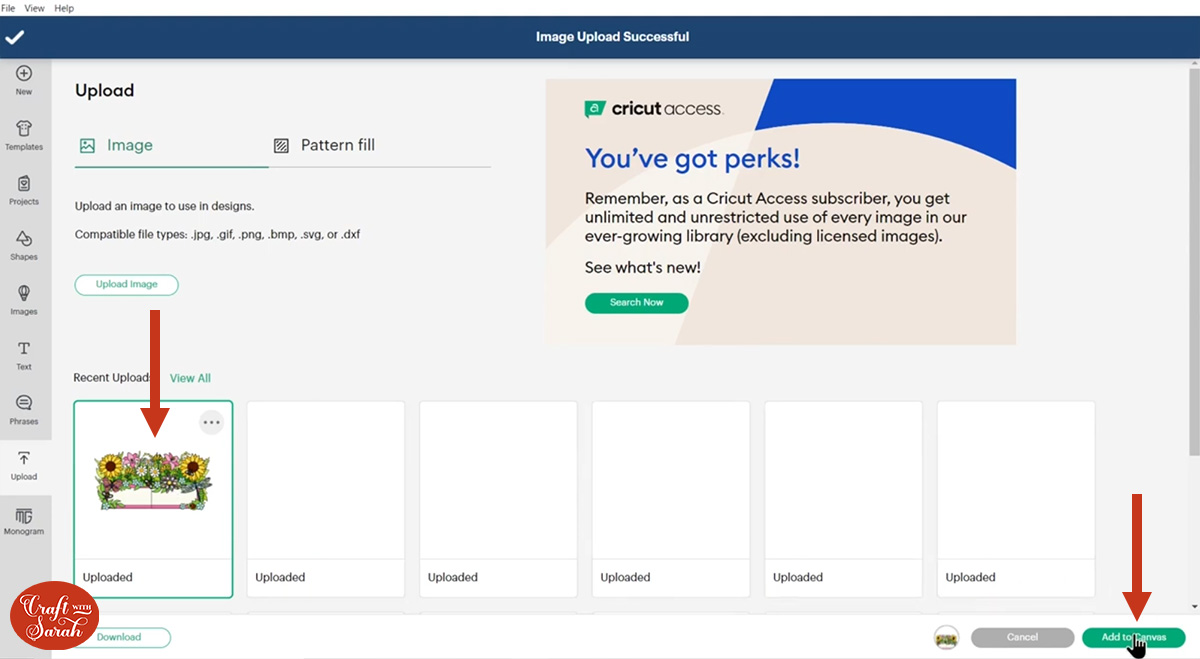 When you insert it onto your Project it will load in big.
It might not open at the correct size, so make sure it's set to 20 inches wide and 10 inches tall.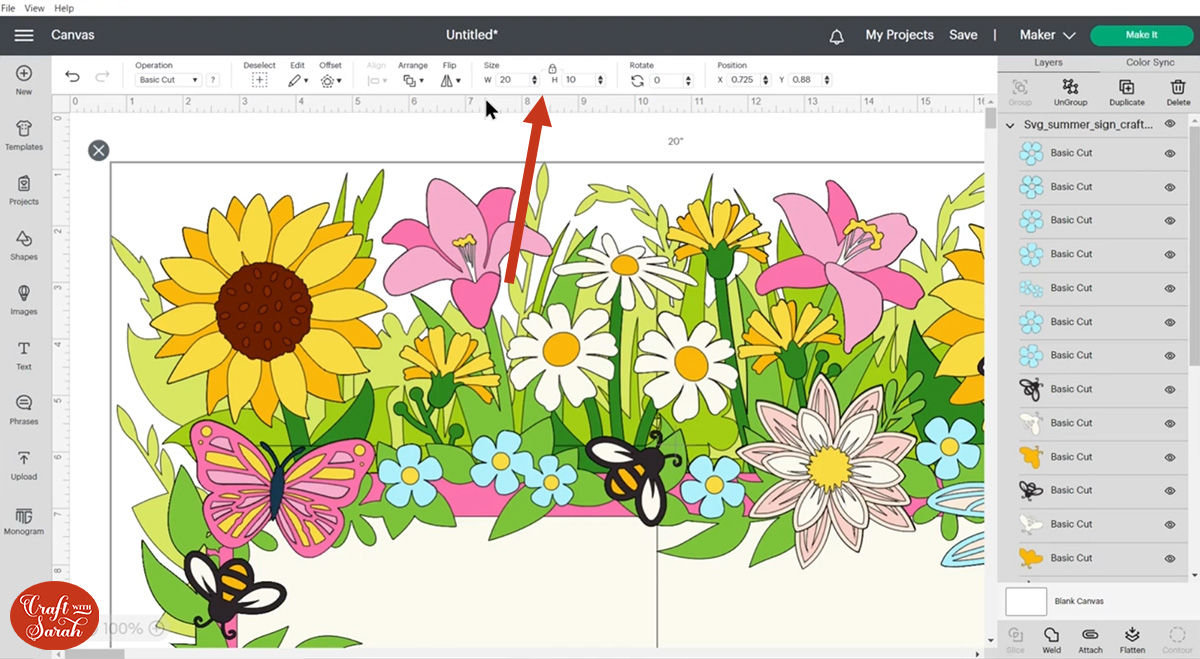 The bottom layers are in sections, so even though it's 20 inches wide you can still cut it from regular US letter, 12×12 or A4 card on a regular sized cutting mat.
---
How to add your own greeting to the DIY summer welcome sign
The photos I've included of my finished sign have the phrase "Welcome" on it, but that isn't included as part of the SVG.
I decided to leave it blank so that you can add your own message. That way, you could add whatever greeting you want, or perhaps personalize the sign by adding your family's surname.
Before we start thinking about cutting out the layers of the sign, we need to add the greeting.
To add a greeting, click "Text" and then type out your words.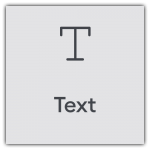 To cut the words on a regular cutting mat and A4/12×12/US Letter paper, you may have to type it so that each word is a separate layer.
Change the font to one that suits the design. I used "Babette" which is a Cricut Access font.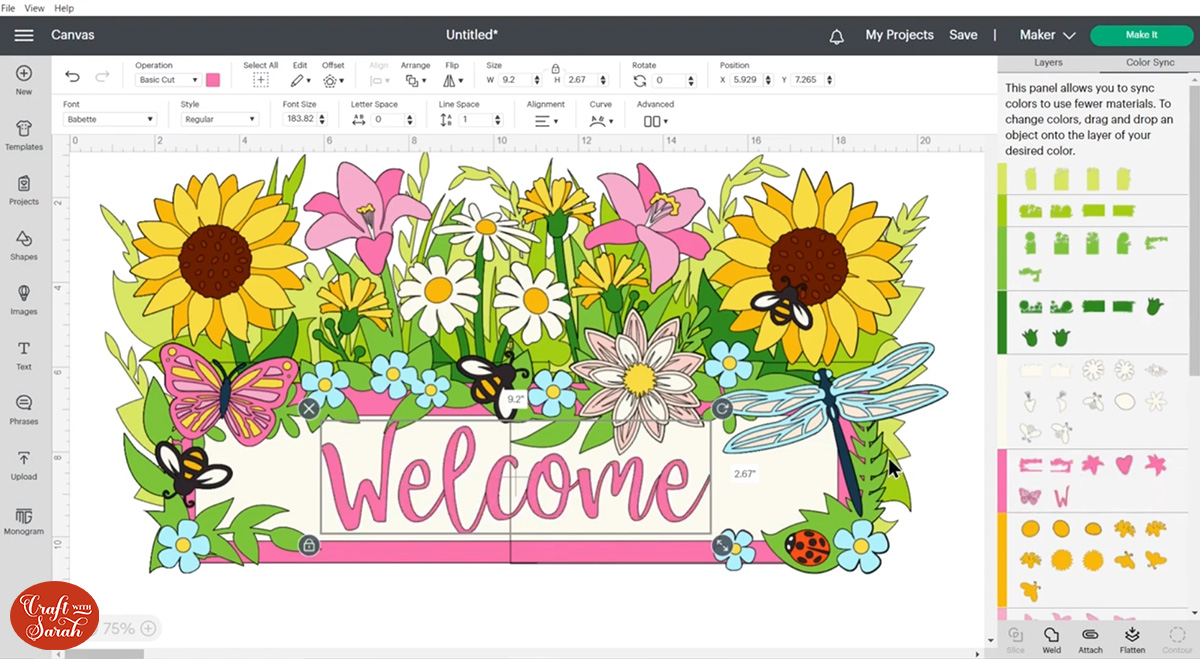 Once you're happy with the greeting, go ahead and cut everything out.
Fair warning, it might take a while! I think it took me about an hour to get all the different pieces cut.
---
Giant floral summer sign SVG: Assembly Guide
The download folder contains an Assembly Guide PDF file. Have this open on your computer or print it out so that you can refer to it when sticking the design together.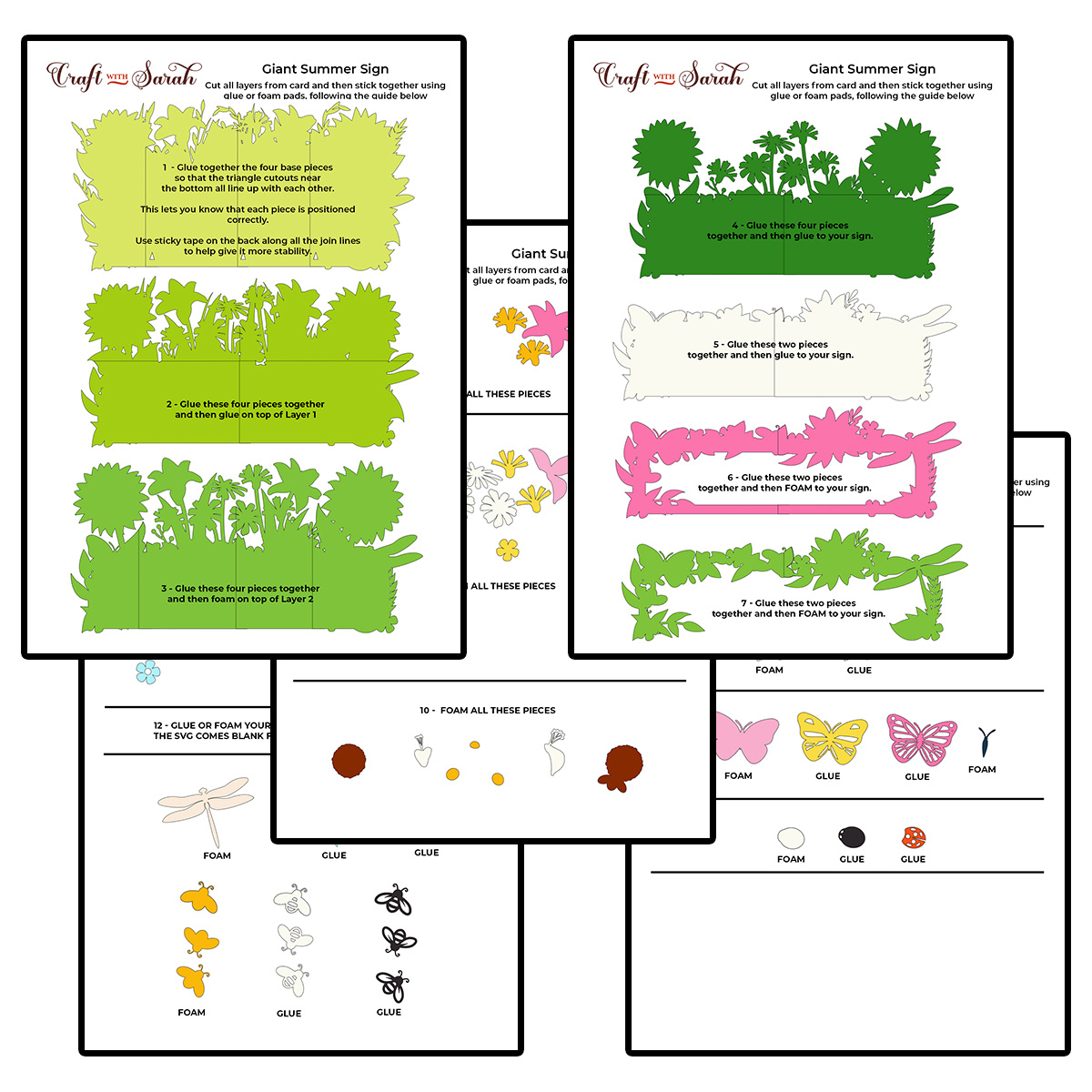 I highly recommend taking the time to position all the layers in the correct order before you start sticking anything together.
Some of the flowers are quite similar in size so you don't want to accidentally stick them in the wrong place!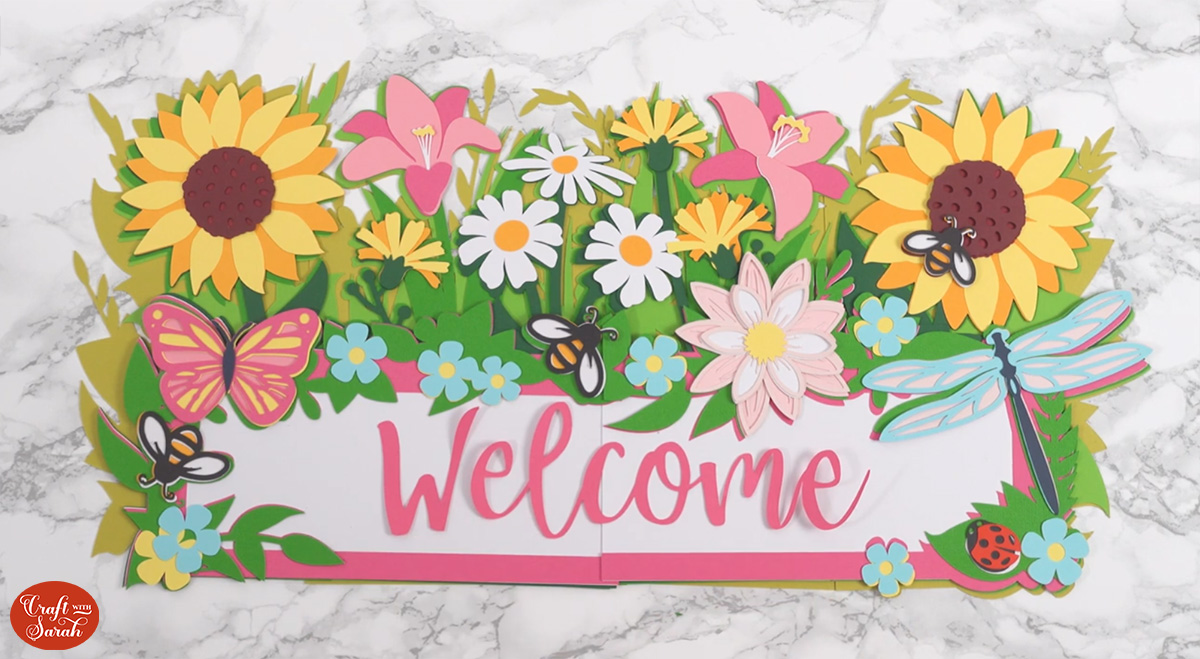 Carefully move the layers away from the base of the sign, keeping the layers for each individual flower together so you don't have to work out the order again later.
Step 1: Stick the base together
Glue the four base piece together. To line them up, place the triangles on top of each other. Each piece will overlap slightly to give a more secure base.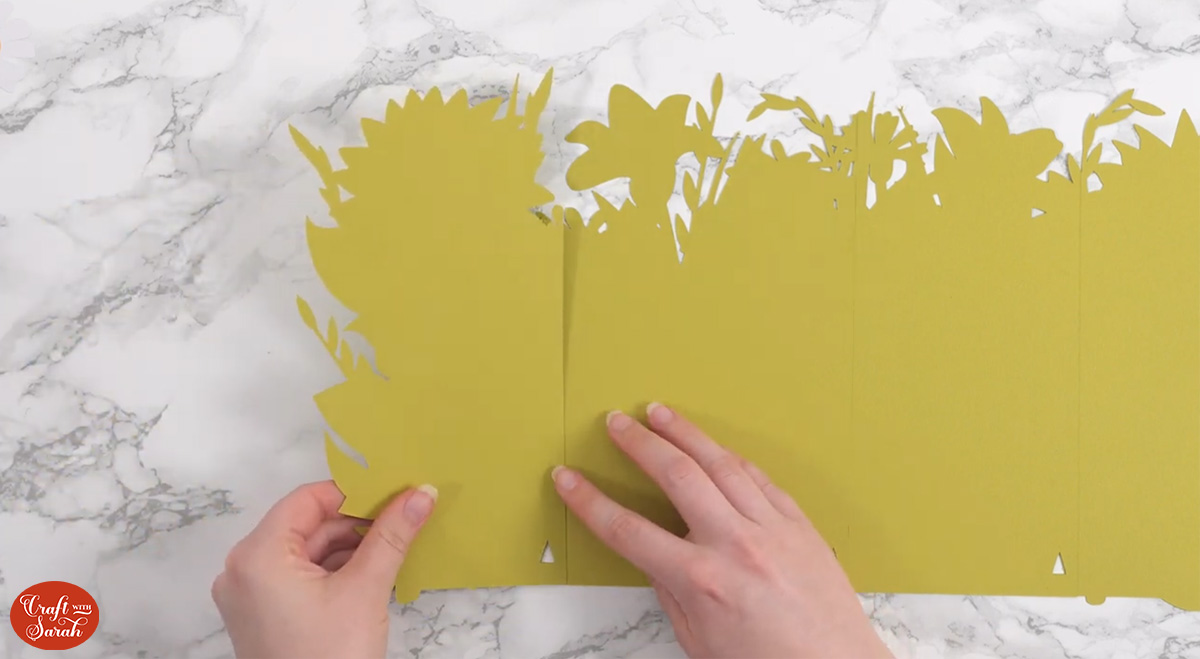 After gluing them together, turn it upside down and add sticky tape down all of the join lines to help make them more stable.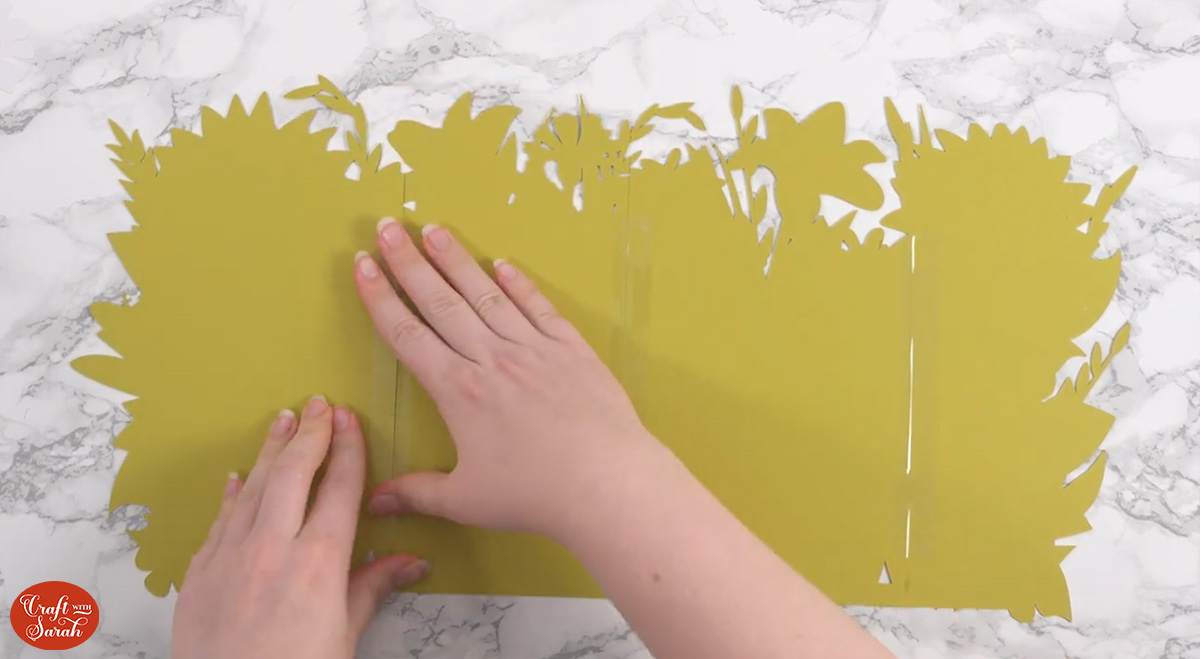 Next, use glue to stick on the four pieces that make up the next layer of green.
Line each of the pieces up using the edges of the base. They will overlap slightly in the middle.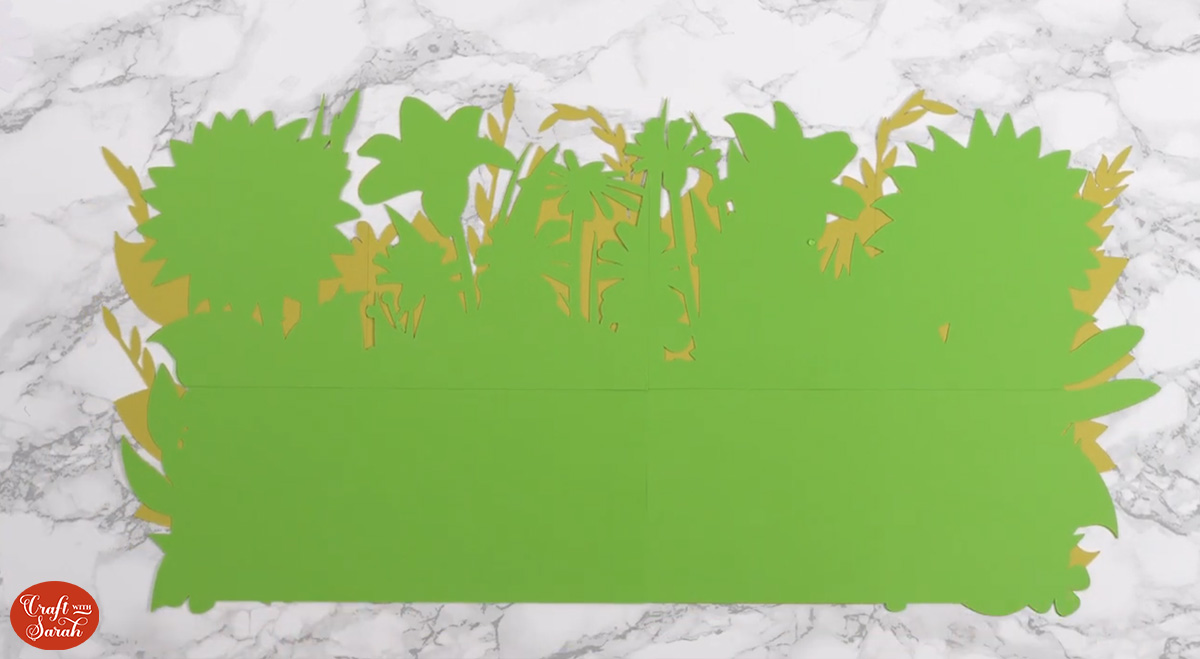 Continue sticking the base layers with either glue or foam squares, following the directions in the Assembly Guide PDF, until you end up with something like this: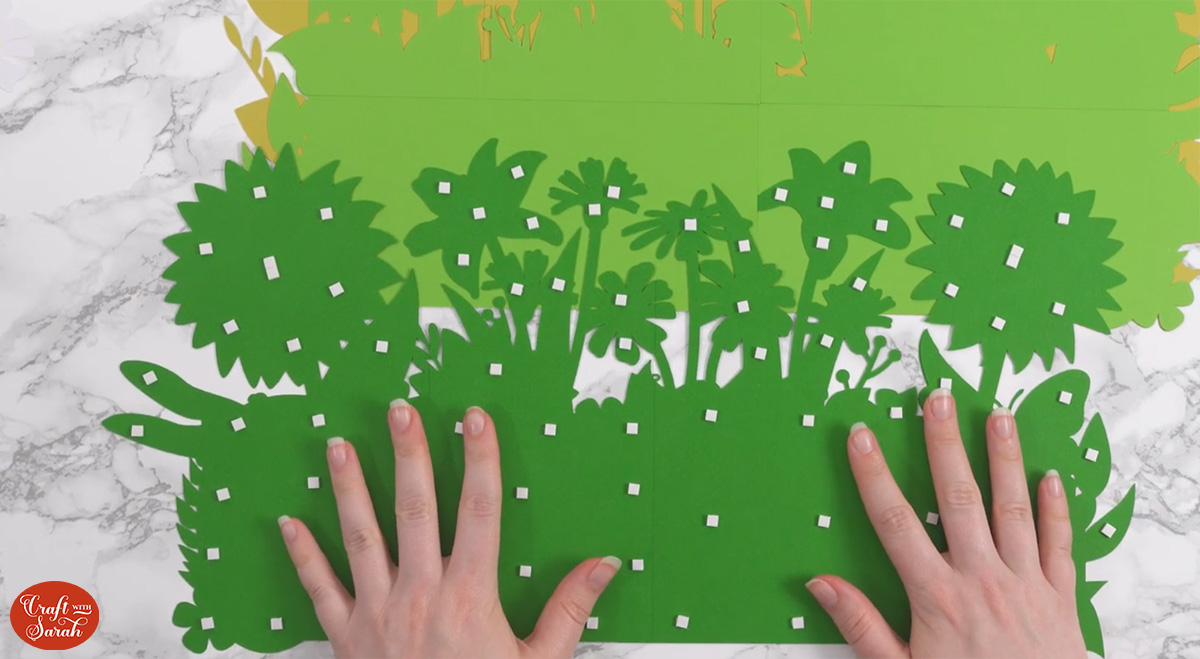 ---
Step 3: Add your wording
Glue your wording to the front of the sign.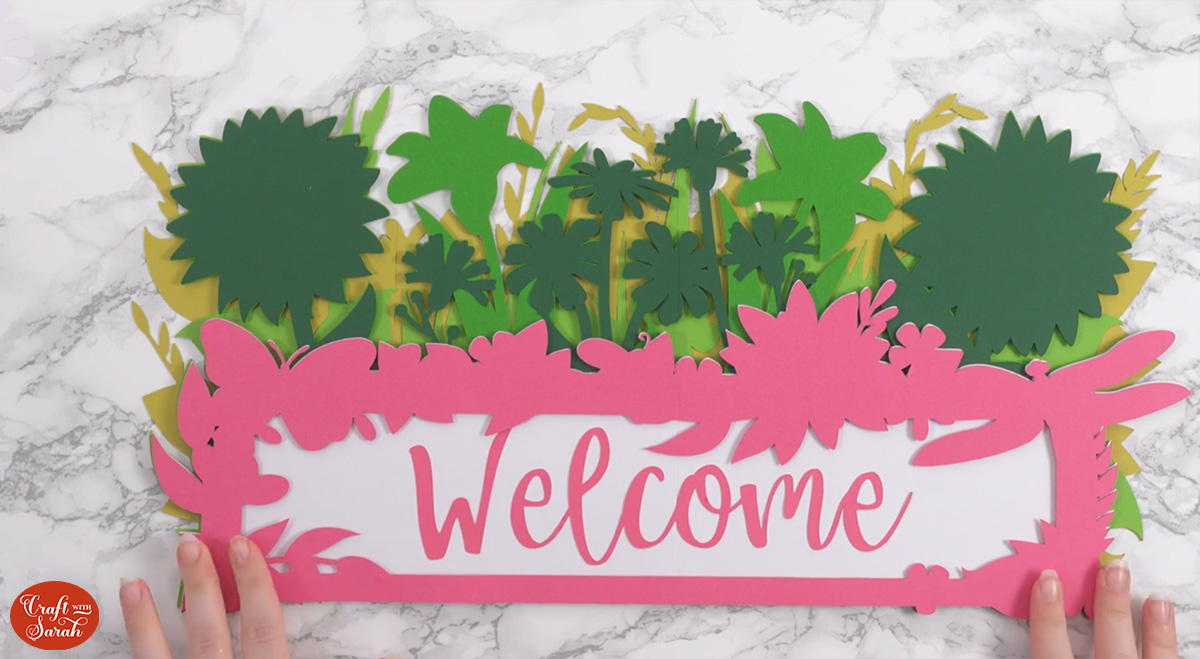 ---
Step 4: Add on the flowers
Roughly place the flower pieces back on top of the design. This makes sure we stick them all in the correct place when we work through each one.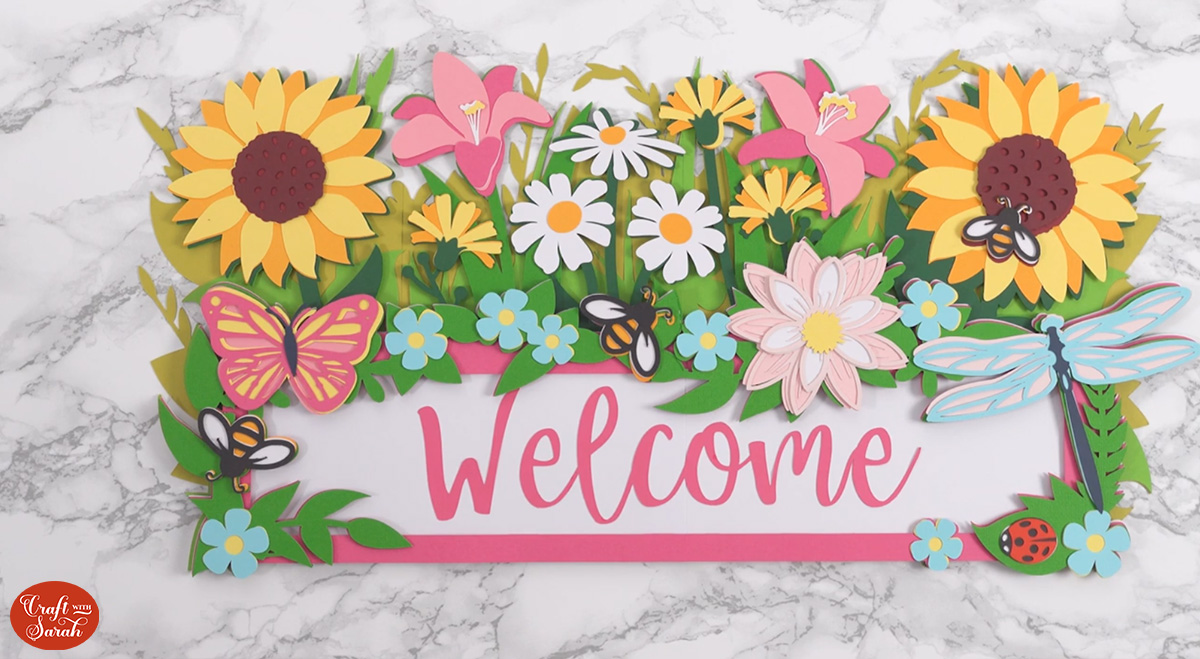 Use a combination of foam pads and glue to stick together all the flowers and attach them to the sign, following the Assembly Guide.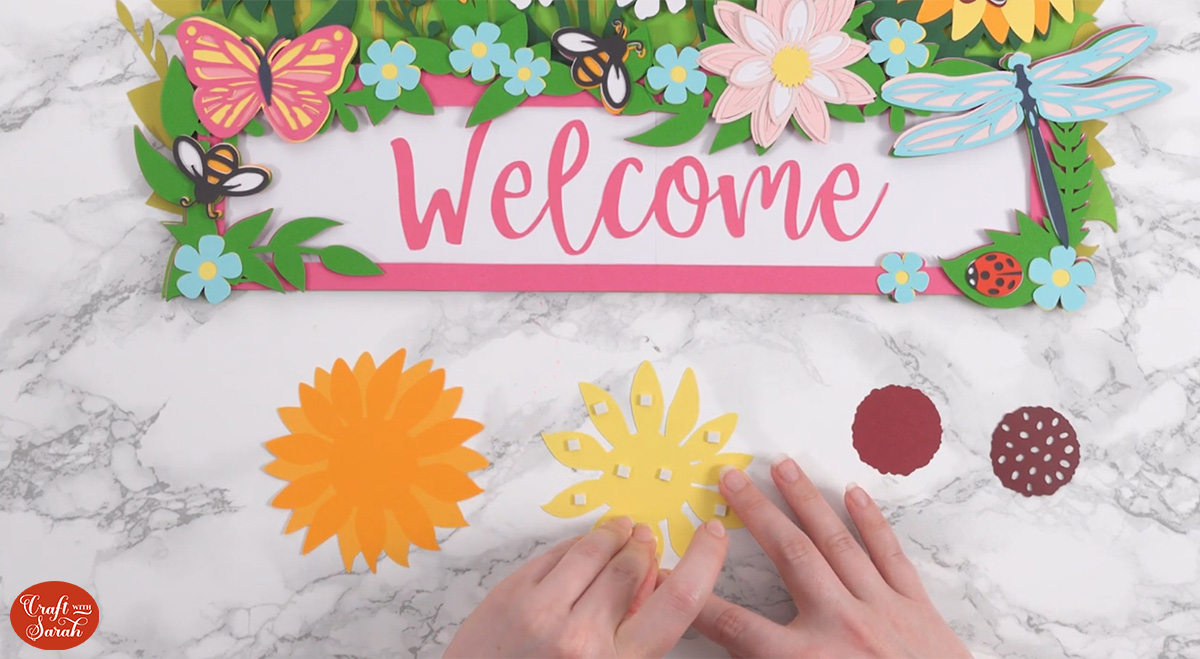 After sticking on all of the flowers, it will look like this: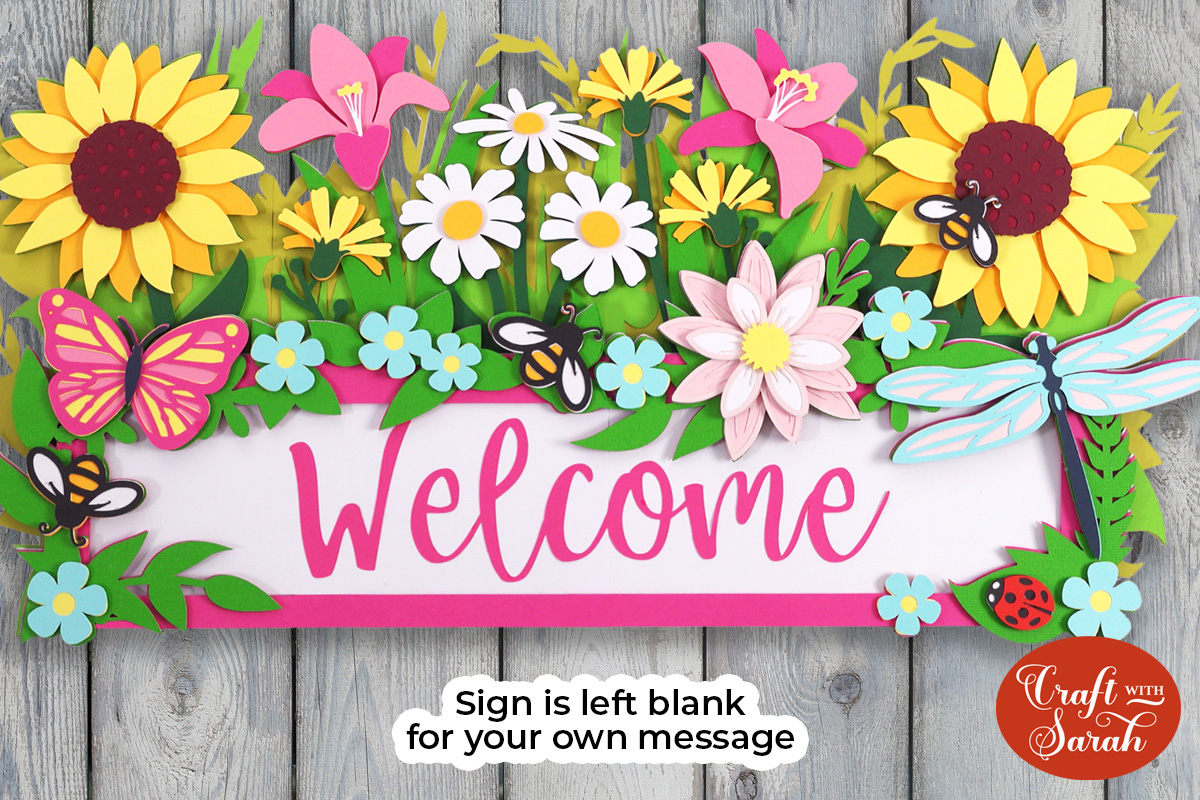 I hope that you enjoy this layered wall art sign SVG!
It takes quite a while to make, but it's definitely worth it as it's so beautiful!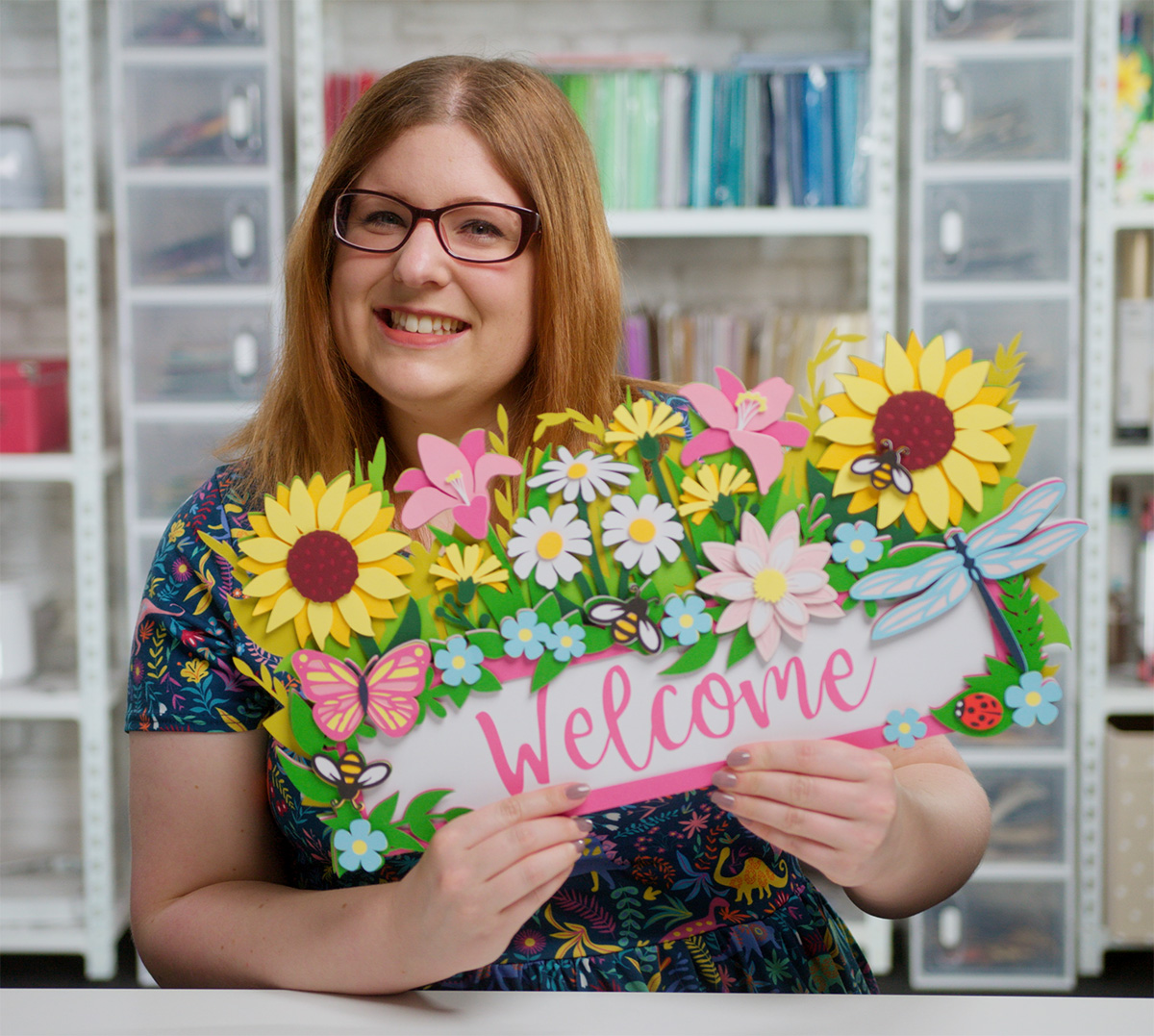 ---
Want more giant wall art signs?
I love designing giant off-the-mat signs to cut with my Cricut.
Here are some of the other designs I have created over the past few years. 🥰.
---
---
---
---
---
---
---
---
---
---
Happy crafting,
Sarah x