Iris Folding Ideas & Patterns
Have you tried making iris folding cards?
Iris folding is the paper folding technique taking the card making world by storm!
This fun paper folding technique products beautiful cards that look super-complicated and impressive... but only you will know how simple they actually are to make!
I've been crafting iris folding cards for over 10 years. Even today, it's still my favourite card making technique.
Find all you need to know to begin creating your own iris folded greetings cards on this page.
Oh, and of COURSE there's a huge collection of free iris folding patterns to get you started...
Happy folding! ☺
---
---
Free Iris Folding Patterns
I LOVE sharing free iris folding patterns with you – and I know you love it too!
New free paper folding patterns are added each month, so check back regularly to find all the latest designs or sign up to my newsletter to get an email each time a new pattern is released.
Newest 10 iris folding templates:
---
View all free iris folding patterns
Looking for one specific pattern?
I have over 270 iris folding patterns available in my Craftsuprint shop, so check it out if you're looking for one design in particular.
What is iris folding?
Iris folding is a card making technique that involves layering paper strips across a cutout shape following a printed template.
Traditionally the paper strips form a 'swirl' shape similar to the iris of a camera, which is where the technique gets its name.
Iris folding has evolved in recent years and there are now different variations including advanced iris folding, fancy folding and paper piecing. These newer patterns may not have the spiral shape, but still feature the traditional paper strips and numbered pattern.
It can look a little bit complicated when you first see an iris folding card, but don't worry - it's actually super simple to make and only needs basic card making supplies that you probably already own!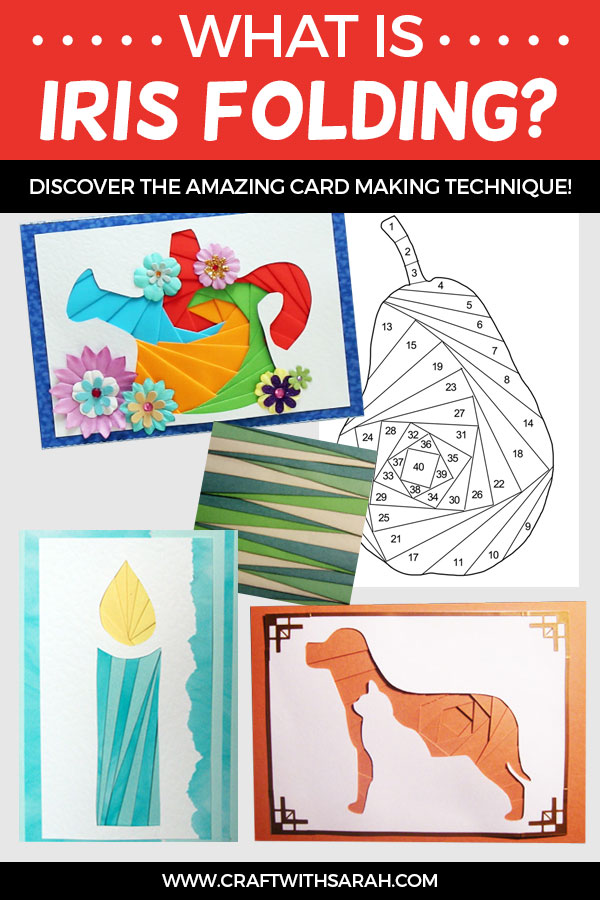 How to Iris Fold
Easy iris folding tutorial video
Watch the step-by-step video to learn how to iris fold.
Prefer to read rather than watch? Click the button below for step-by-step iris folding instructions, including a photo of each stage of the process.
My Top 15 Printable Iris Folding Patterns
One of the great things about purchasing printable iris folding patterns is that you only have to buy it once and you can print it as many times as you choose.
That means for only one low-cost purchase price you can create unlimited cards using that pattern.
I've collected together fifteen of my favourite iris folding patterns which you can buy as instant downloads for only 80p each. A bargain price for some beautiful craft projects that you can enjoy time and time again.
Disclaimer: the 'buy pattern' links will take you through Craftsuprint.com. As they are my pattern designs, I will receive a commission for each sale at no extra charge to you.
Elegant lady iris folding pattern
This is one of the first iris folding cards I ever made. Using two different shades of orange paper helps to show the different folds and brings depth to the pattern. Fancy folding is used to create the belt around her waist and paper piecing techniques create the head, hair and neck.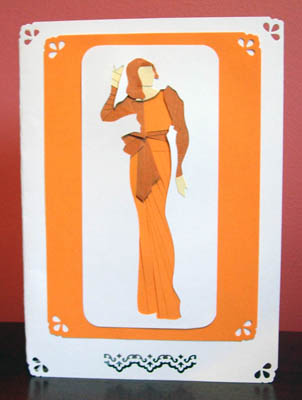 Card by Sarah Edwards (me!)
Tool kit iris folding patterns
These workman's tools are perfect for the handyman (or woman!) in your life. I love how the patterns have been combined with a similar themed decoupage topper in the card below, along with a 'Mr Fix-it' patterned background.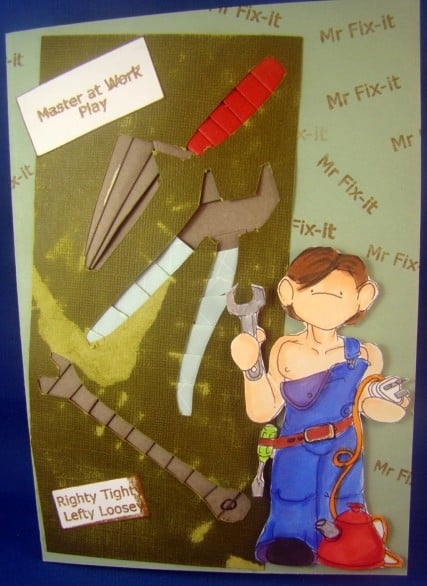 Card by Chris Williams
Beer pint glass iris folding pattern
Who's up for a pint of Guinness? This pattern would work great for St Patrick's Day or for birthday cards. Change the colours to orange for a pint of beer or lager, yellow for cider or brown for a good old fashioned pint of ale.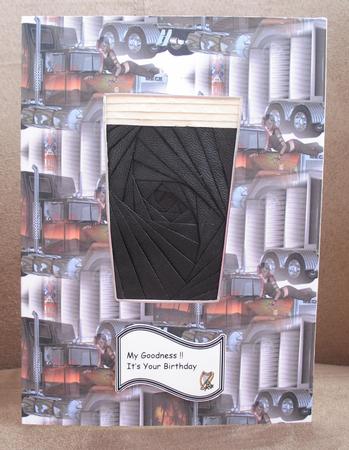 Card by Jose Hopkins
Christmas robin iris folding pattern
This is one of my all-time favourite iris folding patterns because the robin looks so realistic. The folds mimic the look of feathers to create a cute little robin for your iris folding Christmas cards. This is quite a complex pattern so perhaps not the one to start with if you are new to iris folding.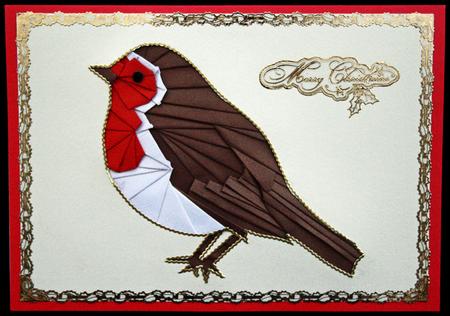 Card by Handmade by Carol
Handbag iris folding pattern
One for the ladies! This pretty handbag card uses patterned iris folding strips to create a wonderfully fashionable handbag that any woman could be proud to wear on her arm. Peel-off stickers have been cleverly used to create the bag's strap.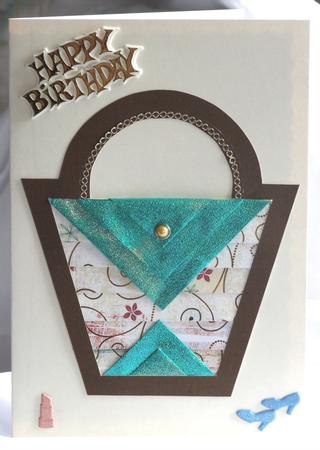 Card by Susan James
Easter chick iris folding pattern
This card is so clever! The card maker has cut the iris folding pattern out of an egg-shaped background and used it to create an over-the-edge Easter card which has so much character. I love it!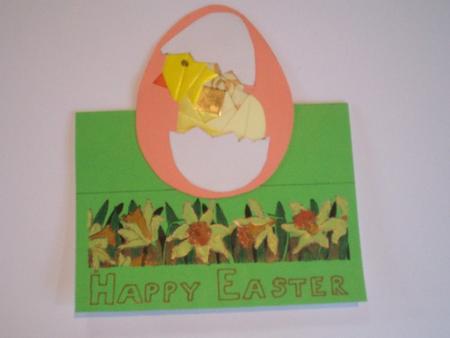 Card by Gillian Mahoney
Football iris folding pattern
This is an unusual pattern because the folds don't follow the traditional 'spiral' shapes commonly found with iris folding. Instead, fancy folding techniques are used to create the shapes on the football. Cutting the football shape from a photo of grass makes it look really realistic.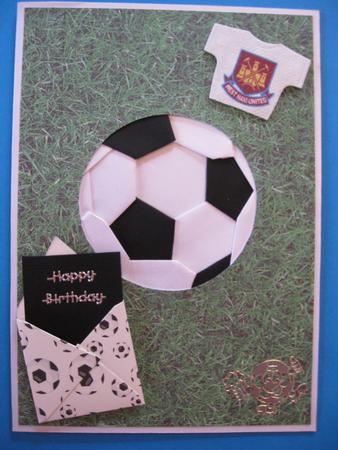 Card by Suzi Cooper
Butterfly iris folding pattern
I am a huge fan of the colour pink, so this card certainly stands out for me. The combination of pastel and bright pink along with some lovely lilac shades created a very feminine, beautiful butterfly. You could use a wide range of colours on this pattern to create lots of different butterflies – why not try a bright coloured one with yellows and oranges?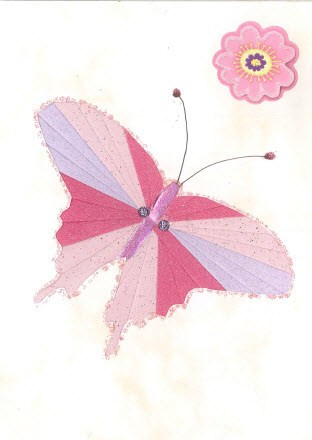 Card by Vivienne Burke
Scalloped Christmas tree iris folding pattern
This is a great pattern for your Christmas cards. The gaps between the tree give it a contemporary feel, yet it can still be traditional as shown in the card below. Using silver patterned paper combined with silver peel-off stickers makes this card feel even more Christmassy.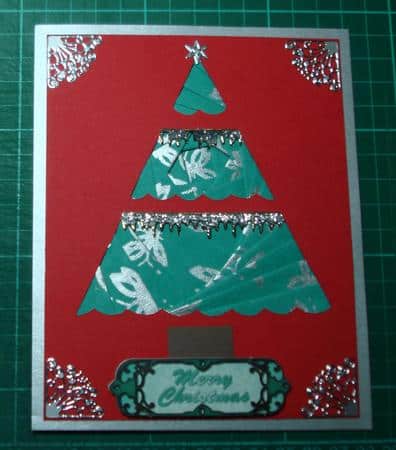 Card by Lorraine Wilson
High heeled shoe iris folding pattern
This is a fairly straightforward pattern so it's perfect for beginners. You could try combining different papers to create a patterned design – or perhaps even leopard print strips for a walk on the wild side!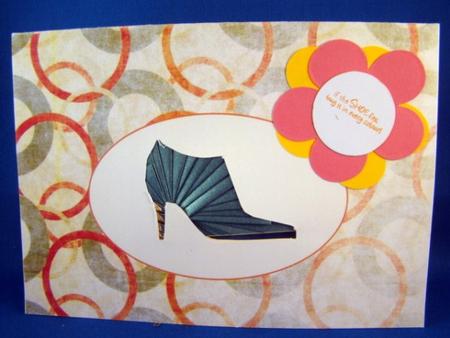 Card by Chris Williams
Parrot iris folding pattern
This card is sure to impress whoever receives it! Metallic sheen papers have been used to mimic the natural colours of the parrot's features. The leafy green background places the bird firmly in his natural rainforest habitat and the dark colours of the background make the parrot stand out.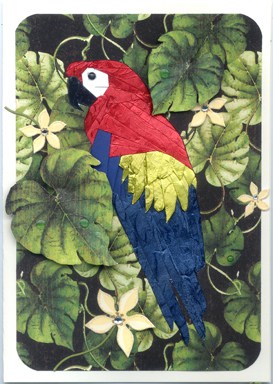 Card by Peggy Stogdill
Christmas bells iris folding pattern
Here's another of my favourite iris folding patterns for Christmas. Completing this pattern with golds and shiny paper strips makes it look luxurious and traditional. I love the extra embellishments in the card below of the red bows, glitter background and peel-off stickers.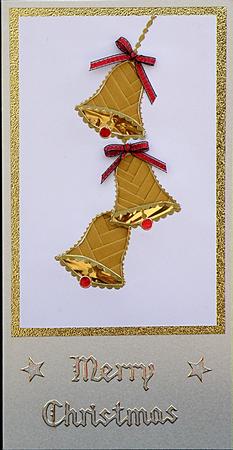 Card by Suzi Cooper
Easter animals iris folding patterns
Get three patterns for the price of one with this download – you get a rabbit, chick AND lamb for just 80p. Jane has made a wonderful card with the rabbit pattern. Her folds are super crisp and use perfectly coordinating papers to make a lovely little chocolate rabbit guarding his Easter basket.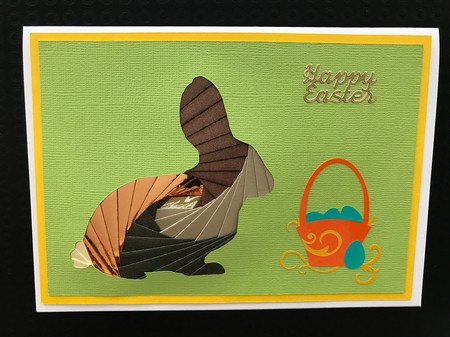 Card by Jane Amber
Elegant lady iris folding pattern
Another elegant lady pattern! I've designed many different ladies over the years because I think floor-length dresses and vintage glamour work so well with this technique as the folds accentuate the natural shapes of the clothing.
Laine has turned this lady into a sparkly ice queen for her modern-looking Christmas card.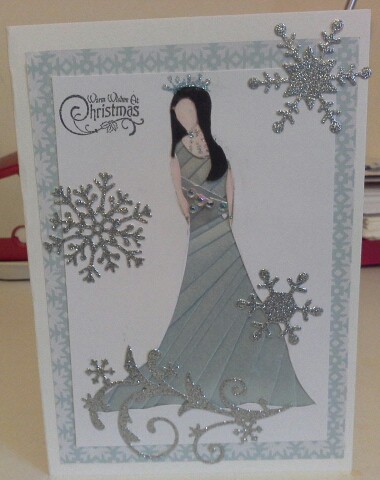 Card by Laine Hadlow
Cat iris folding pattern
I saved this cheeky little fella for last. The expression on his face always cracks me up. This card is great for cat lovers and it would suitable for any occasion. The tiger striped paper that Donna used in the card below is simply purr-fect.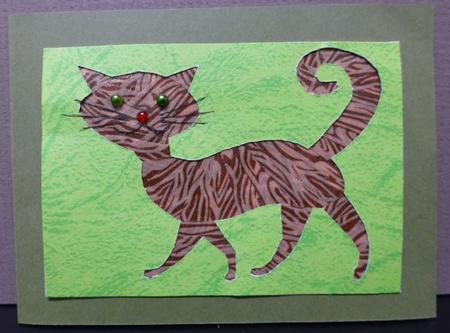 Card by Donna Ritchie
---
---