Iris Folding Ideas & Patterns
Have you tried making iris folding cards?
Iris folding is the paper folding technique taking the card making world by storm!
This fun paper folding technique products beautiful cards that look super-complicated and impressive... but only you will know how simple they actually are to make!
I've been crafting iris folding cards for over 10 years. Even today, it's still my favourite card making technique.
Find all you need to know to begin creating your own iris folded greetings cards on this page.
Oh, and of COURSE there's a huge collection of free iris folding patterns to get you started...
Happy folding! ☺
---
Free Iris Folding Patterns
I LOVE sharing free iris folding patterns with you – and I know you love it too!
I have over 50 free iris folding patterns available on this website, including a great selection of seasonal design which are great for special occasions such as birthdays, Christmas and Halloween.
---
Iris Folding Pattern Bundles
Grab yourself a FANTASTIC bargain with these budget iris folding patterns.
I've put together some of my most popular patterns into these amazing digital bundles to save you money on your card making.
These patterns usually cost $0.99 each...
but you can get them here for just $0.50 per template. ☺

Check out these incredible deals on iris folding templates to print...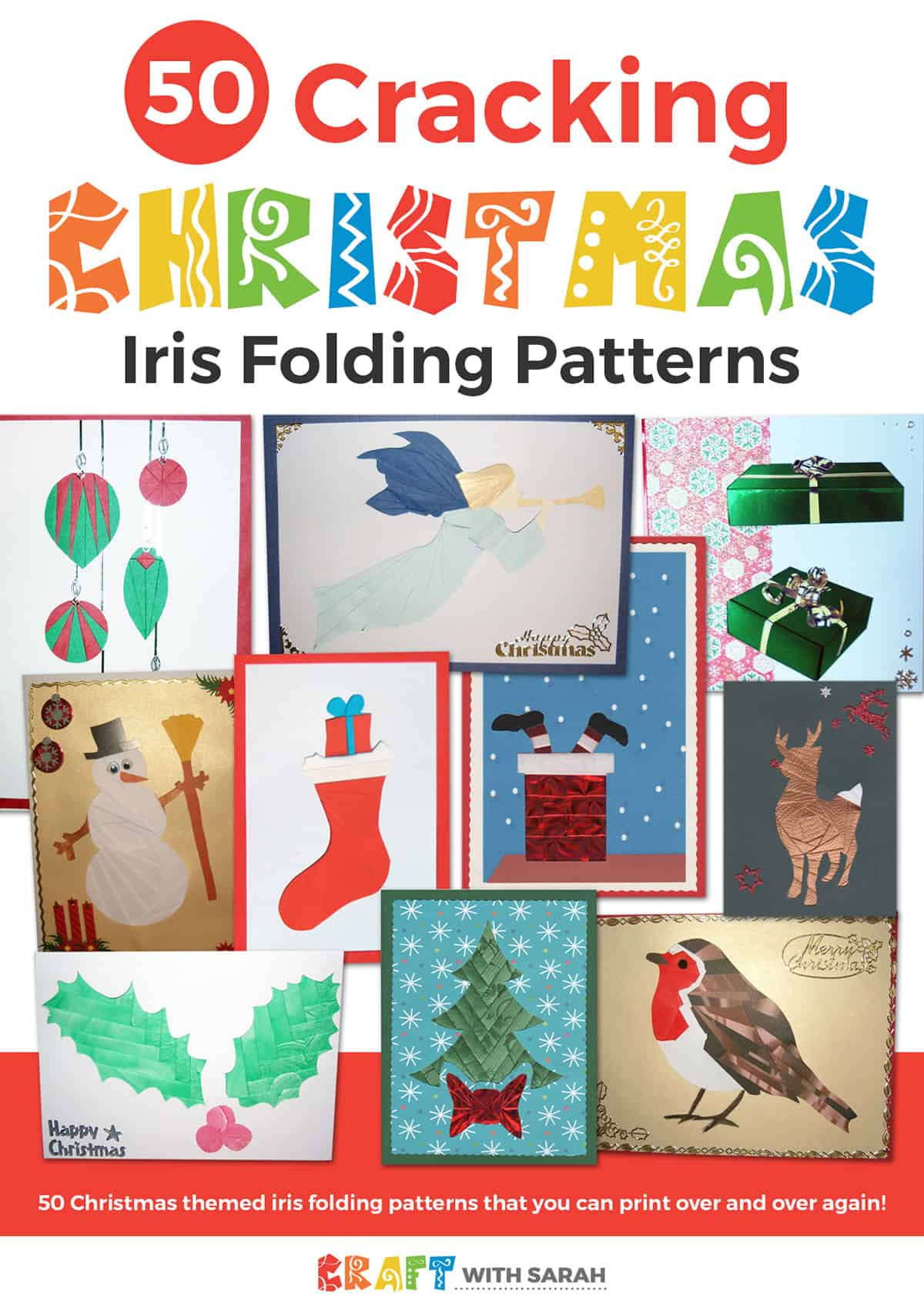 50 'Cracking Christmas' Iris Folding Patterns
$25
Buy Now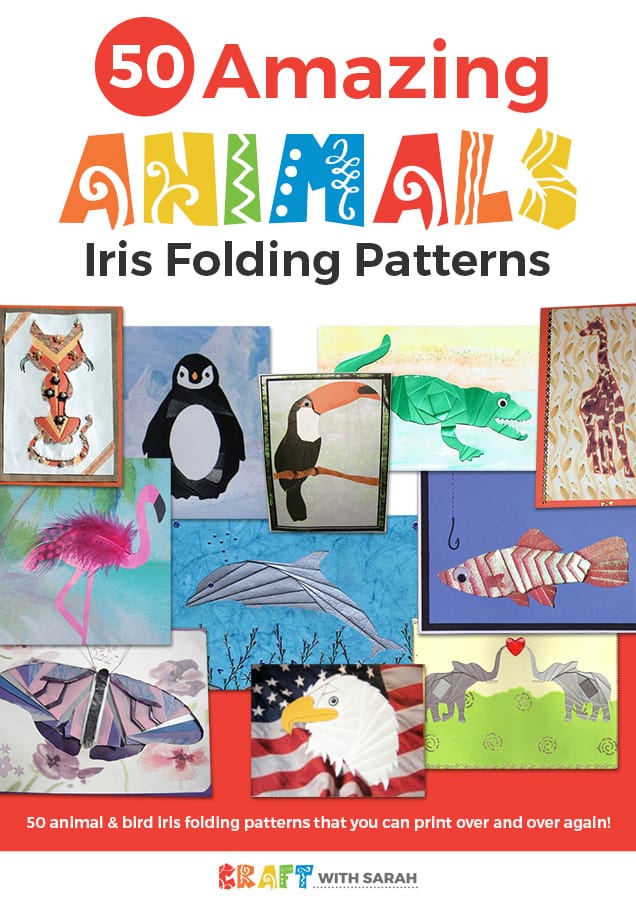 50 "Amazing Animals" Iris Folding Patterns
$25
Buy Now
Prices are +VAT if applicable in your country. You can pay by card or PayPal. Card payments handled securely by Gumroad.
IMPORTANT - All products are PDF files, available for instant digital download after purchase (nothing will be shipped/posted to you).
Looking for one specific pattern?
I have over 270 iris folding patterns available in my Craftsuprint shop, so check it out if you're looking for one design in particular.
---
What is Iris Folding?
Iris folding is a card making technique that involves layering paper strips across a cutout shape following a printed template.
Traditionally the paper strips form a 'swirl' shape similar to the iris of a camera, which is where the technique gets its name.
Iris folding has evolved in recent years and there are now different variations including advanced iris folding, fancy folding and paper piecing. These newer patterns may not have the spiral shape, but still feature the traditional paper strips and numbered pattern.
It can look a little bit complicated when you first see an iris folding card, but don't worry - it's actually super simple to make and only needs basic card making supplies that you probably already own!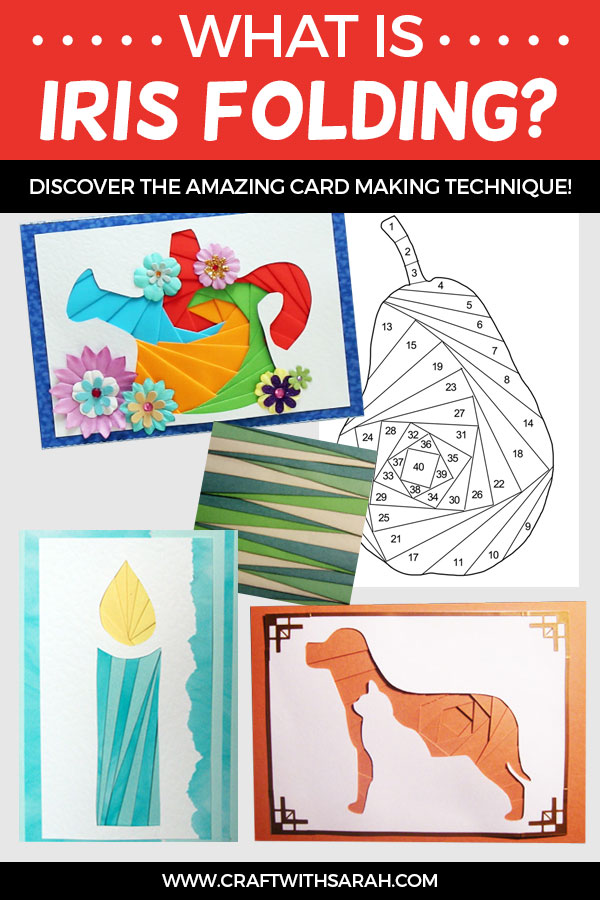 ---
Craft Supplies for Iris Folding
Please note that some of the links included in this article are affiliate links, which means that if you click through and make a purchase I may receive a commission (at no additional cost to you). You can read my full disclosure at the bottom of the page.
To make this iris folding watering can card, you will need:
Free watering can iris folding pattern, printed onto regular printer paper
A cutting mat to protect your surface
Scissors
A pencil
A craft knife (ideally a rotating blade craft knife)
Some masking tape
Sticky tape
An A5 card blank
A piece of white card slightly smaller than your card blank
Double sided sticky tape
Strips of folded coloured paper in up to four different colours
---
How to Iris Fold: Video Tutorial
Easy iris folding tutorial video
Watch the step-by-step video to learn how to iris fold.
Prefer to read rather than watch? Scroll down for step-by-step iris folding instructions, including a photo of each stage of the process.
---
How to Iris Fold: A Beginner's Guide
Follow along with these step-by-step iris folding instructions to make your own watering can greetings card.
1) Prepare the template
First, print the free iris folding template onto normal printer paper.
Cut out the large pattern using scissors.
Take your white card and turn it over so that the back of the card is facing up. I'm using hammered effect card, so the back of my card is the smooth, unfinished side.
Place the iris folding pattern into the middle of the white card.
Using a pencil, carefully draw around the edge of the pattern.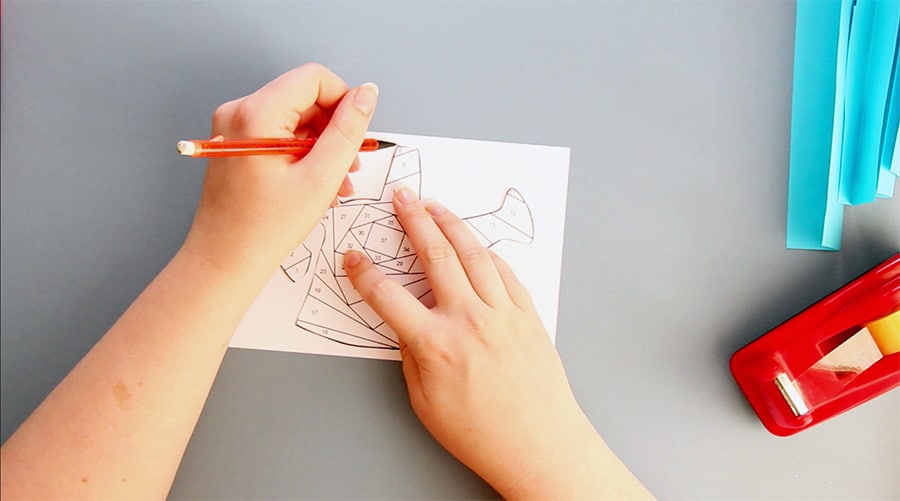 Try not to move the pattern around when you are drawing, as you want to draw a smooth, accurate outline of the iris folding pattern.
2) Cut out your aperture
Place a cutting mat on your table to protect your work surface.
I like to use a rotating blade craft knife to cut out iris folding shapes. The blade turns as you cut, which makes it really easy to cut smooth shapes and wave the knife around the outline.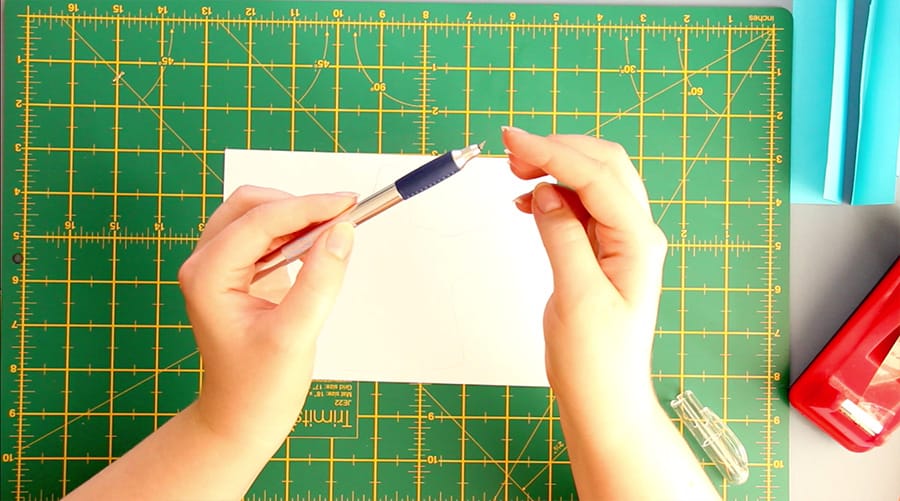 Carefully cut around the pencil line you've just drawn with your craft knife.
Move the card around so that you're always cutting towards yourself. This puts less stress on the blade of the craft knife, so it's less likely to snap or tear your card.
When you're done, pop the shape out of your card and leave to one side, as we won't be using the shape itself – we need the window cutout.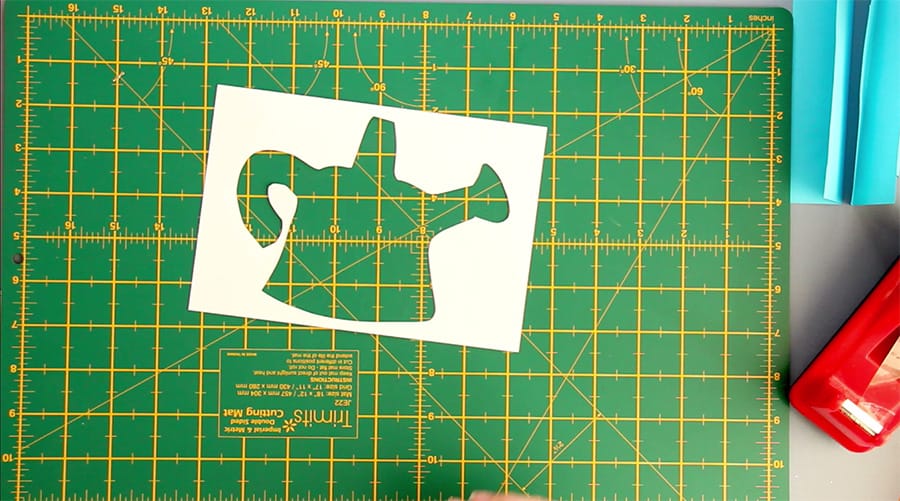 Remove your cutting mat and place the iris folding pattern on your work surface.
Use a couple of small pieces of masking tape to secure the pattern to your work surface so that it doesn't move when you complete the folding.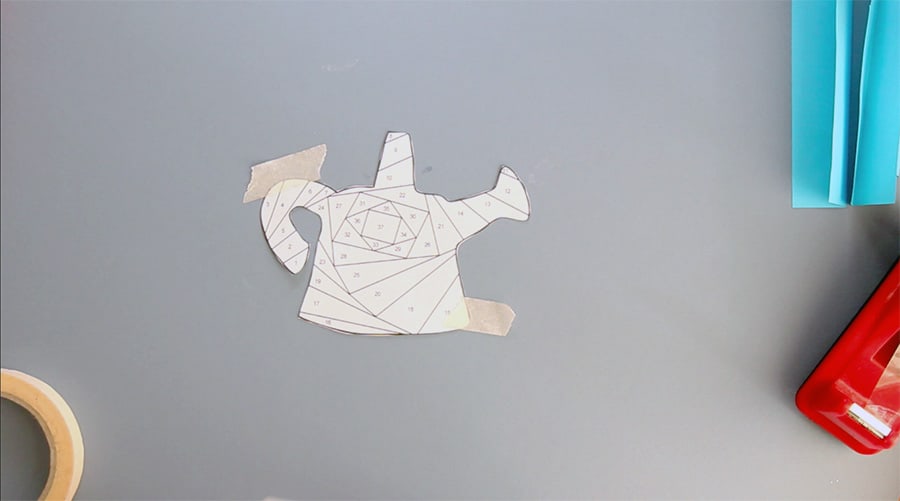 Place your cut-out on top of the pattern and line it up so that the cutout in the card matches the shape of the pattern.
Use some more masking tape to secure the card. Make sure you only put a small amount on the white card, as you will be using most of the space on the back to stick your coloured paper strips to.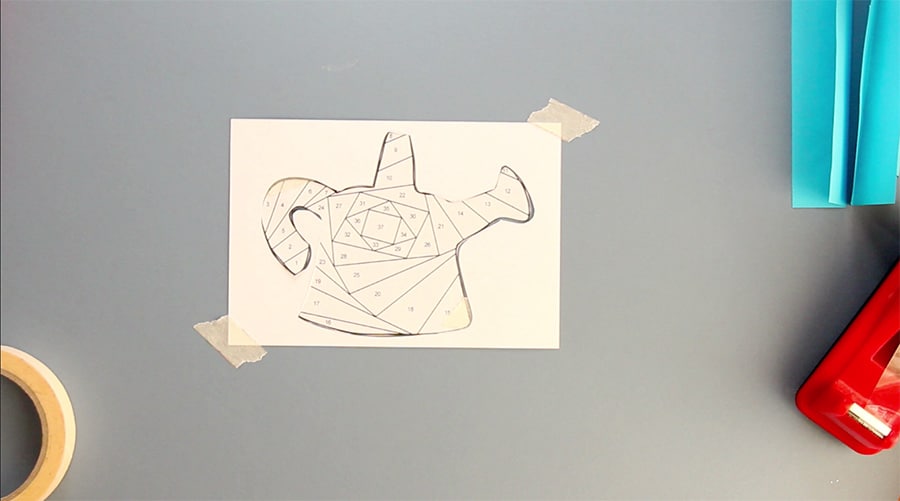 3) Prepare your paper strips
Next, prepare your paper strips.
Thin coloured paper, wrapping paper or even wide florist ribbon are all great choices for iris folding strips. You need paper that's not too thick, so try to avoid using card or heavy scrapbook paper.
It doesn't matter if your strips have jagged edges from where you have cut them out.
Fold the strips in half to get a nice crisp fold. You could use a bone folder to enhance the crease, but if you don't have one (like I don't), then just make sure you run your finger all the way down the crease.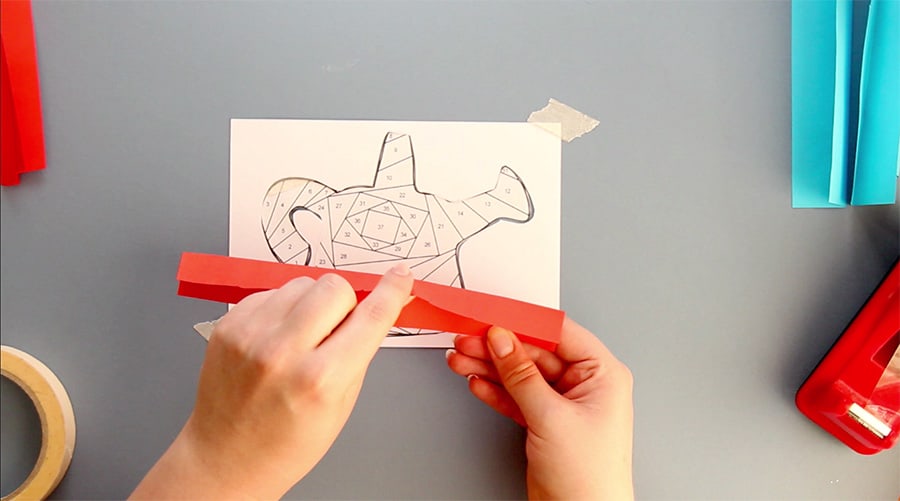 For this pattern, I'm using four different colours of paper – one for each of the spirals in the pattern.
Place the strips around the edge of your card. I like to position the colours on the sides of the pattern that I'll be using them on, to make it easier to pick the right colour for each fold.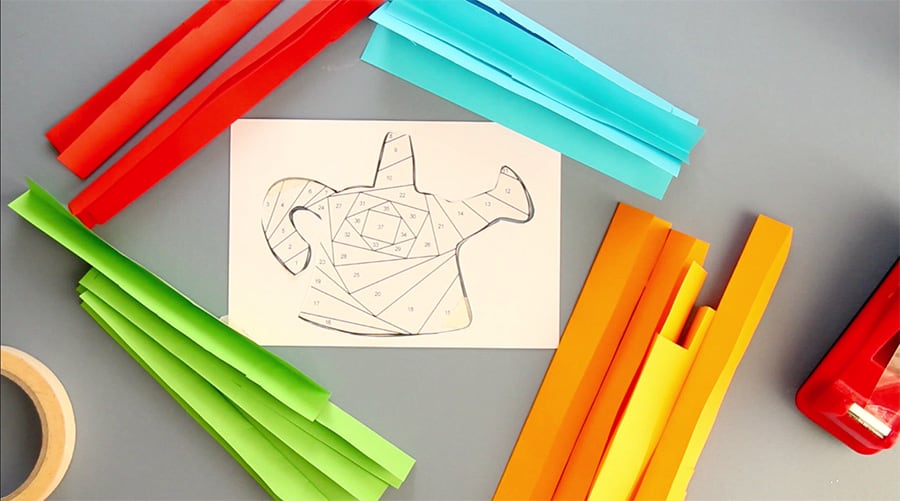 To make this even easier, you can colour the pattern with the colour of the paper strips that you intend to use for each section.
Imagine the pattern as a spiral with four different swirls inside.
If you are using four colours, colour each swirl with the appropriate colour, as I'm doing here.
Note that the handle of the watering can belongs to the top spiral, which is why I've coloured it in red.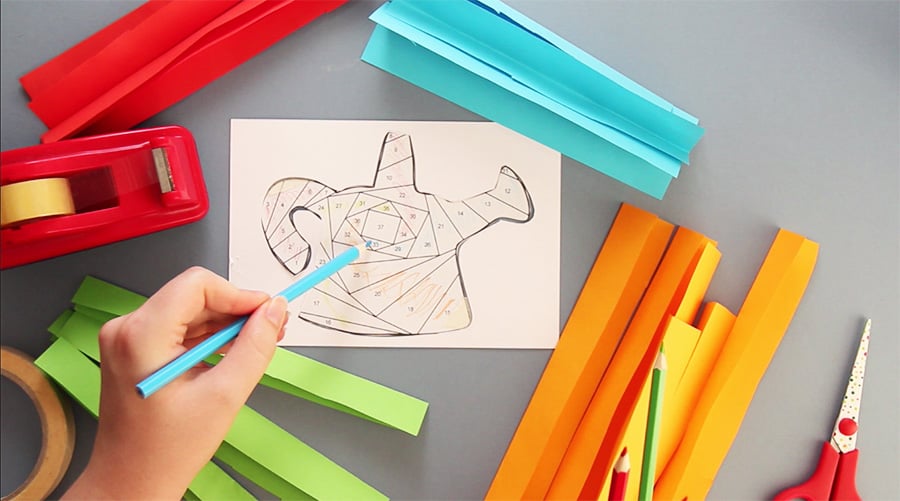 Now you're ready to start iris folding!
4) Stick your paper strips according to the numbered pattern
Find the fold on the pattern marked with the Number 1.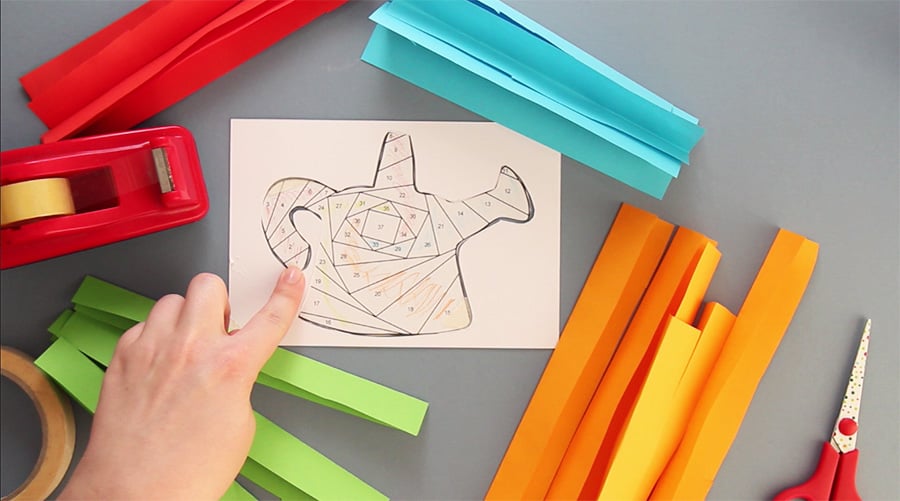 Cut a strip of your paper so that it's just longer than the fold on the pattern.
Place the strip over the pattern so that the creased line sits along the straight line next to the Number 1.
Use sticky tape to secure the paper strip to the white card.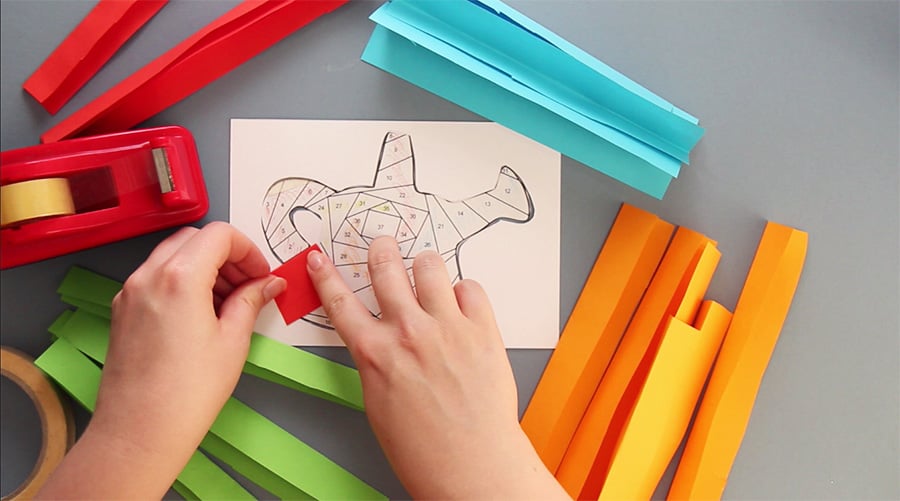 You'll probably find that some of your paper strip goes over the space in the white card between the handle and the main part of the watering can. You'll need to get rid of this overlap by folding the paper strip so that it doesn't encroach on any of the other fold lines, and then cut off the excess.
Use another bit of sticky tape to hold down the edges of the strip you have just cut.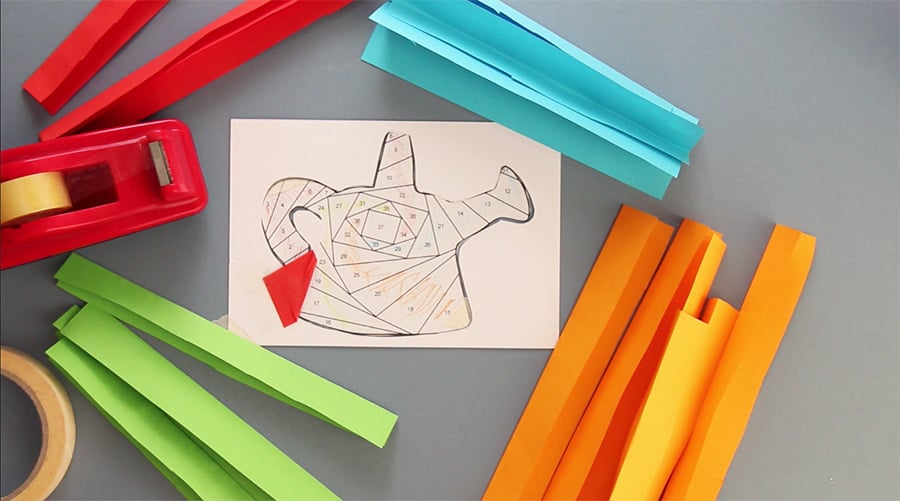 Do the same process for Number Two on your pattern.
Take your paper strip, cut it to size, place the creased edge along the next fold line on the iris folding pattern and then secure it to the white card with sticky tape.
Again, you may need to fold the paper strip to stop it overlapping the main part of the watering can.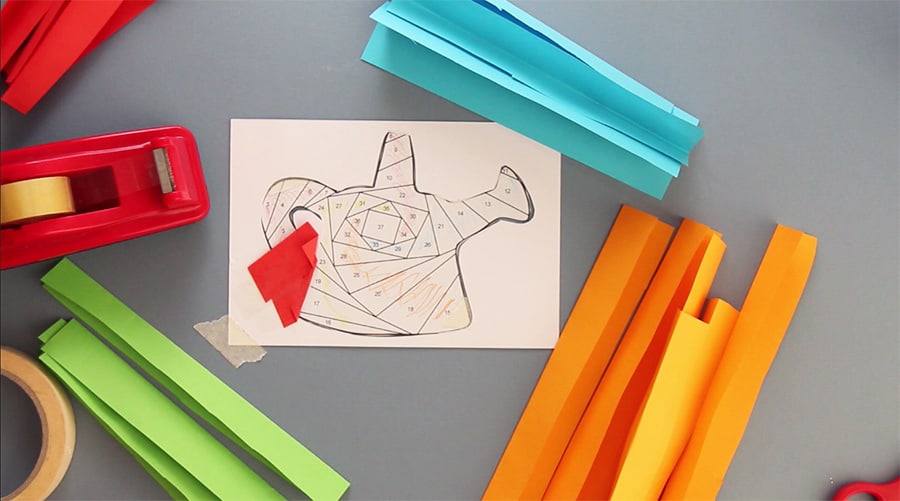 Keep going along the rest of the pattern, following the folds in numerical order.
You can place your sticky tape on top of paper strips you have already secured, but make sure your sticky tape doesn't go outside the edge of the white card – you don't want to end up accidentally sticking your card to your work surface!
It doesn't matter if your paper strips go outside the edge of the card though, as you can trim these once the folding is complete.
5) Complete all the folds on the iris folding template
When you get to Fold 11, you'll need to switch over to the next colour.
The folding works in exactly the same way as the first colour.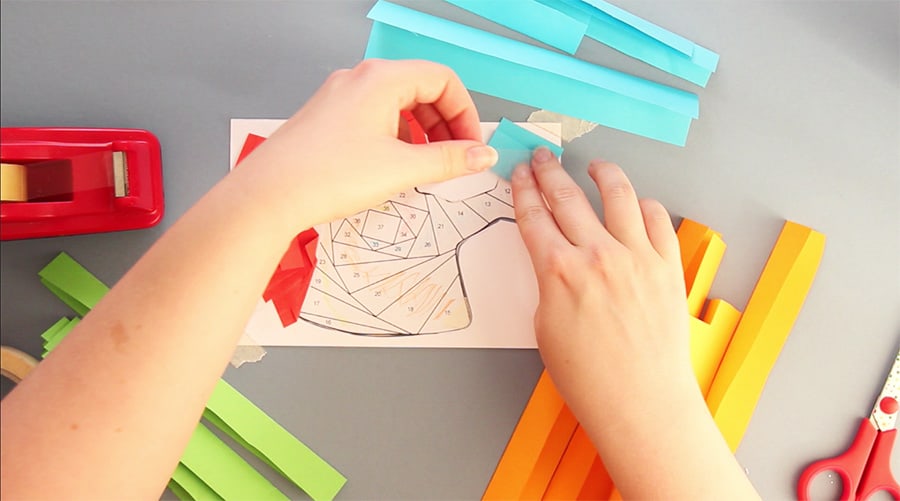 If your card starts to get a little bulky with all the paper strips, use a longer piece of tape to help stick the strips down a little bit flatter.
Don't be tempted to turn your card over and take a sneaky look at the front before you have finished.
It's really hard to line everything up exactly if you move it during folding, which is why we used making tape at the beginning to keep the white card in position.
Keep going along all of the folds until you are left with just the square in the middle of the pattern.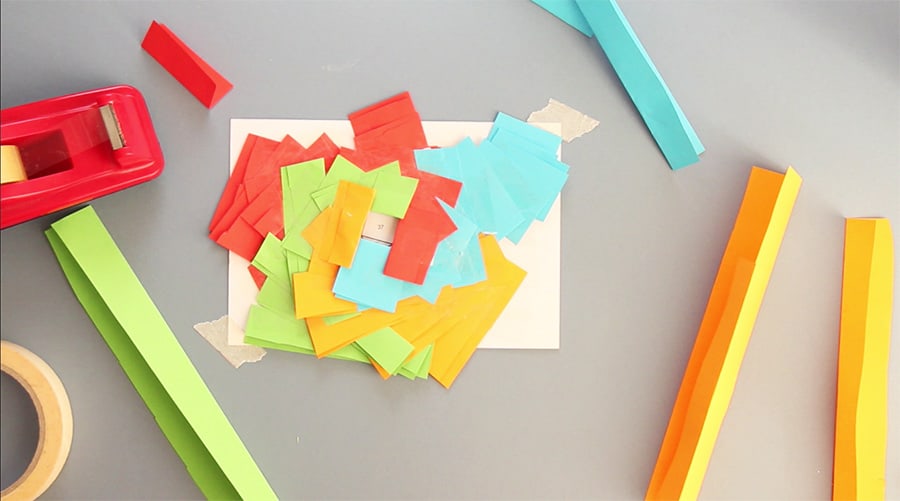 6) Cover the iris folding square
Traditionally, the square of the pattern is covered with holographic or metallic paper so that it looks like the shiny iris in the middle of a camera lens.
Personally, I don't really like this effect because the holographic paper doesn't match the rest of the design.
Instead, I like to tie in the middle square to match the whole card.
To do this, choose one of your paper strip colours and place it diagonally across the square to leave behind a triangle of empty space.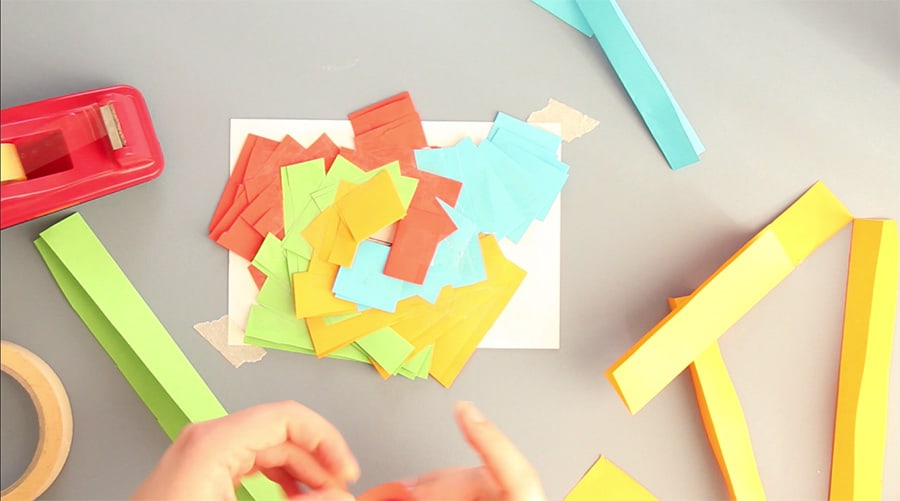 Choose the colour from the opposite side of the pattern and stick a piece of it over the remaining gap.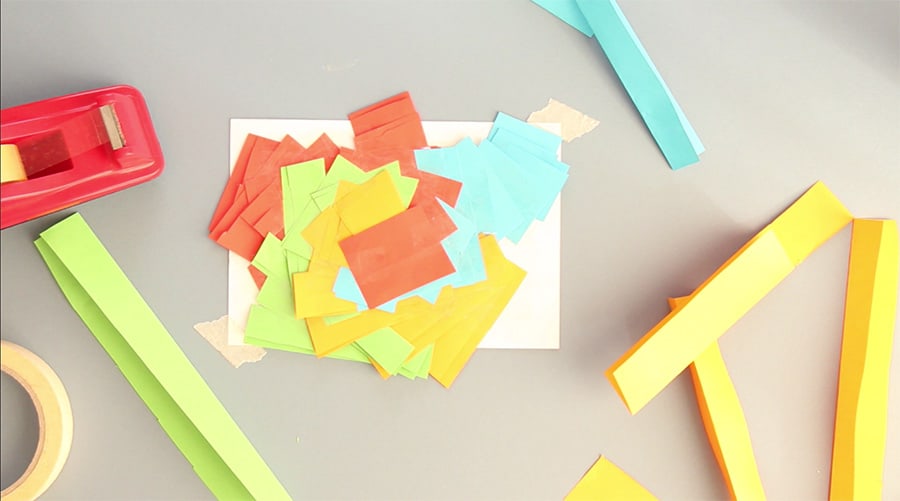 7) Reduce bulk & trim off excess paper strips
Use some long pieces of sticky tape and go down all the edges of the white card. This helps to make sure your paper strips are all secured to the white card, and also reduces bulk.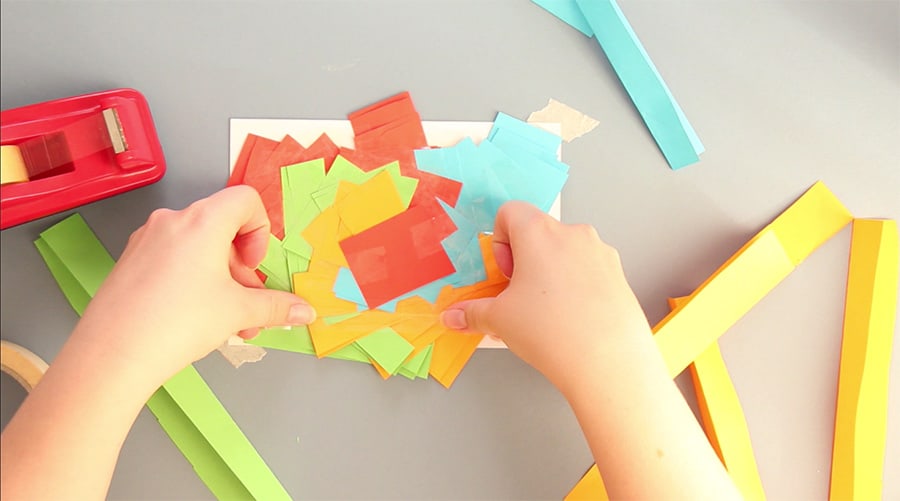 Remove the masking tape from the edge of your card and turn it over to see the finished effect.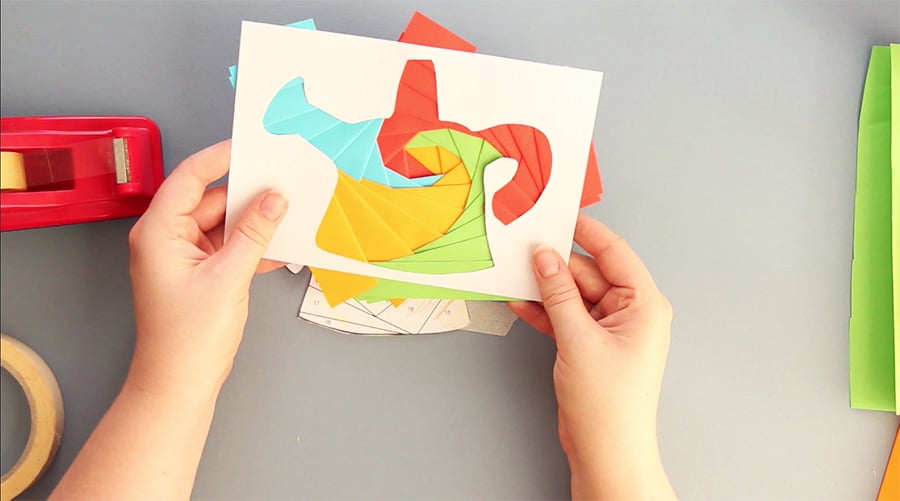 If you've got paper strips sticking out from the edge of the white card, trim them off with a pair of scissors. You could use a craft knife and metal rule to get straight edges, but scissors works just fine.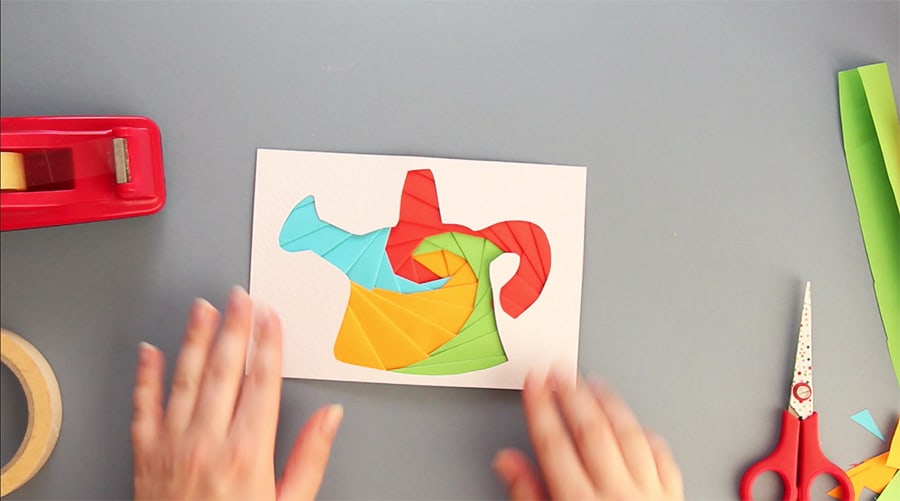 Turn your card over, and if you have any parts where the paper strips are coming away from the card then stick another long piece of sticky tape down the edge to secure them.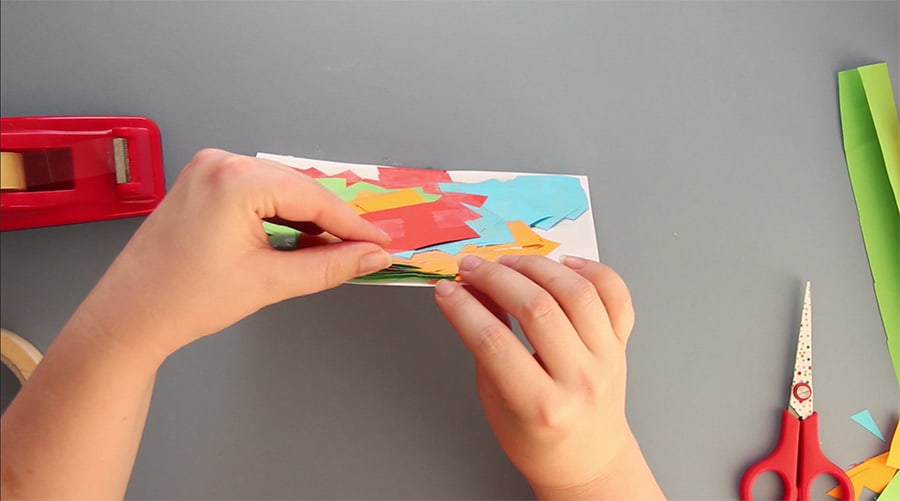 8) Stick your iris folding topper to your card front
Take your double-sided sticky tape and place a strip down each of the edges of the back of your card.
Try to get the double-sided tape as close to the edges as you can.
I like to put a piece down the middle of the card as well, for that extra bit of stickiness.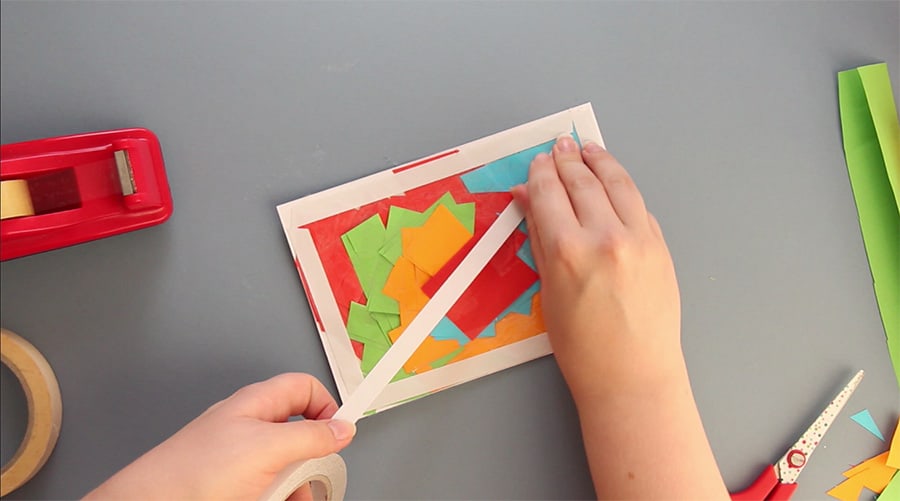 Peel off the backing of the double-side tape, then firmly stick your iris folding design to the front of your A5 card blank.
Press down all over the card to make sure it's really stuck down, and then there you have it – your finished iris folding greetings card!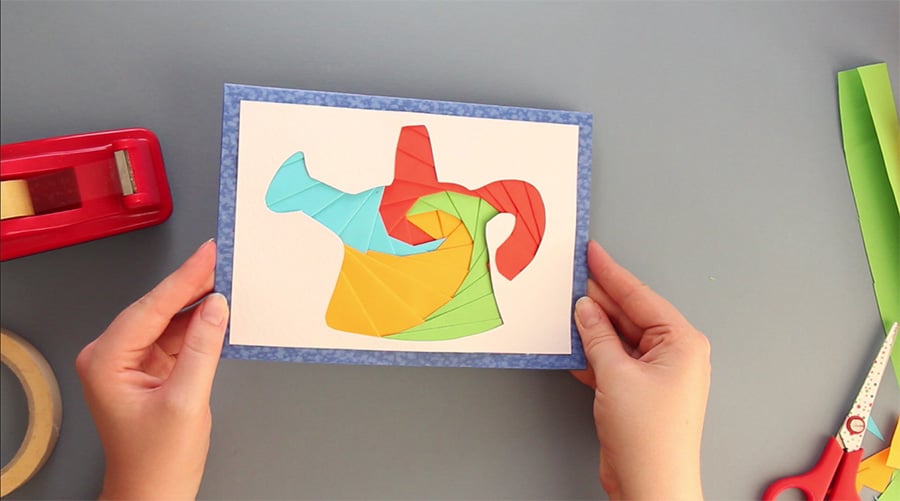 How to embellish iris folding cards
You could leave your card as it is, or add some extra embellishments to bling it up a little bit.
Paper flower embellishments
I've got some paper flowers which I'm going to stick the front of my card using some Mod Podge glue.
I'm layering up the flowers to add some dimension to the card.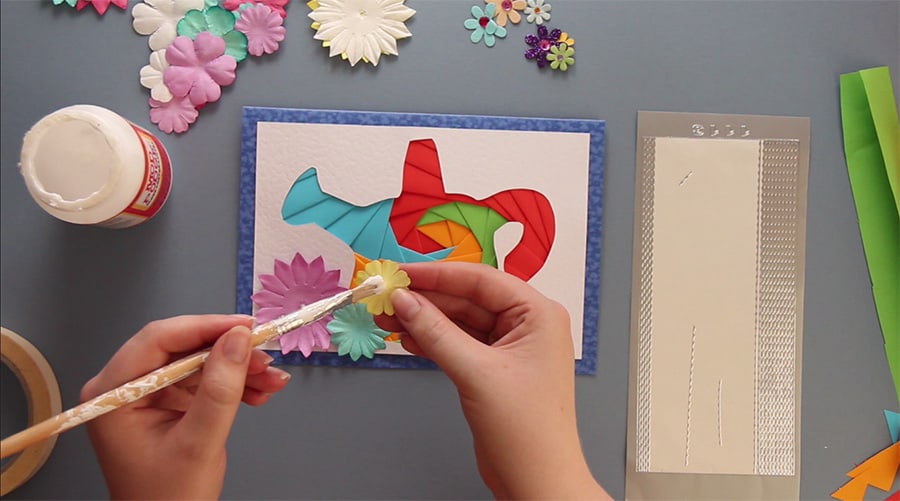 Peel-off stickers
Finally, I'm going to use some silver peel-off stickers to add a shiny border along the top and bottom of the blue card for that extra-special finishing touch.
If your peel-offs aren't quite long enough, stick two together to form longer lines and just trim off the excess with scissors.
So there you have it – your finished iris folding card!
---
More iris folding inspiration
250+ printable iris folding patterns
If you've caught the iris folding bug and are on the lookout for some more patterns, view my online store at Craftsuprint.
I've got over 250 patterns available for only 80p each.