DIY Dog Puzzle Toys: Homemade Dog Enrichment Ideas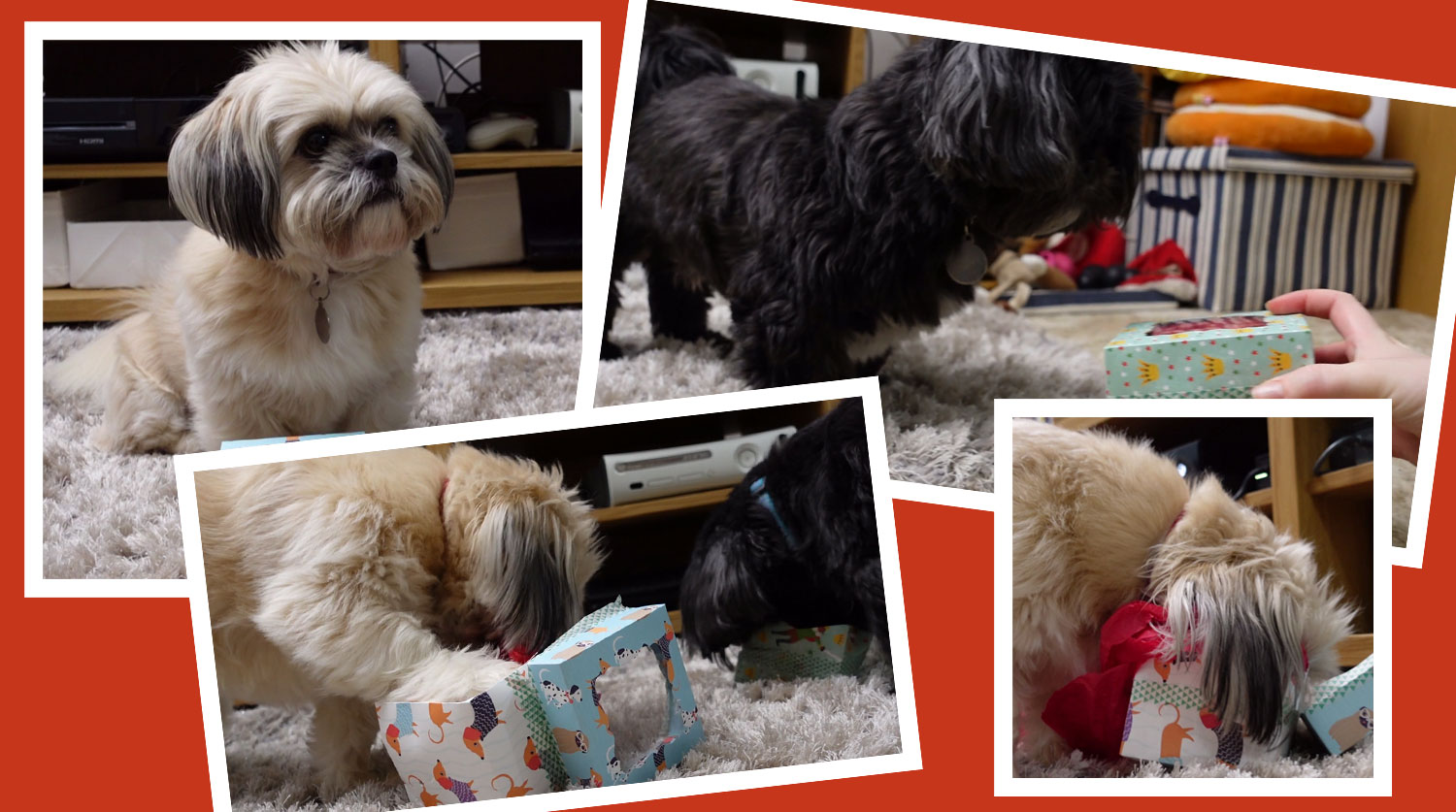 I had a request from one of my email subscribers to come up with a homemade dog enrichment game. What better than a DIY dog puzzle toy filled with tasty treats?
I love making dog themed craft projects, so this was definitely a challenge that I was going to take on. I thought about making a toy that you could sew for your dogs, but I don't know how to sew, and it seemed like a little bit of a challenge to learn how to do that just for this video, so I've come up with something different instead and here it is.
It might not look very much, but this is a really fun interactive game for your dog which contains treats. This is a very special box and inside are three smaller boxes all filled with treats.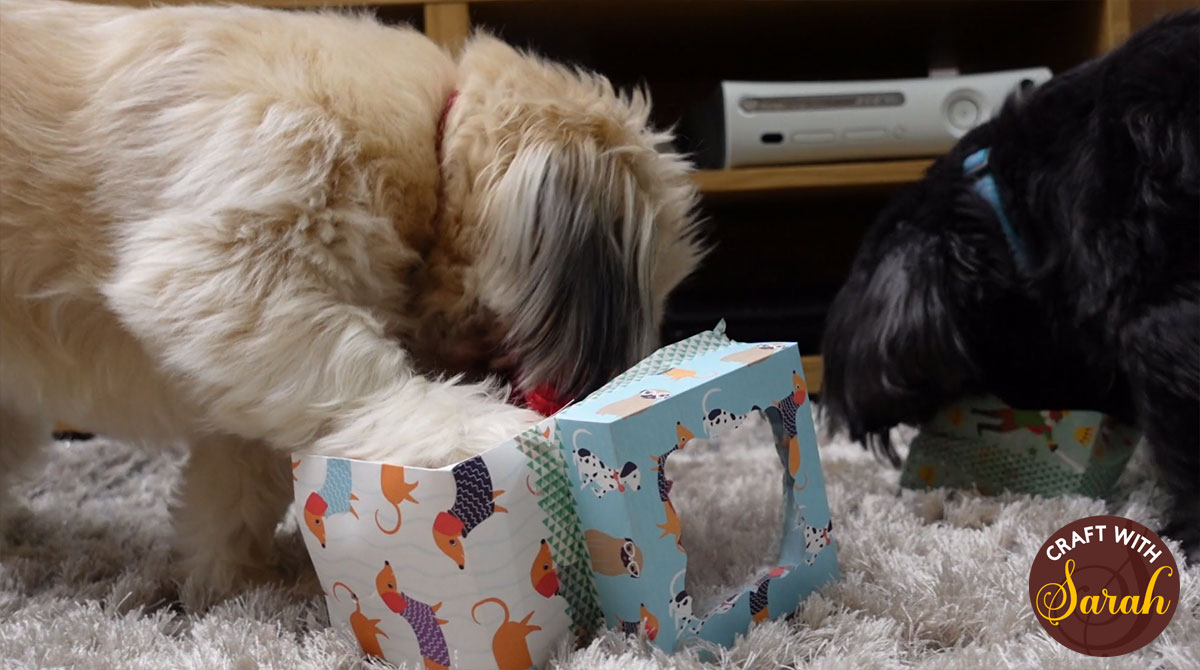 My dogs are Shih tzu's so they're very small and this is a perfect sized game for them to play with.
If you've got larger dogs, then this might be a little on the small side. You don't want to risk them swallowing any of the bits of cardboard when they tear it apart, so if you've got big dogs, you might be better off getting some old packaging boxes of different sizes and putting some treats in there and then stack them one inside the other. That way, your dog's got something bigger that they can tear apart and have fun with that's more appropriate to their size.
But for my little doggies, this is going to be some awesome playtime for them! Of course, they're not going to know the difference between an old Amazon box or this which I took an hour putting together, but it's really more about me knowing that I'm giving them something that I have put my love into and that they will love. Even though that love will be very brief as they tear it apart!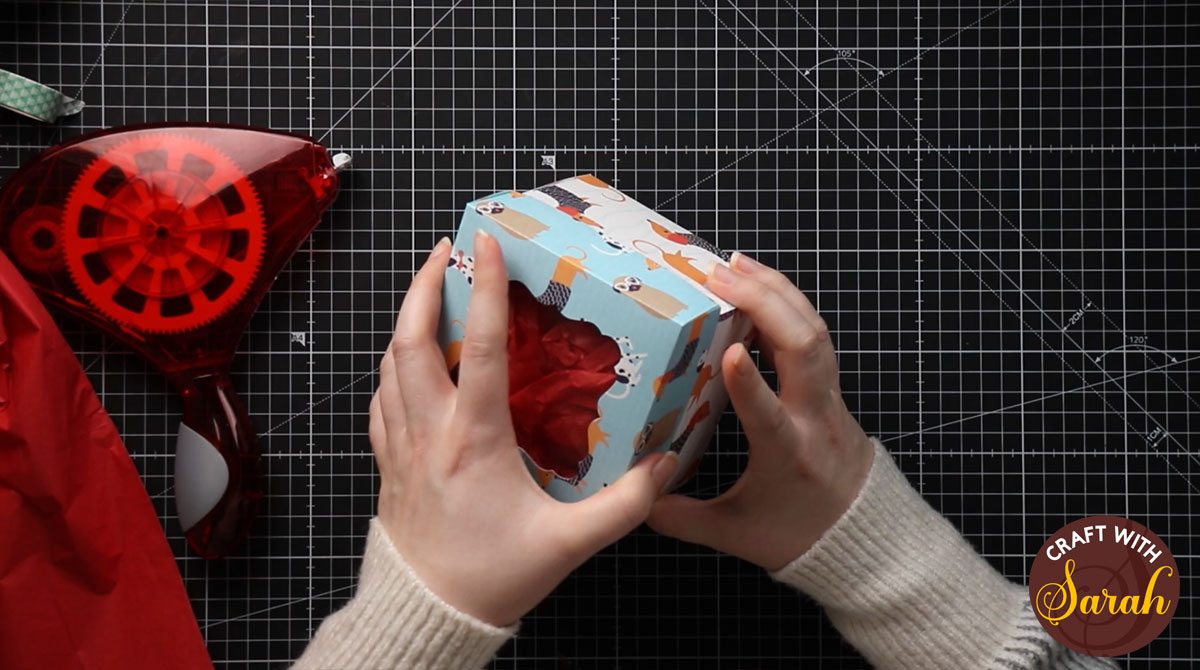 How to make DIY Dog Puzzle Toys
Here is a video which shows how to cut and assembly these diy dog puzzle toys.
Scroll down for a full written tutorial!
---
Step 1) Starting the Project
Go into Design Space and open the dog treat box design you've downloaded from the Craft with Sarah Clubhouse.
Design Space Project Link
Dog Treat Box – Fun Interactive Game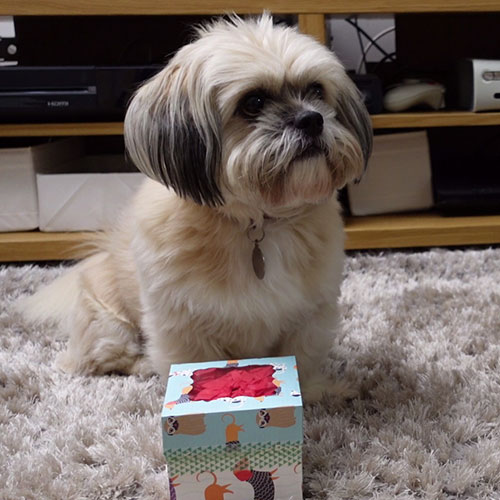 Please note that you need an active Cricut Access subscription to be able to cut this Project for free.
When you've opened the project, click 'make it' and cut it out from your Cricut or another cutting machine.
Note that the white square shape should be cut from acetate.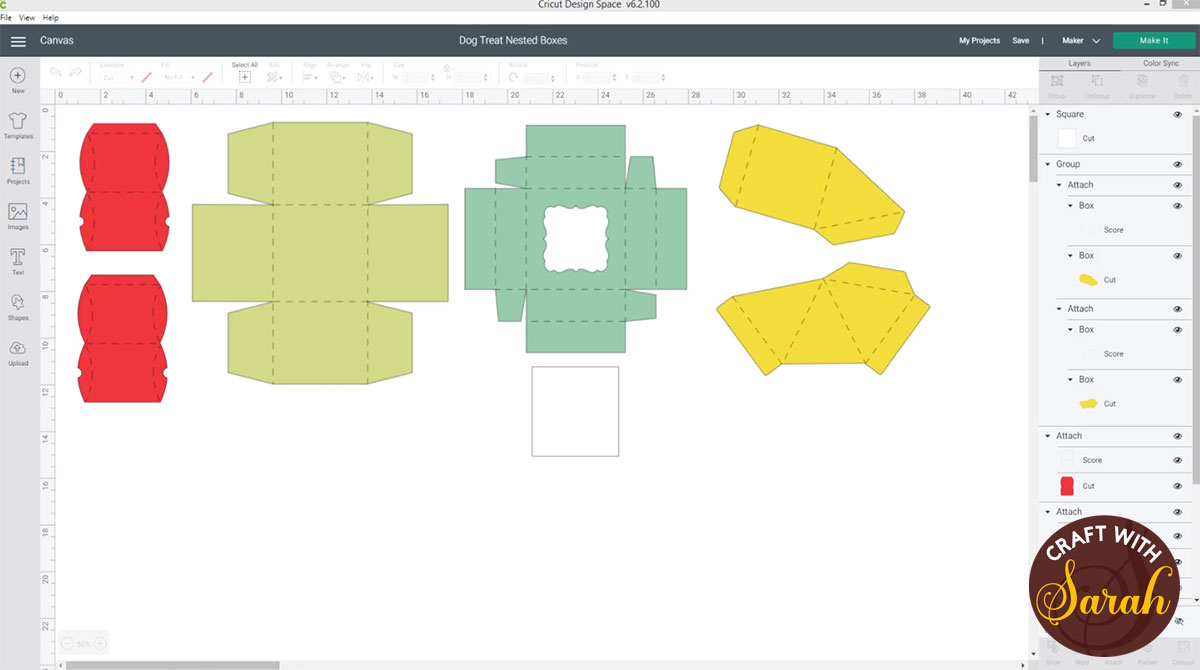 If you're not a member of the Craft With Sarah Clubhouse then don't panic – you can still make this project!
Go into 'images' in Design Space and search for 'box'. There's lots of designs in there to choose from.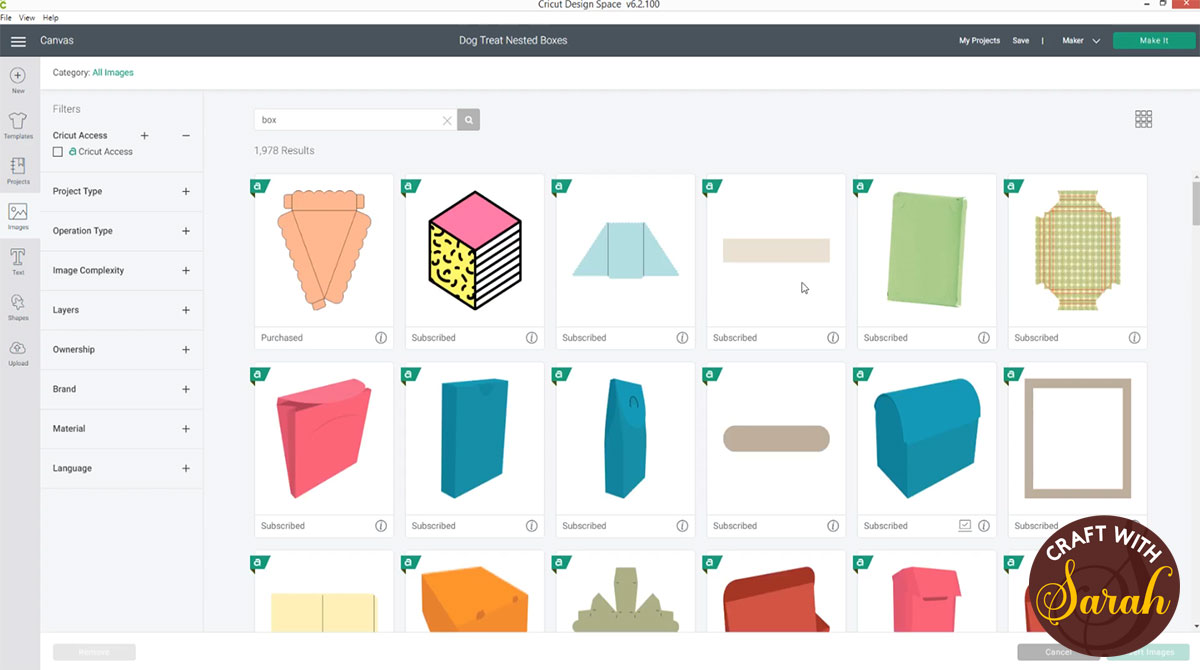 ---
Step 2) Assembling the Main Box
Start with the base of the box. Turn it upside down and fold along all of the score lines.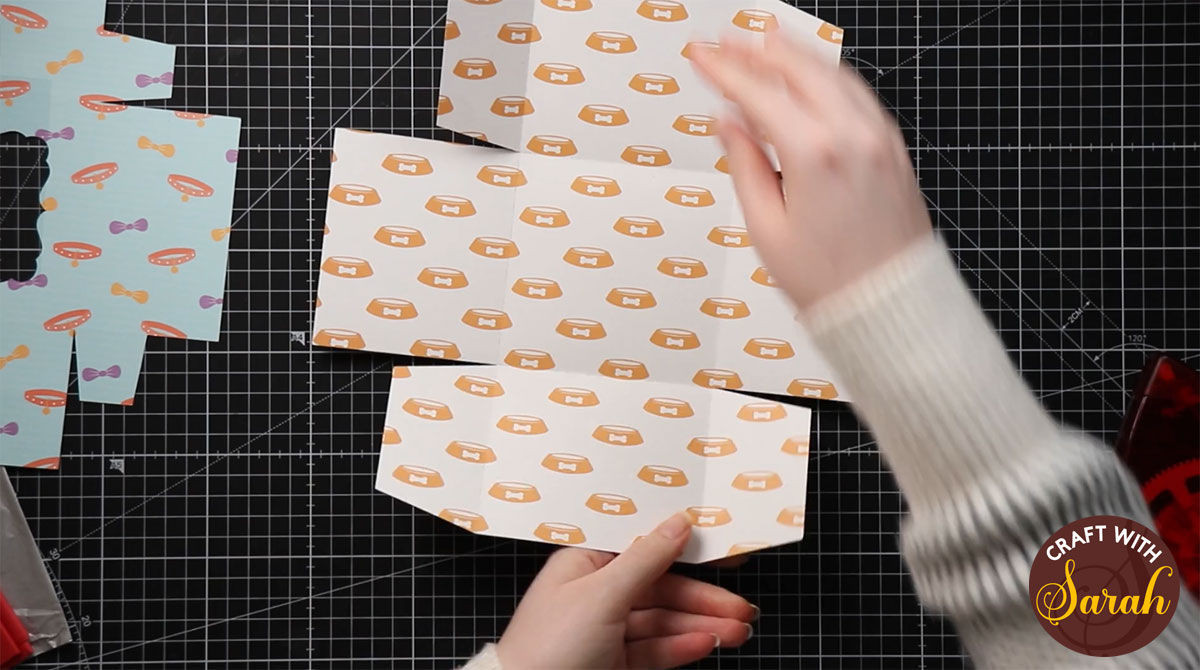 Once they are folded upwards, I recommend double-sided tape for sticking them down.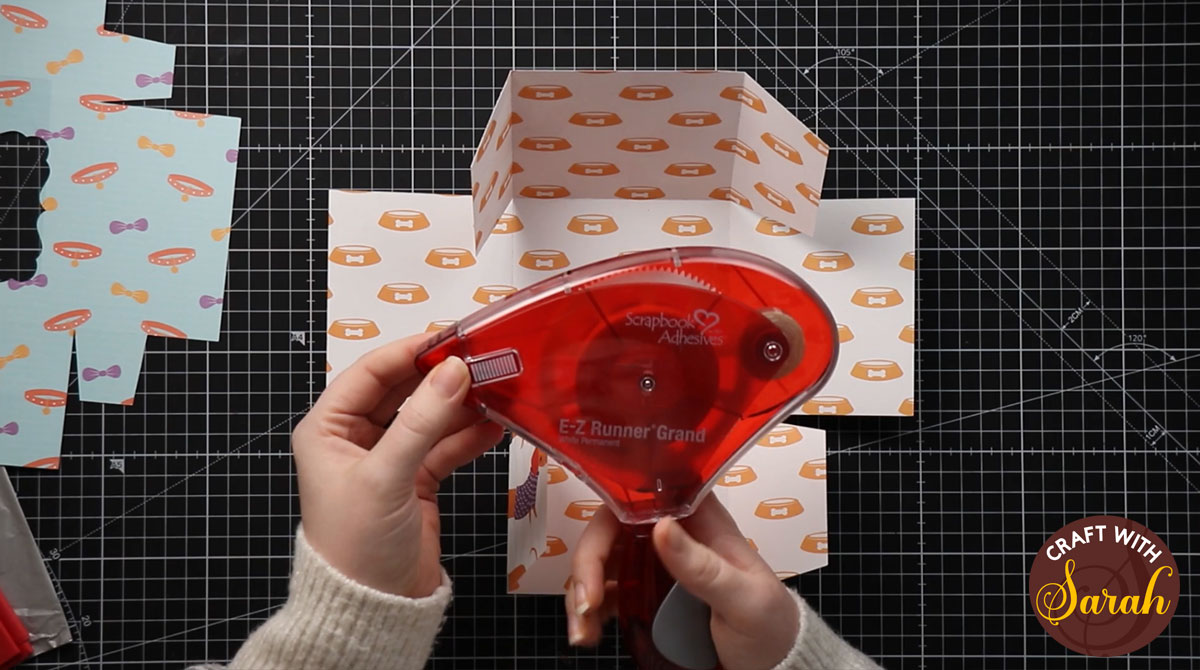 Fold in the tabs and glue them down using whatever method you have chosen. When you are done, you will be left with a one-side-open box.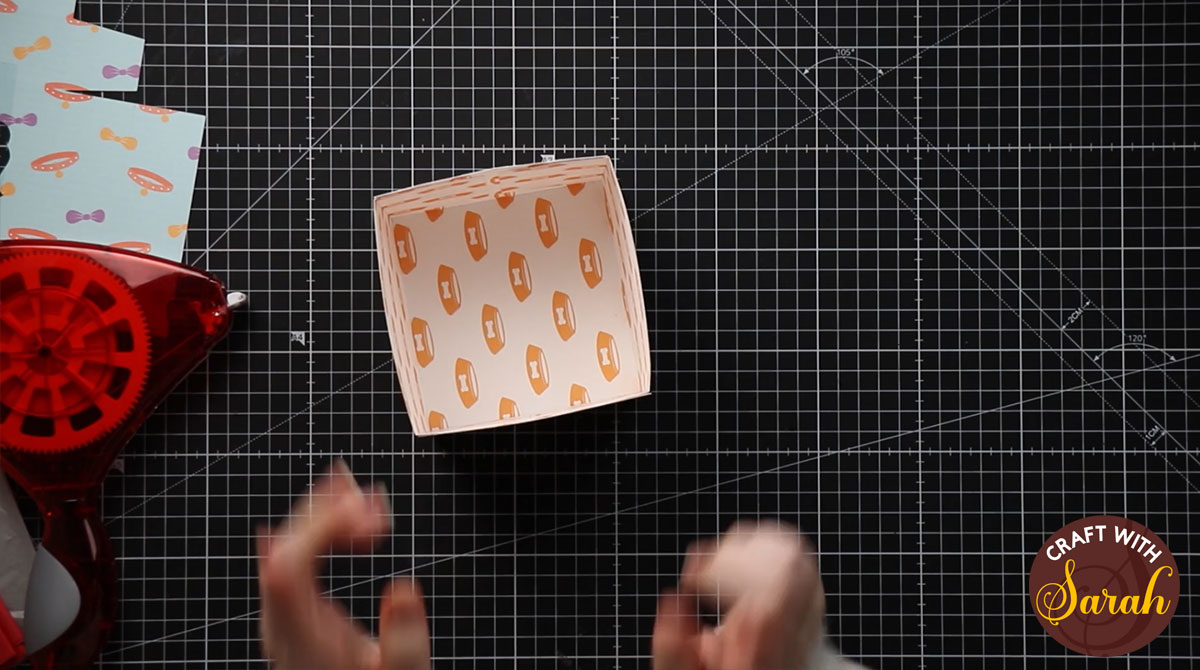 ---
Step 3) Making the Lid
Stick down your acetate piece to make a window. This allows your dogs to see the yummy treats inside the box!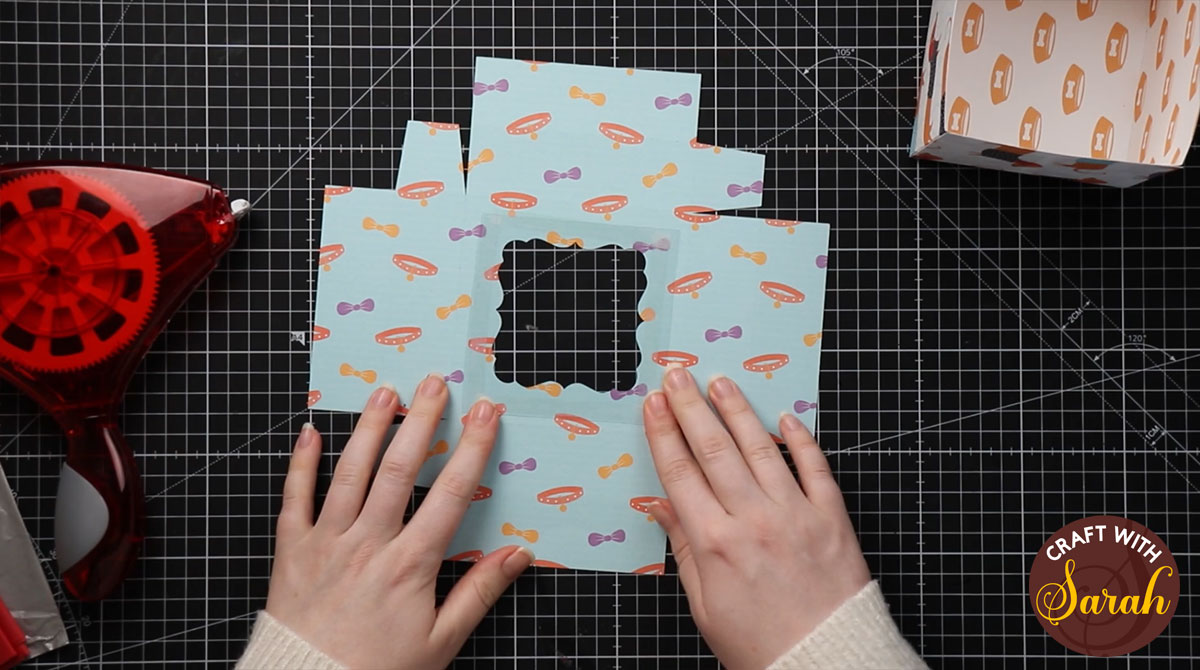 Fold up the score lines just like you did with the main box, which will leave you with some tabs.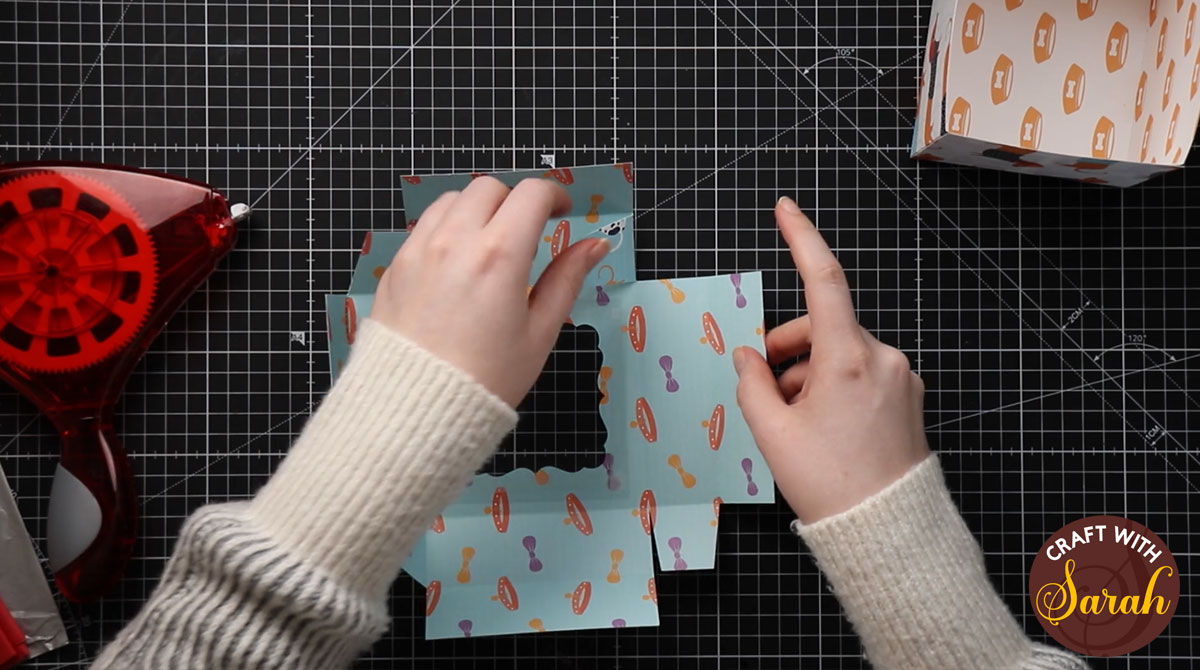 Stick down your tabs into the inside of the design, giving you a nice box shape with your window on the top side and an open bottom side.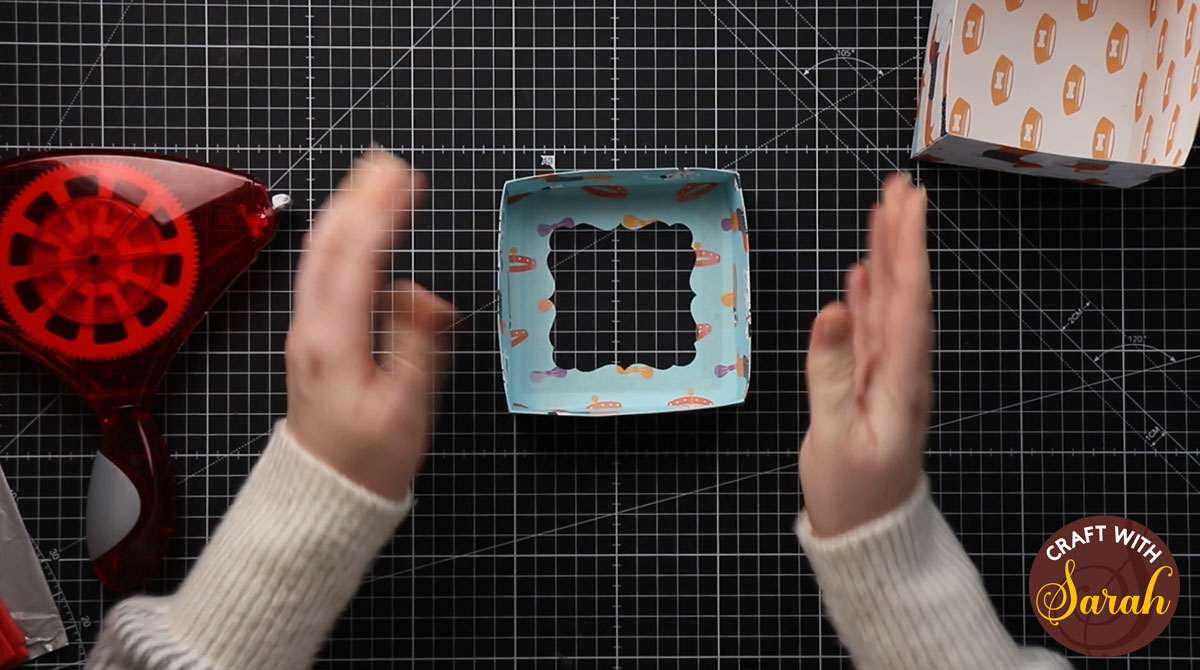 ---
Step 4) Two Triangle Boxes
As with the previous two boxes, fold the score lines so they are ready to be glued down.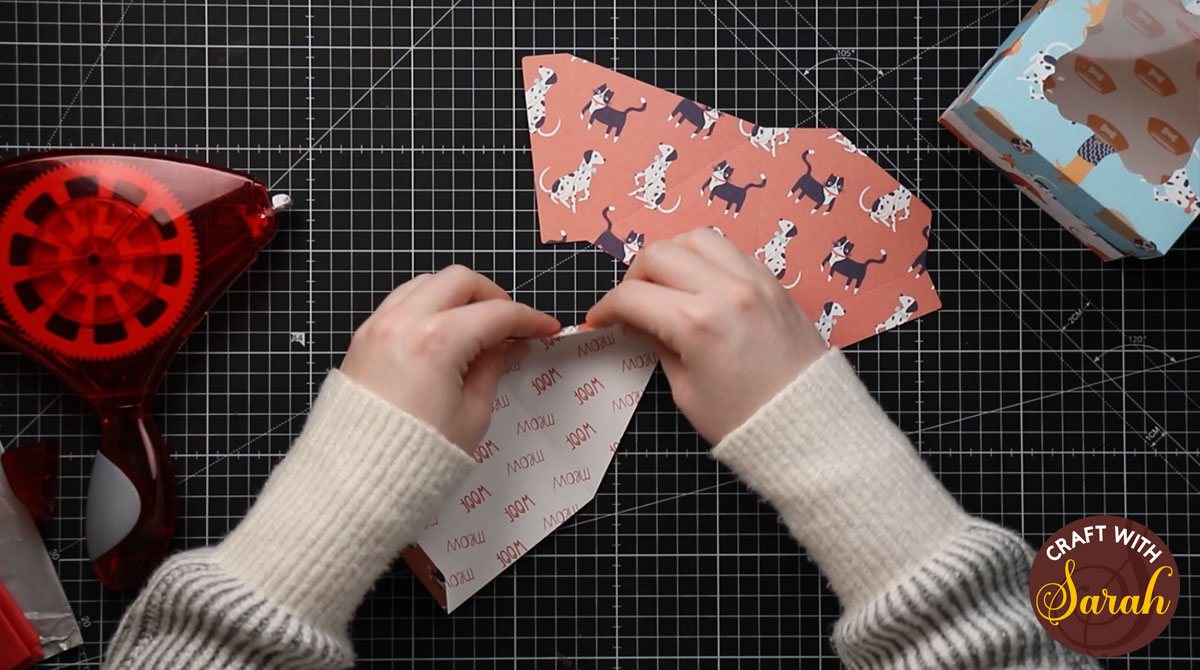 Start with the piece that has all of the three triangle faces on it. Roughly fold them in to make the triangle, leaving the fourth triangle face's space free for the other card piece to go.
Glue all of the tabs into the inside of the shape first, and then glue the square piece's tabs down to make the base.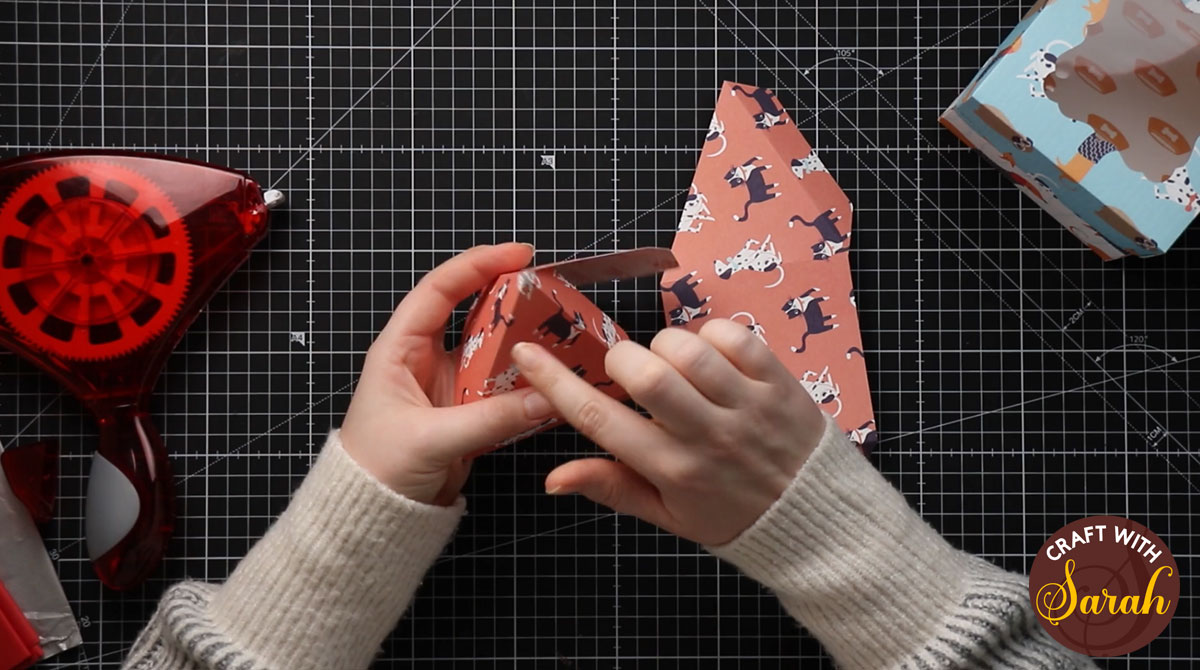 This step can be a little tricky and you may need to refer to the tutorial video for a visual guide.
Don't forget to put the treats inside the box before you close it up!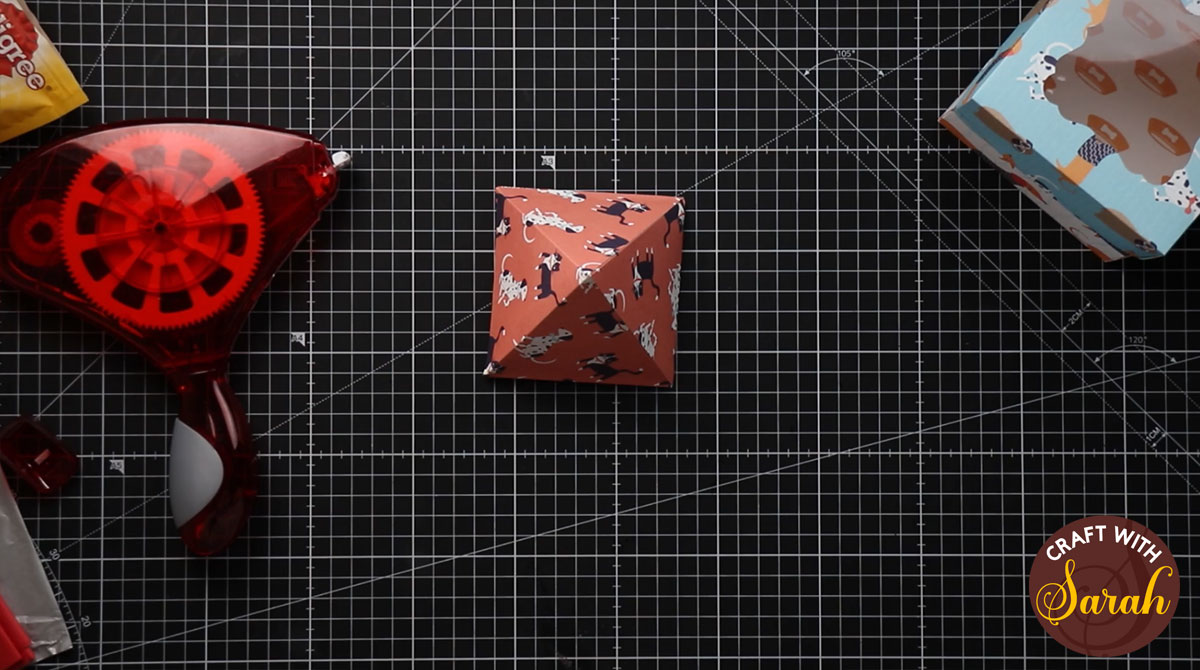 ---
Step 5) Pillow Boxes
Fold along the score lines, taking care as these pillow boxes can be a little bit small.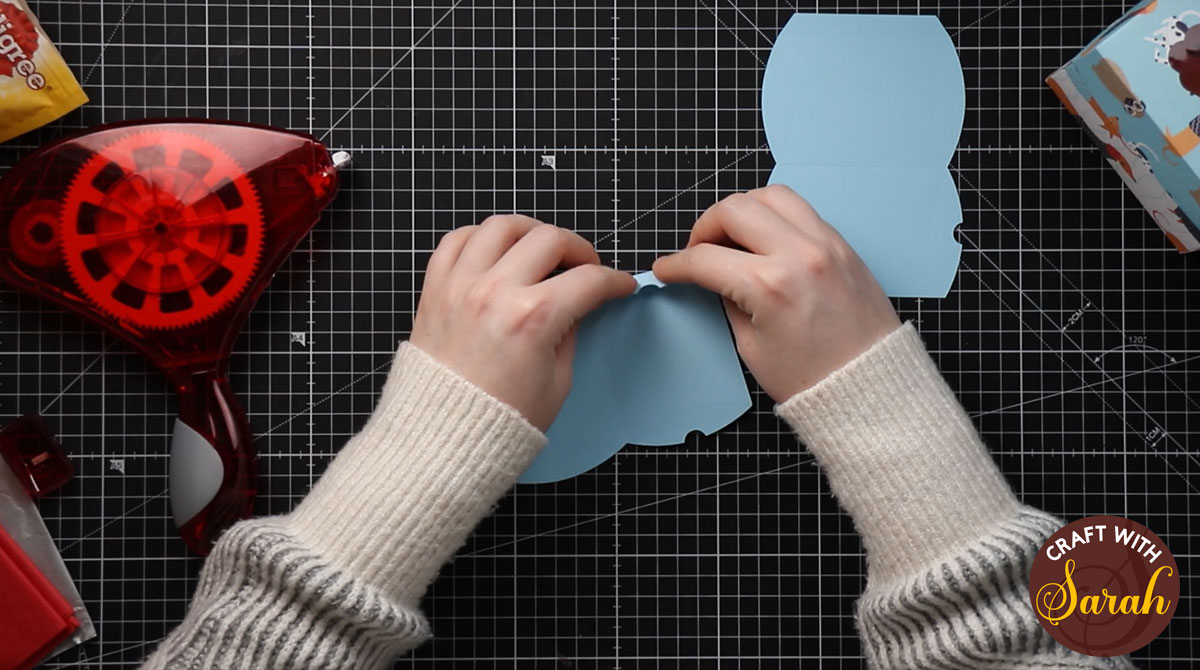 As you glue the tabs down, slightly bend the card to give it the 'pillow' effect.
When you have your hollow pillow shape, stick down the tabs on the end to seal the shape.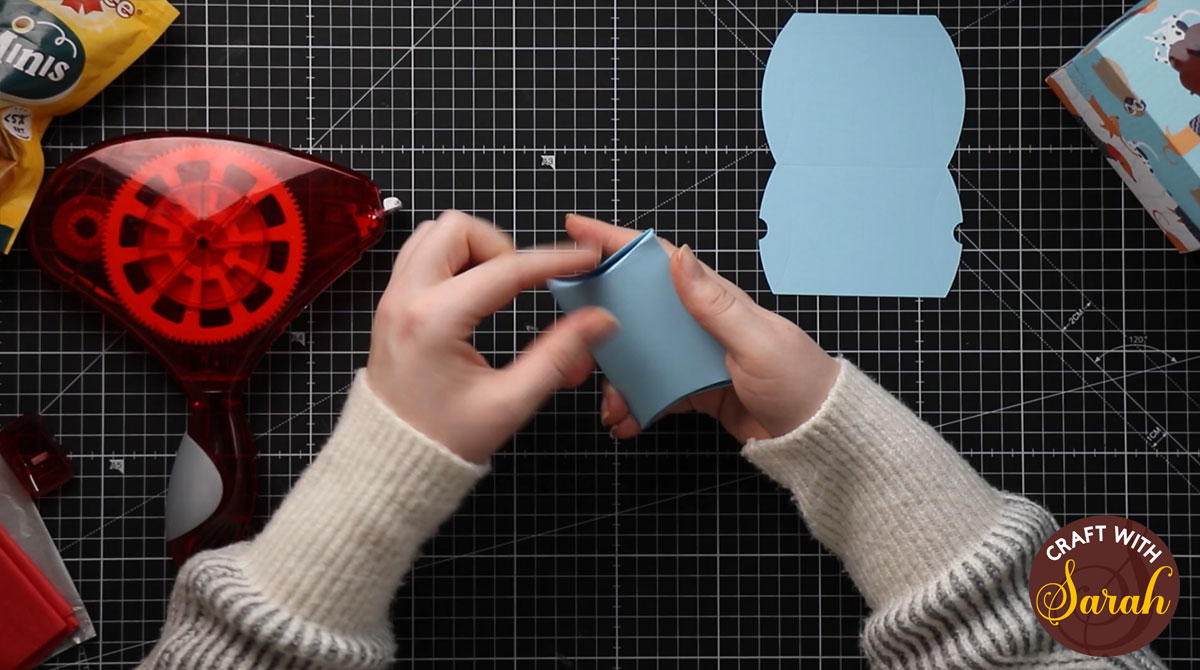 I found that my boxes were a little too easy to open so I put some washi tape on them to make them harder to get in to!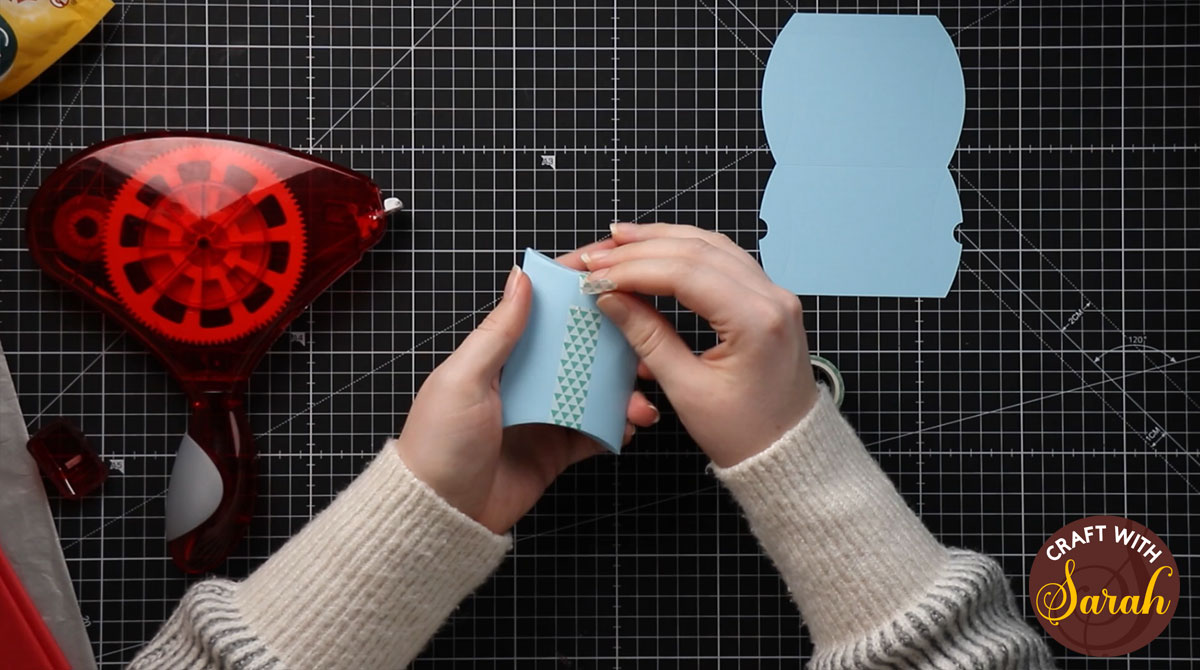 ---
Step 6) Assembling the DIY Dog Puzzle Toy
After adding the treats into the triangle box and the two pillow boxes, our project is ready to be put together!
I chose to put some tissue paper in the bottom of my box to give my dogs some sensory stimulation when they are trying to get to the treats.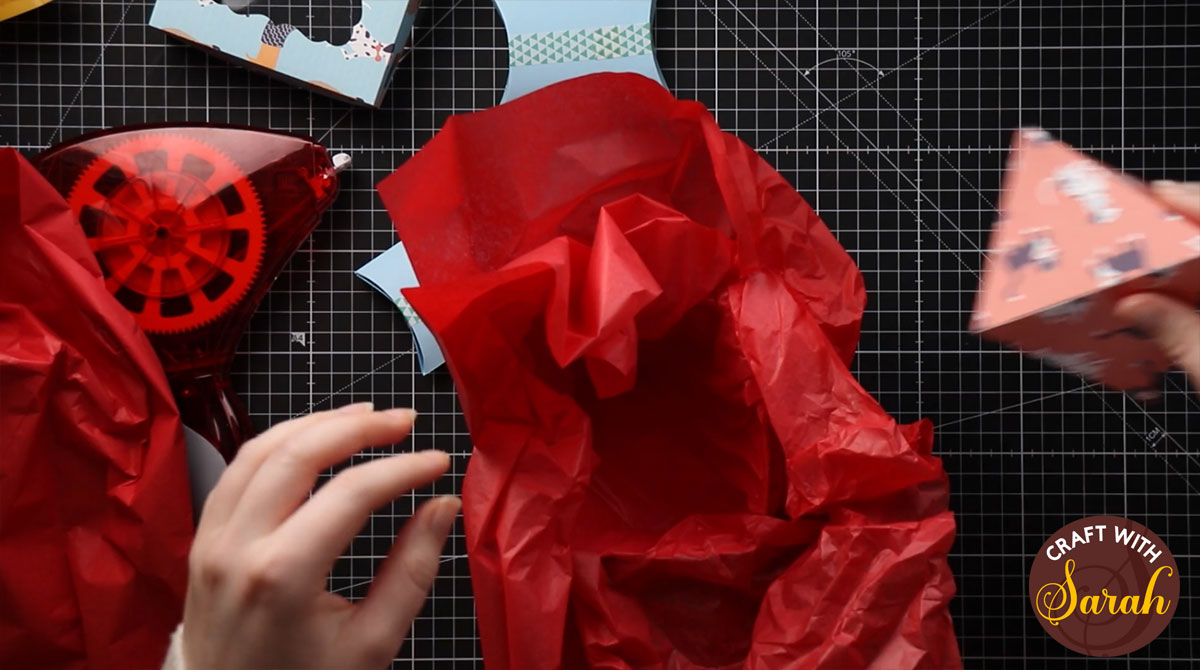 Put the triangle box in first and then add in your pillow boxes.
You could even add some smaller treats down the sides of the main box so as your dog is rummaging, they can get some extra goodies!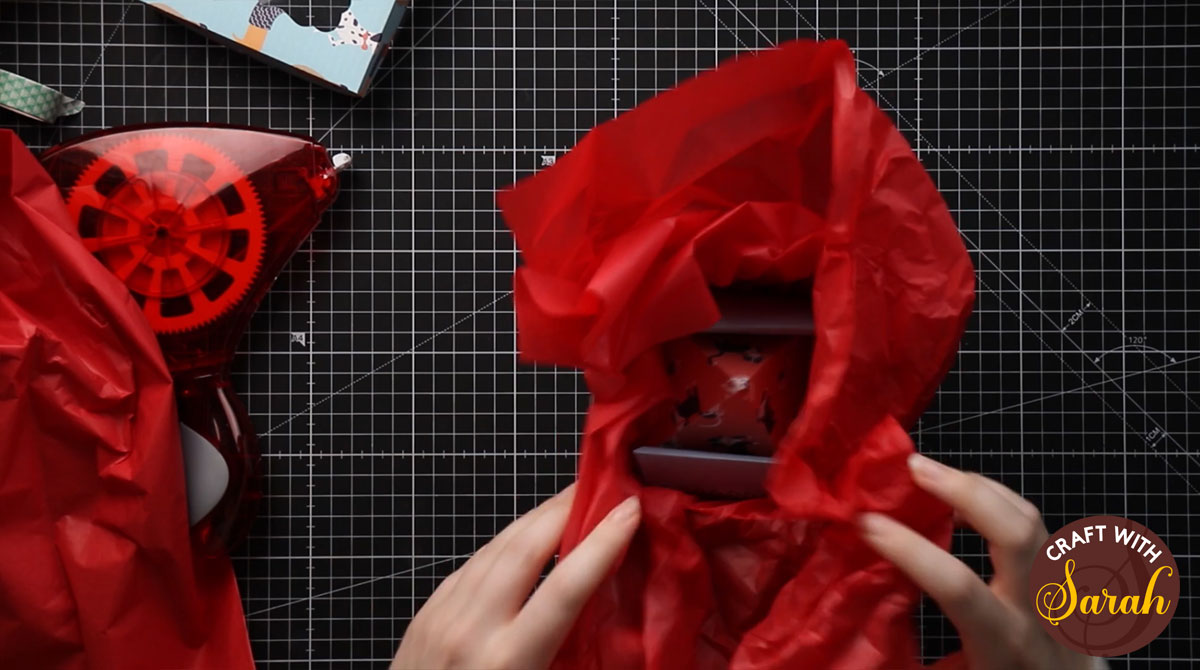 When you have finished, add the lid and seal it with some washi tape.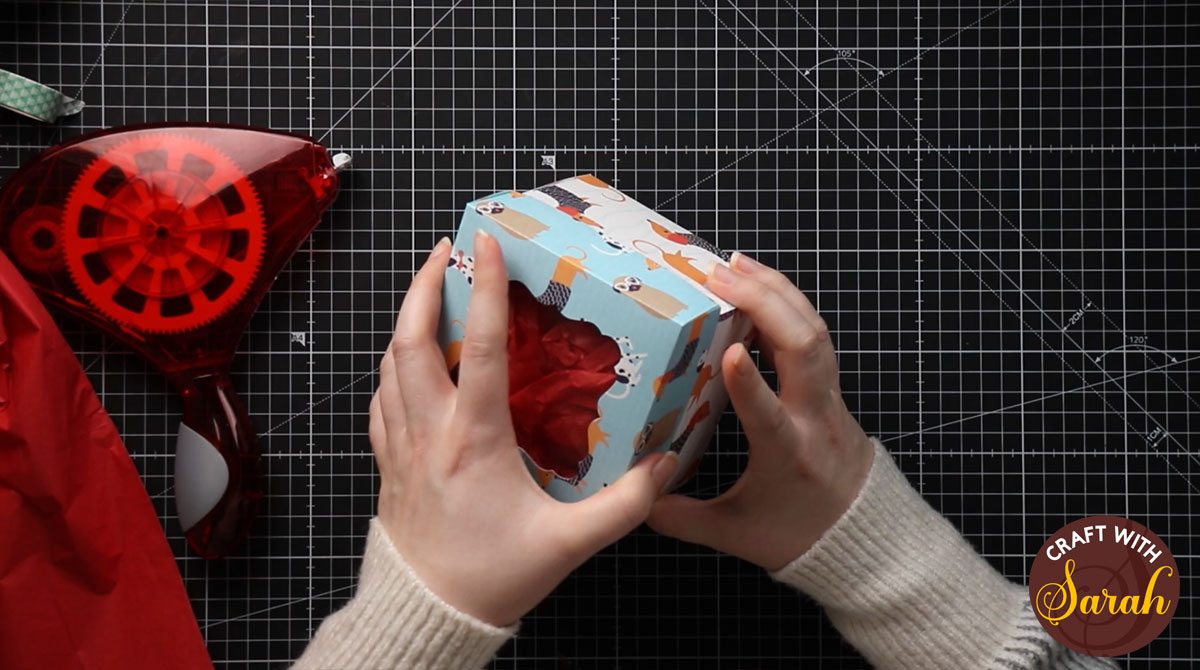 Your treat box is now all ready for your dogs to play with!
---
Homemade dog enrichment toys
I know my dogs are going to love this and I hope yours do too! Just remember, if you make this for your dogs then be sure to supervise them at all times when they're playing with the box and make sure that when they're finished you take everything away. Don't leave it out for them because you don't want them chewing up the cardboard and swallowing it.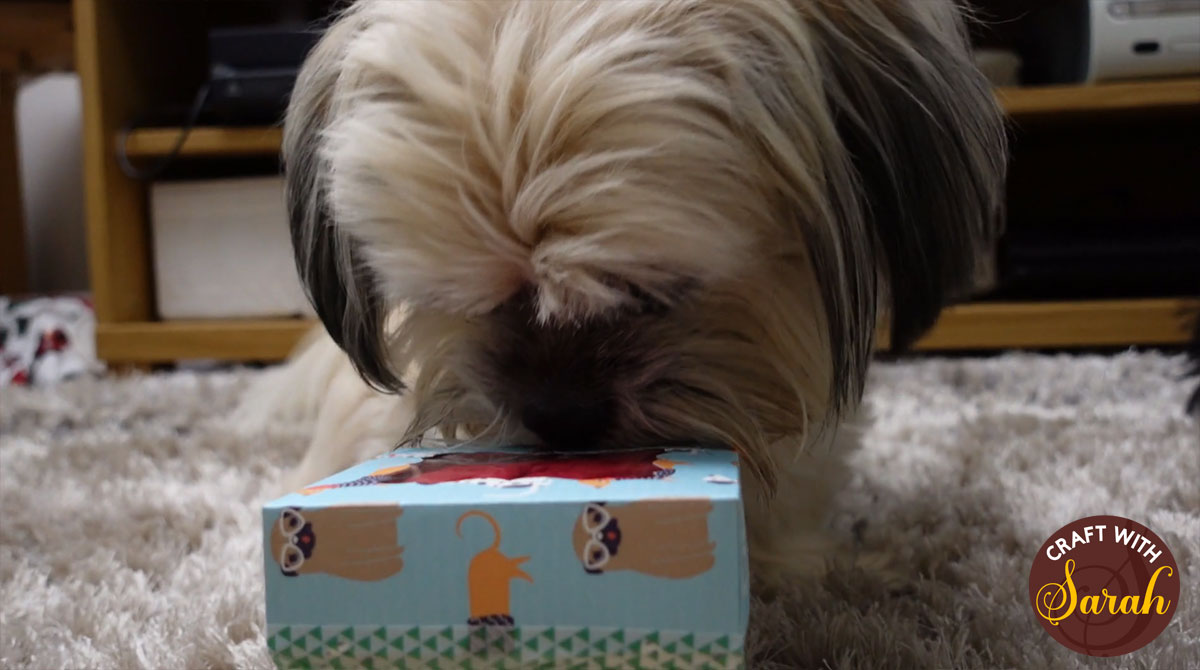 If you wanted to make it a little bit harder, because these lids will come off easily, then you can add some washi tape all the way around the edges where the lid meets the box.
Here is the box that I've made for my other dogs. They both have one and I've already washi-taped this one. I put two rows of washi tape along the lid and now it is completely secure. It won't pull apart, so my dogs are really going to have to destroy this if they want to get all the food out!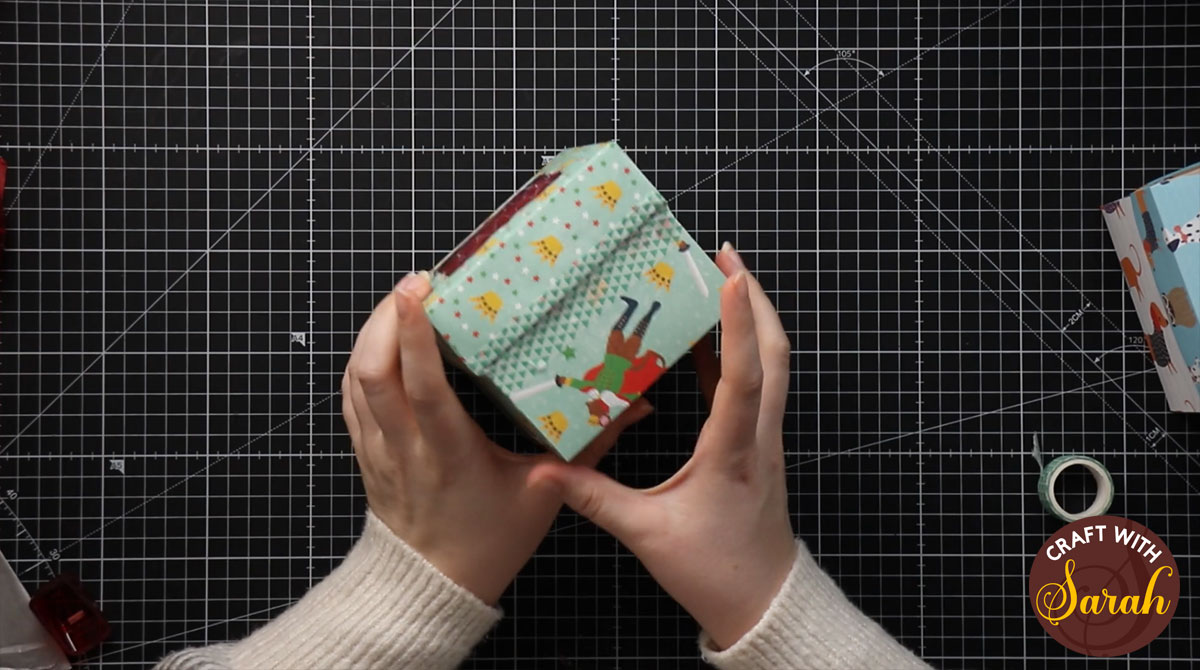 ---
What are the best dog puzzle toys?
I LOVE to play with enrichment toys with my dogs and over the years we have amassed quite a large collection!
Here are some of my dog's favourites to play with…
---
Did my dogs enjoy their toys?
They certainly did!! Here's a little "action shot"…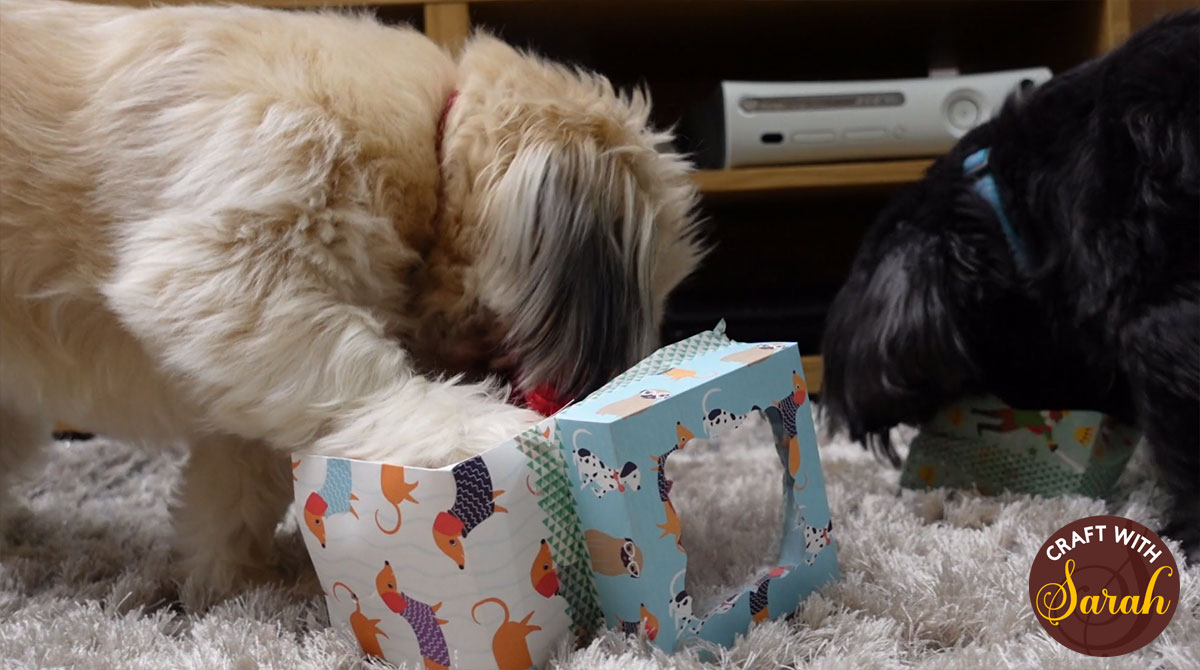 It took about an hour to make the dog puzzle toys… and about 3 minutes for them to be completely destroyed!! 😀
Happy crafting,
Sarah x