DIY Dog Puzzle Toys: Homemade Dog Enrichment Ideas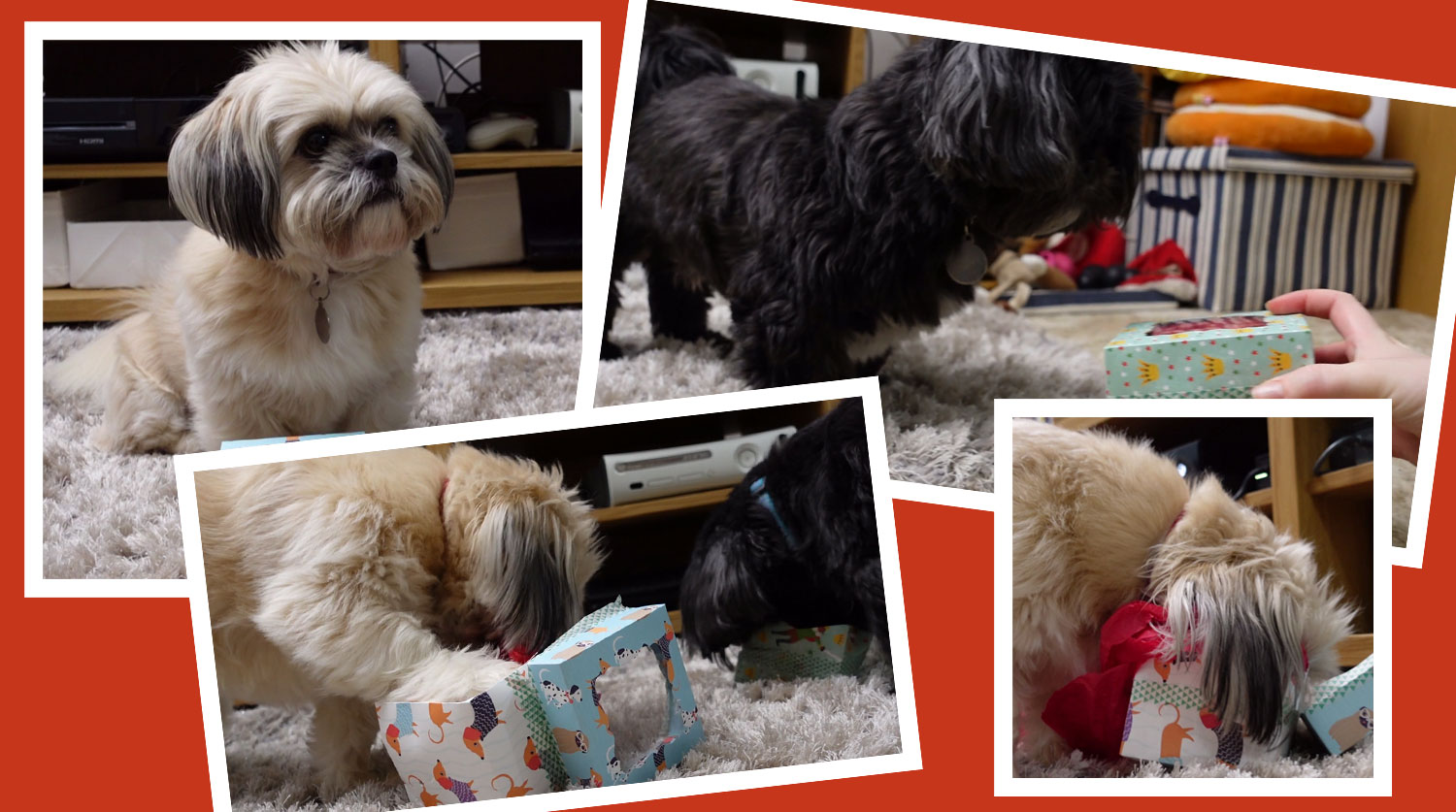 I had a request from one of my email subscribers to come up with a homemade dog enrichment game. What better than a DIY dog puzzle toy filled with tasty treats?
I love making dog themed craft projects, so this was definitely a challenge that I was going to take on. I thought about making a toy that you could sew for your dogs, but I don't know how to sew, and it seemed like a little bit of a challenge to learn how to do that just for this video, so I've come up with something different instead and here it is.
It might not look very much, but this is a really fun interactive game for your dog which contains treats. This is a very special box and inside are three smaller boxes all filled with treats.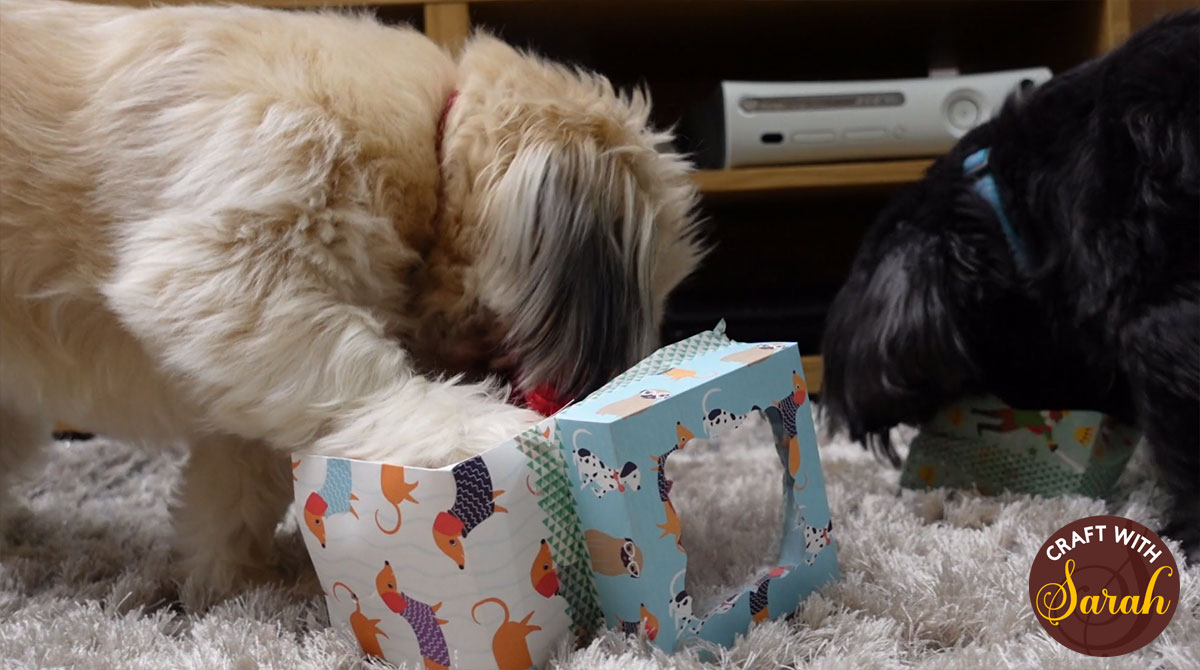 My dogs are Shih tzu's so they're very small and this is a perfect sized game for them to play with.
If you've got larger dogs, then this might be a little on the small side. You don't want to risk them swallowing any of the bits of cardboard when they tear it apart, so if you've got big dogs, you might be better off getting some old packaging boxes of different sizes and putting some treats in there and then stack them one inside the other. That way, your dog's got something bigger that they can tear apart and have fun with that's more appropriate to their size.
But for my little doggies, this is going to be some awesome playtime for them! Of course, they're not going to know the difference between an old Amazon box or this which I took an hour putting together, but it's really more about me knowing that I'm giving them something that I have put my love into and that they will love. Even though that love will be very brief as they tear it apart!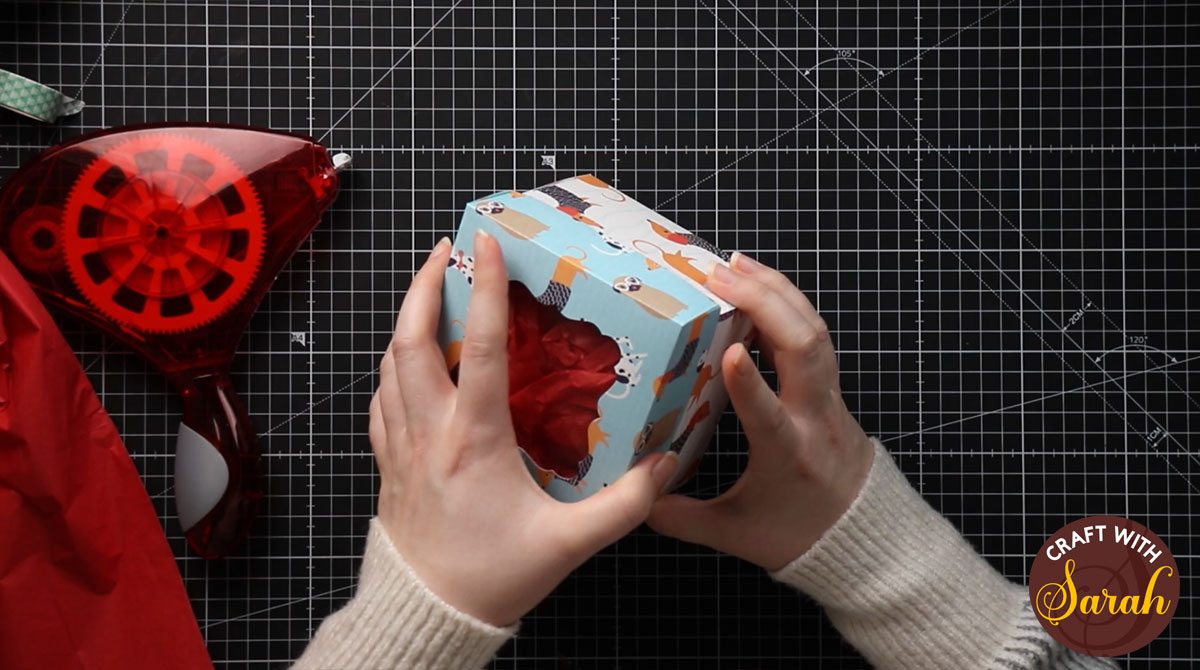 How to make DIY Dog Puzzle Toys
Here is a video which shows how to cut and assembly these diy dog puzzle toys.
Scroll down for a full written tutorial!
---
Step 1) Starting the Project
Go into Design Space and open the dog treat box design you've downloaded from the Craft with Sarah Clubhouse.
CWS Clubhouse Exclusive
Dog Treat Box – Fun Interactive Game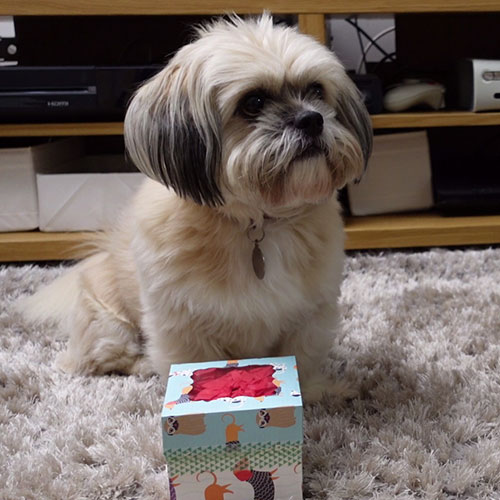 This Design Space Project link is only available to members of the 'Craft with Sarah Clubhouse'.
Log in or join the Clubhouse to access this Project.
When you've opened the project, click 'make it' and cut it out from your Cricut or another cutting machine.
Note that the white square shape should be cut from acetate.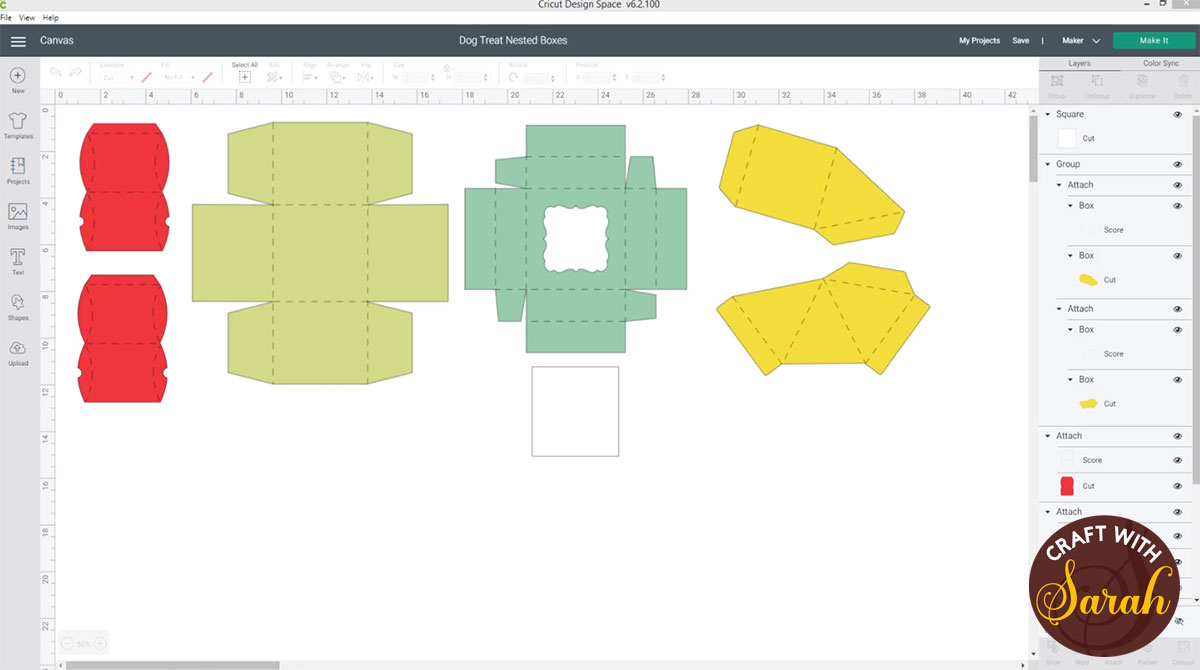 If you're not a member of the Craft With Sarah Clubhouse then don't panic – you can still make this project!
Go into 'images' in Design Space and search for 'box'. There's lots of designs in there to choose from.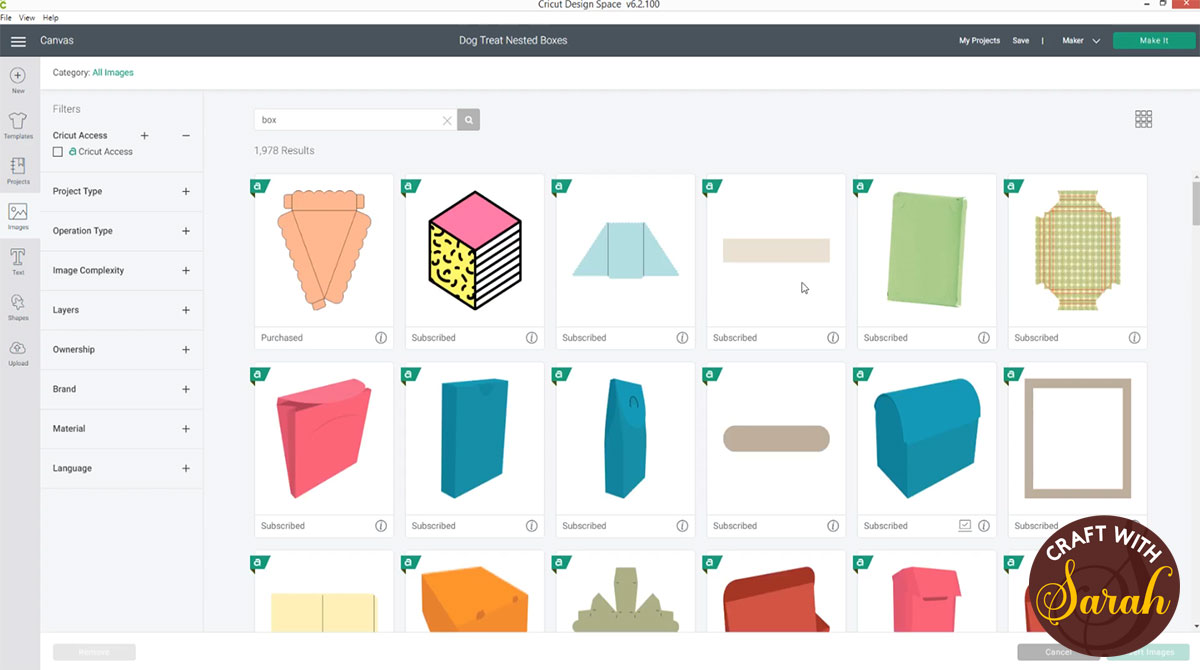 ---
Step 2) Assembling the Main Box
Start with the base of the box. Turn it upside down and fold along all of the score lines.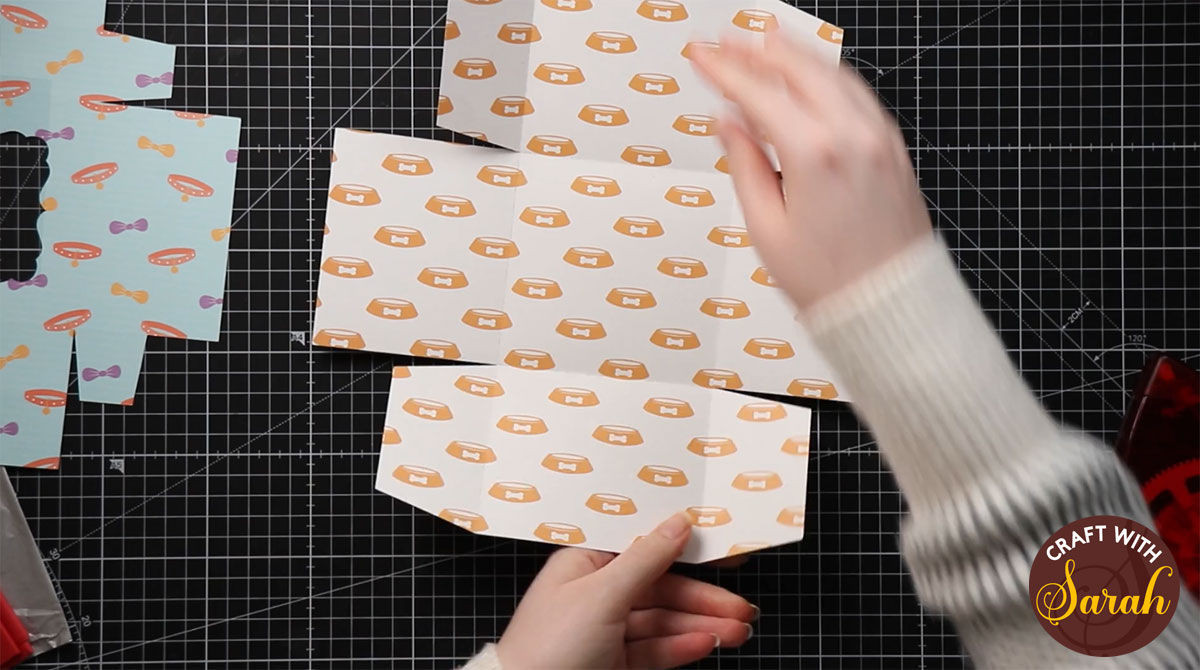 Once they are folded upwards, I recommend double-sided tape for sticking them down.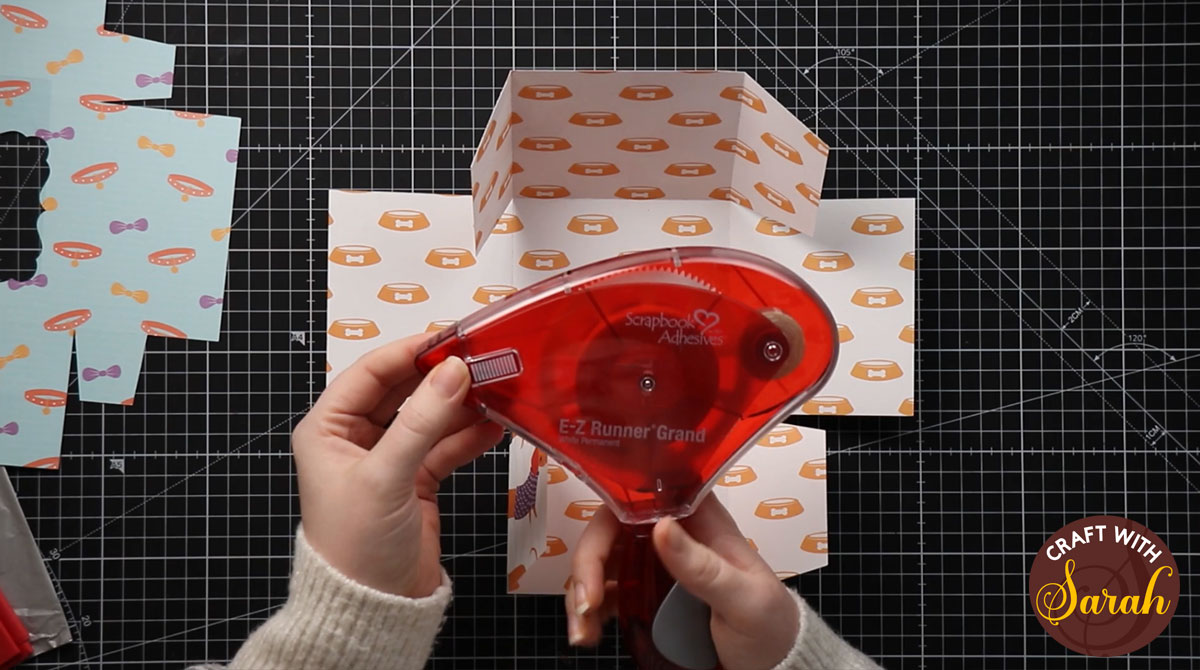 Fold in the tabs and glue them down using whatever method you have chosen. When you are done, you will be left with a one-side-open box.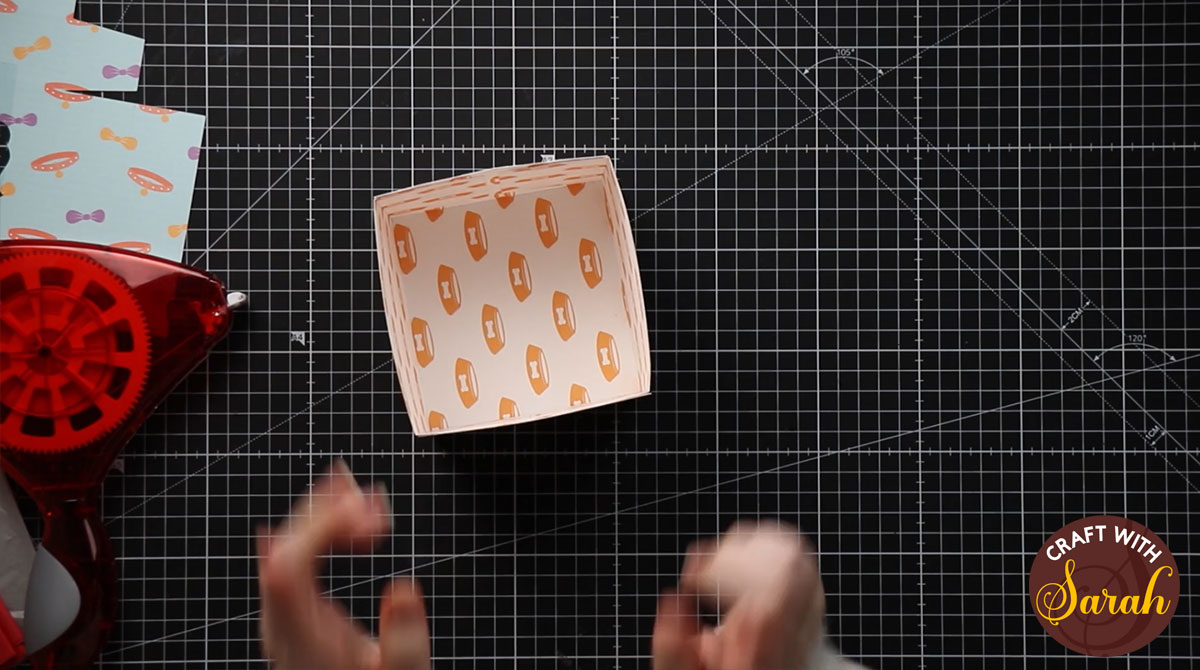 ---
Step 3) Making the Lid
Stick down your acetate piece to make a window. This allows your dogs to see the yummy treats inside the box!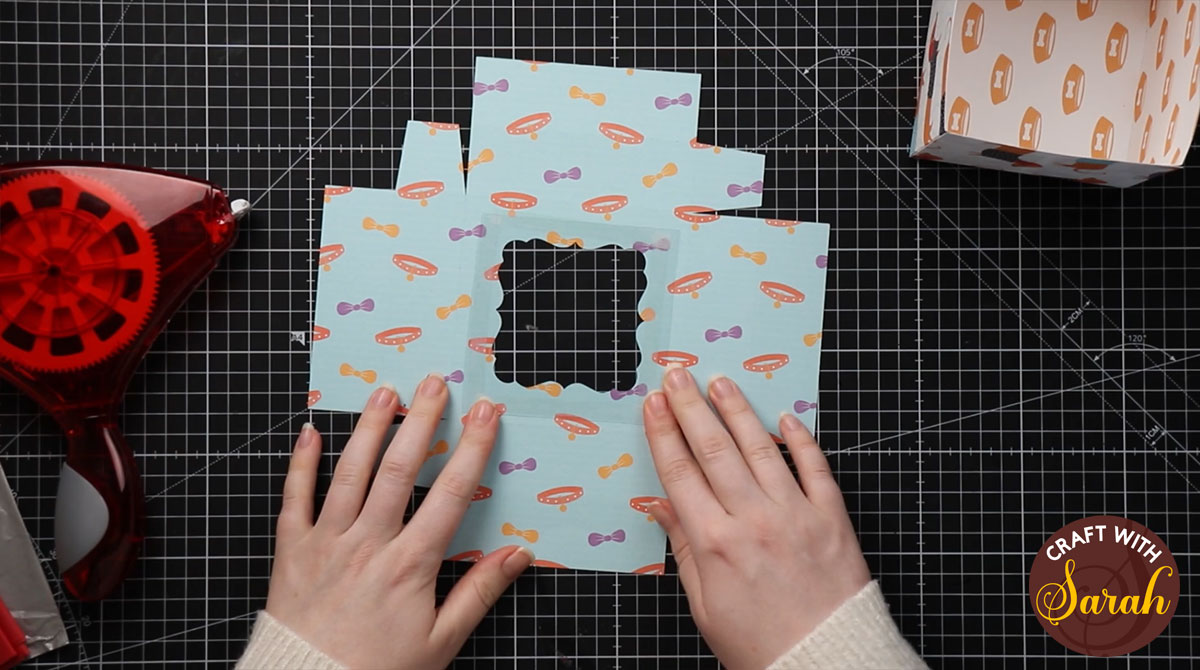 Fold up the score lines just like you did with the main box, which will leave you with some tabs.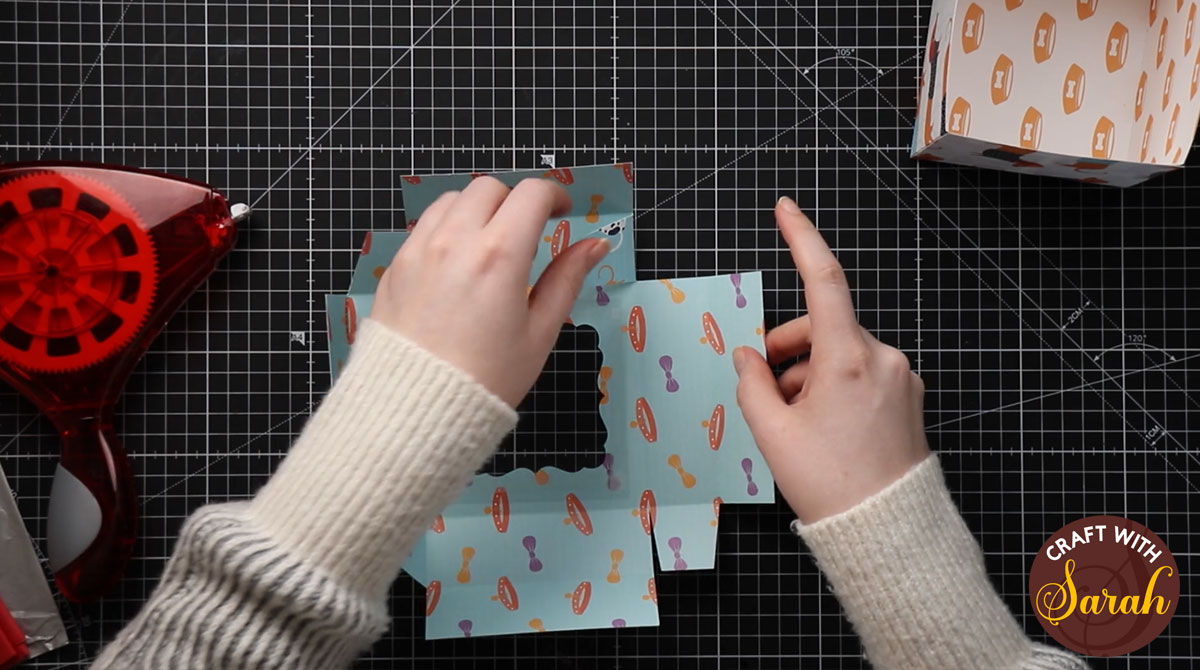 Stick down your tabs into the inside of the design, giving you a nice box shape with your window on the top side and an open bottom side.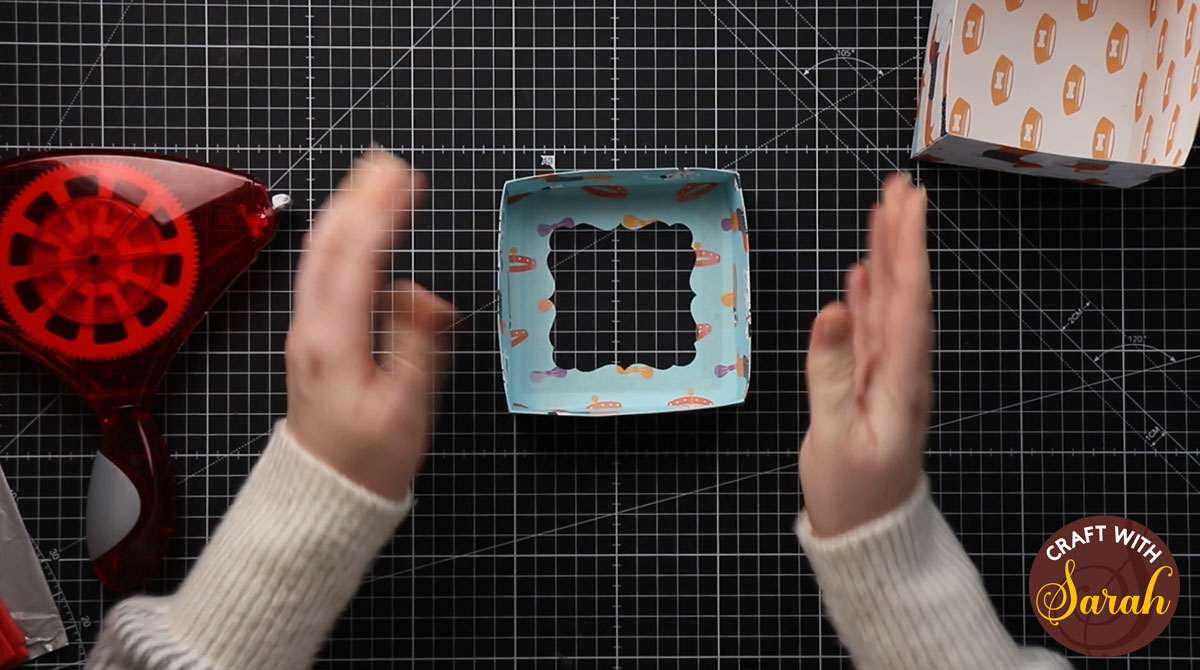 ---
Step 4) Two Triangle Boxes
As with the previous two boxes, fold the score lines so they are ready to be glued down.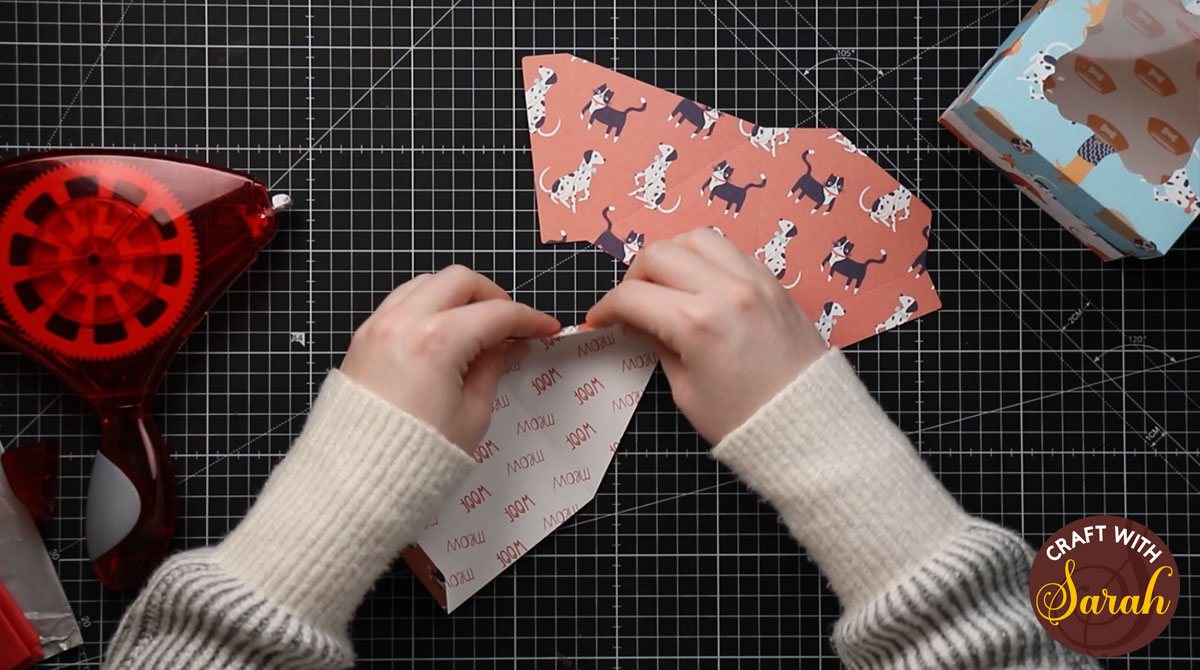 Start with the piece that has all of the three triangle faces on it. Roughly fold them in to make the triangle, leaving the fourth triangle face's space free for the other card piece to go.
Glue all of the tabs into the inside of the shape first, and then glue the square piece's tabs down to make the base.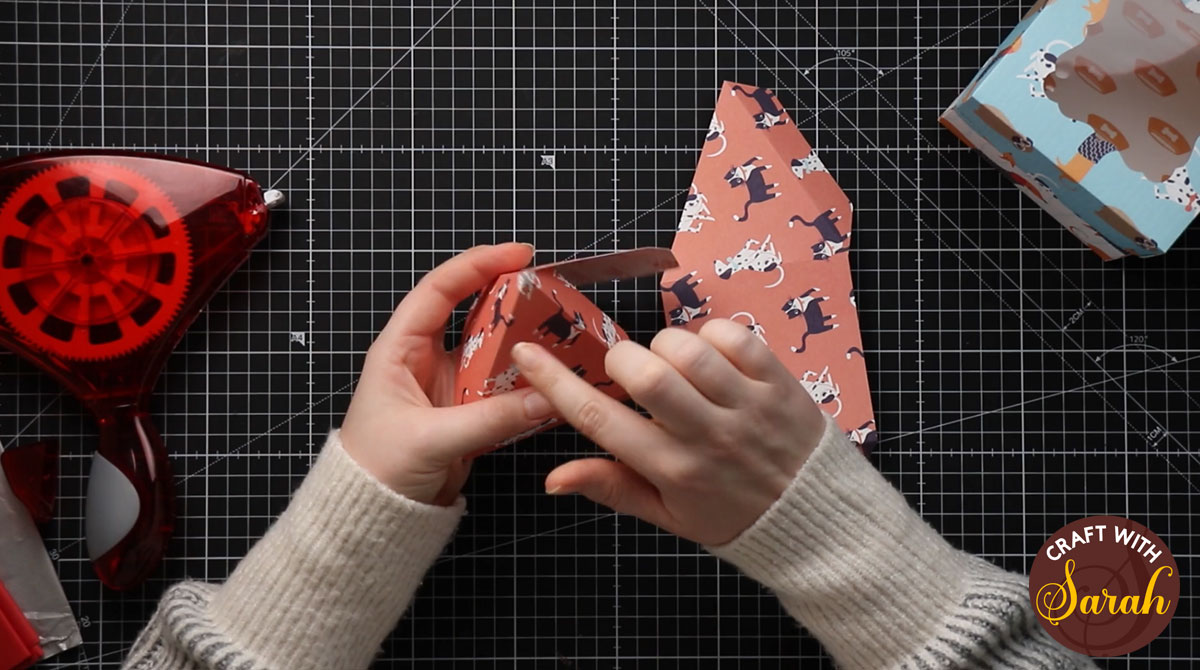 This step can be a little tricky and you may need to refer to the tutorial video for a visual guide.
Don't forget to put the treats inside the box before you close it up!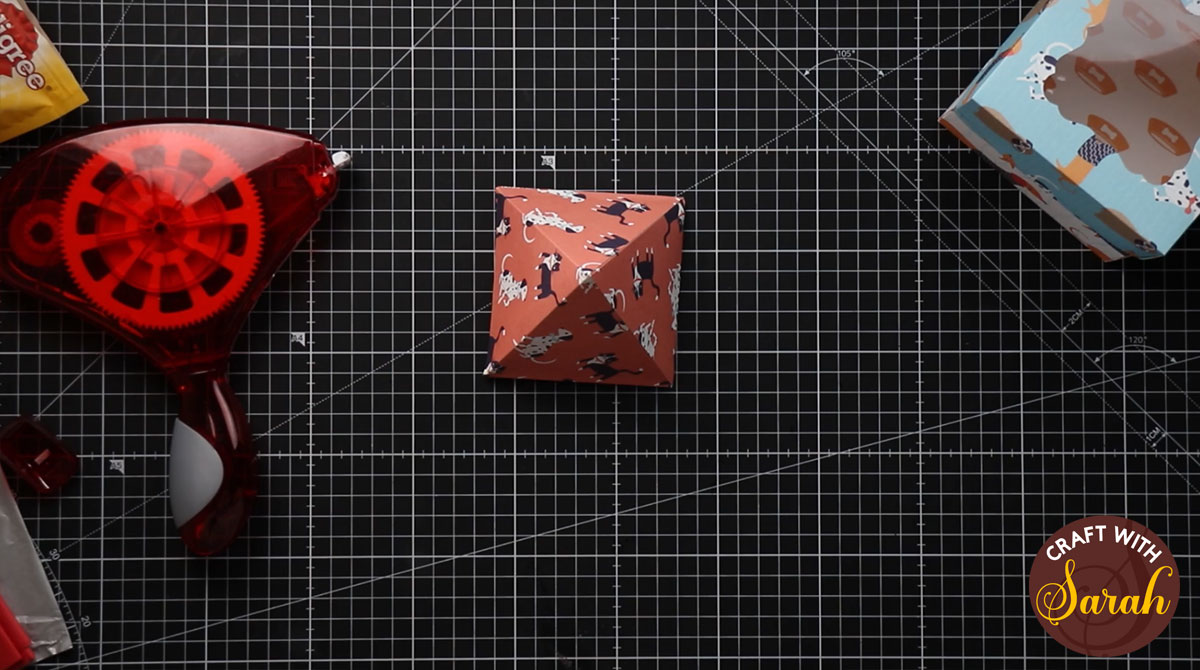 ---
Step 5) Pillow Boxes
Fold along the score lines, taking care as these pillow boxes can be a little bit small.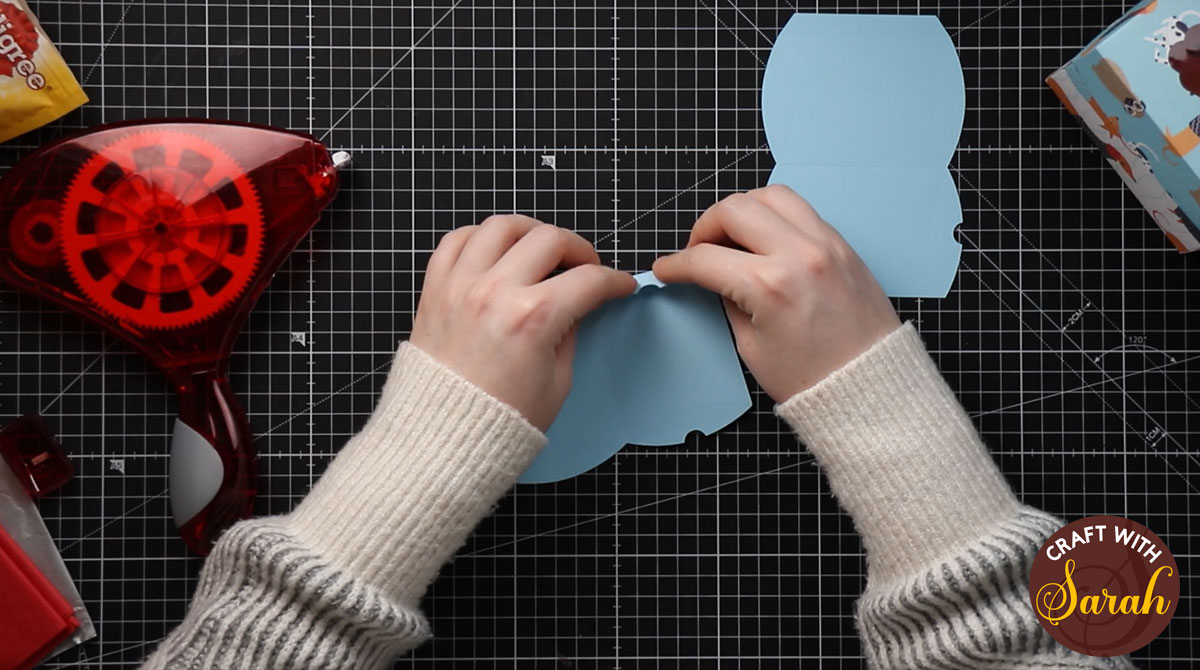 As you glue the tabs down, slightly bend the card to give it the 'pillow' effect.
When you have your hollow pillow shape, stick down the tabs on the end to seal the shape.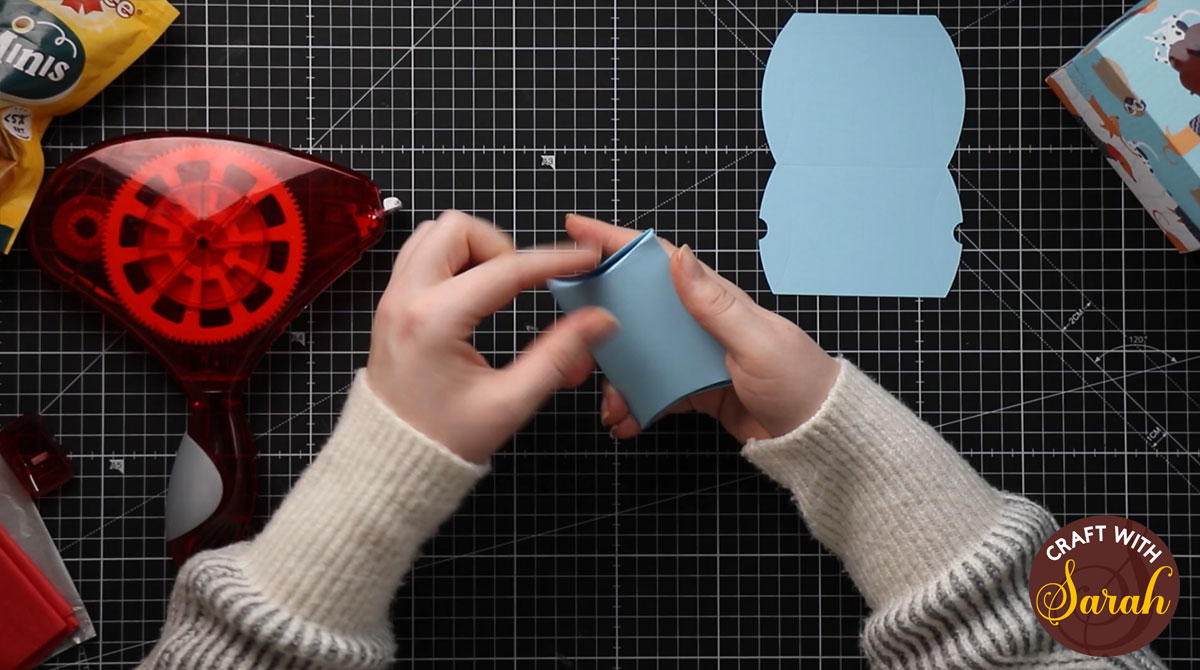 I found that my boxes were a little too easy to open so I put some washi tape on them to make them harder to get in to!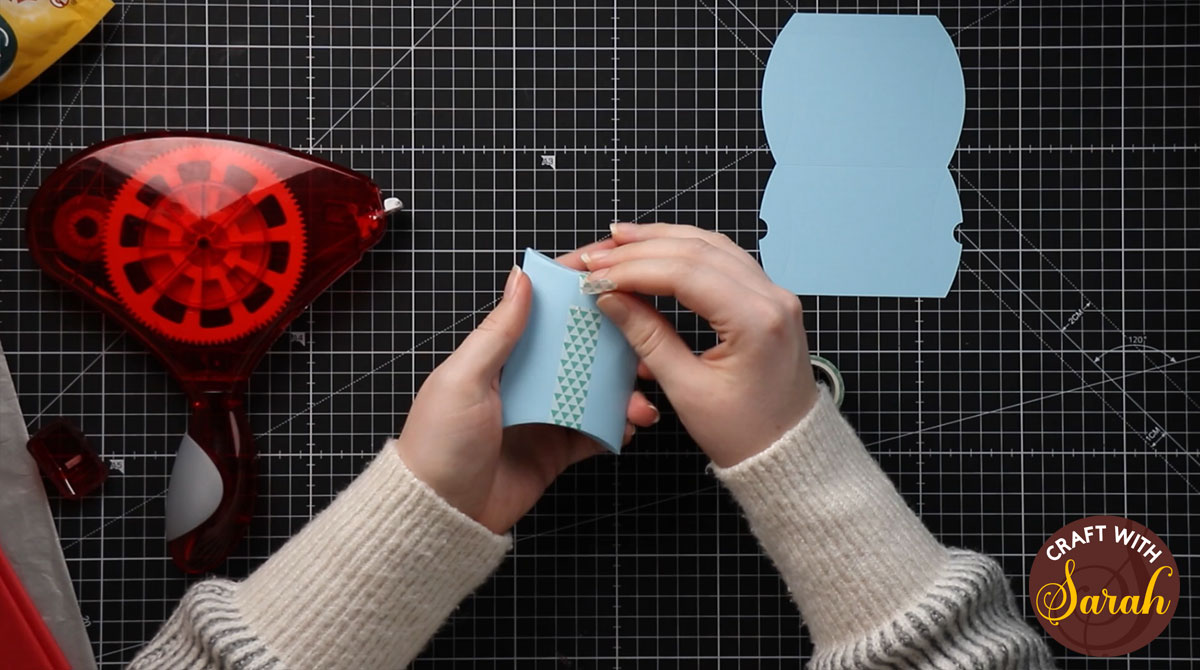 ---
Step 6) Assembling the DIY Dog Puzzle Toy
After adding the treats into the triangle box and the two pillow boxes, our project is ready to be put together!
I chose to put some tissue paper in the bottom of my box to give my dogs some sensory stimulation when they are trying to get to the treats.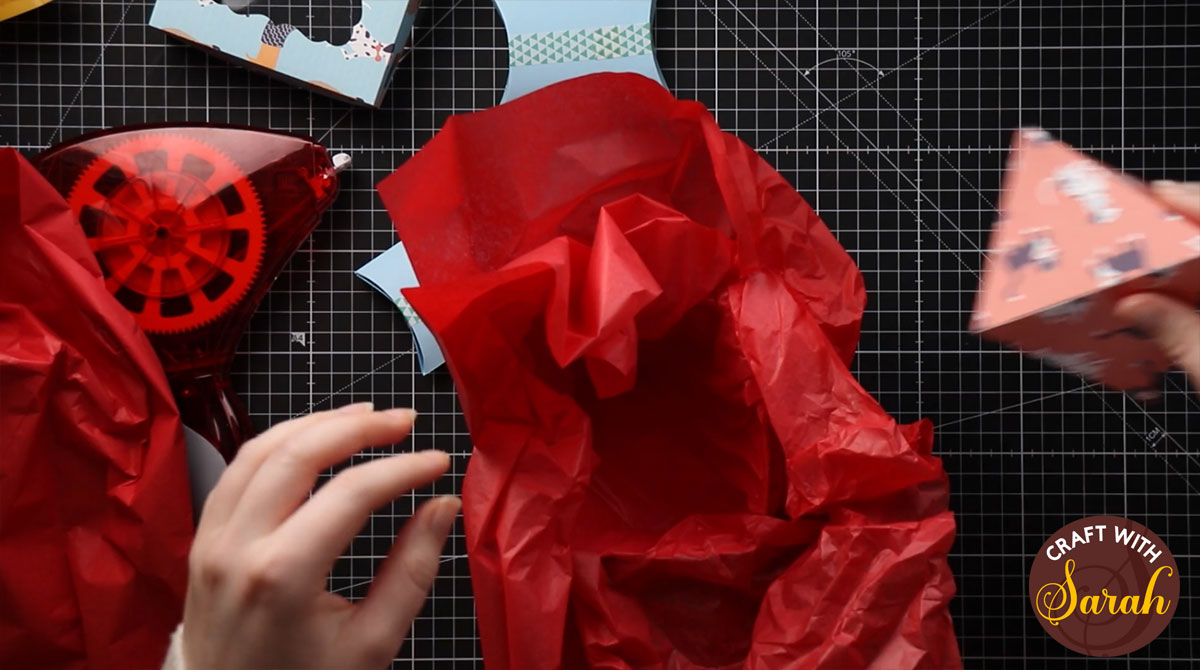 Put the triangle box in first and then add in your pillow boxes.
You could even add some smaller treats down the sides of the main box so as your dog is rummaging, they can get some extra goodies!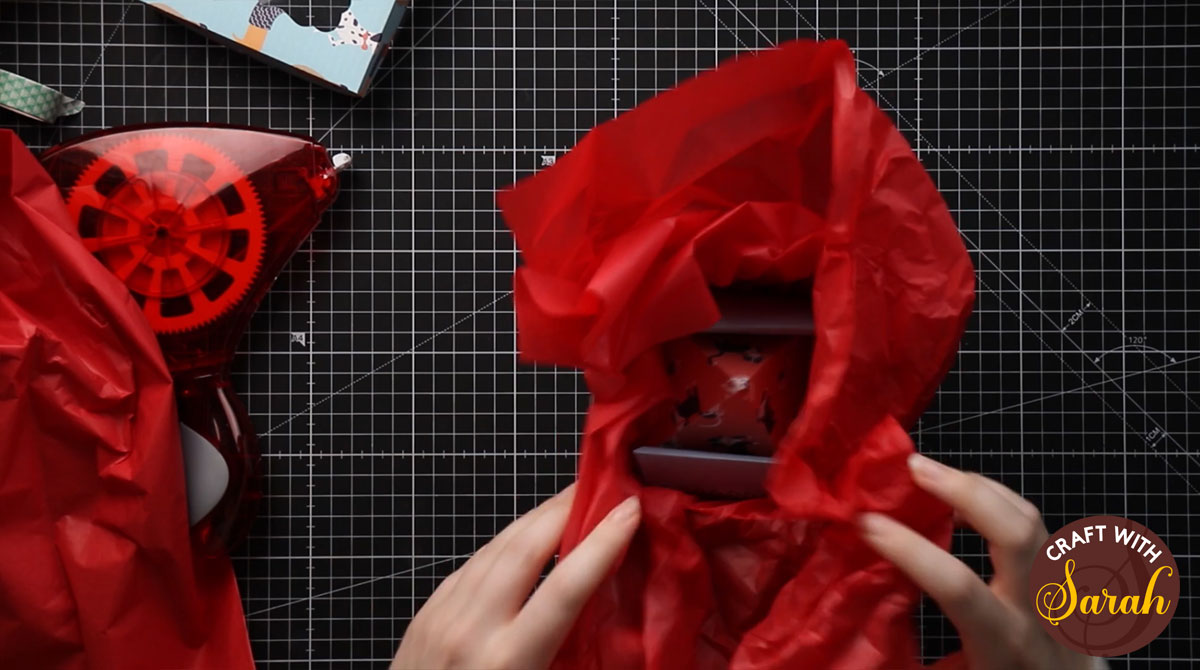 When you have finished, add the lid and seal it with some washi tape.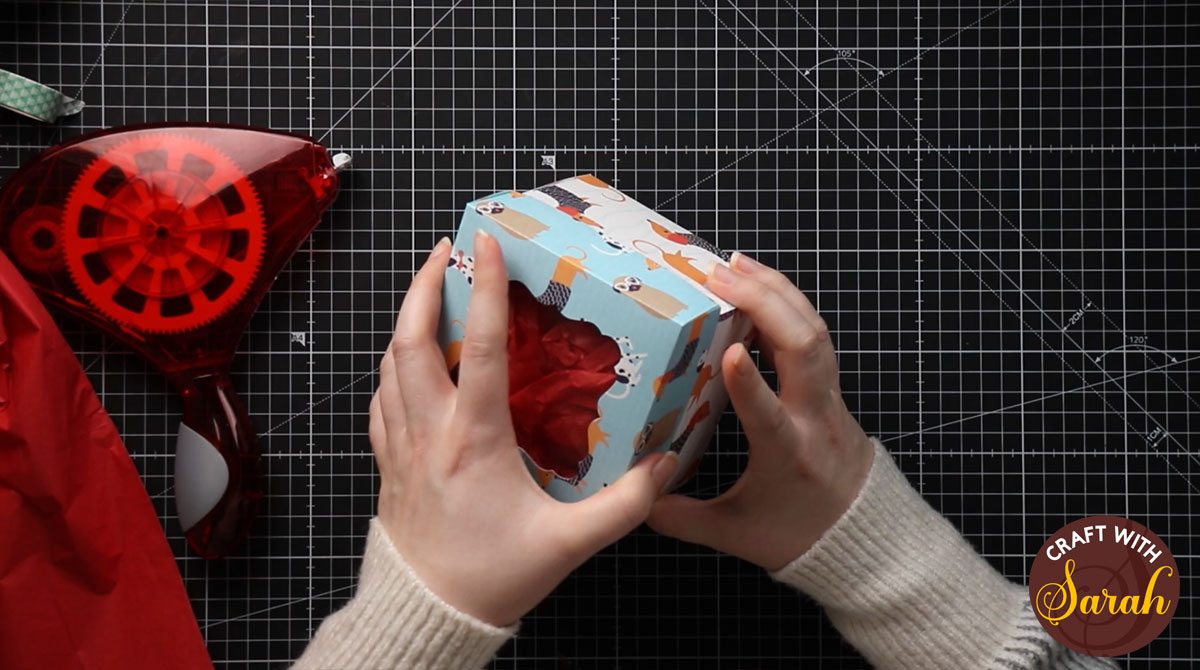 Your treat box is now all ready for your dogs to play with!
---
Homemade dog enrichment toys
I know my dogs are going to love this and I hope yours do too! Just remember, if you make this for your dogs then be sure to supervise them at all times when they're playing with the box and make sure that when they're finished you take everything away. Don't leave it out for them because you don't want them chewing up the cardboard and swallowing it.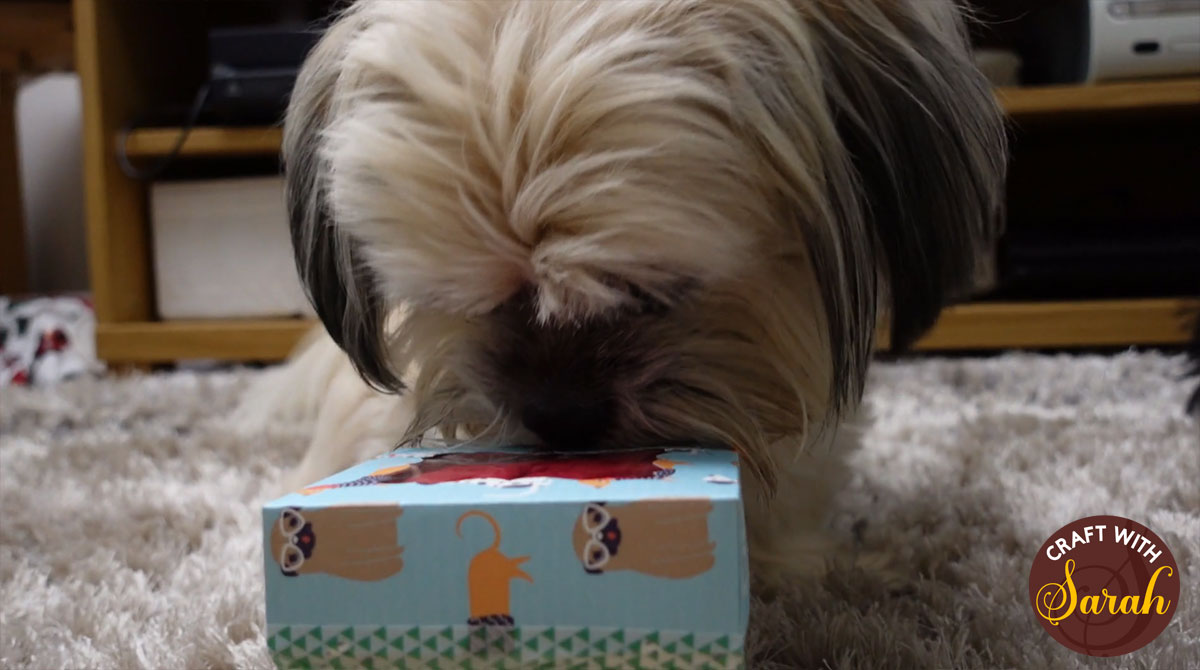 If you wanted to make it a little bit harder, because these lids will come off easily, then you can add some washi tape all the way around the edges where the lid meets the box.
Here is the box that I've made for my other dogs. They both have one and I've already washi-taped this one. I put two rows of washi tape along the lid and now it is completely secure. It won't pull apart, so my dogs are really going to have to destroy this if they want to get all the food out!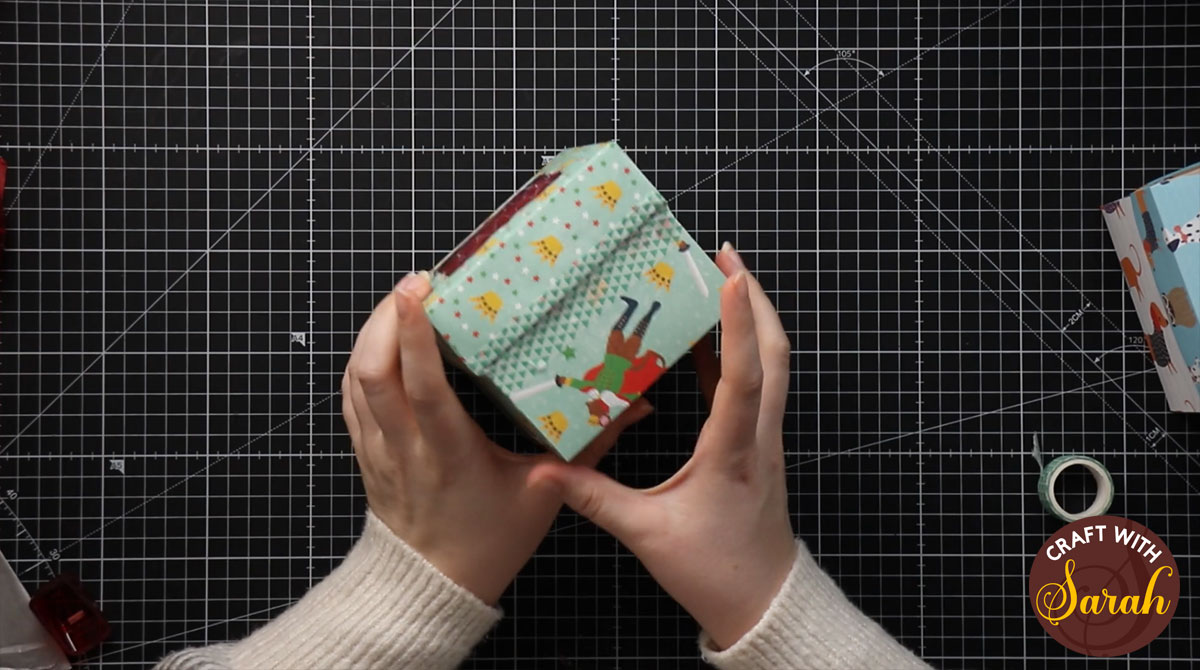 ---
What are the best dog puzzle toys?
I LOVE to play with enrichment toys with my dogs and over the years we have amassed quite a large collection!
Here are some of my dog's favourites to play with…
Sale
AWOOF Dog Puzzle Toys, Pet Snuffle Feeding Mat, Interactive Game for Boredom, Encourages Natural Foraging Skills for Cats Dogs Portable Travel Use, Dog Treat Dispenser Indoor Outdoor Stress Relief
Dog Training Toys: It is a unique dog training mat that allows your dog to find snacks or small toys hidden in the mat. It helps to train your dog's smell, consume your dog's energy and lose weight. Keep your dog occupied and avoid your dog being bored and engaged in destructive behavior.
Non-slip & Large & Portable: The bottom is a non-slip cloth that effectively holds the mat and prevents the dog from moving the mat. The design is small and can be shrunk into a small storage bag. It can also be hung or set aside when not in use. Suitable for traveling.
Dual-use Design: The feeding mat can be folded into a bowl. Stick to the good habits of your dog or use it as an olfactory pad.
Easy To Clean, Care: The main fabric of the sniffing pad is felt cloth, which is environmentally friendly and easy to clean and supports machine washing.It is machine washable and dryer safe.
QUALITY ASSURANCE: Your satisfaction is our greatest happy, our product 100% quality assurance, if you have any questions about the products you buy, please contact us in time, we will try our best to help you solve.
Nina Ottosson by Outward Hound Dog Tornado Interactive Treat Puzzle Dog Toy
INTERMEDIATE DOG PUZZLE: Exercise your dog's mind with the interactive level 2 Dog Tornado puzzle toy. This engaging dog treat dispenser provides a fun physical & mental challenge. Your pup will need to learn how to combine multiple steps to retrieve the hidden treat
BOREDOM BUSTER: With 12 hidden compartments and 3 dog bone covers you can vary the difficulty level of this stimulating dog puzzle to keep your furry friend excited and satisfied
EASY TO CLEAN: The Dog Tornado puzzle toy is easy to wash by hand with mild soap and warm water. Make sure all compartments are dry before using
BPA, PVC & PHTHALATE FREE: Nina Ottosson by Outward Hound interactive treat dog puzzles are designed with your pet's health in mind from food safe materials that you can trust. Easy to clean with warm water and soap between uses
PLAY IT SAFE: No toy is indestructible. Do not leave toys with unsupervised pets. Remove and replace toy if damaged
Chipet studio Dog Toy, Puppy Snuffle Training Feeding Toy, Ramen Sniffing Interactive, Durable Hide and Seek Puzzle, Dog Feeding Toy, Cute Dog Toy
【Ramen Chew Toy】Designed as Raman in our daily life which is adorable and interesting. Bright color easily attract dog's attention and made of high-quality material which is safe and soft, suitable for puppy to chew and play.
【Separable Design】The Ramen cup and noodles inside are separated. Built-in crinkle paper in Ramen cup, it will make crinkling sound when be bitten or throw, great for games of throw and fetch. Noodles inside are made of long cotton rope, provide a long-lasting game, keep them busy and stay away from boring.
【2 Ways of Sniffing】This toy has two ways of sniffing training, hide snacks in the ramen cup and roll up with noodles to encourage dogs to play. Also, could hide long meat stick in the pocket of noodles, leave half stick out of pocket and guide your lovely puppy to search.
【Perfect Gift for Small and Medium Dogs】The size of toy is 3.94*5.12in (10*13cm). Suitable for small and medium dogs of any breed. It can strength the relationship between you and your lovely dog. Suitable for storage and carrying.
【Satisfaction Customer Service】We always put customer first, if you're unsatisfied or have an issue with this toy, please feel free to contact us, we will offer you a satisfactory solution!
Chutoral Dog Treat Toy Ball, 11cm Vinyl Food Ball Interactive Food Dispensing Dog Toy Dog Puzzle Toy, Nontoxic Bite Resistant Toy Ball for Pet Dogs Exercise Game(M Red)
DOG TREAT TOY BALL: Pour food or snacks that dogs like in dog toys. When the dog chews and shakes the dog toy ball, the dog food will slowly pour out, increasing the dog's search. Eating fun helps dogs slow down their diet to develop good habits.
UNIQUE DESIGN: The structure of the rotating switch of the food spiller is very popular, and the food can be adjusted when the food is placed in the food.
SAFETY MATERIAL: The dog toy ball is made of vinyl, bite-resistant and non-toxic, not hurt the mouth, safe for your pets
INTERACTIVE DOG TOYS: Dog toys can increase your interaction and puzzle training with your dog, train your dog's reaction ability and jumping ability, and release your dog's energy. Dogs can also cleaning dog teeth while chewing dog toys ball.
AFTER SALES: If you have any questions about dog toy balls, please feel free to contact us, we will reply to you within 24 hours
---
Did my dogs enjoy their toys?
They certainly did!! Here's a little "action shot"…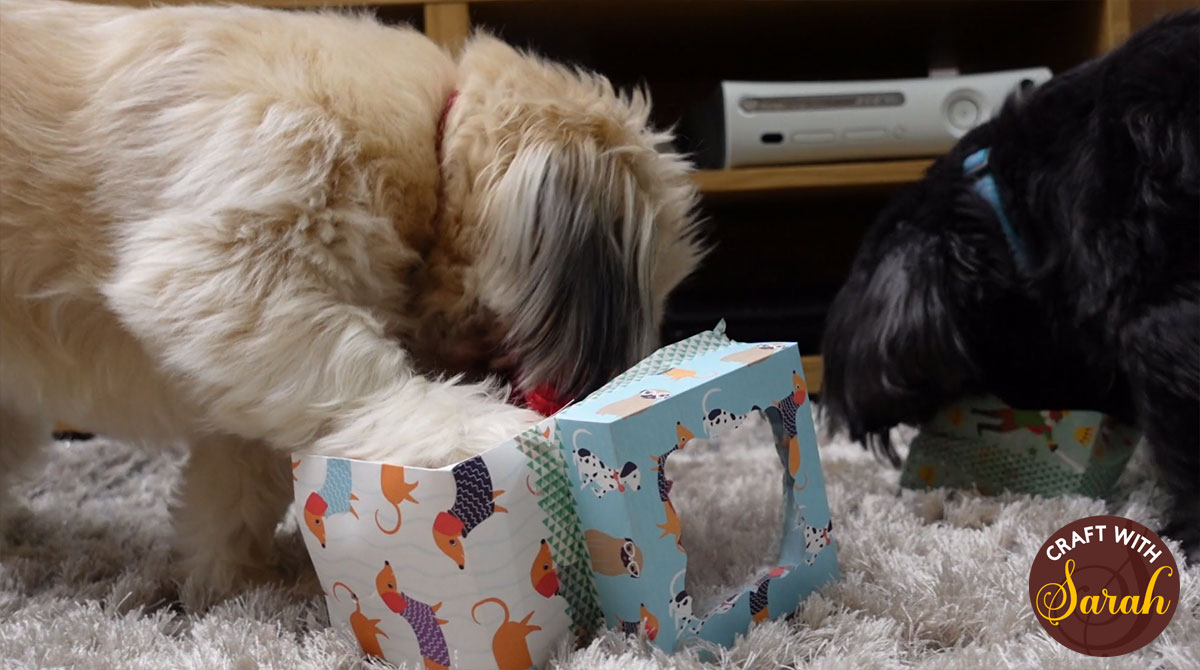 It took about an hour to make the dog puzzle toys… and about 3 minutes for them to be completely destroyed!! 😀
Happy crafting,
Sarah x