My FAVOURITE type of Cricut craft to design is layered dog breeds – which is why there are so many! 😍
On this page you can find a list of all dog breeds that I have made so far, and the ones that are on my list to be designed later this year.
If I've missed your fave dog breed off the list, please email me to let me know and I'll get them added!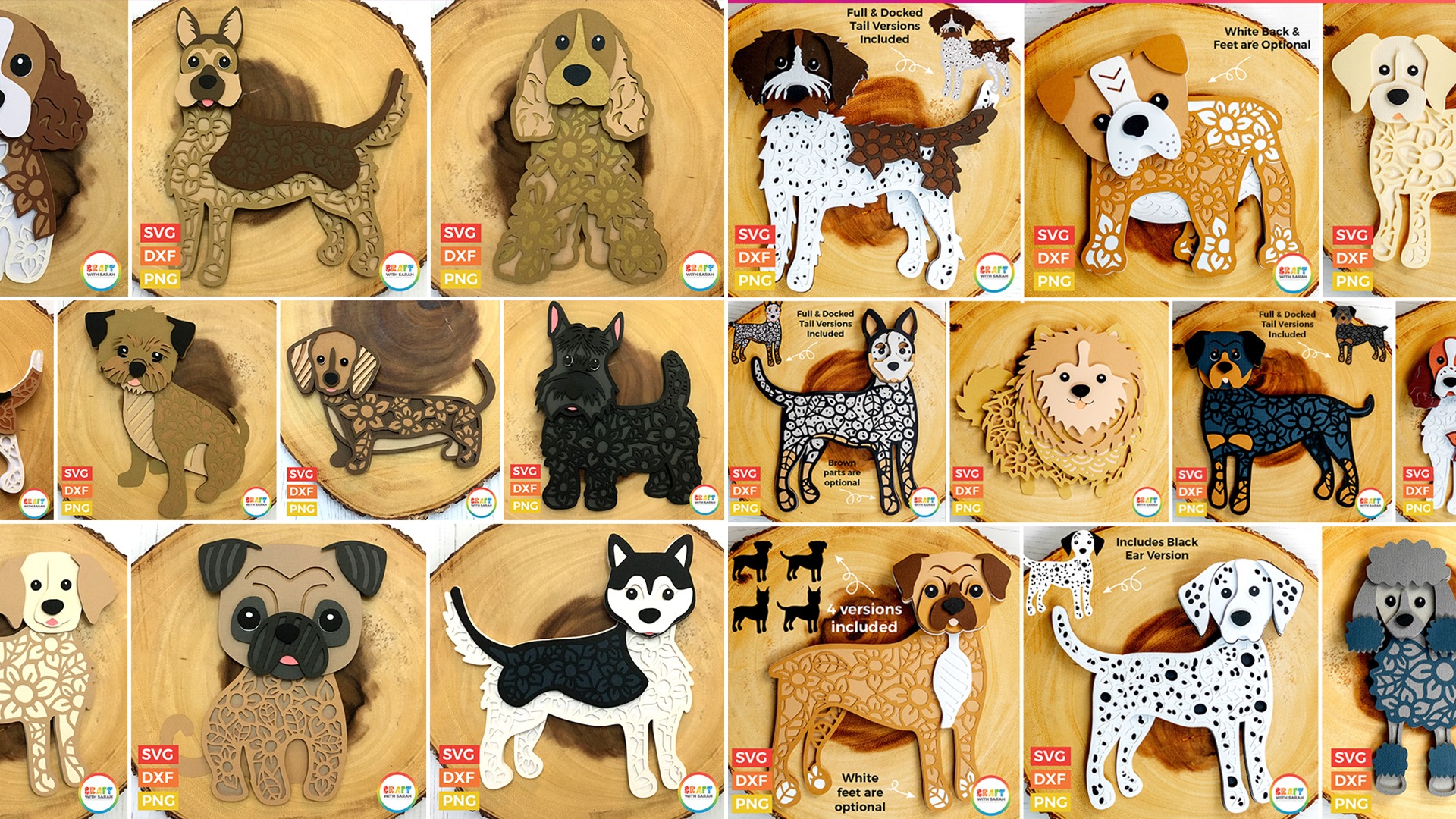 A-Z of Layered Dogs SVG Cutting Files
If the design has already been done then you can click the name to view the SVG file.
I hope you enjoy the SVG dogs!
A
American Staffordshire Terrier (Estimated release: August 2021)
B
Barbet (Estimated release: September 2021)
Basenji (Estimated release: September 2021)
Bearded Collie (Estimated release: September 2021)
Belgian Tervuren (Estimated release: September 2021)
Berger Blanc Suisse (Estimated release: August 2021)
Black and Tan Coonhound (Estimated release: August 2021)
Blackmouth Cur (Estimated release: August 2021)
Bolognese (Estimated release: September 2021)
Bolonka Zvetna (Estimated release: August 2021)
Boykin Terrier (Estimated release: September 2021)
Bullmastiff (Estimated release: August 2021)
C
Cesky Terrier (Estimated release: September 2021)
Chesapeake Bay Retriever (Estimated release: August 2021)
Clumber Spaniel (Estimated release: September 2021)
Collie (Blue Merle) (Estimated release: September 2021)
Coonhound (Black and Tan) (Estimated release: August 2021)
Coonhound (English) (Estimated release: September 2021)
Corgi (Pembroke Welsh)
Corgi (Cardigan Welsh) (Estimated release: August 2021)
D
Dachshund (Wire hair) (Estimated release: September 2021)
Dogo Argentino (Estimated release: August 2021)
Dutch Shepherd Dog (Estimated release: August 2021)
E
English Coonhound (Estimated release: September 2021)
English Setter (Estimated release: August 2021)
F
Finnish Lapphund (Estimated release: September 2021)
Fox Terrier (Estimated release: September 2021)
French Bulldog (Frenchie)
G
German Shepherd (White) (Estimated release: August 2021)
Giant Schnauzer (Estimated release: August 2021)
Grand Basset Griffon Vendeen (Estimated release: August 2021)
H
Hovawart (Estimated release: August 2021)
I
Ibezan Hound (Alternate design here)
Irish Doodle (Estimated release: August 2021)
J
K
Klee Kai (Estimated release: September 2021)
Kerry Blue Terrier (Estimated release: September 2021)
Korean Jindo (Estimated release: September 2021)
L
Lagotto Romagnolo (Estimated release: August 2021)
Lowchen / Little Lion Dog (Estimated release: August 2021)
Lurcher (Hairy) (Estimated release: August 2021)
M
Manchester Terrier (Estimated release: August 2021)
Mastiff (Neapolitan) (Estimated release: September 2021)
Mexican Hairless (Estimated release: September 2021)
Mixed breed (toy doodle size) (Estimated release: August 2021)
Mudi (Estimated release: August 2021)
N
Norrbottenspets / Norrbottenspitz (Estimated release: September 2021)
O
P
Petit Brabançon (Estimated release: September 2021)
Plotthound (Estimated release: September 2021)
Pomeranian (Alternate design here)
Portuguese Water Dog (Estimated release: August 2021)
Puggle (Estimated release: August 2021)
Q
R
Rat Terrier (Alternate design here)
Russian Toy Long Coat (Estimated release: September 2021)
S
Schipperke (Estimated release: August 2021)
Schnauzer (Giant) (Estimated release: August 2021)
Schnoodle (Estimated release: September 2021)
Setter (English) (Estimated release: August 2021)
Sheepadoodle (Estimated release: September 2021)
Shih Tzu (long coat with bow) (Estimated release: September 2021)
Silken Windhound (Estimated release: August 2021)
Smithfield (Estimated release: August 2021)
South African Boerboel (Estimated release: August 2021)
T
Tibetan Spaniel (Estimated release: August 2021)
U
V
W
Welsh Spaniel (Estimated release: September 2021)
White Swiss Shepherd Dog (Estimated release: August 2021)
X
Xoloitzcuintle (Estimated release: September 2021)
Y