Unicorn Freakshake Recipe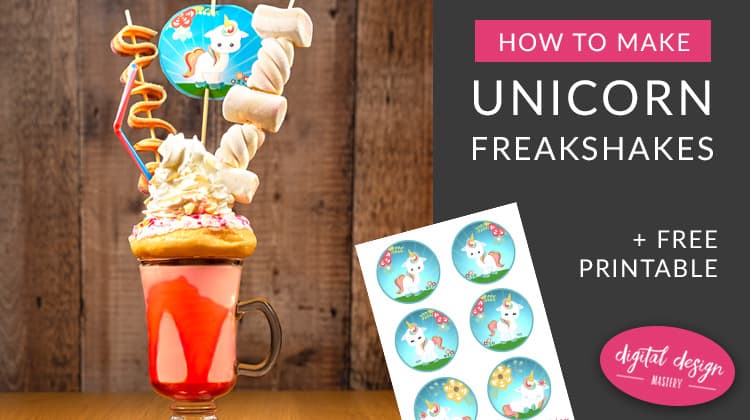 This is my very first recipe post, so of course it's unicorn inspired!
What is a unicorn freakshake?
A freakshake is basically a super-high-calorie, sugar laden version of a milkshake!
The craze started in Australia and is now becoming big in the UK, USA and across the world.
They are definitely NOT to be had every day (I mean, there's practically a day's worth of calories in just one), but as an occasional treat they are super yummy and definitely something to wow friends and family with.
A unicorn freakshake is a freakshake that's been made… well… UNICORN-Y! (is that a word?)
Think lots of pink, pastel colours, rainbows and of course a cute unicorn printable to complete the look!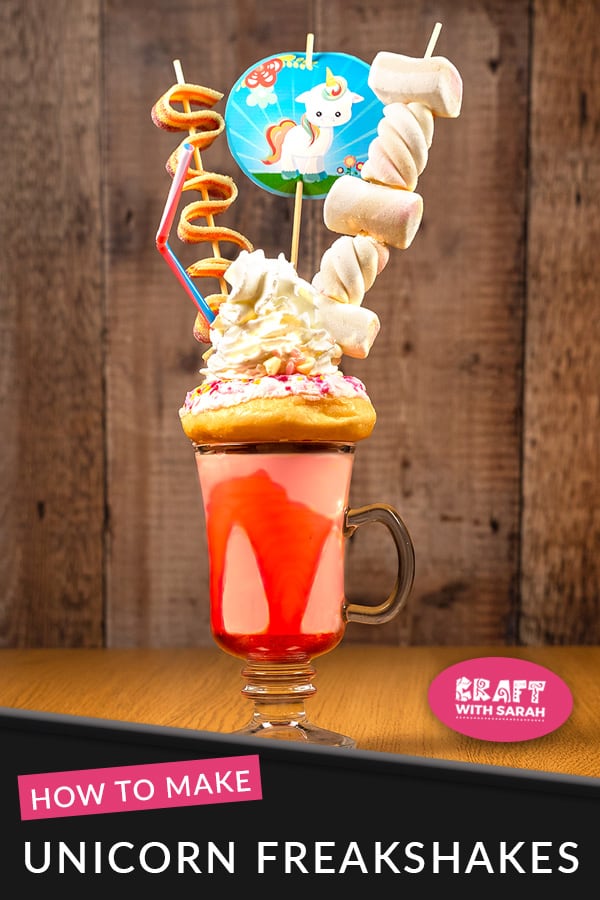 How to make a unicorn freakshake
Note: Some of the links included in this article are affiliate links, which means that if you click through and make a purchase I may receive a commission (at no additional cost to you).
Unicorn milkshake ingredients list
Printable unicorn toppers (download for free HERE)
A glass (these latte mugs are similar to the glass I used)
Your favourite strawberry milkshake (I use Nesquik!)
Strawberry ice cream sauce
Pink sprinkle doughnut
Squirty cream (aerosol cream)
Marshmallows
Fizzy rainbow sweets (I bought mine from Lidl)
A straw
Unicorn milkshake instructions
Print out the free unicorn toppers and cut one out
Poke a hole in the top and bottom of the unicorn topper and thread a wooden skewer through it
Thread a selection of marshmallows onto a separate wooden skewer
Thread some rainbow fizzy sweets onto a third skewer. Fold them up so that they are shaped like rainbows once threaded
Make up your favourite strawberry milkshake. I like to add a couple of scoops of vanilla ice cream and some ice and blend it all together.
If your milkshake is looking a little too pale, add a tiny bit of pink food colouring to make it look more 'unicorn-y'
Squirt some strawberry ice cream sauce around the edge of your glass
Quickly pour in the strawberry milkshake
Add a pink sprinkle doughnut on top of the glass
Push the wooden skewers through the doughnut so that they stand up and stick out from the top of the freakshake
Add a generous helping of squirty cream
Add some sprinkles to the top – I used white chocolate drops
Put your straw through the cream so it goes through the whole in the doughnut
Enjoy your unicorn freakshake!!
I was super-proud of how this unicorn shake recipe all came together, and excitedly showed my husband, only for him to say that the strawberry sauce kind of made it look like unicorn blood. Silly husband. Doesn't he know that unicorn blood is SILVER??
( Yes, that's a Harry Potter reference… 😉 )
Still, I can see where is is coming from – so if you agree that it looks a little bit… err… not quite right… then maybe leave the strawberry sauce out!