How to Make Button Art with a Cricut
Design your own beautiful button art designs using ANY shape with this fun Cricut wall art project.
In this tutorial you'll learn how to create perfectly sized cutouts for your frame and the EASIEST way to assemble button art. Plus, my BEST craft hack for giving your button art a professional appearance!
Don't have a Cricut? You can still make this! Keep an eye out for these green boxes for instructions.
If you've been following my blog for a while, you may have seen the unicorn button art project I posted a few years ago. It's of the most popular projects on my whole website!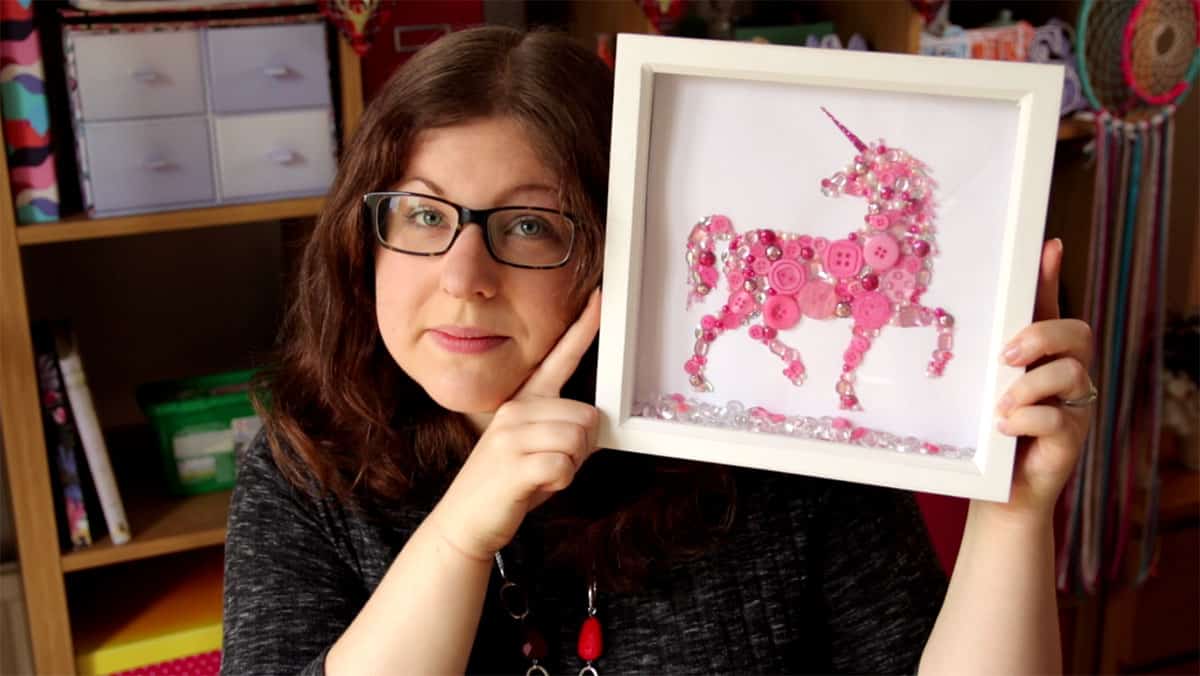 I regularly get requests for more button art projects, so I thought – why not show you how to make button art out of ANY SHAPE using your Cricut machine?
That way, you can make whatever shape you desire when working on your button art projects ?
Please note that some of the links included in this article are affiliate links, which means that if you click through and make a purchase I may receive a commission (at no additional cost to you). You can read my full disclosure at the bottom of the page.
---
Button art materials:
---
Video tutorial: Button art shadow boxes
Watch the video below for a full tutorial on how to make button art frames.
Prefer to read rather than watch? Find step-by-step instructions below…
---
How to make button art
1) Measure your box frame
Take the wooden spacer out of your box frame (shadow box) and measure from one side to the other.
This is so we know how big to make the base card for the button art.
Mine measures 8.5 inches wide and 8.5 inches tall.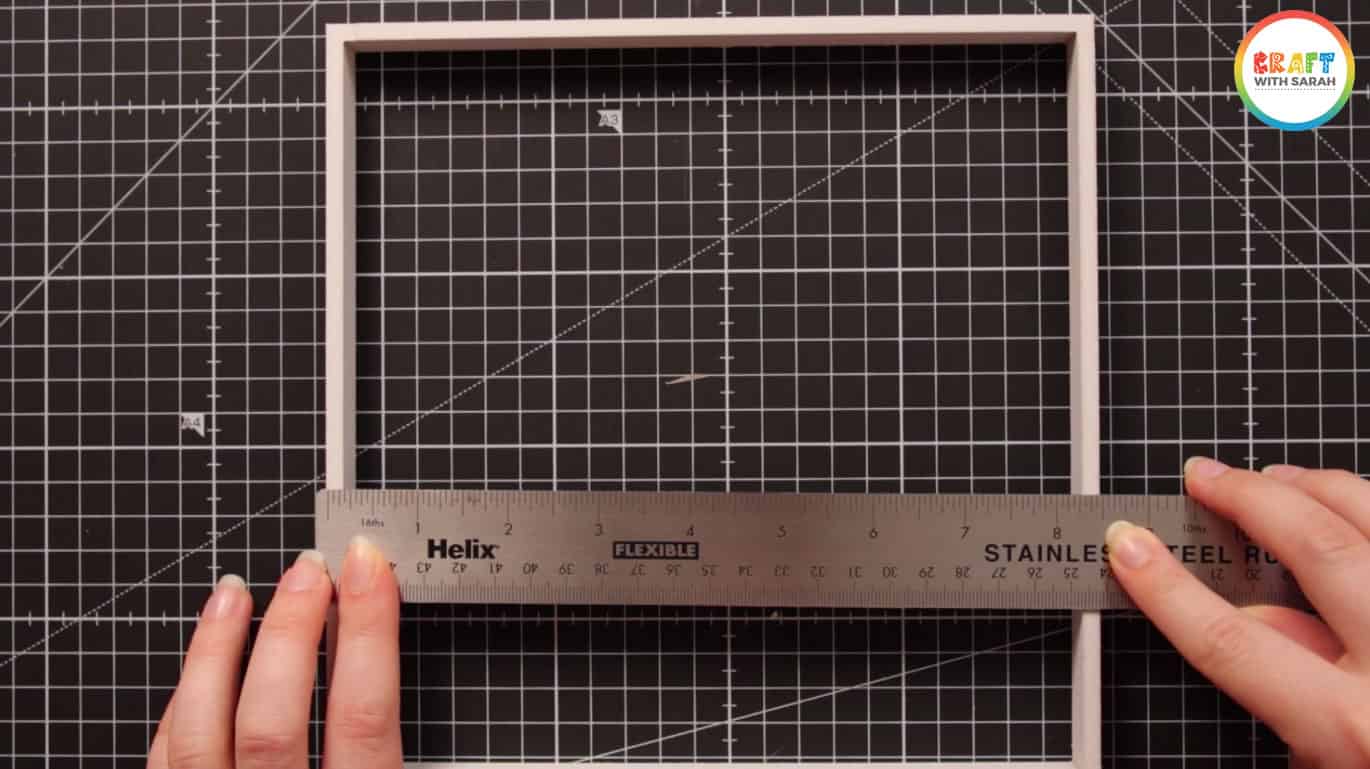 ---
2) Create the base card for your button art
Open Cricut Design Space and click "New project" to open a blank canvas.
Use the "Shapes" tool to draw a square that's the same width and height as your box frame spacer.
Create another square that's slightly smaller (mine measured 7 inches) and use the "Align" tool to position it exactly in the middle of the larger square.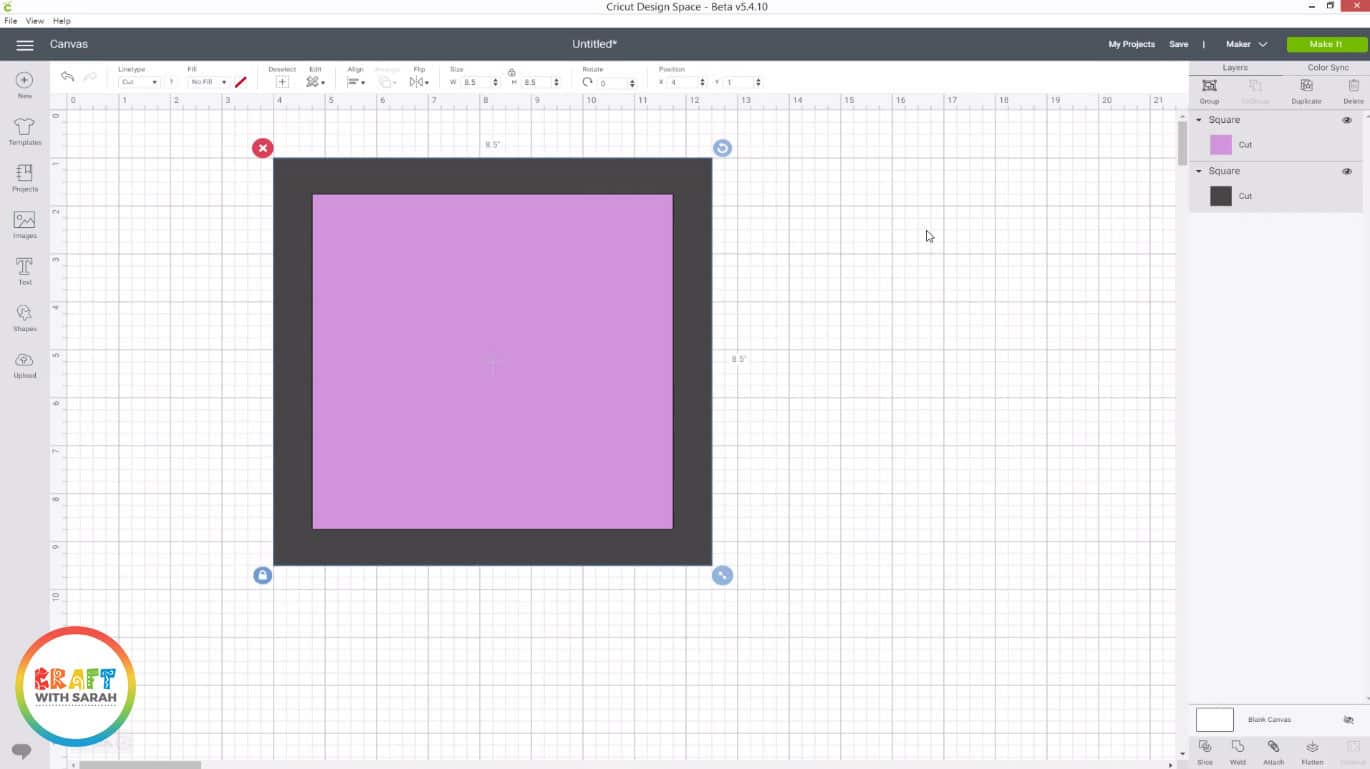 Don't have a Cricut? Measure the squares by hand and draw them onto a piece of coloured card using a pencil.
---
3) Slice the two squares to create a frame
Use the "Slice" tool in Design Space to cut the smaller square out of the larger one.
This makes the outer frame for your button art.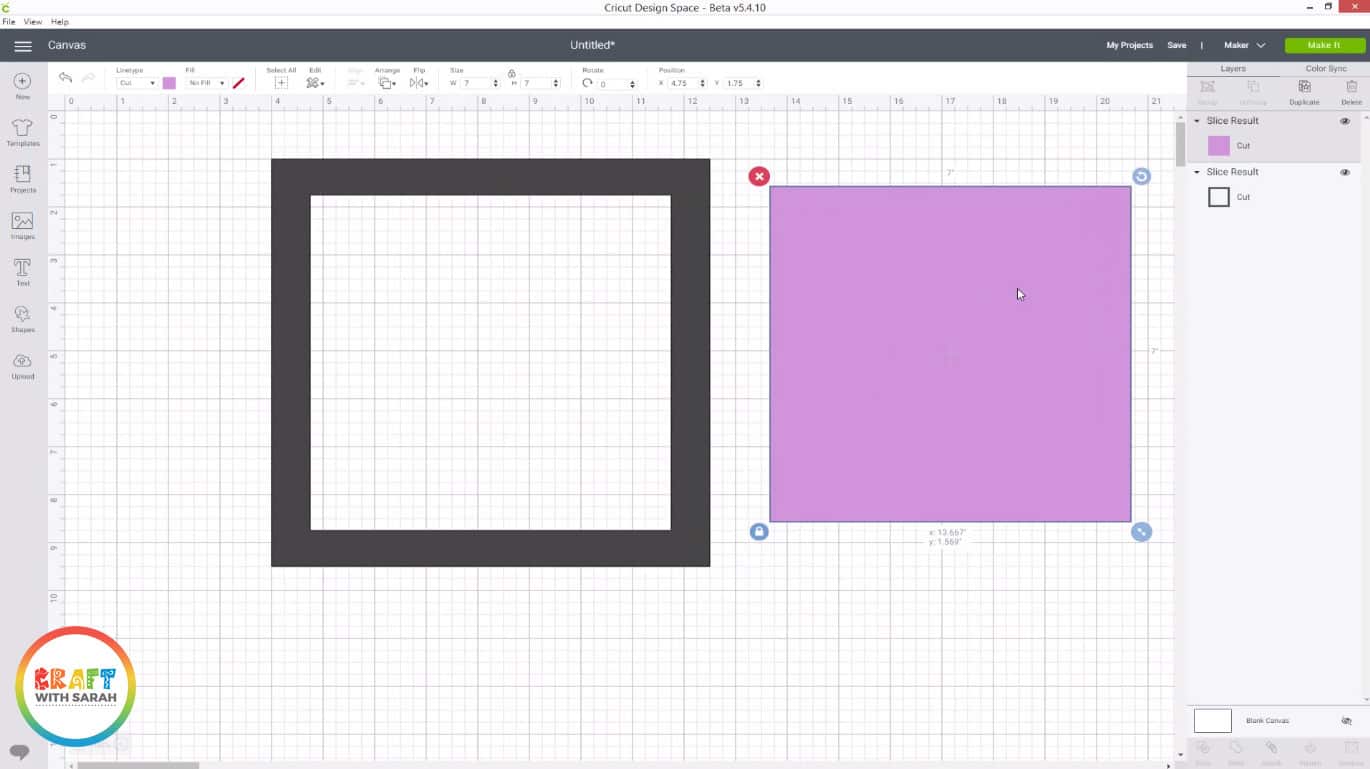 Don't have a Cricut? Cut out the smaller square using a craft knife, then cut a square of white card the same size as the SMALLER square. Don't forget to protect your surface with a craft mat!
---
4) Make a third square
Create a third square shape. This should be smaller than your large square, but larger than the small one (i.e. it will be a "middle" sized square).
Re-colour the squares to match the paper colours that you are going to be using. I'm going to cut the grey square out of white card as well.
It won't be seen on the final design – this is what we will use to stick the other squares together, so it can be whatever colour you want.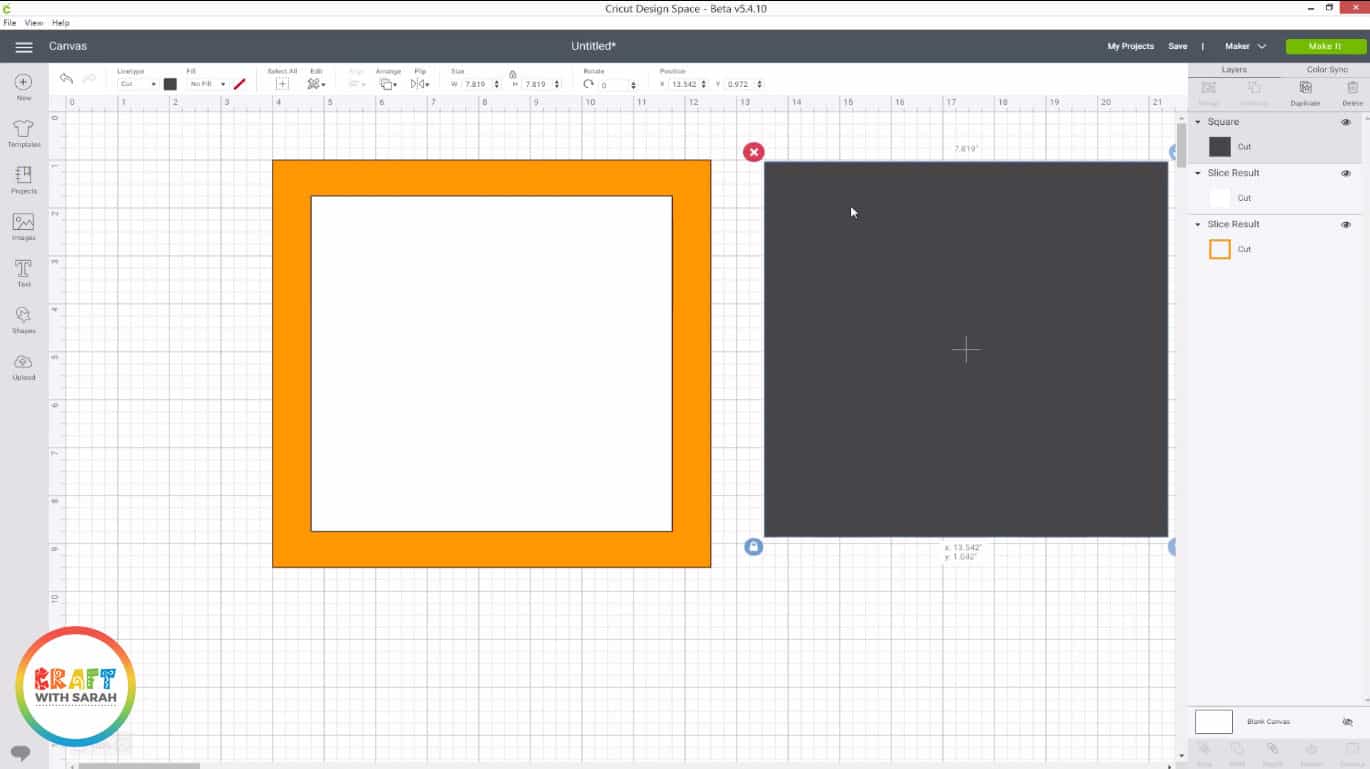 ---
5) Choose your image and Slice it
Click "Images" and find a silhouette image to use as your button art shape.
Watch the video at the top of this article to find out how to use images that have multiple layers to create your button art templates.
Resize the image to the size you want to make your button art, then use Align to position it precisely in the middle of your smallest square.
Use the Slice tool to cut the shape out of the square.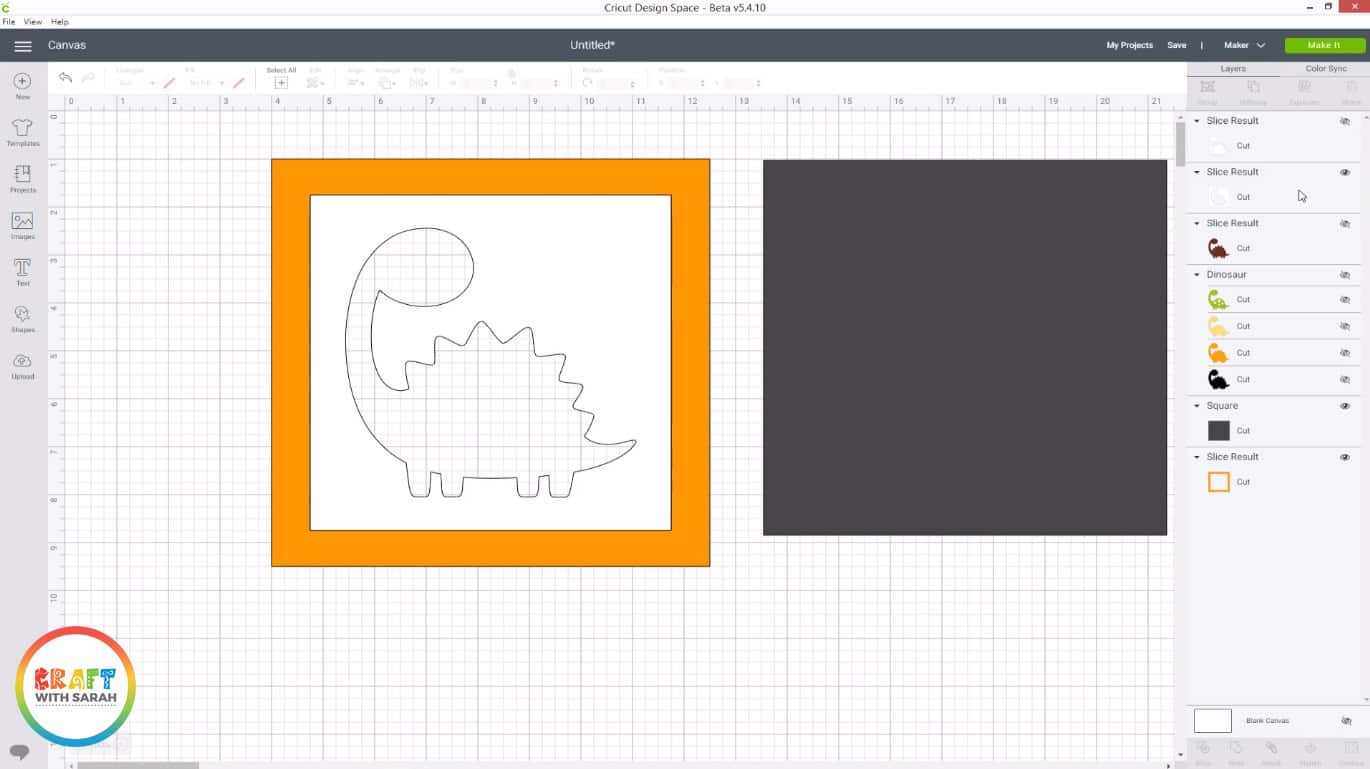 Don't have a Cricut? Print your shape out onto paper and then draw round it on your smallest square of card, then cut it out with a craft knife. A rotating blade craft knife makes this much easier.
---
6) Create image layers
We're going to be sticking the shapes of the image you chose inside the cutout, so re-colour the shapes to match the card you'll be using and then cut everything out using your Cricut.
Need help recolouring your image? Watch the video at the top of this page which walks through how to recolour images in Design Space, and how to cut multiple colours out of your image.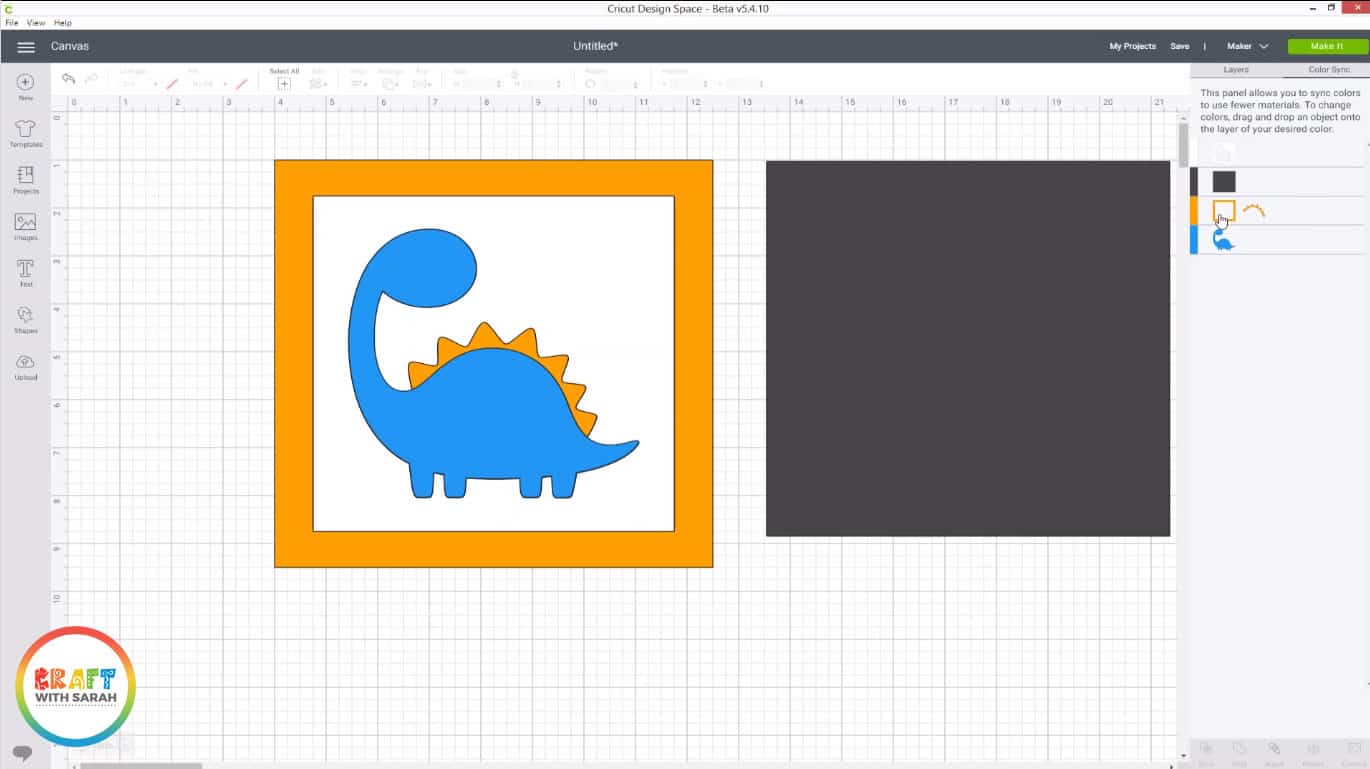 Don't have a Cricut? Draw around your shapes onto coloured card and cut out.
---
7) Assemble the base card
Stick the smallest square (the one with the image cutout) onto the middle sized square.
Try to get it roughly in the middle, but you don't need to be too precise as you aren't going to see the middle square when we're finished.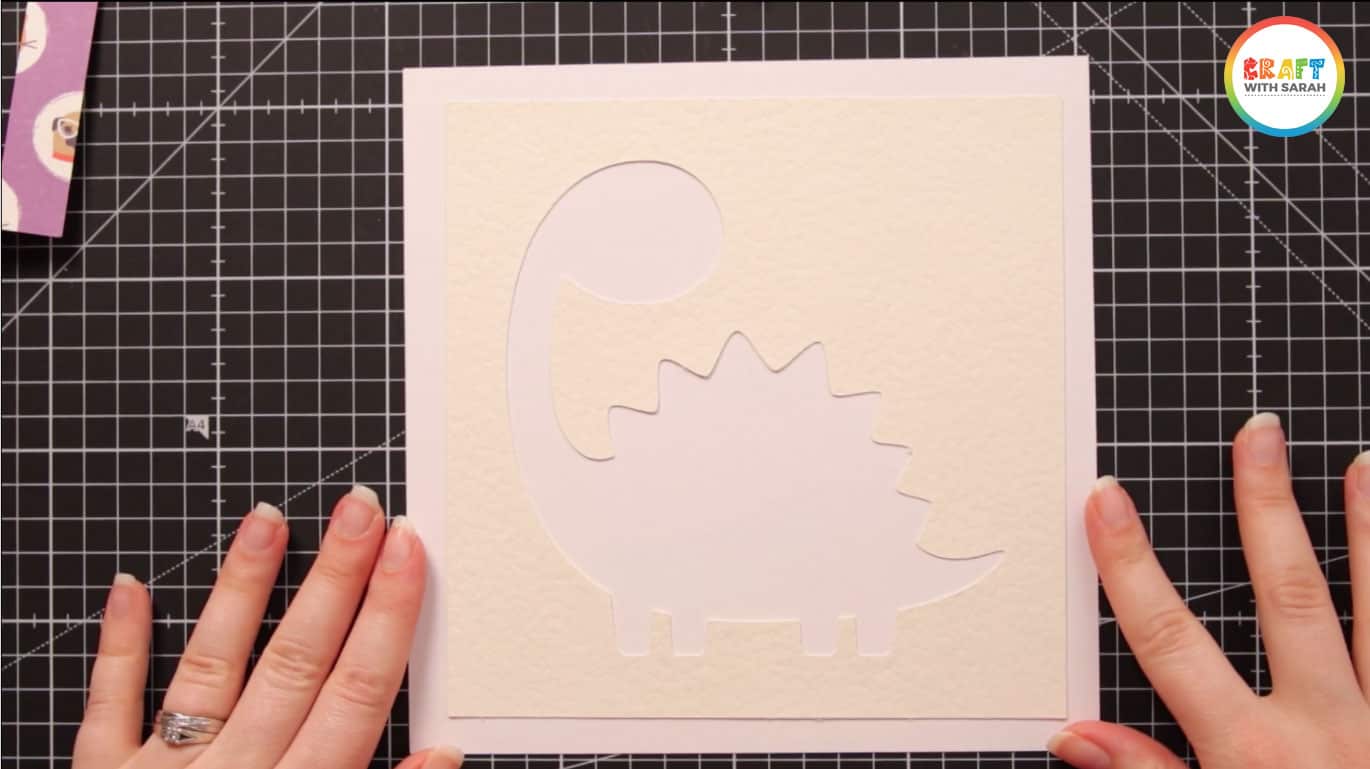 I use tacky glue because it gives a bit of "wiggle room" to move the card around if I'm not happy with the positioning before it dries, but you could use double-sided tape instead.
Add glue or tape to the visible part of the MIDDLE square and then stick your large square (the border) on top.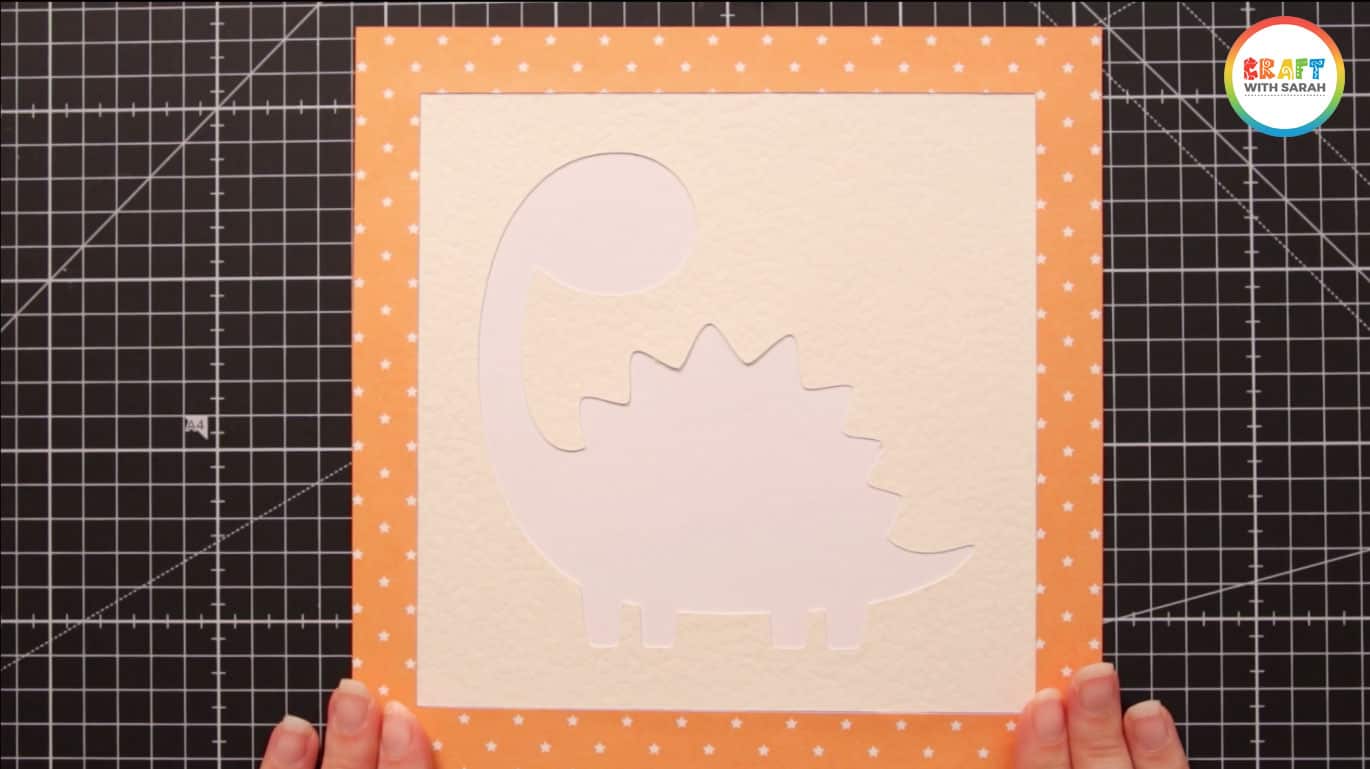 To finish this step, stick your coloured image cutouts inside the window on the smallest square.
Everything should fit in perfectly, like a jigsaw puzzle.
Top tip: If you want to use glitter on any part of your image, add it BEFORE you put the card together – it's much easier!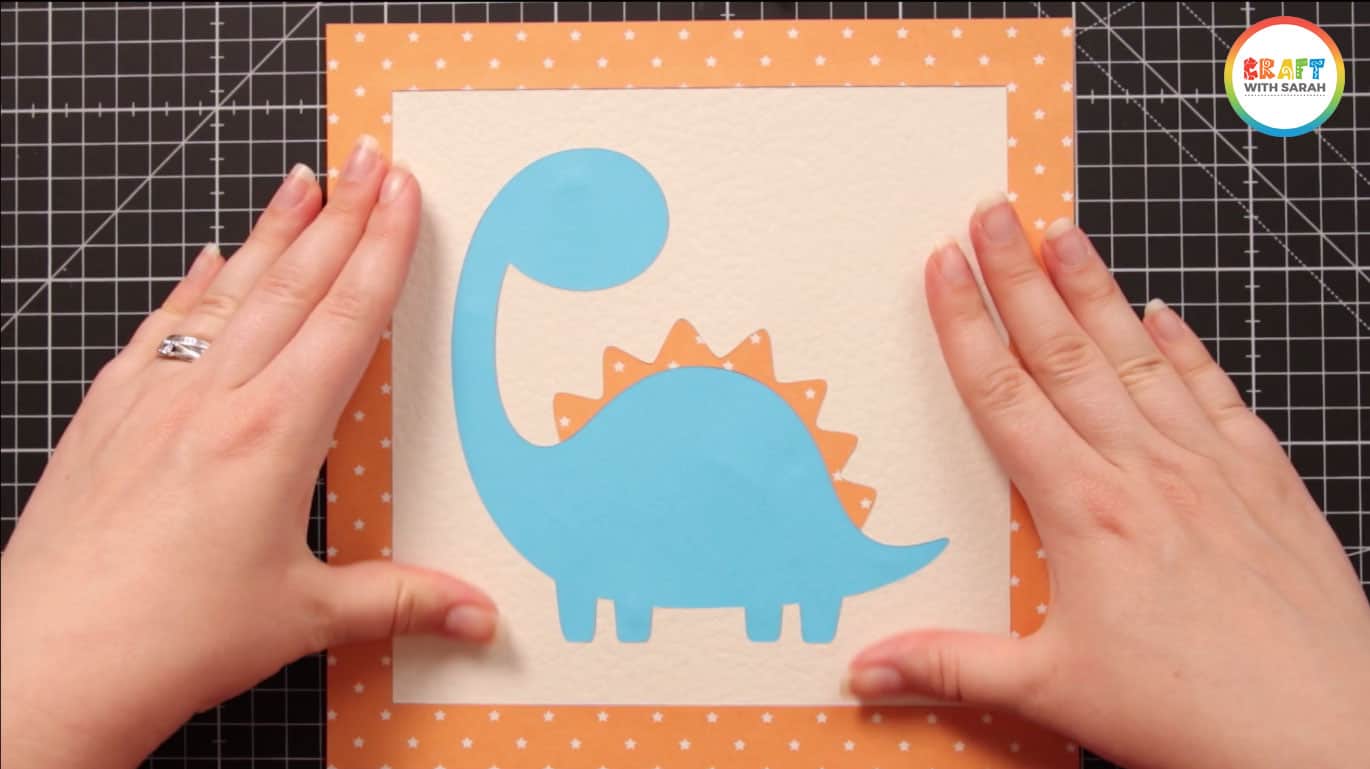 ---
8) Start adding buttons
Get out your buttons, gemstones, sequins, seed beads and other embellishments.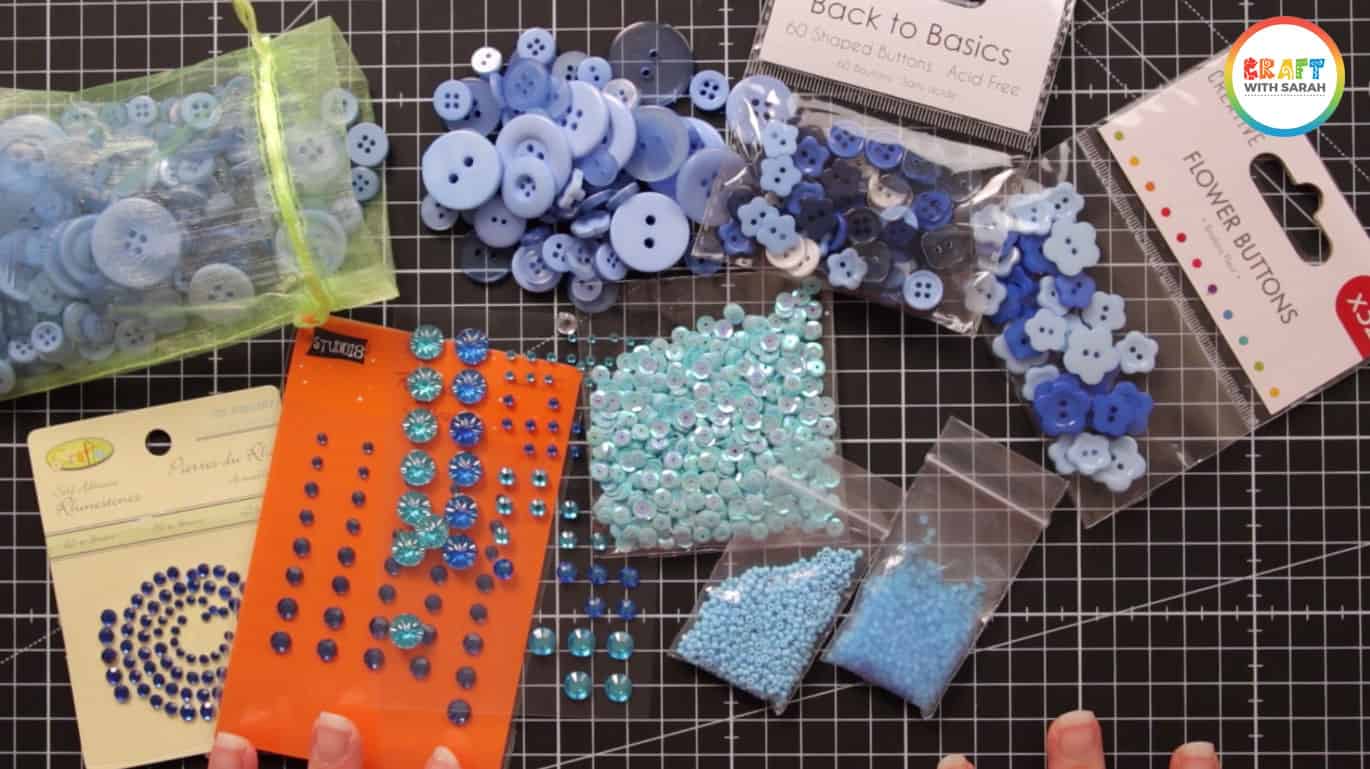 Place some large buttons inside your image.
Don't stick them down yet – these is just to help us arrange the rest of the buttons by filling in some of the larger spaces first.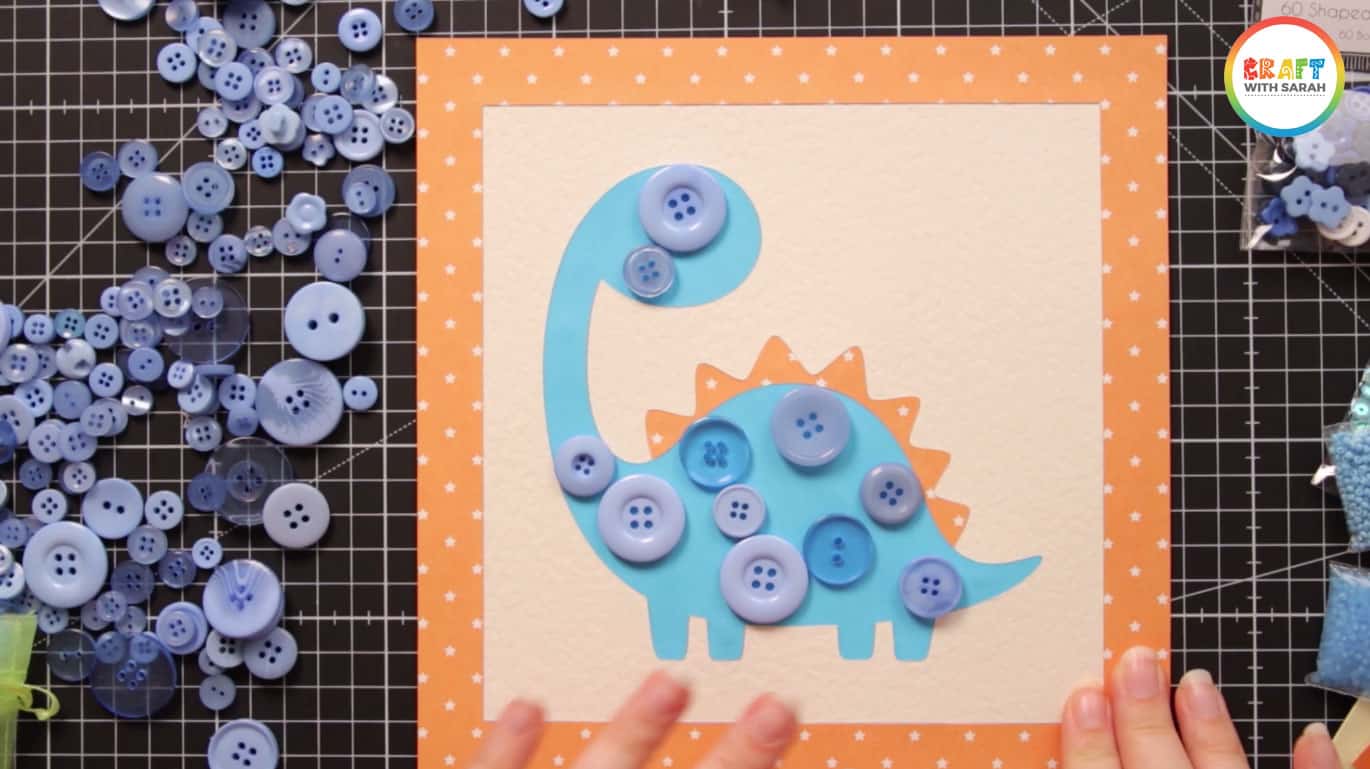 Choose a small area of your image and place smaller buttons around it to fill as much space as you can.
Don't worry about leaving little gaps – we will fill those in later.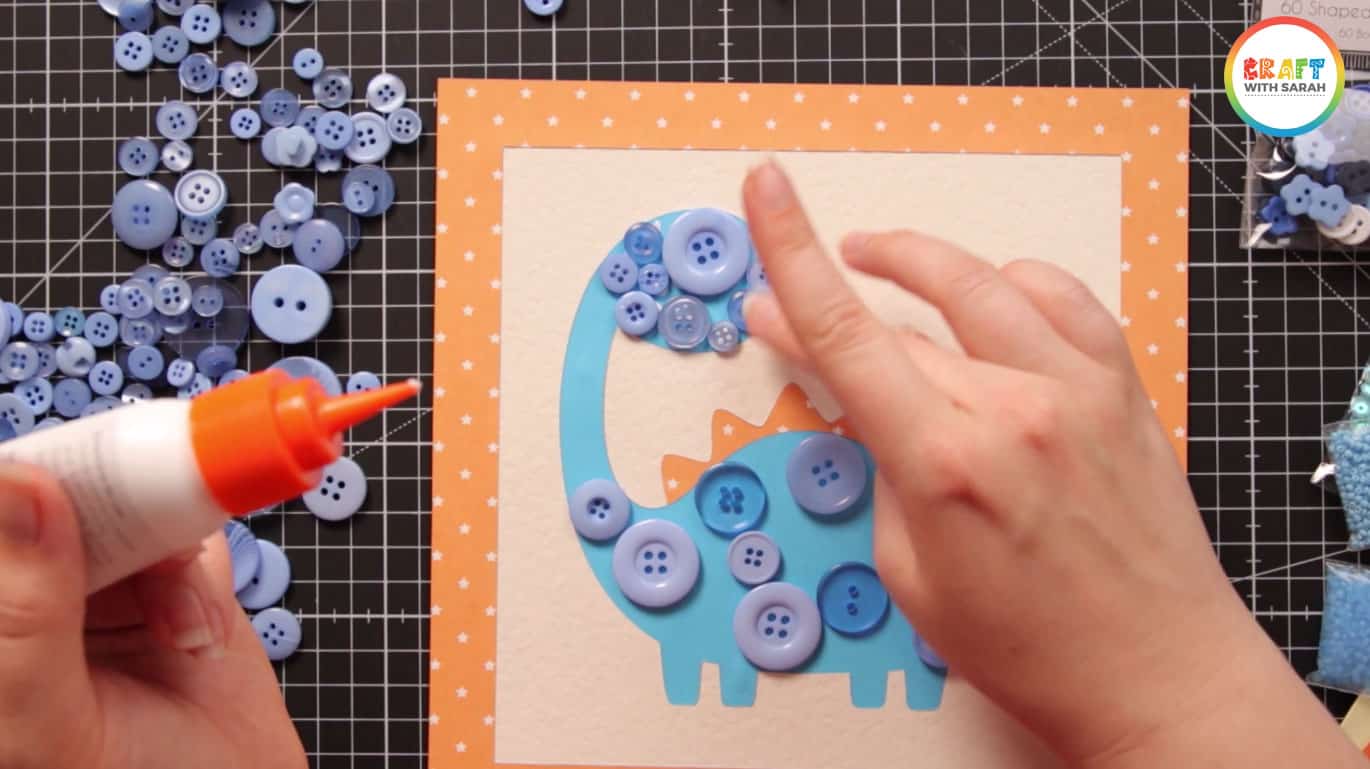 Start sticking the buttons in the area you have just filled and then move on through the whole image until it's covered.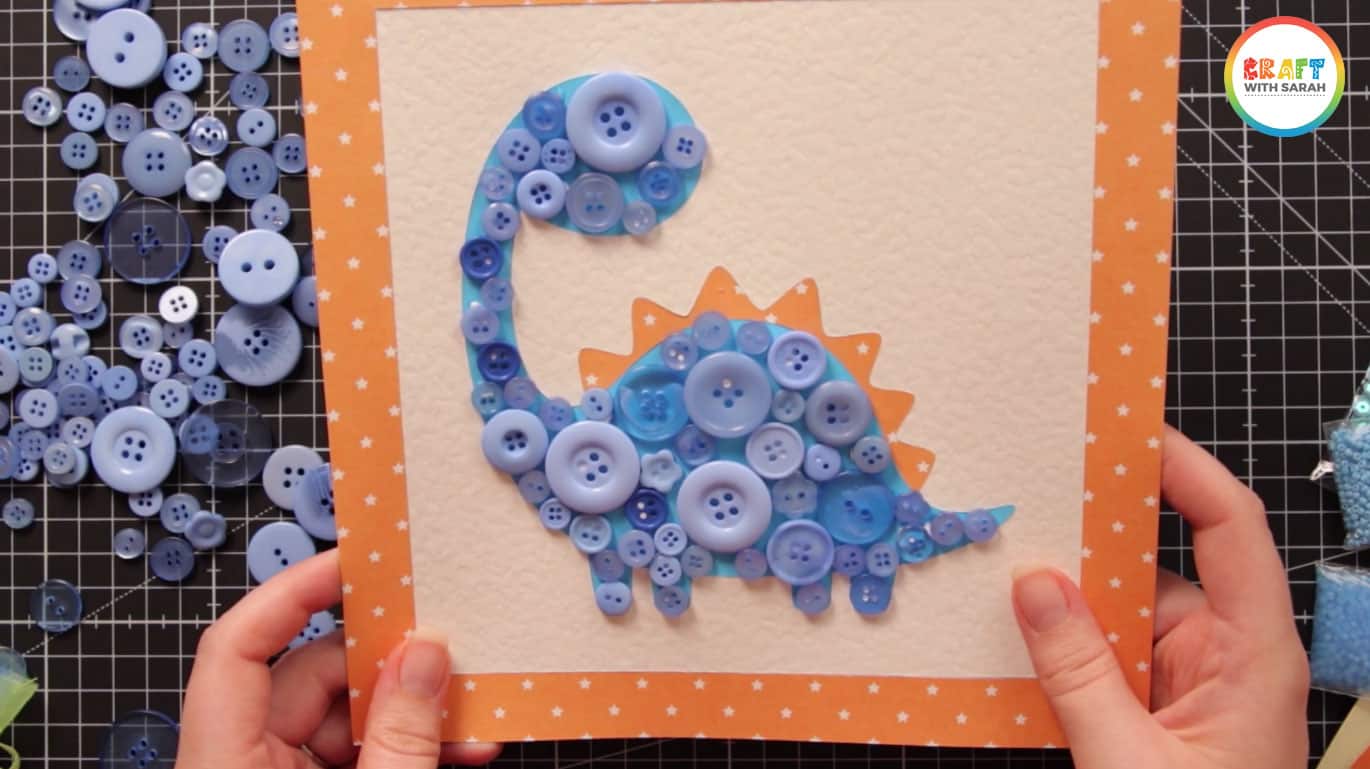 ---
9) Fill in the small gaps with buttons, gemstones and seed beads
As you can see on the photo above, there are lots of little gaps in the buttons where you can see the blue base card.
Fill these in by creating a second layer of buttons to cover some of the larger gaps, and then use gemstones and seed beads for smaller gaps.
Try and get as many of the gaps filled as possible.
The less gaps you have, the more professional your button art will look!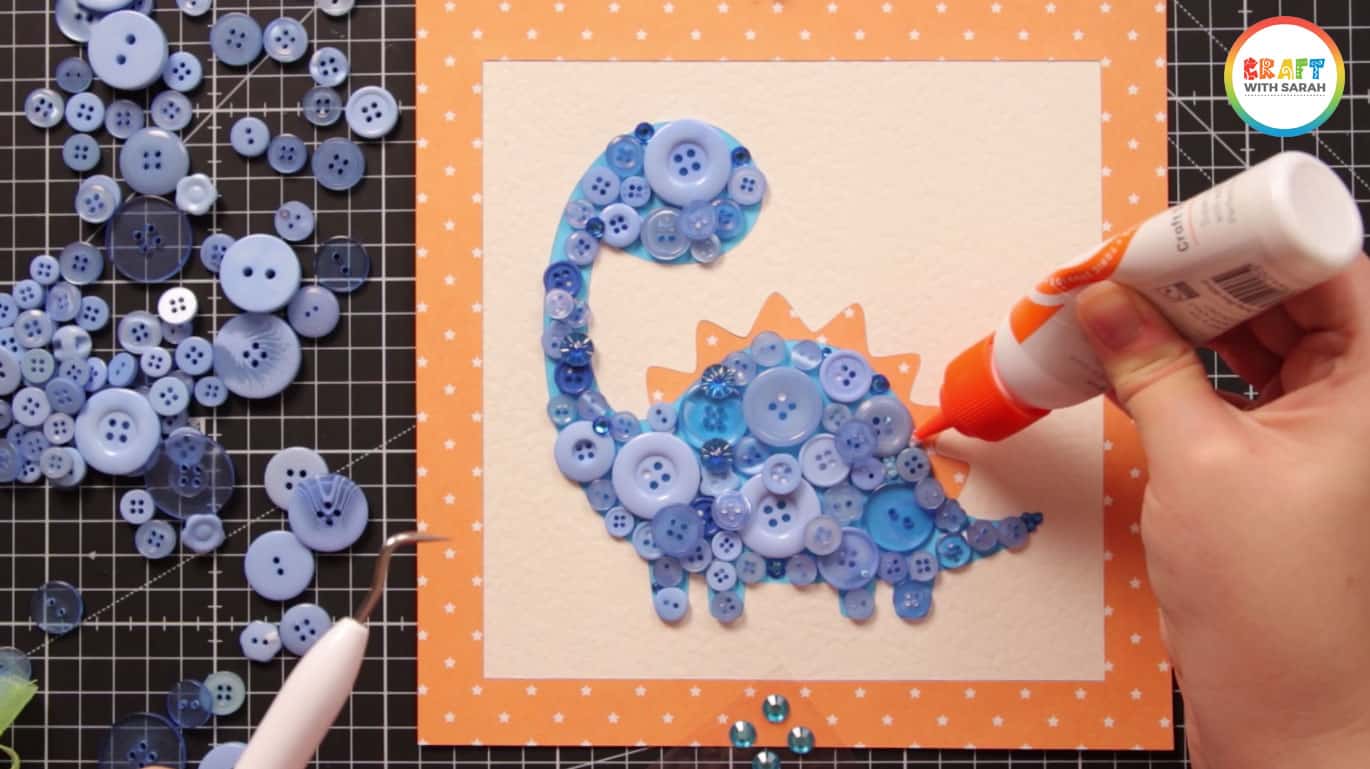 ---
10) Frame your button art!
When your glue is completely dry, it's time to frame your button art masterpiece!
Top tip: Clean both sides of the glass with glass cleaner and a microfiber cloth before adding your letter to the frame to ensure it's free from dust and fingerprints.
Add extra 'sparkle' to your wall art by pouring in some scatter crystals, sequins, feathers or other embellishments.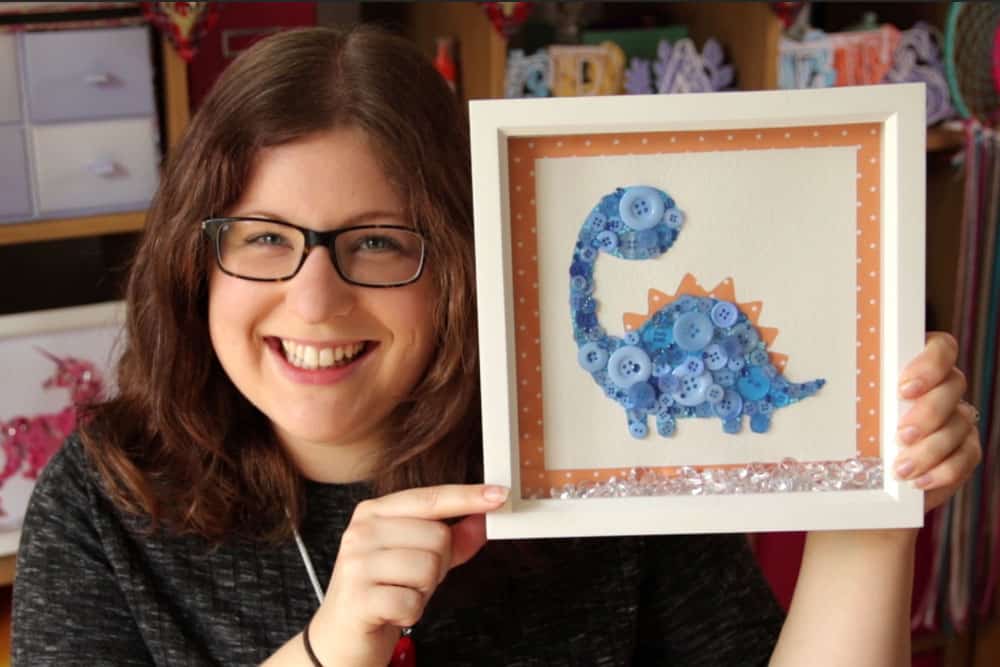 The templates that I used for these button art tutorials are included inside the Craft with Sarah Clubhouse.
Design Space Project Link
Flamingo Button Art Template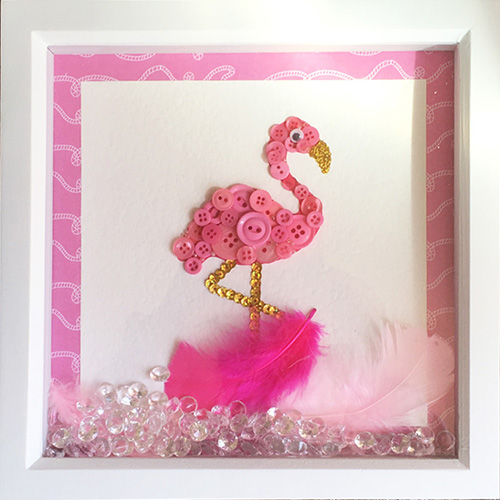 Please note that you need an active Cricut Access subscription to be able to cut this Project for free.
Design Space Project Link
Dinosaur Button Art Template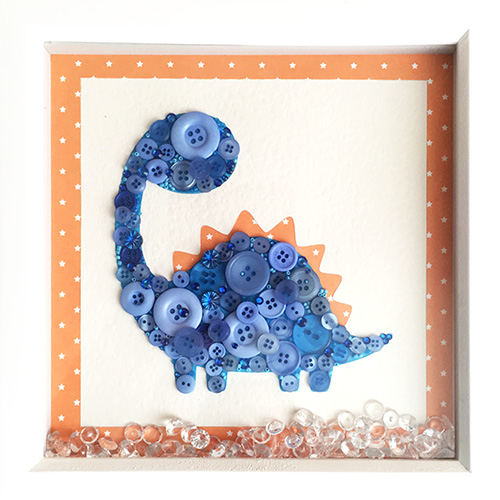 Please note that you need an active Cricut Access subscription to be able to cut this Project for free.
Happy crafting,
Sarah x