How to Make Faux Leather Earrings with a Cricut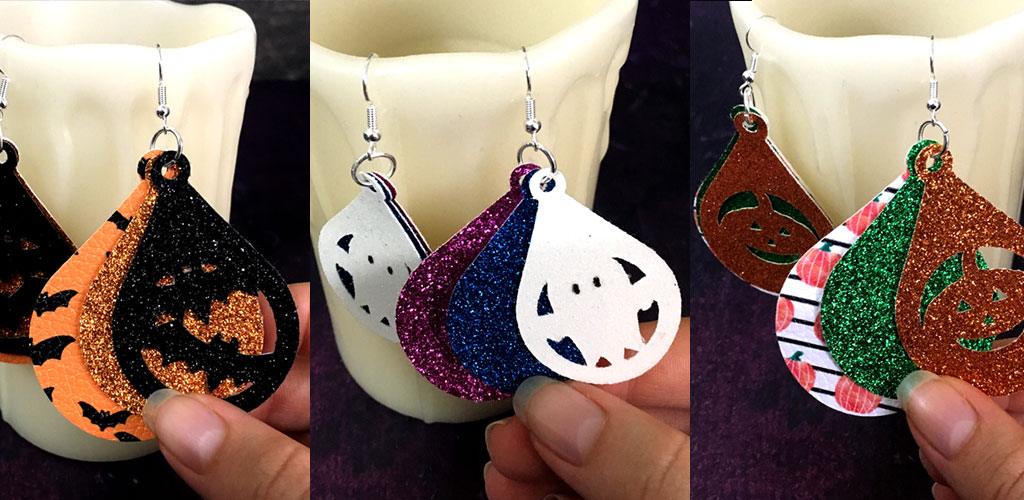 Learn how to make faux leather earrings with a Cricut and download free SVGs for Halloween themed earrings!
Last week I shared some designs for Halloween hair bows and got such a lovely response that I thought I'd create some matching earrings to go with them!
Read on for the free files, and to find out how to make them…
Contents:
Please note that some of the links included in this article are affiliate links, which means that if you click through and make a purchase I may receive a commission (at no additional cost to you). You can read my full disclosure at the bottom of the page.
Faux leather earrings with a Cricut machine
I am a huge fan of big dangly earrings, so I'm surprised it's taken me so long to start making them with my Cricut!
I was a bit daunted to cut faux leather with my Cricut Maker as it seemed so much more difficult than just cutting cardstock, but I'm SO glad I tried it as the earrings turned out so cute!
And… as it turns out… faux leather isn't anything to be feared, after all!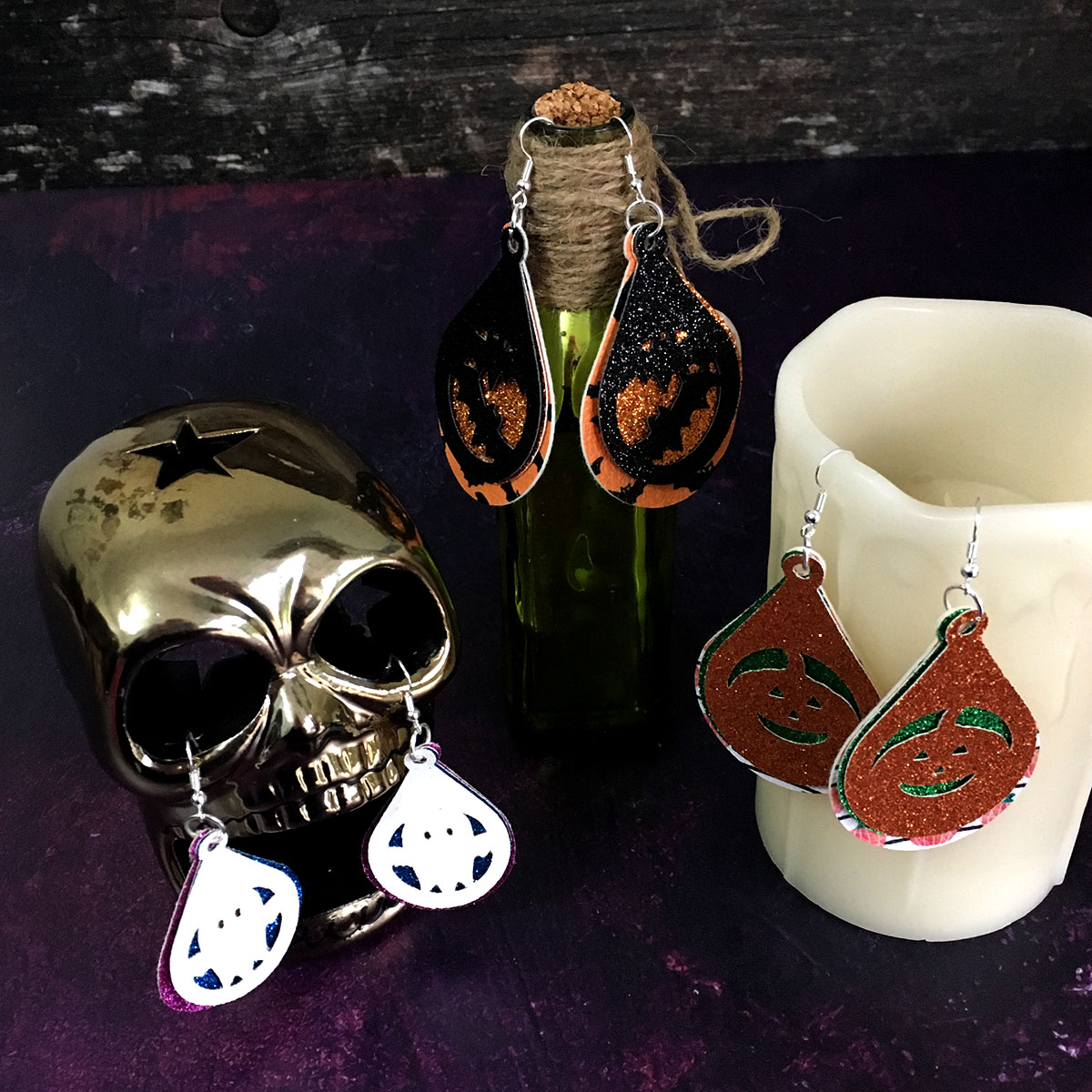 ---
Video tutorial for Halloween earrings
Watch this video to see how to cut faux leather with your Cricut machine and then turn it into these spooky earrings!
A full written tutorial, along with a link to the free earring SVGs, is available further down on this page.
---
Free Halloween earring SVG templates
I've designed three different Halloween earring cutting files which you can download for free:
Download the Free Cutting File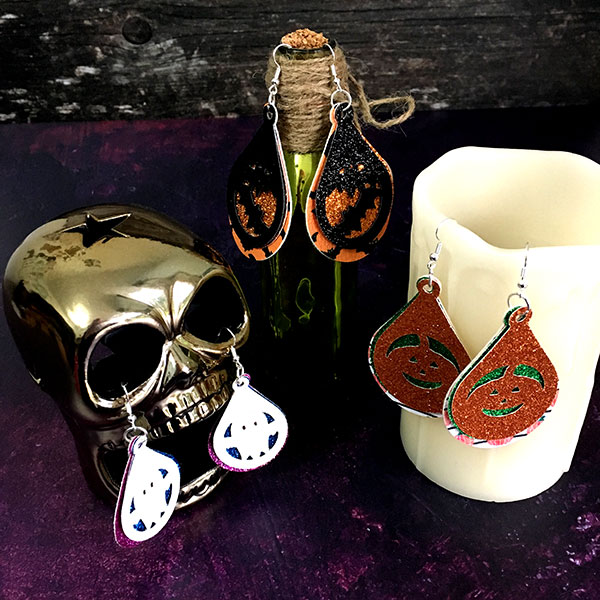 Please login to your account to download this file.
Don't have an account? Register for free
TERMS OF USE:
You may sell finished, handmade physical craft items that you have made using this product but must not sell or share the digital files. Read full terms of use
These match perfectly with my Halloween hair bows that were released earlier this month!
---
Materials list for Cricut faux leather earrings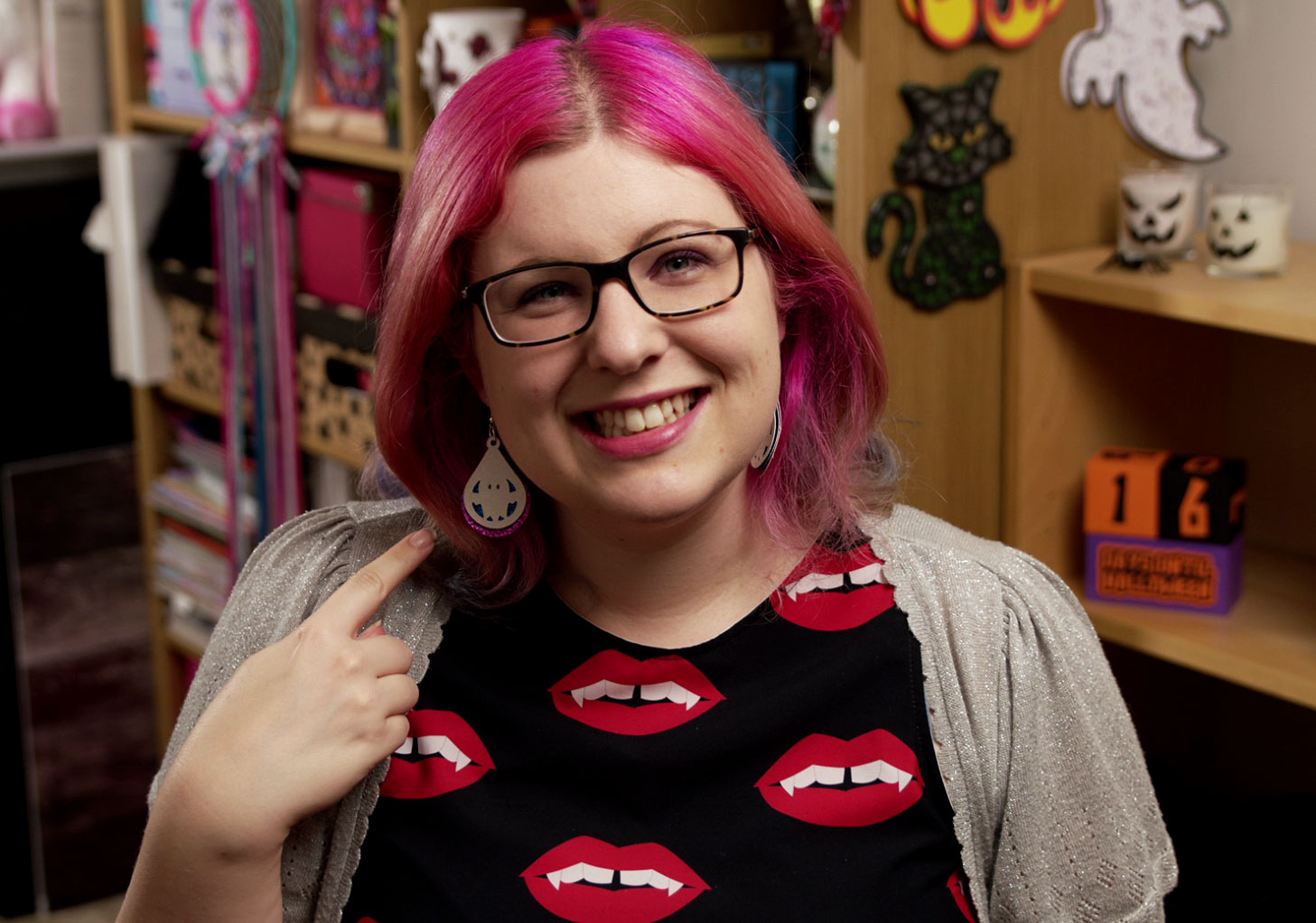 ---
How to make faux leather earrings with a Cricut
Step 1) Choose your design
Download my free earring SVGs and open your chosen design in Design Space.
They will load in at a suitable size (2.5 inches tall), but you can make it bigger or smaller if needed.
I don't recommend going any smaller than 2 inches tall as that will get too hard for your Cricut to cut out the small details.
Click "Make it" and select the "Faux Leather (paper thin)" material type.
Don't forget to mirror your designs as you'll be cutting the designs out with the leather placed pretty-side-down on the mat.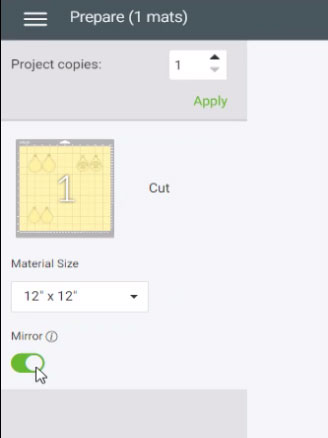 Step 2) Cut out the earring design
Cut out the earring design. Use a strong grip mat if you have one, but if not then a green standard grip one should work fine as long as it is still quite sticky.
Faux leather cuts best when you put the pretty side facing down on the mat.
To stop any fibres from the faux leather (or glitter, if you're using glitter faux leather) from coming off on your mat, I like to put a piece of transfer tape sticky-side up on the mat and then stick the faux leather to that instead of the mat.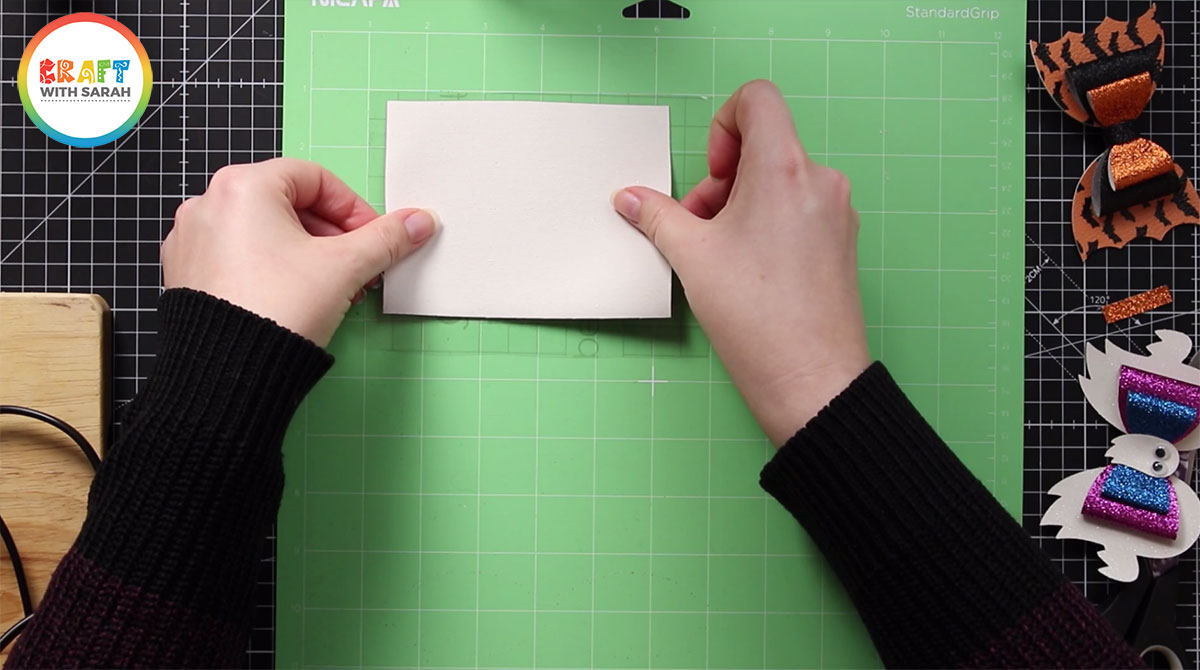 That way, any little bits that come off the leather don't end up stuck on your mat – you can just peel off the transfer tape to remove it!
Add masking tape, blue painters tape or washi tape down all the sides of the faux leather before you cut it, just as an extra precaution to make sure it's really stuck well to your mat!
TIP: To speed up the cut process, you can cut all the shapes for the bow at the same time. To do this, change all the layers to the same colour before you click "Make It" and then re-position everything spaced out on the mat so you know where to cut. Watch the tutorial video further up this post for a more detailed explanation of how to do this.
Step 3) Assemble the earrings
Use your pliers to open up a jump ring.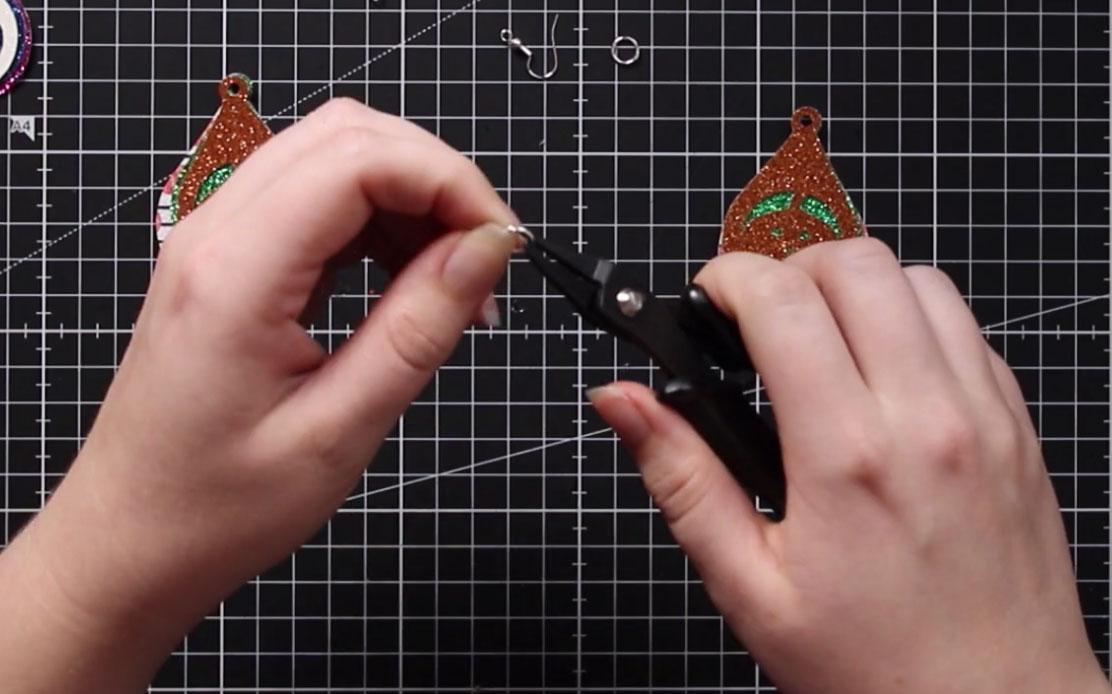 Thread all pieces of the earring onto the jump ring, then add an earring hook behind them.
Make sure the earring hook is pointing away from the front of your earring.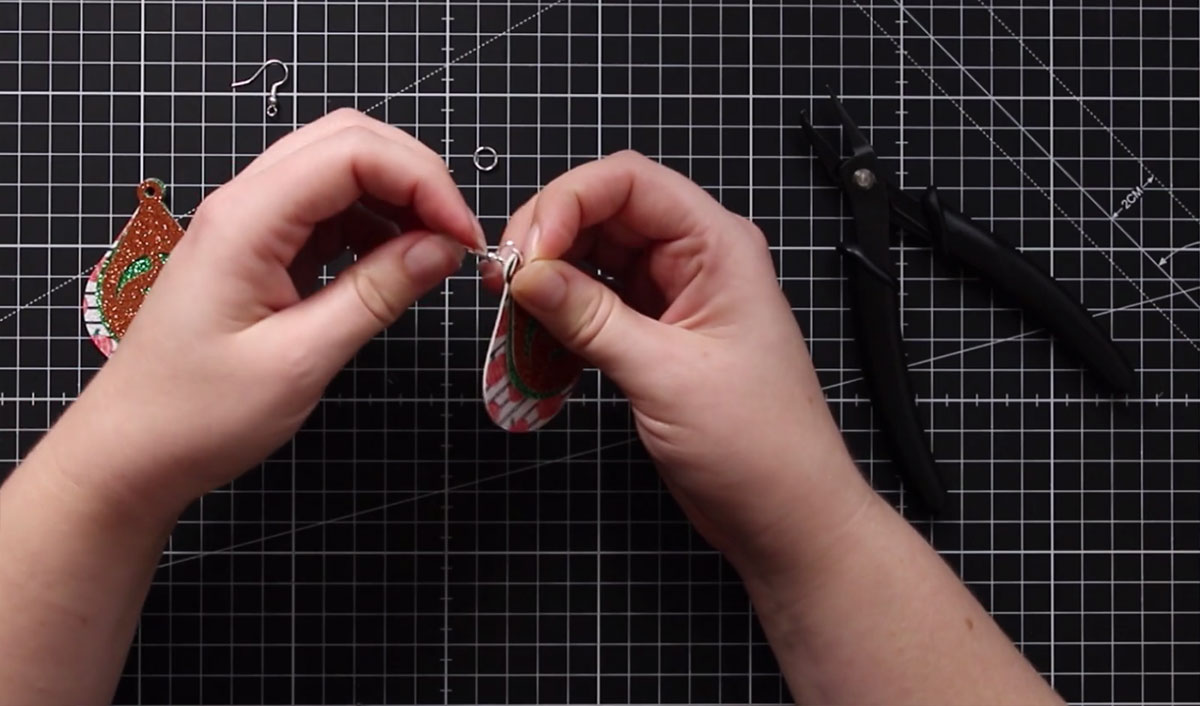 Close up the jump ring with your pliers to secure the earring, and that's all you have to do!
Repeat for the other earring, and that's it – your pair of Halloween faux leather earrings are finished!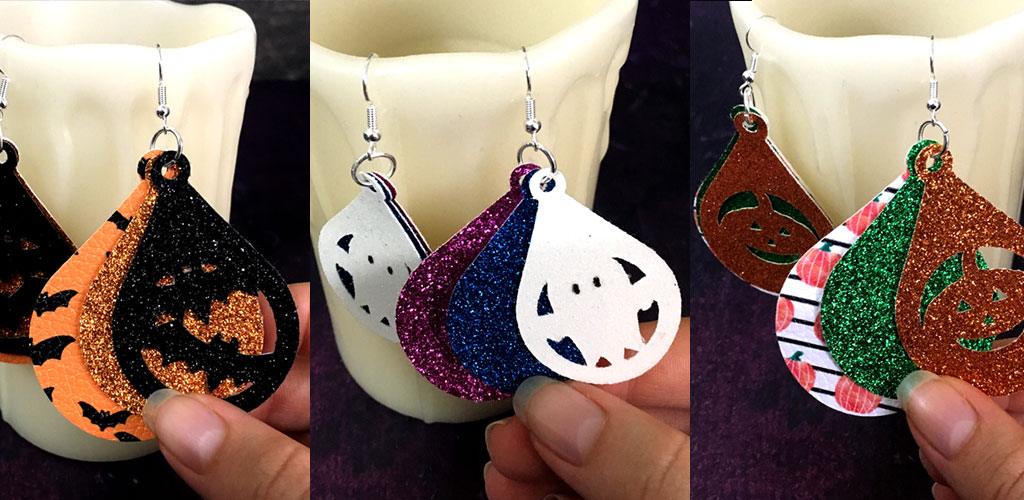 I hope that you enjoyed this tutorial on how to make Halloween faux leather earrings with your Cricut machine.
If you missed the links to the free SVGs, scroll up to the section called "Free Halloween earring SVG templates" to find the links.
Happy crafting,
Sarah x