Make Fun Halloween Cookie Stencils with a Cricut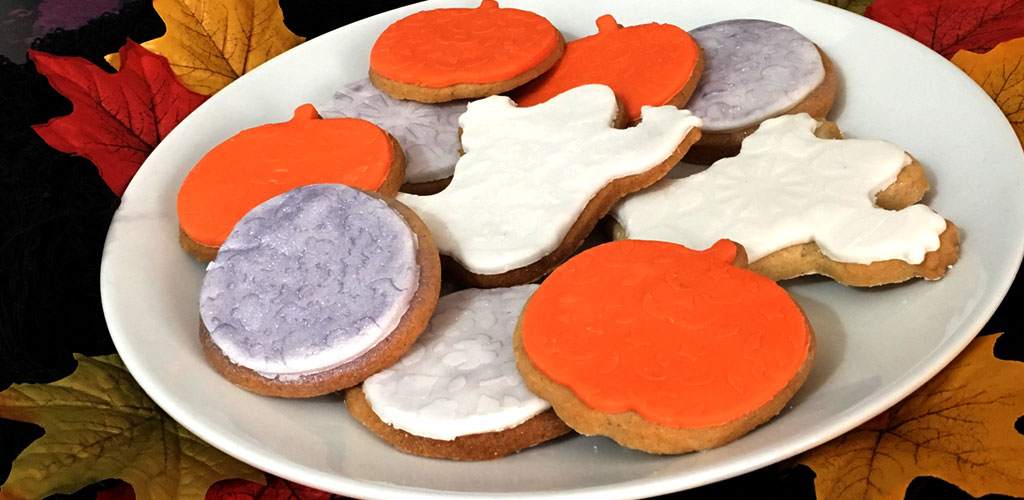 Make delicious Halloween cookies with fun stencil patterns in the icing with this tasty tutorial!
Make your Halloween cookies look extra-special by embossing spooky patterns into fondant icing. Keep reading to find out how to achieve this effect, and to get FOUR free cookie stencil SVGs…
Contents:
Please note that some of the links included in this article are affiliate links, which means that if you click through and make a purchase I may receive a commission (at no additional cost to you). You can read my full disclosure at the bottom of the page.
Making cookie stencils with a Cricut and acetate
I LOVE baking, although I have to admit that I'm not particularly good at it. And of course, I make a HUGE mess every time I try to cook something.
I was clearing out my kitchen cupboards a couple of weeks ago as they were getting a bit overfilled, and came across some old cookie stencils that I bought years ago when I was making cupcakes for my wedding.
I thought to myself… "I bet I could make these with my Cricut!"
Well, you know me, I'm always up for a challenge… so here you go, DIY cookie stencils made from acetate that can be cut with a Cricut machine!
Note: The acetate I used isn't specifically marketed as food safe and Cricut machines are not "food safe", however since the acetate only comes into contact with the icing for a short amount of time and I washed it before use (after I cut the templates out), I personally am comfortable with using it in this manner. It is up to you to decide if you feel this is safe for you.
Download the Free Cutting File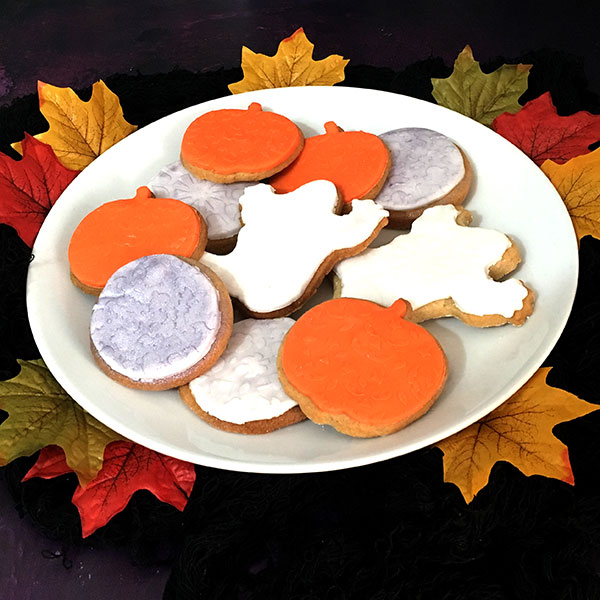 Please login to your account to download this file.
Don't have an account? Register for free
TERMS OF USE:
You may sell finished, handmade physical craft items that you have made using this product but must not sell or share the digital files. Read full terms of use
---
Video tutorial for the Cricut cookie stencils
Watch this video to see how to cut and use your Cricut cookie stencils.
A full written tutorial, along with a link to the free cookie stencil SVGs, is available further down on this page.
Materials list for Cricut cookie icing stencils
A digital cutting machine such as a Cricut Maker or Cricut Explore
Acetate (fairly thick – mine is 220mic)
Free Halloween stencil SVGs
Homemade cookies and basic baking equipment – get the recipe further down the page
Fondant icing
Food colouring to re-colour icing if required
Edible shimmer (optional)
Water in a small pot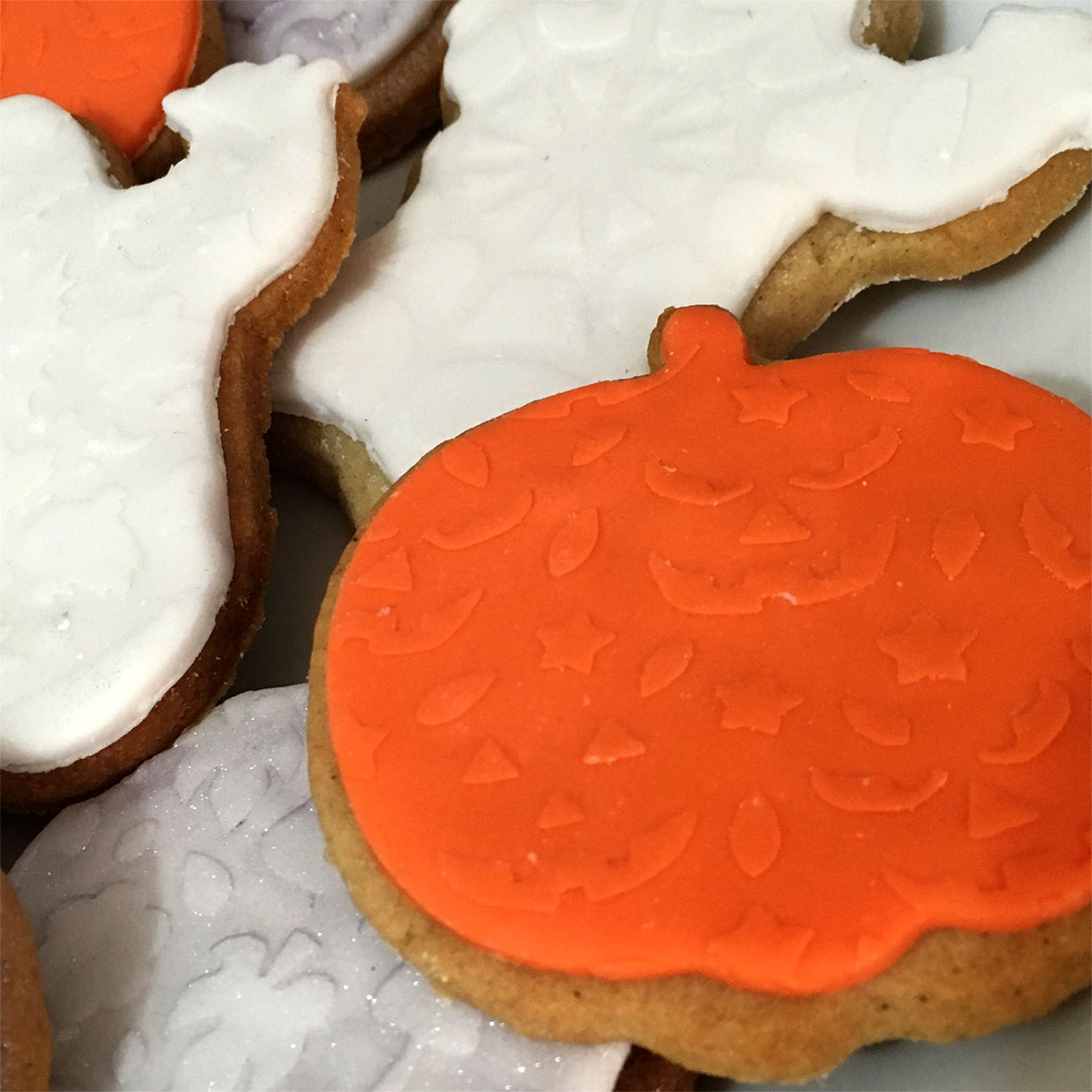 ---
Autumnal Cookies Recipe
You can use ANY cookie recipe to make these Halloween cookies, but here is the recipe that I used for my cookies.
Ingredients
300g plain flour
150g caster sugar
175g softened butter
1 large egg
1 tsp cinnamon
1 tsp mixed spices
1 tsp vanilla extract
1/2 tsp baking power
Pinch of salt
Method
Preheat the oven to 175 degrees c
Beat together the sugar and butter
Add the vanilla extract and egg and beat together
Add the flour, baking power, cinnamon, mixed spices and salt and knead into a dough
Wrap in cling film and chill in the fridge for one hour
Roll out into about 1/4 inch thick and cut into shapes
Place cookies on baking paper on a baking tray and cook for 10-12 minutes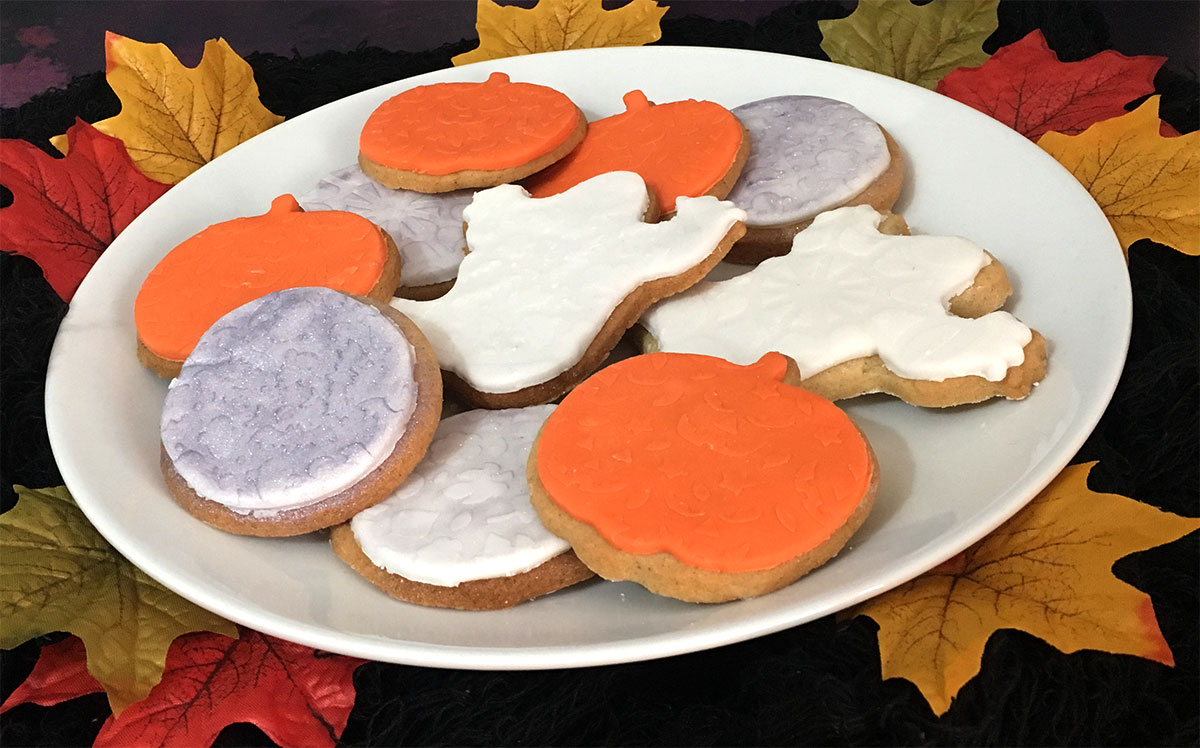 ---
How to use cookie stencils
Here is how to cut and use your acetate cookie stencils.
Step 1) Cut out the cookie stencils with acetate
Load the free cookie stencil SVG into Design Space and resize to however big you want to make your stencils.
Cut out the designs you wish to use from acetate.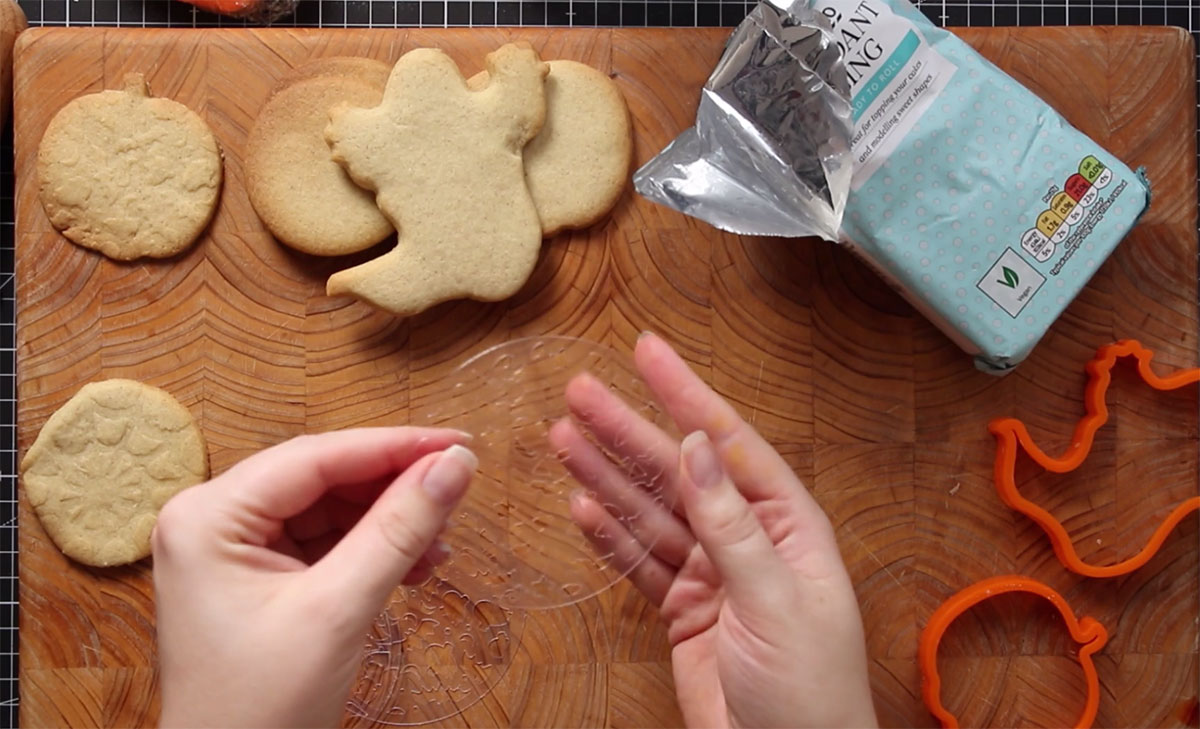 Step 2) Roll out your fondant icing
Roll out the fondant icing so that it's slightly thicker than you want it to go on your cookie.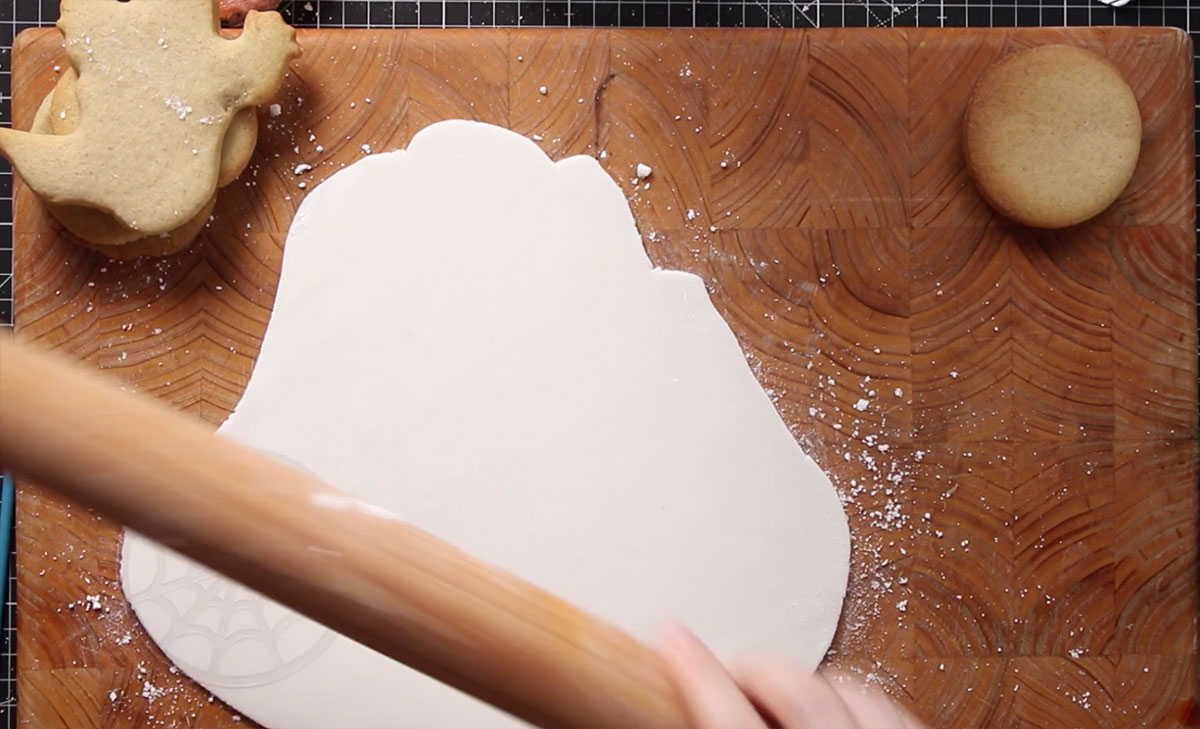 Step 3) Use the cookie stencils
Place a cookie stencils onto the fondant icing and firmly roll it with your rolling pin.
This will emboss the pattern from the stencil into the icing, and roll the rest of it thinner so that it's the correct thickness for your cookie.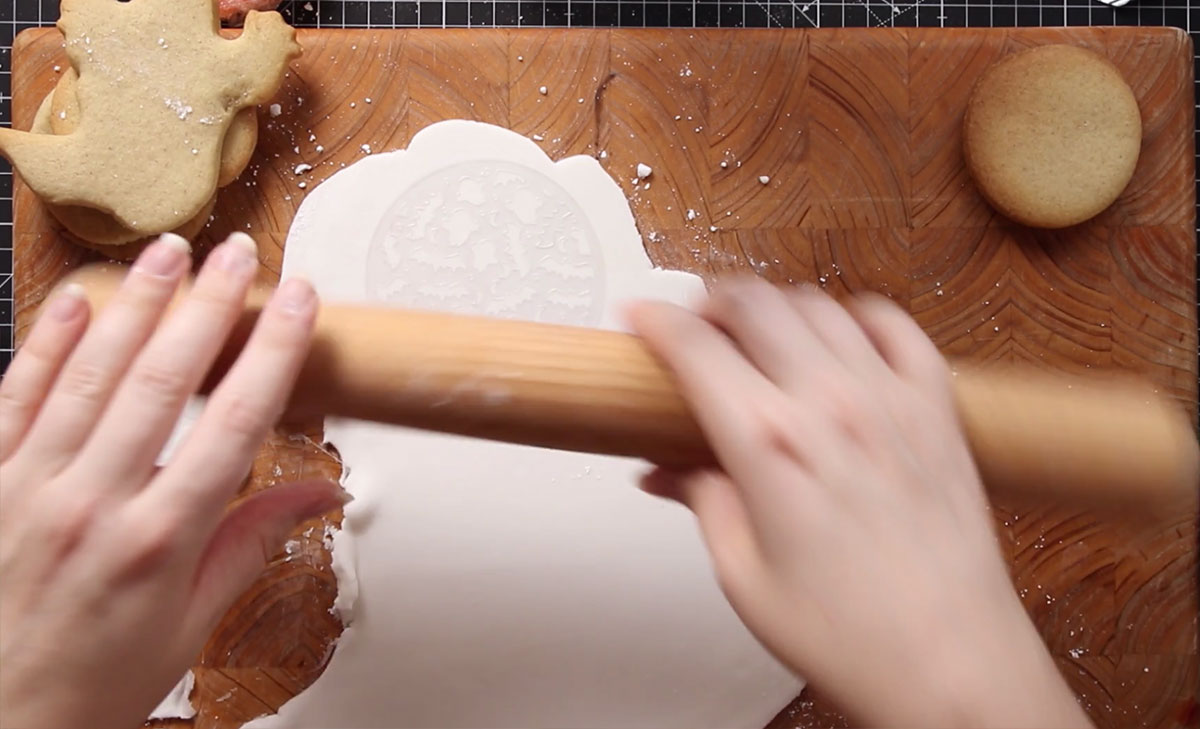 Step 4) Cut out your shape and stick the icing to the cookies
Use the same cookie cutters that you used for the cookies to cut shapes out of the icing.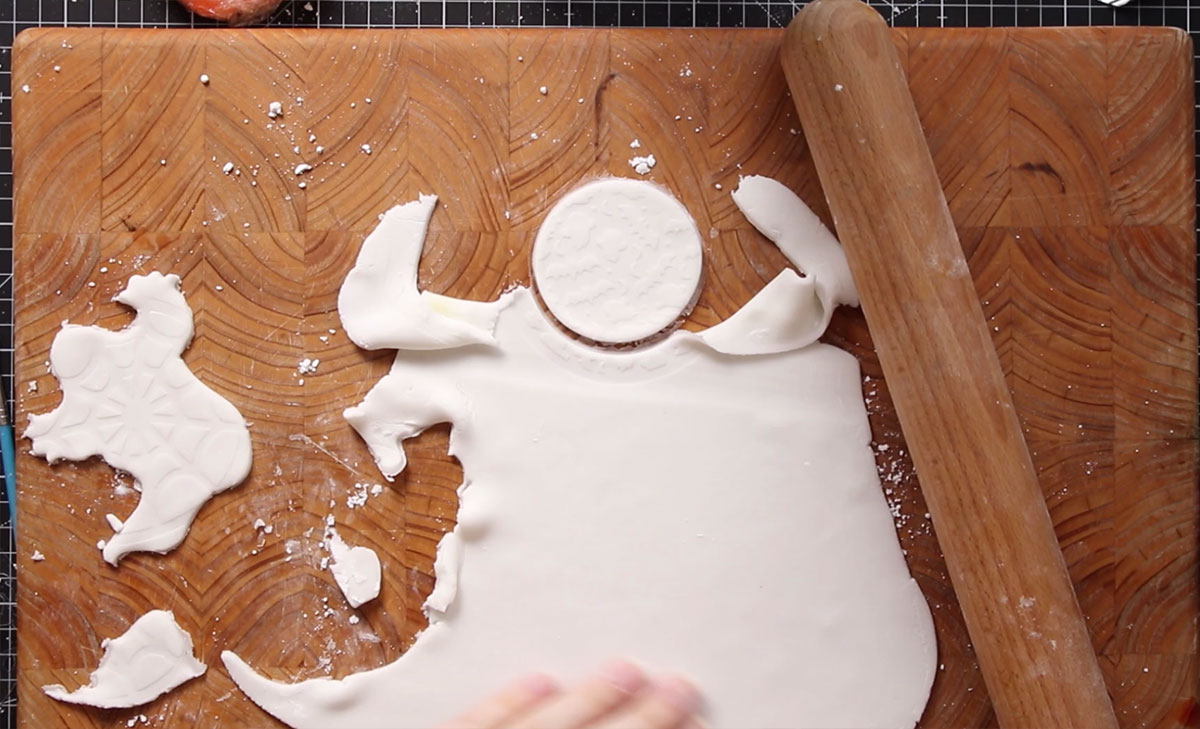 Put a little bit of cold water on the back of the icing to stick it to the top of the cookies.
Use food colouring, edible shimmer/glitter or other cake decorating products to add extra pizzazz to your cookies!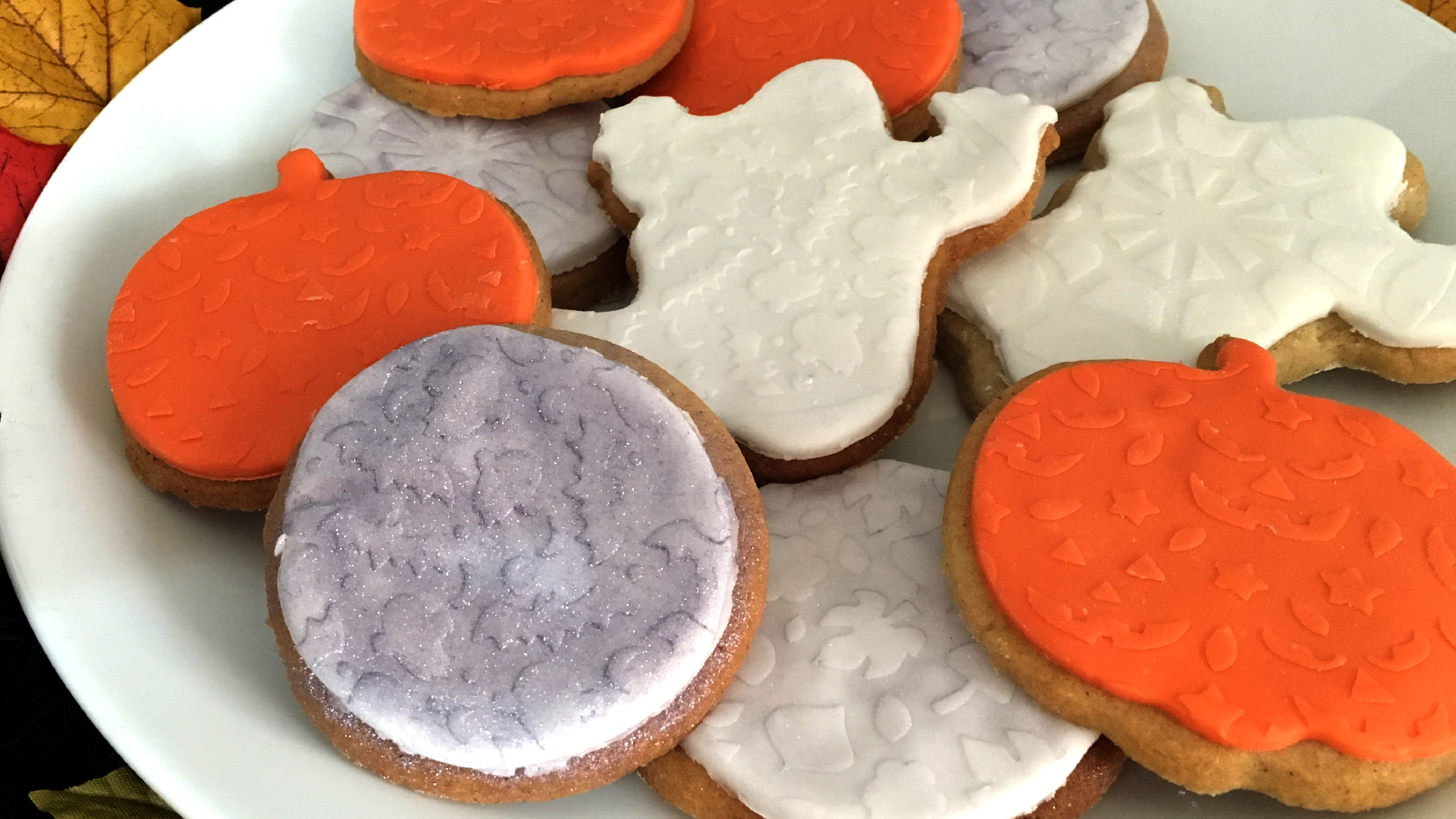 I hope you that enjoyed this tutorial on how to make cookie stencils with your Cricut machine.
I had fun making them, but I think I should stick to papercrafts instead of venturing into baking!! 😀
Happy crafting,
Sarah x