Unicorn Kisses Recipe for Party Bag Favours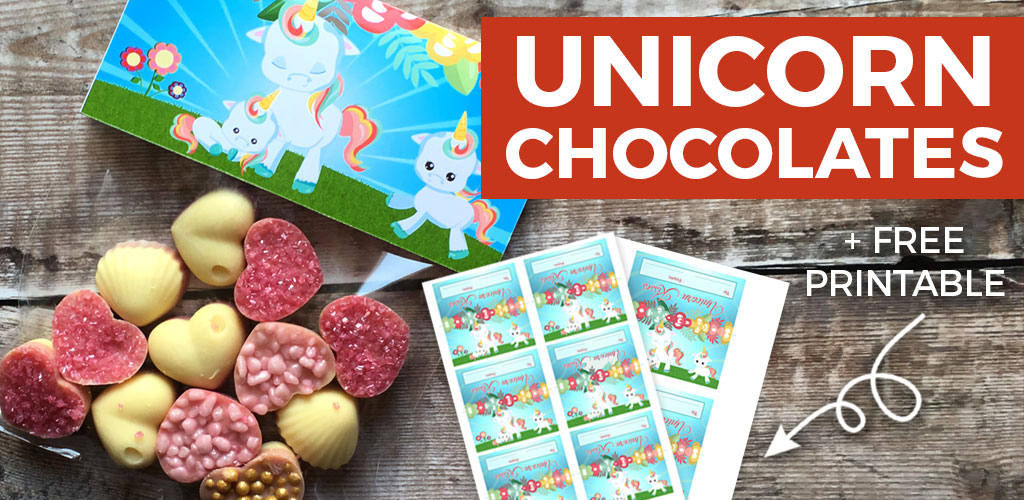 In today's post I'll be showing you how to make these tasty Unicorn Kisses heart chocolates.
The chocolates are perfect for birthday party bag favours or as little gifts for your children and their friends.
The cute unicorn toppers are included too as a free printable – and they match perfectly with the unicorn freakshake toppers from yesterday's post.
Why not get your children involved and make the Unicorn Kisses together? It's a super-simple recipe that children will love to make!
How to make Unicorn Kisses chocolates
Please note that some of the links included in this article are affiliate links, which means that if you click through and make a purchase I may receive a commission (at no additional cost to you). You can read my full disclosure at the bottom of the page.
Ingredients list for unicorn chocolates
Free unicorn printable (scroll down to get it)
White chocolate
A selection of pink or sparkly edible sprinkles
Pink food colouring (I use Wiltons gel colours)
A stapler or double-sided tape
Download the Free Printable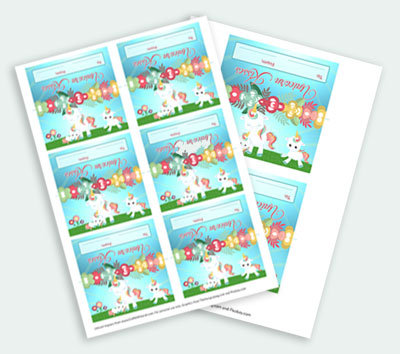 This free design comes in two different sizes so you can choose whether to make larger or smaller goodie bags.
Please login to your account to download this file.
Don't have an account? Register for free
TERMS OF USE:
For personal use only.
Read full terms of use
Unicorn kisses recipe
Break the white chocolate into pieces and then melt it. I tend to use the microwave for melting chocolate, but you can also do it in over the stove – here's how.
Spoon the white chocolate into your ice cube mould. Only fill it about half way. Give the mould a little wiggle when you're done to settle the chocolate and make sure it is filling all the space.
Add pink food colouring to the remaining white chocolate and stir to form a consistent colour. You're aiming for a pale pink rather than bright.
Carefully spoon the pink chocolate on top of the white. Give the tray another wiggle to settle the chocolate but be gentle – you don't want the pink and white chocolates to mix.
Add your sprinkles! Pour a generous helping of sprinkles over each chocolate.
Set in the fridge for a few hours – but ideally overnight.
Print out your Unicorn Kisses printable and score down the middle of it, where shown. Cut it out.
Fold the unicorn topper down your score line.
Place some of the chocolates into a plastic bag. I used cellophane card bags as they are self-sealing!
Seal your bag and then attach the unicorn craft topper to the top using either double-sided tape or a couple of staples (I used tape).