25+ Skeleton Crafts for Halloween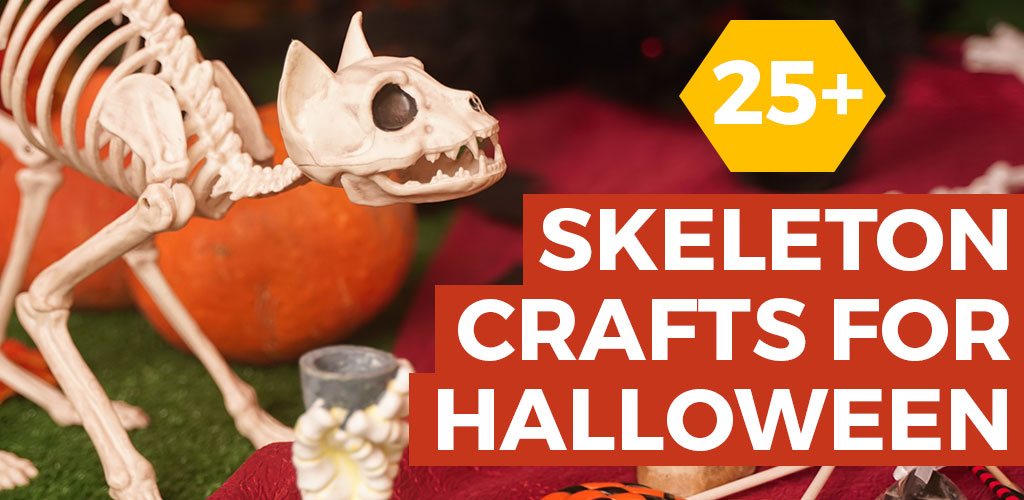 Get crafty this Halloween with this ultimate collection of skeleton craft project ideas. From skeleton wreaths to kid's crafts; candle holders to printables – find it all here!
This selection of Halloween skeleton crafts is broken down into three sections:
Skeleton crafts for kids & toddlers
Skeleton crafts for teens & adults
Skeleton printables
No matter what difficulty level of skeleton craft you are looking for, you'll find a great selection here.
Skeleton crafts for kids & toddlers
These crafts are ideal for toddlers and younger children.
Encourage their creative side this Halloween with some skeleton themed activity projects.
From painting to coloring pages; learning scissor skills to paper plate crafts, there's a little bit of everything to whet their appetite for adventure this Holiday season.
Skeleton crafts for teens, tweens & adults
Paper plates and getting messy with paint is all well and good, but if your kids are older then they will probably want some slightly more age-appropriate crafts.
The following projects are all suitable for tweens, teenagers and even adults if you want to get in on the crafting goodness yourself!
Skeleton wreath tutorials
Other skeleton crafts
Skeleton craft printables
I LOVE printables. They are a super-affordable way to craft, plus a great starting point for any craft project.
Here are some skeleton printables to enjoy this Halloween:
Skeleton crafts for Halloween
I hope you enjoyed this collection of skeleton crafts.
Will you be making any of these projects this Halloween? I hope you do!
If you have a suitable craft or printable that you'd like to be included in this round-up, please get in touch and send me the link and I'll add it in. 🙂
Happy crafting,
Sarah x