11 Best Halloween Mason Jar Ideas for Crafters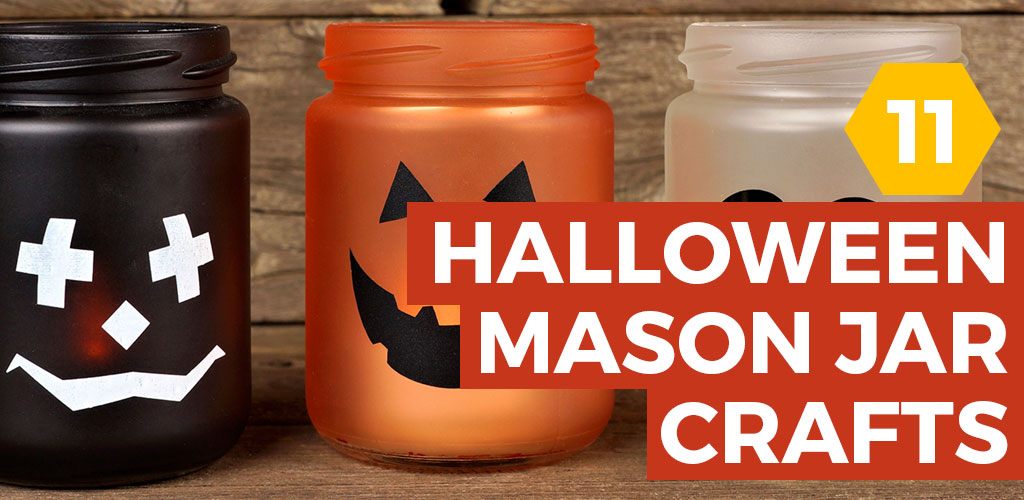 There's something about mason jars crafts and Halloween that just makes them go perfectly together, isn't there?
I'm not sure what it is, but all the oranges, blacks, purples and greens of Halloween seem to look extra-special when painted onto glass containers such as old jam jars or mason jars.
From light-up luminaries to sweet-filled Halloween gifts, you'll find a huge range of clever Halloween mason jar crafts below.
Halloween Mason Jar Craft Ideas
Here is my collection of the 11 best Halloween mason jar idea for crafters.
1) Mason Jar Mummy Luminaries
These mummy luminaries by Cincy Shopper would make a great Halloween craft project for kids.
They are affordable to make too – just save some old glass jars and wrap some stripes of tissue paper of kitchen roll around them to make the mummy's bandages.
2) Halloween Character Jar Kits
These mason jar crafts are actually a premade craft kit that you can buy from Target and assemble yourself.
The Inspiration Vault shared the instructions a couple of years ago, so it might be that these kits aren't available any more in the shops, but they would be pretty easy to make yourself from some mason jars, paint and coloured paper or felt.
Stick on some pipe cleaners for the cat's whiskers and the pumpkin's stem and you're sorted!
3) Pumpkin jar craft
These little pumpkin jars are so cute!
Upcycle glass baby food jars or other small glass jars into these adorable pumpkins.
Get awesome glass painting tips over at The Relaxed Home School to find out the best paint to use on your glass jars.
4) Halloween Witch Mason Jar Craft
Mommy Evolution have this brilliant tutorial on how to make a Halloween witch mason jar.
Pieces of tissue paper are stuck to the outside of the mason jar to create the witch's fave.
As tissue paper is semi-transparent, it means that when you put an artificial candle inside you can still see the glow.
This is another Halloween mason jar craft that would be ideal for kids to make.
5) Fall Leaves Mason Jar
These mason jars are fall-inspired rather than Halloween based, but they would still make ideal Halloween porch or mantlepiece decorations.
I think it's clever how My Home Based Life sat the candles on top of little piles of popcorn kernels to raise them up and add even more autumnal goodness.
If you used cinnamon scented candles in these fall leaf luminaries then your home would smell scrumptious this Halloween!
6) Classy Pumpkin Mason Jar Crafts
These pumpkin decorated jars are more classy than scary, and I love them for it!
I think these pumpkin delights from Sustain my Craft Habit would look perfect on your Thanksgiving dinner table with burlap table runners and napkin rings to enhance the rustic look.
Chalk paint has been used to create the pastel-coloured opaque colourings on the mason jars.
These are probably my favourite Halloween mason jars from this whole collection.
7) Halloween Peeps Mason Jars
Need some cheap Halloween gift ideas to give to your kids this spooky season?
Turn your candy into a show-stopper gift idea with these clever sweetie filled mason jars.
Find instructions on the best way to fill your sweet jars on Savvy Saving Couple.
The little ghost marshmallows peeping out of the jars look so cute.
I'm not sure I could bring myself to eat them!
Also… is it just me that's never had candy corn? I don't even know what it's supposed to taste like!
8) Halloween Lanterns for Kids
It's time for another children's craft project, this time from one of my favourite craft sites: The Best Ideas for Kids.
This website is filled to the brim with amazing art and crafts projects for kidsm, and these fun Halloween lanterns are no exception.
They are painted with acrylic paint and then filled with a string of battery powered fairy lights to turn them into lovely little lanterns that would be ideal for carrying around when trick-or-treating to help light the way in the dark.
Or, put them by your child's bed for a night-light to scare all the ghouls and ghosties away on Halloween night.
9) Candy Corn Inspired Mason Jars
I may not have ever tasted candy corn, but I sure do love the striped patterns and autumnal colours that make them up.
Apparently, so does The Frugal Navy Wife as she has turned these stripy sweets into a candy corn inspired painted jar.
You could use these jars for storing Halloween treats, or fill them up with tasty goodies to give as gifts to teachers, neighbors, family members or friends.
10) Farmhouse style Halloween jars
We're back to the Halloween theme now with these farmhouse inspired mason jars from Hunny I'm Home DIY.
They can be made with budget-friendly items from the dollar store.
You can even download the printable jar labels for free by clicking the link above to the Hunny I'm Home DIY website.
These are super spooky with the floating spiders, eyeballs and other such Halloween memorabilia.
They are strictly for decoration only though, so be sure to keep them out of reach of toddlers and pets!
12) Vinyl Sticker Luminaries
You've reached the last Halloween themed mason jar craft in this collection.
I think these designs by Happiness is Homemade are probably one of the most professional looking craft projects out of the whole bunch.
If you're looking for Halloween crafts that you can make and sell, you could be on to a winner with these.
You can even make them in under 15 minutes, making these an excellent quick craft to get you in the Halloween spirit.
Get it… Halloween SPIRIT!! Haha 😀
Halloween mason jars to make
I hope you have enjoyed this collection of the best Halloween mason jar crafts to try this Fall season.
Which one is your favourite?
As I said earlier, Number 6 is definitely my preferred project.
I'm not quite sure I could get mine looking so perfect and professional if I was to give them a try… but that's half the fun of crafting, right? You never know until you try!
If you are making mason jar crafts this Halloween, I'm sure this post will have got your creative juices flowing.
It's time to crack open the paint, pipe cleaners and googly eyes – good luck!
Oh, and HAPPY HALLOWEEN of course!