19 Spooky Ghost Recipes for Halloween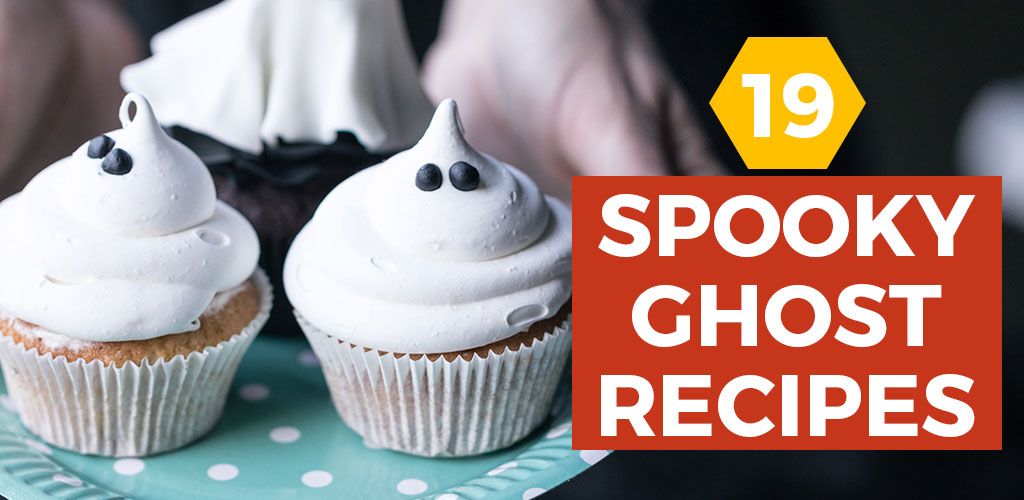 If you're looking for some spooky recipes, check out this great list of ghost recipes for Halloween.
From simple snacks you can whip up in a couple of minutes to incredible show-stopper cakes, you'll find it all here.
Easy ghost themed recipes
Check out these spooky ghost recipes for the ultimate ghost-themed Halloween feast!

Please note that some of the links included in this article are affiliate links, which means that if you click through and make a purchase I may receive a commission (at no additional cost to you). You can read my full disclosure at the bottom of the page.
Ghost themed dessert recipes
Most of the recipes in this article are dessert recipes… mostly because, well, I love dessert!
There are a few savoury recipes at the bottom though, just for a little bit of healthy balance!
1) Rice Krispies Ghosts
These Rice Krispies ghosts from Kid Friendly Things to Do are a great Halloween recipe to get the kids involved in the fun.
Not only is it a no-bake recipe (always good for time-saving mom hacks!) but your kids get to be creative and design their own ghosts by moulding the mixture into different shapes.
Use pre-made candy eyes to add some fun character to your Rice Krispie ghosts.
2) Ghost cheesecake bites
If you're hosting a Halloween party then these ghostly cheesecake bites from Eats Amazing would make perfect dessert bites for the buffet table.
They are quick to make as they use pre-made pastry cases (shh, don't tell anyone!) and the cheesecake mix has only four ingredients.
3) Ghost Milkshakes
This recipe is *sort-of* cheating as the ghost theme is made by decorating the glasses/mason jars rather than from the actual food itself, but these ghost milkshakes look far too tasty to not be included!
The vanilla milkshake recipe from Lil Luna sounds completely delicious, although a little calorie heavy so this is probably only a once-a-year treat!
4) Brushstroke Ghost Celebration Cake
Embrace your inner 'Star Baker' with this show-stopper masterpiece from Erin Bakes.
I really like the pastel pink buttercream covering on this cake, and the brushstroke ghosts give it a great Halloween theme without it being too scary for the little ones.
The ghost decorations are made from melted white chocolate which is brushed onto parchment paper and then peeled off and stuck on to the cake.
5) Ghostly Apple Rings
I thought we'd better take a break from all the sugar, so here's a healthy Halloween recipe made from apples.
Read the recipe at Eats Amazing to learn how to dry apple rings.
They are then decorated with white chocolate and candy eyes to give the ghostly appearance.
6) Ghost Cupcakes
We're back to the slightly more unhealthy recipes now with these fun ghost meringue cupcakes by The Sweet and Sour Baker.
Rich, moist chocolate cupcakes are topped with piped Swiss meringue frosting and then decorated with sprinkles and candy eyes to create the ghost characters.
7) Ghost Marshmallow Apple Pie
Out of all the ghost recipes in this collection, it's THIS one from Anna Can Do It that I think I'll be trying out this year.
My husband loves apple based desserts, and I'm a huge marshmallow fan – so these sounds like the perfect mash-up of flavours to suit both of our tastes.
You could make this dessert any time of year by leaving the piped chocolate faces off of the marshmallows.
More Ghost Halloween Dessert recipes
If the above selection of ghost desserts hasn't been *quite* what you are looking for, you might be interested in these scrummy recipes:
Savoury Ghost Recipes for Halloween
Well, I did promise you some savoury ghost recipes as well as all the scrummy desserts.
Here are some clever ways to turn your kid's meals into something wonderfully spooky this Halloween.
17) Ghost Sandwiches
Send your kids off to school with the BEST Halloween sandwiches by cutting them into ghost shapes.
Mom Endeavors have some fab tips for turning boring sandwiches into fabulous ghosts.
18) Ghost Shepherd's Pie
Shepherd's Pie is a firm favourite in our household.
It's a great recipe to make in autumn as it's warm, filling and tasty.
For the Love of Food cleverly turned this staple fall dinner into a spook-tacular Halloween feast by piling the potato in cute little ghostly shapes.
19) Mini Ghost Pizzas
Pizza is always a great choice for buffet food as it can be prepared and cooked in advance. Sometimes I even prefer cold pizza to warm.
Make like The Mommy Mix and ditch the circular pizzas and turn them into ghosts instead.
It's another opportunity to use the ghost cookie cutter from earlier!
So there you have it, 19 Ghost Recipes for Halloween to make your food extra-spooky.
I really enjoyed putting this collection together, and I hope you've enjoyed reading it! 🙂
If you have a ghost recipe that you'd like to be included in this round-up, send me an email with the link and I'll happily add it in.
Happy Halloweeen!
Sarah x