7 Easy Pumpkin Crafts for Halloween
Save time and money this Halloween with these fun & EASY pumpkin craft ideas!
When I was walking my dogs today I saw a few different houses all decorated for Halloween.
There are only a couple of days now until the big day, so I think some families along my route took advantage of the weekend just gone to do their Halloween decorating.
One thing I noticed was that the pumpkins on display were more often than not decorated rather than traditionally carved.
Creepy faces with tealights seem to be "out" this year, and fun, colourful no-carve pumpkins are "in"!
With that in mind, here are some excellent pumpkin crafts to get your creative juices flowing this Halloween.
This project was part of 2019's Halloween Craft Countdown.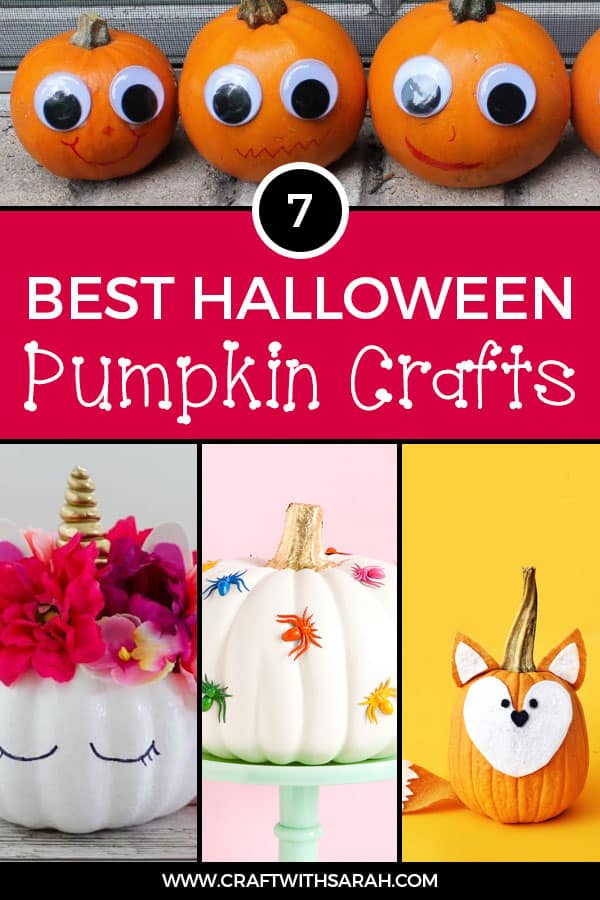 Easy Pumpkin Crafts to Make This Halloween
1) Mess Free Pumpkin Decorations
How cute are these tiny little pumpkins from Beauty Through Imperfection?
They are very easy to make – all you need are some googly eyes and a red pen, plus some teeny tiny pumpkins to decorate.
I think it would look lovely having a whole row of them along a windowsill.
2) 5-Minute Mustache Pumpkins
Give your pumpkins the steampunk treatment with these tash-tastic pumpkins by ABCs and Garden Peas.
Once again, these are a simple no-carve pumpkin craft, with QUITE the air of sophistication about them!
3) Pumpkin Jar Crafts
These little pumpkin jars by The Relaxed Homeschool would make excellent party favors or gifts for trick-or-treaters.
It would be a great craft to do with your kids one day before Halloween.
4) Make your own Pumpkin Stencil
Uplevel your carving skills this Halloween by making your own pumpkin stencil with this fabulous tutorial by Create Whimsy.
This step-by-step tutorial breaks down all the stages of creating your own pumpkin stencil, even complicated ones based on photographs.
5) Unicorn Pumpkins
If you've been following my blog for a while, you'll know ALL about my obsession with unicorn crafts.
This GORGEOUS unicorn pumpkin by Fun Money Mom is a stunner!
It's made with $1 styrofoam pumpkins, so it's a totally affordable DIY Halloween pumpkin craft.
6) Rainbow Spiders Pumpkin
I know that many people are afraid of spiders (myself included!), but there's nothing scary about this fun spider pumpkin from The Crafted Life.
Adding brightly coloured paint to these little spider decorations will turn your pumpkin from scary to cute in no time at all.
7) Fox Pumpkin
Our final pumpkin craft for today is this adorable woodland fox no-carve pumpkin by Erin at Hey Eep.
Orange felt is used to give the fox his features.
I love the addition of the tail and ears; they really make this little foxy character come to life!