17 Gorgeous DIY Easter Wreaths for Simple Spring Decor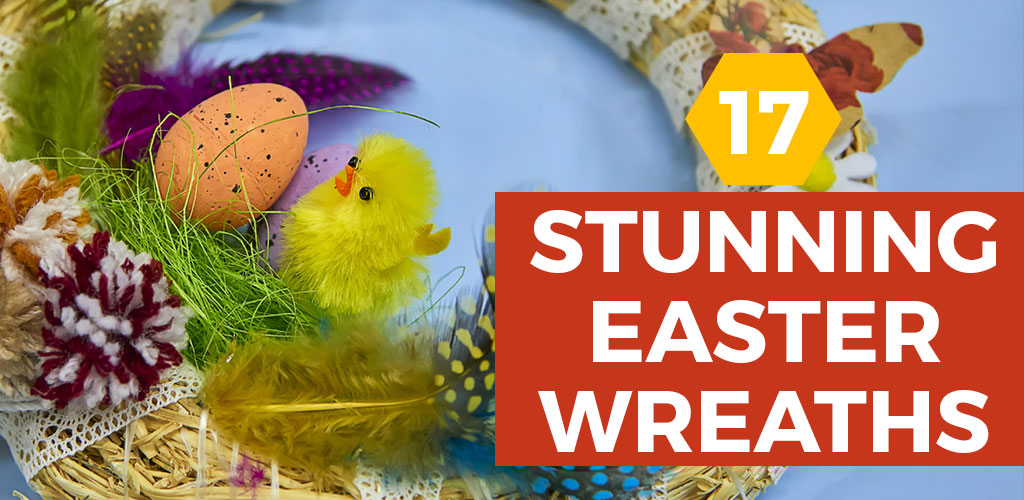 Decorate your home for Spring by crafting a gorgeous DIY Easter Wreath for your front door.  From Easter bunny wreaths to tulip wreaths; Easter egg wreaths to Spring floral wreaths – get all your crafty inspiration here!
I've put together a collection of 17 gorgeous Easter wreaths that you can make in 2021. All of these holiday wreath ideas come with instructions on how to make your own.
There's a mixture of easy Easter wreath ideas for beginners, and more complex floral wreaths and decorative wreaths that will take a little more time and skill to create.
If you want to save any of these Easter craft ideas for later, simply click on the images to save them to your Pinterest account.
Please note that some of the links included in this article are affiliate links, which means that if you click through and make a purchase I may receive a commission (at no additional cost to you). You can read my full disclosure at the bottom of the page.
Cheap Easter wreath ideas
If you're looking for cheap Easter wreath ideas then some of the below options will work great.
You could even combine some of the ideas to make use of crafting materials that you already own, to make your Easter wreaths even more affordable.
Where to buy wreath making supplies
Polystyrene wreath rings can be purchased for just a few dollars on Amazon and other online retailers. Depending on the type of wreath you are making, you might even be able to substitute the polystyrene wreath ring with a cardboard ring cut from an old packaging box instead.
Plastic Easter eggs, foam eggs, fake grass, string and ribbon can all be bought cheaply online and also from shops like Poundland or other budget stores.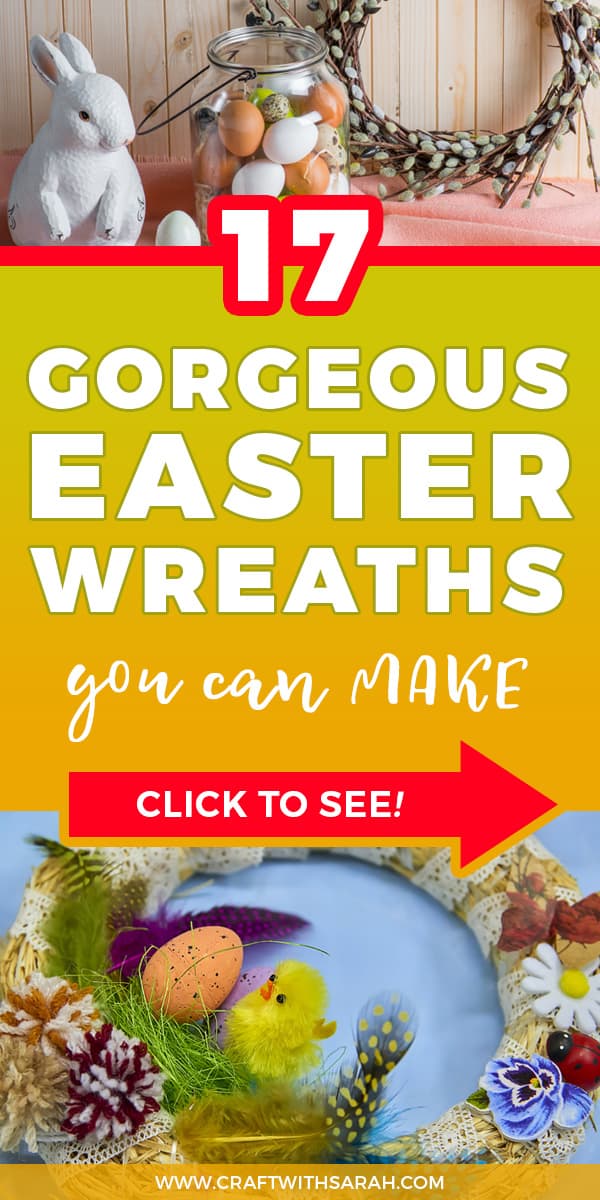 Best DIY Easter Wreaths for 2019
1) Burlap Easter Bunny Wreath
This burlap and Easter egg wreath from Kenarry.com is quite unusual because it doesn't have the traditional circular hole in the middle.
The hole is covered with a cute little Easter bunny plaque, which completes the wonderfully rustic burlap and pastel coloured Easter egg design.
2) Pastel Coloured Yarn Wreath
Pastel colours are perfect for this time of year. This clever yarn wreath from Across the Boulevard uses rainbow yarn wrapped around a foam wreath base to create a simple yet gorgeous front door decoration.
3) Simple DIY Spring wreath
This blue polka dot wreath by Marybeth at Lifestyle for Real Life is perfect for Spring and you can keep it up after Easter as it's not specifically themed around the holiday.
As artificial flowers are used, you could even hang this wreath inside and keep it up all year round!
4) Paper Easter Wreath
I love to save money on holiday crafting, especially if a project is only going to be displayed for one year.
This paper wreath from The Happy Scraps is perfect for using up those tiny pieces of scrapbook paper that you just couldn't bring yourself to throw away.
Simply roll strips of paper and use a glue gun to stick them to a base wreath for this wonderfully creative and cheap to make Spring wreath.
5) Plastic Easter Egg Wreath
Use up all your plastic Easter eggs with this colourful wreath from Kennedy Kountry.
The pink Easter grass is a lovely touch to give a girly, feminine feel – especially when combined with the baby pink egg patterned ribbon at the top of the design.
6) Floral Twig Wreath
Now THIS Easter wreath from Thimble and Twig is really something special.
Real flowers are weaved into twigs and interspersed with Easter eggs and other floral decorations to create this whimsical wreath design.
7) Yellow Flowers Spring Wreath
Keeping with the floral wreath approach, this project from Design Soda is slightly more simple than the one above, but still beautiful.
Real flowers are weaved into twigs and interspersed with Easter eggs and other floral decorations to create this whimsical wreath design.
I love how the flowers are tied to a rose-gold base – it's perfectly on-trend home decor which looks really elegant.
8) Paper Flowers Easter Wreath
If you love papercrafts then perhaps this idea from Polka Dot Chair is the Easter wreath project for you.
Handmade paper flowers are crafted with care and then attached to a burlap covered wreath with a cute little white rabbit for this lovely wreath design.
As this one is made of paper, it probably shouldn't be displayed outside.
9) Pink Tulips DIY Floral Wreath
Tulips are one of my favourite types of flowers as I love the different shades of pink that they come in.
This stunning tulip wreath from The How-To Mom is bursting with colour and I bet it smells wonderful too.
10) Purple Tulips Wreath
For a slightly more subtle tulip wreath, how about this idea from Back to Our Roots?
This floral wreath uses artificial tulips which means it will last much longer and be less delicate to work with.
11) Fluffy Easter Bunny Wreath
If I was going to make any of the Easter wreath tutorials from this post, it would probably be with them.
The clever ladies over at Two Sisters Crafting have excelled themselves with this super-simple but ADORABLE fluffy Easter bunny wreath.
12) Easy Paper Easter Wreath
This Easter wreath from The Resourceful Mama is one of the simplest DIY craft projects that I've featured in this post.
Egg shaped pieces of paper are stuck to a paper plate base for this cute little wreath. A great Easter project for kids!
13) Floral Ombre Easter Egg Wreath
If you're as obsessed with all things PINK as I am, then you'll probably go "WOW" at this vibrant Easter wreath – just like I did!
The clever Haeley Giambalbo designed this wreath for Oriental Trading and I love LOVE it!
Seriously – you can't get more pink and girly than this.
14) Bunny in the Grass
For a more subtle wreath idea with a lovely rustic feel, this "Bunny in the Grass" concept from The Happy Housie might be more your style.
Burlap ribbon is wrapped around a wreath base and then embellished with green "grass" made from wool, tiny little speckled Easter eggs and a carefully positioned bunny rabbit decoration.
15) Embroidery Hoop Easter Wreath
This wreath idea from The Crafty Morning is definitely original, and can be customised based on your personal tastes based on the material that you use.
Two embroidery hoops are covered in rose-patterned fabric and then sewn together with some lovely bunny bears and fabric roses to create a cheerful and unique Easter bunny shaped wreath.
16) Yarn Eggs Wreath
If you like getting your fingers messy when crafting, this is certainly going to be a fun project for you.
Coloured yarn is dipped in glue and then wrapped around tiny balloons to create the base for this design by Wine and Glue.
When dried, simply pop the balloons to leave behind your very own handmade Easter eggs which can be strung together to form a two-layer wreath.
17) Crochet Easter Wreath
Last but most certainly not least in this collection is this lovely crochet Easter bunny wreath from Crochet Daily.
This is one of the most time consuming DIY Easter wreaths from this post, but it also probably one of my favourites.
If you love to crochet or knit amigurumi creations then this is a wonderful project to work on this Spring.
I can see this wreath being treasured for years, and even passed down the generations as a wonderful family keepsake.
Home decor Easter wreath ideas to make yourself
I hope you have enjoyed this selection of DIY Easter wreaths.
Will you be making an Easter wreath this year? If so, what will it be – floral, cute, rustic, whimsical, vibrant or something else entirely?