11 Delightful Daffodil Crafts for St David's Day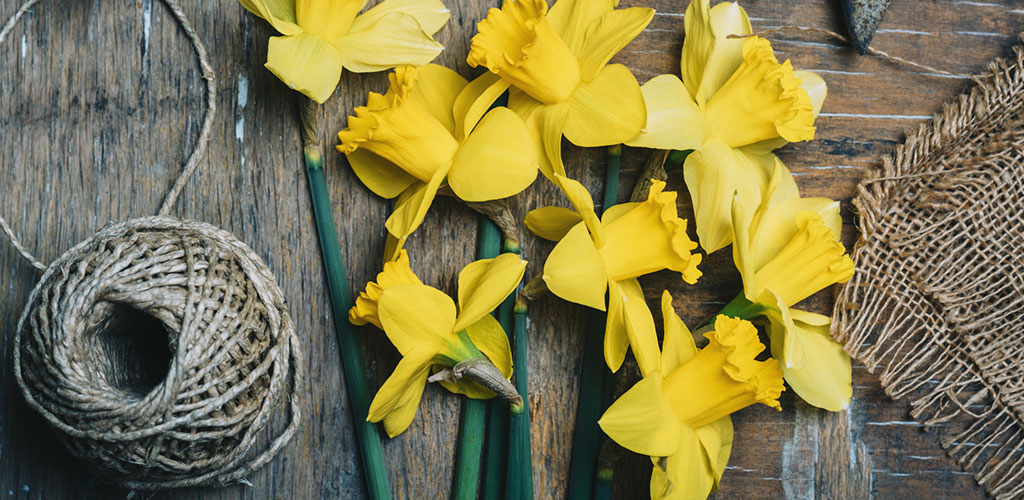 Does anything show that it's time for spring any better than the beautiful daffodil? In honour of this yellow and orange springtime beauty, here are eleven daffodil crafts to inspire your crafting this season.
It's almost spring here in England and the daffodils are starting to bloom.
There are loads of them around where I live and it's lovely to see the bright colours when I'm out walking my dogs.
Daffodils are such a pretty flower, aren't they?
Did you know that they are the national flower of Wales, which makes them perfect for St David's day crafts.
Daffodils are traditionally worn on St David's Day on the 1st March in Wales to celebrate St David, the patron saint of Wales.
In honour of St David, here are 11 delightful daffodil crafts that you can make at home.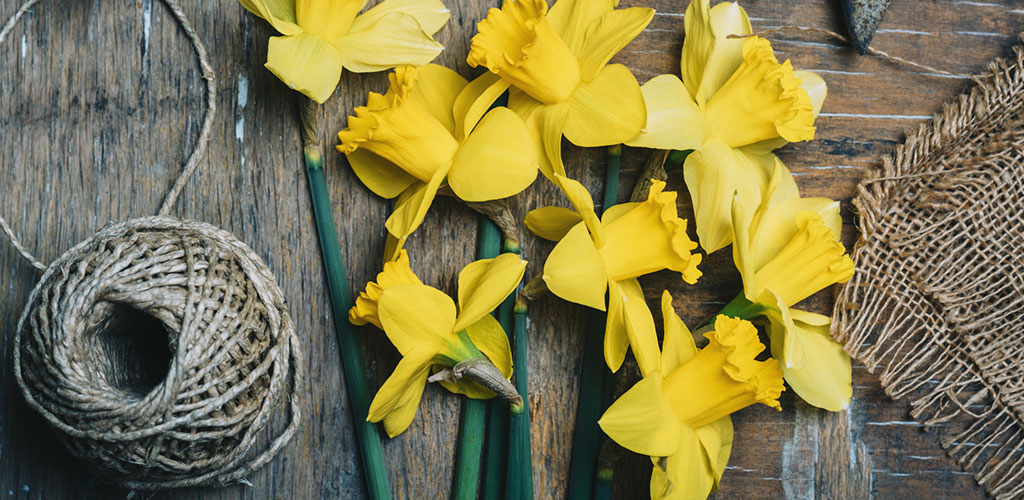 Daffodil craft templates and tutorials for adults & kids
1) Crepe paper daffodils
Ever wondered how do you craft daffodils? Here's your answer!
These crepe paper daffodils from Hubpages look so real!
Use shades of white, yellow and red orange paper and some florist wire, glue and scissors to craft these stunning springtime flowers.
2) Daffodil wreath wall decor
Learn how to make a daffodil wreath with this step-by-step tutorial from Country Living.
This gorgeous wreath uses REAL daffodils and narcissus so it really is a show-stopper spring wreath for your home.
3) Crochet daffodil pattern
Crochet your way to spring time delight with this free daffodils crochet pattern from Happy Berry.
This is an intermediate level crochet pattern and should be completed with a hook size of 3.50mm and DK/Light Worset yarn weight.
4) Mixed media daffodil canvas
Create your own daffodil wall art following this wonderful piece by Clare Buswell as a guide.
This mixed media canvas uses Core'dinations ColrorCore cardstock which has been distressed with a water and glycerin effect to add texture and dimension.
5) Daffodil wreath made with felt
It's time for another daffodil wreath, this time created by The Village Haberdashery.
This fab tutorial by Laura Howard contains everything to need to know to replicate this felt and yarn spring wreath.
You'll need a polystyrene ring as the base for your wreath, some wool felt, embroidery thread, scissors, needles and pins, a glue gun and a couple of other craft stash basics to make your own wreath for spring.
6) Daffodil candle holders
Uplevel your table decor this Easter season by making your own candle holders in the shape of daffodils.
This tutorial by Mum in the Mad House is great for kids to join in with.
Tealights fit inside the candles holders perfectly.
For a safer table decor you could use battery operated tea lights instead.
7) Paper daffodils
How do you make a flower our of construction paper? Here's how!
Paper flowers are all the rage at the moment.
If you feel that the crepe paper flowers from the start of this list of daffodil crafts is a bit beyond your paper folding skills then try out these simpler paper daffodils instead.
Andreja Vucajnk from Easy Peasy and Fun has shared her secrets for crafting these cute paper daffodils with spiral middles.
8) Daffodil napkin bouquet
If you're hosting a family meal to celebrate St David's Day then what better way to decorate the table than with these handmade daffodil napkins?
Grab the template from The House that Lars Built and then either hand-cut the daffodil shapes or use your Cricut or other cutting machine to do the hard work for you.
9) Daffodil pinwheels
Time for another daffodil craft for kids!
This is a great craft for teaching your children about St David's Day.
Nurture Store have written some easy-to-follow instructions for making a paper windmill.
The best thing is, it's made using craft supplies that you probably already own!
The middle of the daffodil is made from an old egg carton box – how clever is that?!
10) Pipe cleaner daffodils
Now this might just be my favourite daffodil craft from this whole collection.
These pipe cleaner daffodils by Powerful Mothering are super cute.
I love how the pipe cleaners are twisted into simple spirals to made the petals and middle of this iconic flower.
11) St David's Day colouring pages
For a simpler craft that only needs a printer and some coloured pencils, check out these daffodil coloring pages from Mrs M Activity.
There are five different colouring projects to choose from, including two based shaped colouring pages with paper weaving, a floral wreath craft and two origami daffodil bouquets.
Related: Check out my free coloring page downloads
Delightful daffodil crafts for Spring
I hope you enjoyed this collection of daffodil crafts for St David's Day.
I leave you with the poetry of William Wordsworth, and his poem about the beautiful spring flower which is the daffodil:
That floats on high o'er vales and hills,
When all at once I saw a crowd,
A host, of golden daffodils;
Beside the lake, beneath the trees,
Fluttering and dancing in the breeze.
– William Wordsworth
Which of these cheery flower crafts will you make first?
My choice would definitely be those pipe cleaner daffodils, with the felt wreath coming in a close second!
Happy crafting,
Sarah x