5 Easy 10-Minute Washi Tape Valentine Cards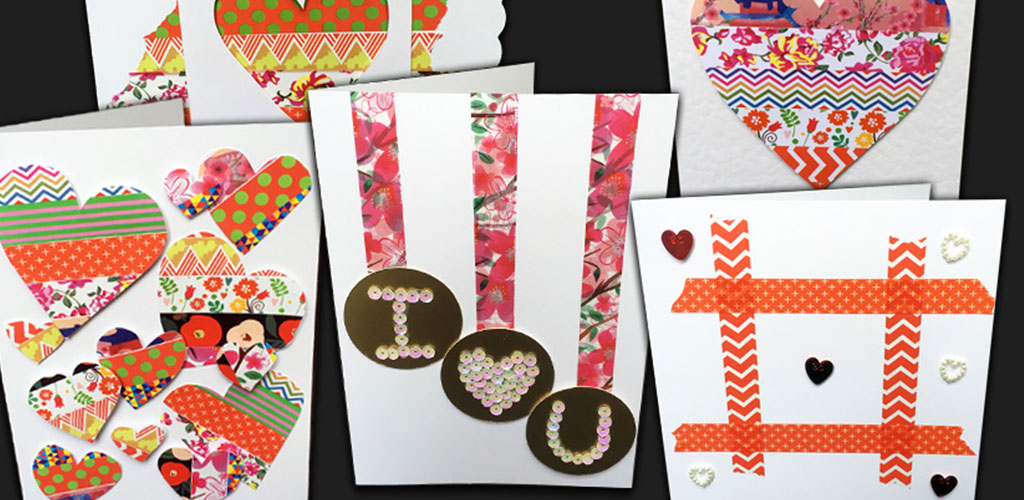 Need a last minute Valentine's Day greetings card? Washi tape comes to the rescue in these five handmade card ideas that only take 10 minutes each to make!
Washi tape is great for using on handmade cards as it's easy to reposition, adds instant colour and it's just so EASY to use!
Here are five DIY washi tape cards for Valentine's Day to show the one that you love how much you care.

Please note that some of the links included in this article are affiliate links, which means that if you click through and make a purchase I may receive a commission (at no additional cost to you). You can read my full disclosure at the bottom of the page.
Five DIY Valentine's Day Washi Tape Cards
'I Heart You' Washi Tape Valentine's Day Card
You only need one Washi Tape design to create this easy Valentine's Day card. Use gold card and sequins for some extra sparkle!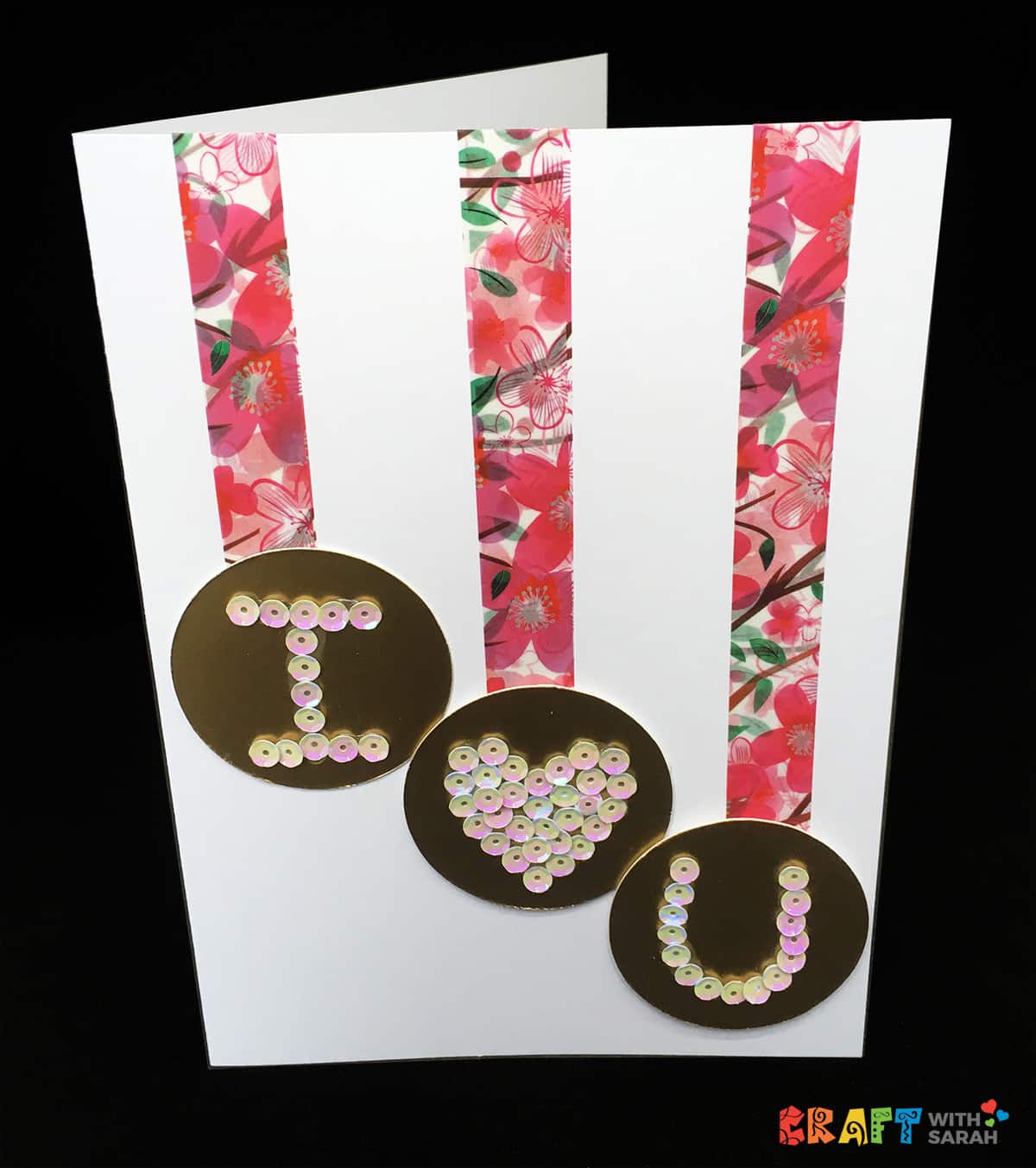 How to make:
Place three strips of washi tape in vertical lines down a 5×7 inch card blank. The left strip should be the shortest and the right one the longest.
If your washi tape doesn't stand out from your card very well, go over it again with another strip.
Cut three circular shapes out of gold card
Use Mod Podge glue to draw I HEART YOU (one word/symbol per circle) and cover the glue with sequins
Starting with the "U" (it's easier to line up starting with the bottom circle), stick the circles to your card
I used a tall 3D foam pad for the "U", a thin foam pad for the HEART and just glue for the "I" to create a step-effect to the circles.
Heart Cutout Valentine's Day Card with Washi Tape Background
It's SO easy (and fun!) to make your own card backgrounds with washi tape.
Simply choose your designs, stick to your card and rip the edges for a bit of a rustic appearance.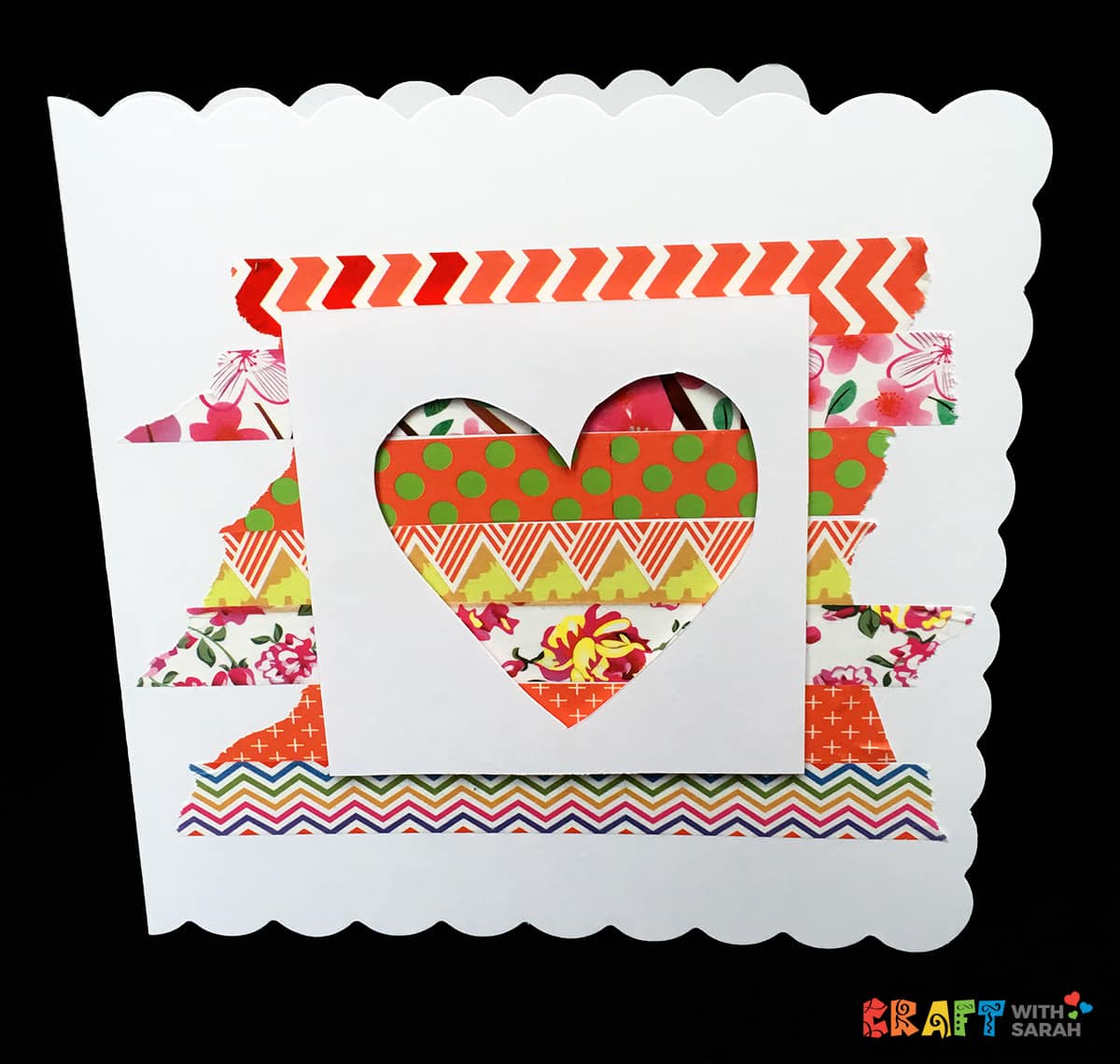 How to make
Start with a 6×6 inch scallop edge card blank
Choose different washi tape patterns and stick to your card front
Experiment with different lengths of tape for a rustic, random appearance.
I ripped the edges of the tape but you could use scissors if you prefer a neater look.
Draw a heart shape on a piece of 8x8cm white card and cut it out (TIP – a rotating blade craft knife makes this easy!)
Stick the card square onto your washi tape background using 3D foam pads to raise it up and create dimension
Washi Tape Heart Handmade Card
Keep things simple with this gorgeous heart card for Valentine's Day.
The heart is covered in washi tape for a truly unique pattern design!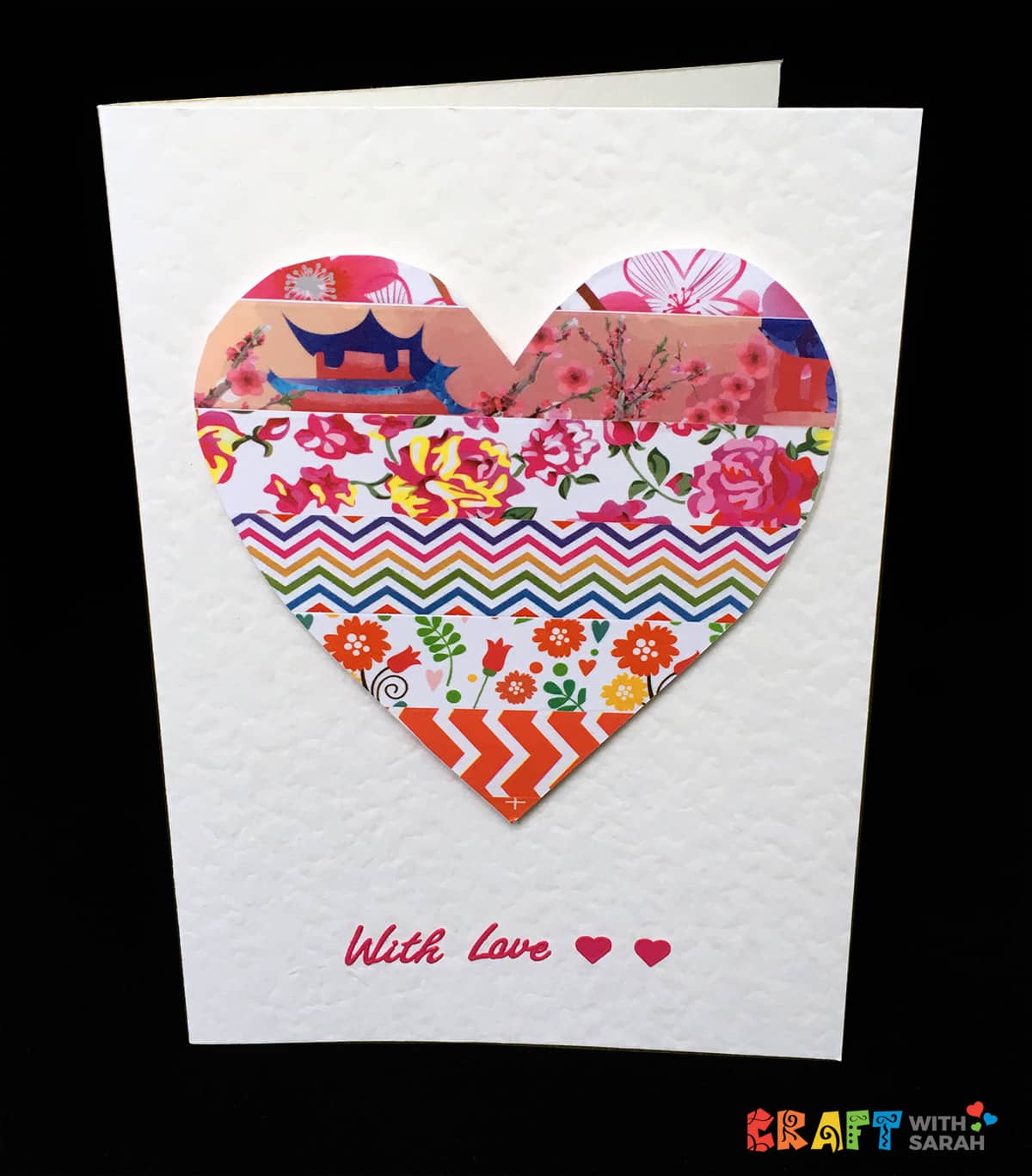 How to make
Start with an A6 (15cm x 10.5xm) card blank. I used hammered card for a bit of added texture.
Draw a heart shape on a piece of scrap card
Turn the card over and cover the front with washi tape
Cut out the heart shape
Stick the washi tape heart to your card using 3D foam pads
Decorate with peel-off stickers and/or love-themed card embellishments
DIY Washi Tape Heart Explosion Handmade Card
This card uses the same idea as the previous one, but with an EXPLOSION of hearts in different colours and sizes.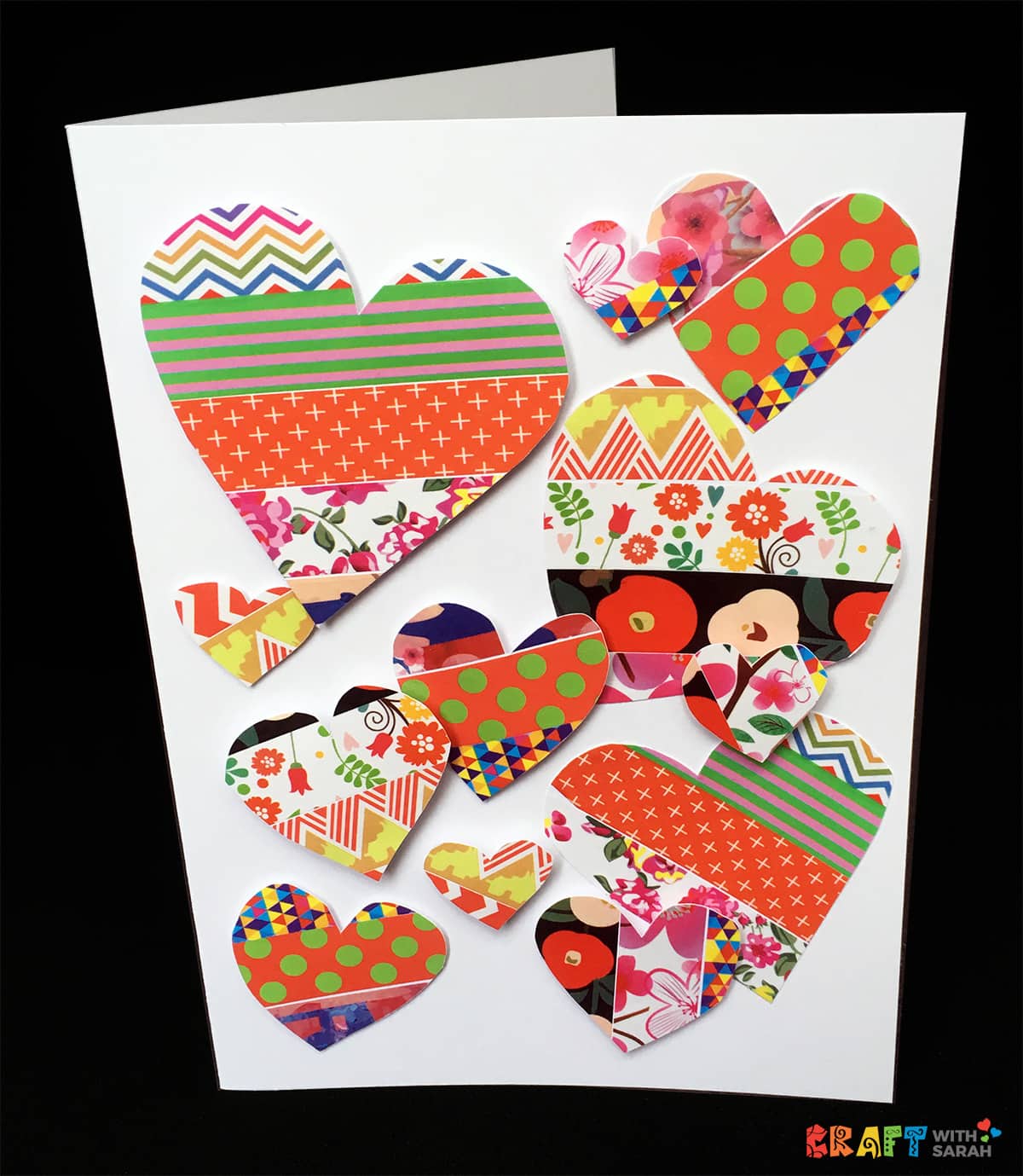 How to make
Cover a 5×7 inch piece of card with washi tape
Turn it over and draw hearts with a pencil. Make them all different sizes and shapes. Turn the card to draw them at different angles so that they have different tape patterns on them.
Cut out all of the heart shapes.
Stick the hearts to a 5×7 inch white card blank using a mixture of glue and foam pads in different heights.
Add extra height to a couple of the hearts by putting two foam pads on top of each other.
Valentine's Day Tic-Tac-Toe DIY Card
I've saved my favourite until last! This cute Valentine's Day tic-tac-toe greetings card is a great way to say "I love you" this romantic season.
This is a great card for kids to get involved with as it's the easiest one to make and you can even play the game as you stick the hearts down!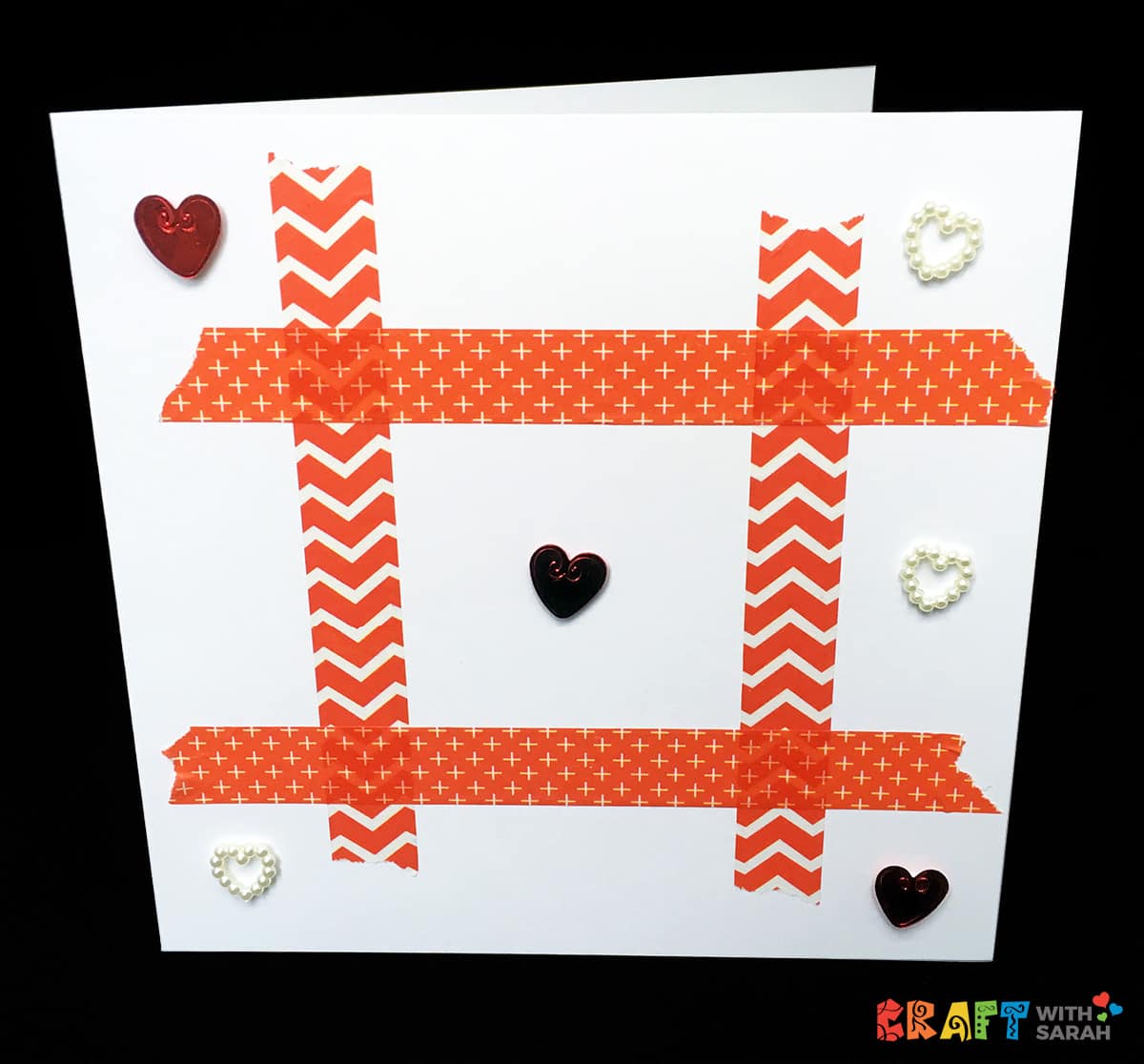 How to make
Start with a 6×6 inch card blank
Create a noughts and crosses / tic tac toe grid with washi tape
Add two different types of embellishments to "play" the game and don't forget to make sure there's a winner!
I think it would look better with larger hearts than I used, but I didn't have anything bigger 😀
Last-minute Valentine's Day Greetings Cards
I hope that you enjoyed looking through these last-minute Valentine's Day cards to DIY with washi tape.
If you have slightly longer than ten-minutes to make a card for the one you love then check out this Valentine's Day card stitching pattern.
Happy crafting, and HAPPY VALENTINE'S DAY!!
Sarah x