Easy Button Cards to Make for Halloween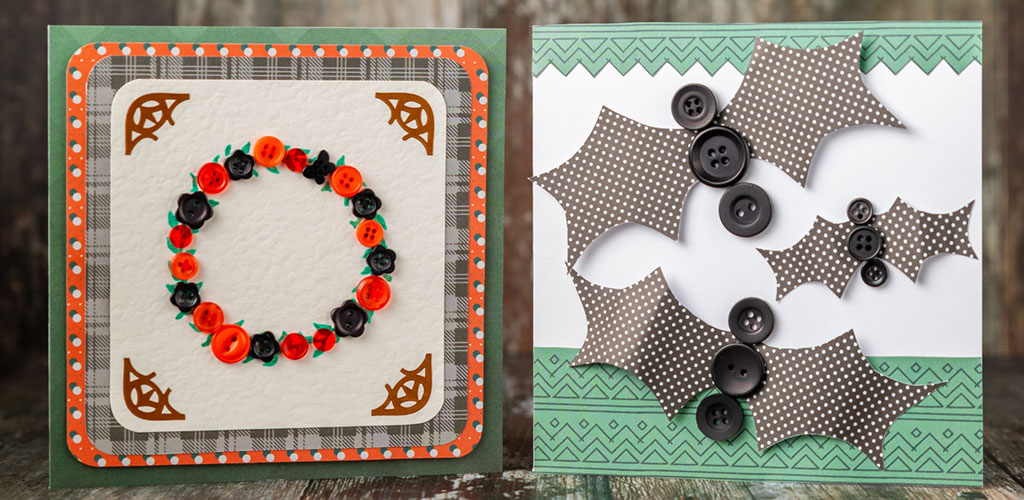 Struggling for easy Halloween card ideas? Look no further than these easy button cards.
They are quick & simple to make, but look really striking and they are a great way to use up some of your button stash.
This project was part of 2019's Halloween Craft Countdown.
Halloween button art handmade cards
I think one of the reasons I like the finished effect of these two cards is that when you put them side-by-side, all the papers match perfectly.
I used backgrounds from a 6×6 inch paper collection called "Wild Woods" by Love To Craft.
Amazingly, I bought this paper pack in Poundland!
They have really improved their card making selection recently. They even have unicorn craft supplies!
I recommend popping in next time you go past one, as it's a wonderfully affordable way to add to your craft stash.
Please note that some of the links included in this article are affiliate links, which means that if you click through and make a purchase I may receive a commission (at no additional cost to you). You can read my full disclosure at the bottom of the page.
How to make a Halloween bats button card
The first card I made was this Halloween bats card.
My card is 6×6 inches, but you could make this whatever size you want.
Of course, you don't have to decorate your card anything like mine. You could just use this as inspiration for creating your own unique button art bats!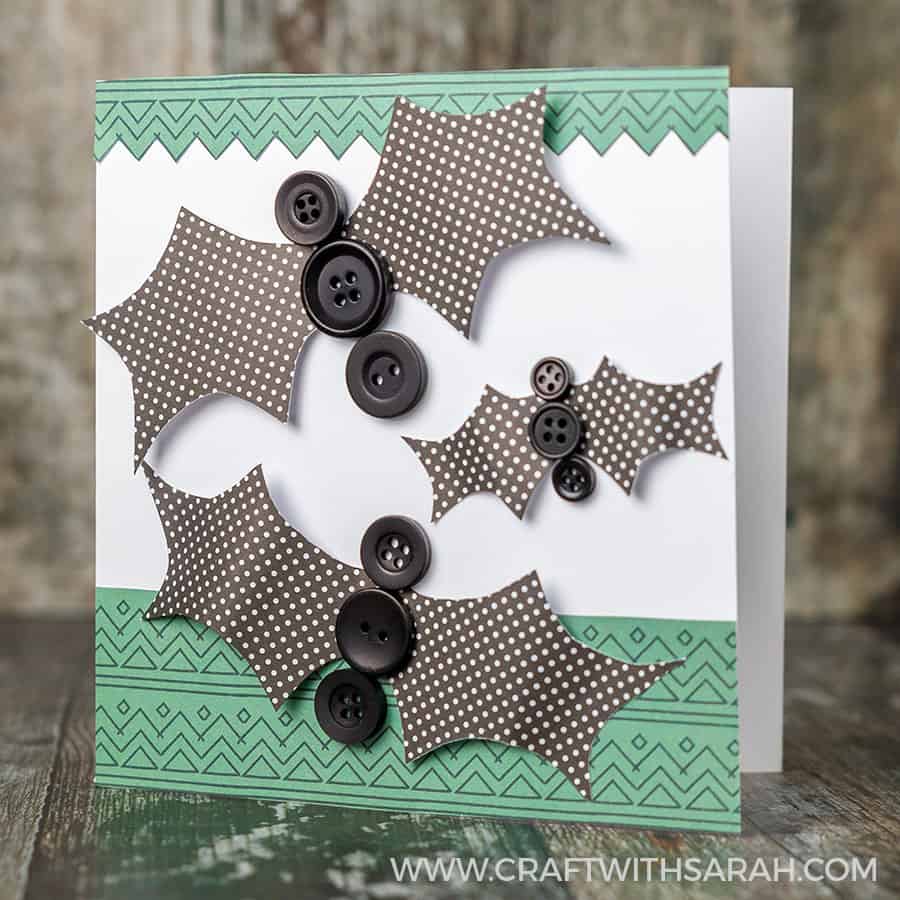 To start, I cut some patterned paper from the Wild Woods collection and stuck it to a 6×6 inch card blank using double sided tape.
If you frequently use double sided tape but get fed up of peeling off the backing paper every time you use it, you should consider getting one of these tape dispensers.
This tool is LIFE-CHANGING for my crafting.
I use it ALL THE TIME and it's so much quicker to stick things together.
Next, I cut some bat wings from another sheet of paper from the same paper pack and bent them up in the middle to give a 3D effect.
I enhanced this by using 3D foam pads to stick them onto my card.
Finally, I used my favourite tacky glue to stick some black buttons onto the wings to make the bodies of the bats.
anitas Tacky PVA Glue-60ml, Adhesive, White, 2.7 x 14.5 centimeters
Don't worry about children using this product as it's acid free and non toxic
Ideal for children, schools and art projects
The fine precision nibs enable more accuracy and control
Reduce wastage with this product as it can simply be poured back into the bottle
Unlike most glues this one dries clear and reduces the possibility of spotting mistakes/overflow
See, what did I tell you – nice and easy!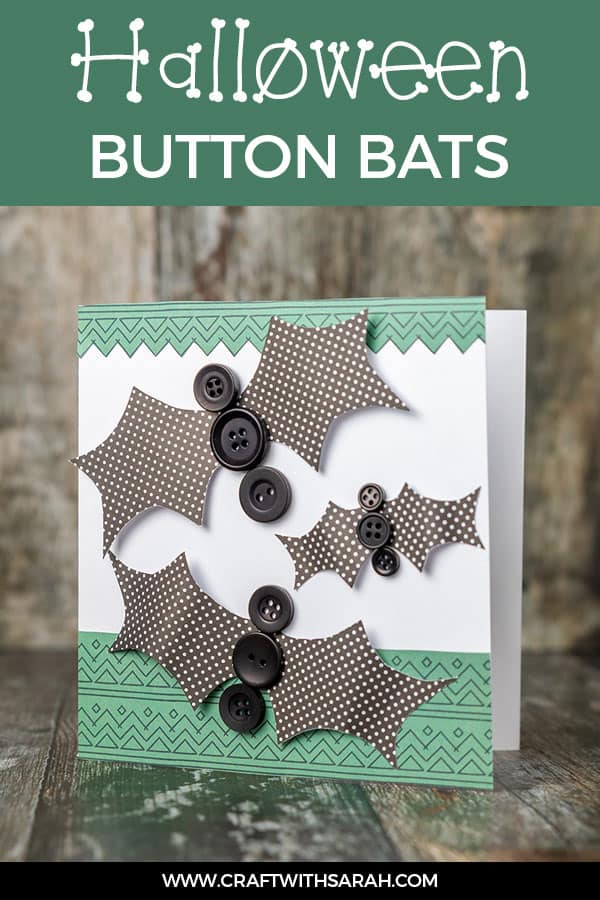 Fall wreath button art handmade card
This button art card takes a little bit more time to create than the bats card, but I think it's totally worth it.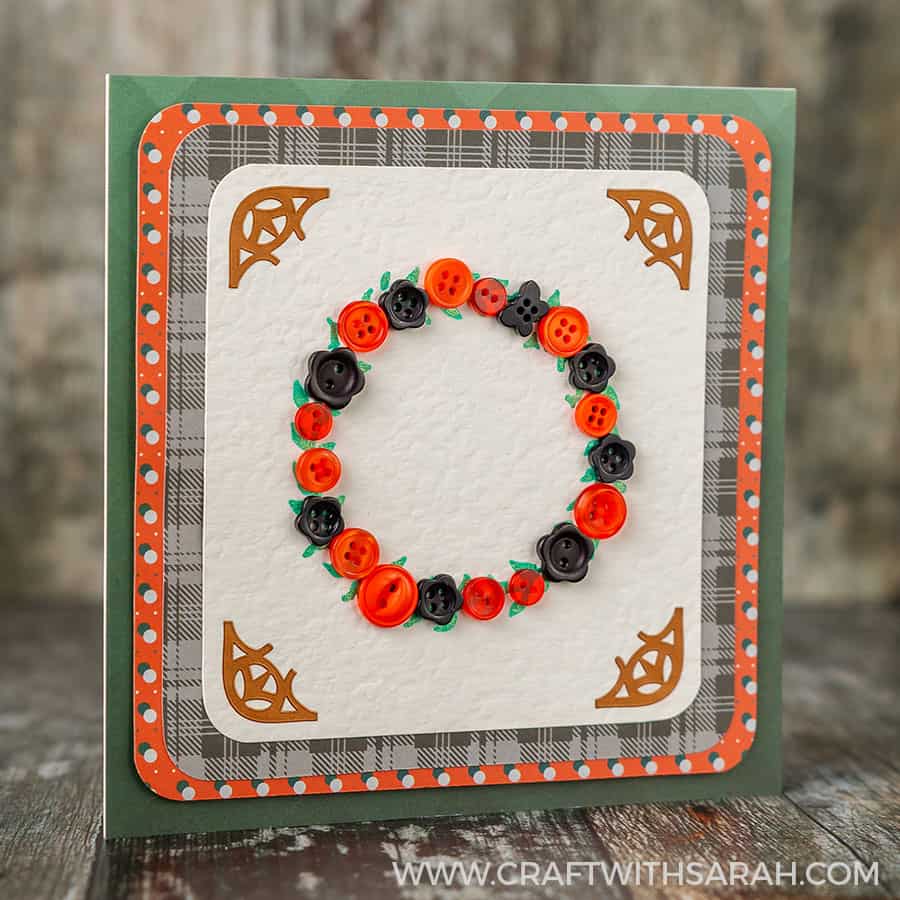 I used the same 6×6 inch white card blank as my base, but covered the whole front in some green patterned paper from the same Wild Woods paper set.
I cut a square of white hammered card and then using matting and layering to border it to more patterned paper.
The main benefit of using a paper pack to do cards like this is that you know the colours will all blend beautifully together and you won't get any clashes.
To draw the leaves, I draw around the bottom of a mug very lightly in pencil so that I had a circle shape to base my wreath on.
I used these pretty green metallic gel pens to draw on a wreath of leaves all the way around the circle.
Finally, I used tacky glue to stick a selection of small orange and black buttons on top of the leaves to make my Halloween wreath.
Isn't it pretty?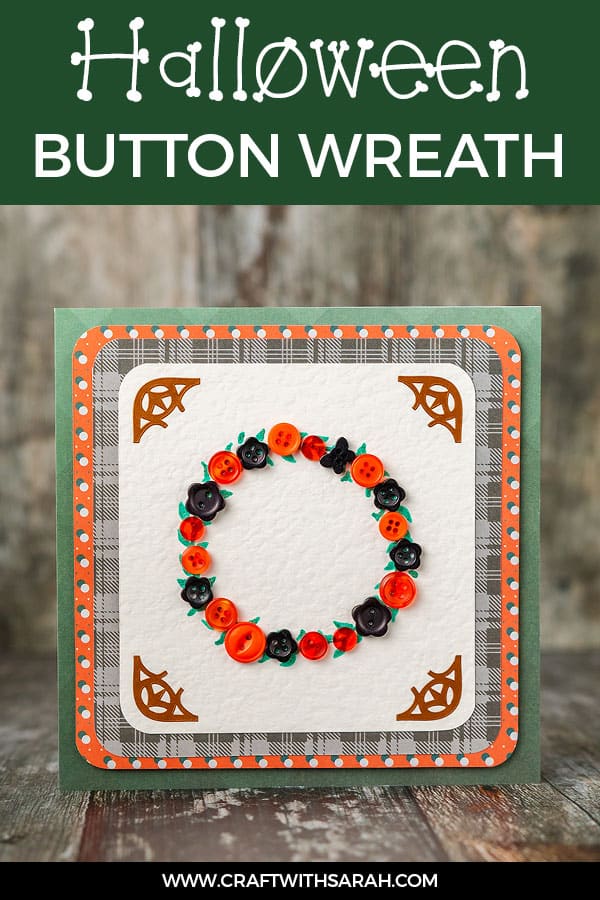 Want more button art ideas?
I love doing crafts with buttons.
Such a simple craft item like coloured buttons can turn into something wonderful.
My all-time favourite button art craft is this unicorn shadow box frame that I made a couple of years ago.
In fact, it's the second most popular post on my whole website!
I hope that you enjoy making these Halloween button art handmade cards.
Why not send me a photo of your finished cards?
Happy crafting,
Sarah x
This project was part of 2019's Halloween Craft Countdown.