How to Make Custom Retro Sunset T-Shirts in Cricut Design Space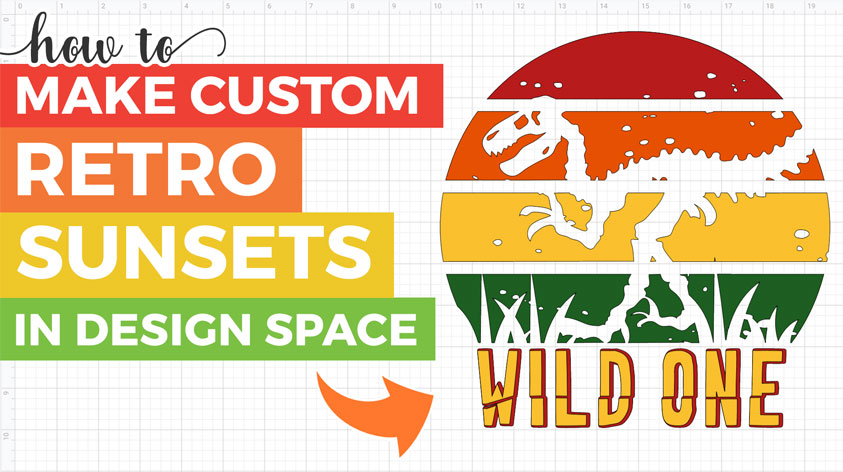 Have you been seeing retro sunset t-shirt designs EVERYWHERE and wondering if you could design your own?
Well… you can! ?
These retro sunset / vintage sunset t-shirts are SO popular at the moment.
I have seen all sorts of designs, from dinosaurs to French bulldogs; popular destinations and states to lovely messages for Father's Day.
Of course, being a crafter armed with my lovely Cricut machine… I didn't want to simply buy a premade t-shirt… I wanted to make my own!
I'm sure you get that feeling too, am I right? ?
After a couple of hours of experimenting, I finally cracked how to make vintage sunset t-shirt designs directly in Cricut Design Space.
It even includes a super-easy way to add a grunge/distress effect to your vinyl that ISN'T an absolute nightmare to weed!
Here's how to do it…
VIDEO: How to design retro sunsets in Design Space
Got questions about anything in this tutorial? Leave a comment at the bottom of this page. I'm always happy to help!
Vintage sunset Cricut tutorial
This video walks you through the WHOLE process of creating a retro sunset design, including:
Creating the circle shape
Adding a grunge/distressed effect (& importantly, when you should skip this step)
Slicing out your image (I chose a dinosaur but it could be anything!)
Slicing the circle into perfectly even sized sections (as many as you want!)
Re-colouring each section to make the "rainbow" effect
Removing the bottom section to make it flat at the bottom (this is optional)
Adding text at the bottom (again, this is optional)
Grunge/splatter images used
Here are the links to the two splatter images shown in the video:
I hope you enjoyed watching this video tutorial. Check out my other Design Space tutorials for more fun things you can design!
Happy crafting,
Sarah x