Pumpkin Iris Folding Pattern
£0.00
Terms of use: Some commercial uses are allowed for this product. Read terms of use.
Please note that some of the links included in this article are affiliate links, which means that if you click through and make a purchase I may receive a commission (at no additional cost to you). You can read my full disclosure at the bottom of the page.
About 'Pumpkin Iris Folding Pattern'
Get ready for fall with this free pumpkin iris folding pattern. Great for creating your handmade Halloween and Thanksgiving greetings cards!
Halloween may be over, but there are still weeks of pumpkin goodness awaiting us!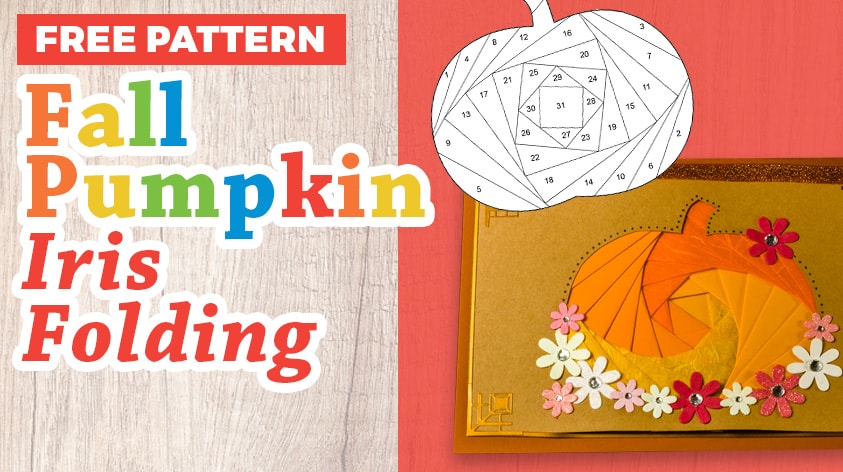 I love it when pumpkins arrive in the shops because it means I can make my favourite fall recipe… pumpkin soup!
It's the perfect warming lunch for these crisp autumn mornings – especially with a nice hunk of crusty bread to dunk in it, yum!
In celebration of this wonderful orange fruit (yup, it's a fruit not a vegetable – I had to Google that!) I've designed a simple iris folding pattern which is great for a wide range of autumnal celebrations such as Thanksgiving, birthdays or even a "just to say hello" handmade card.
I hope you enjoy it 
To make a pumpkin iris folding card, you will need:
Free pumpkin iris folding pattern
Standard printer paper
Brown A5 card blank
Smaller piece of light brown card
Cellotape / sticky tape
Double-sided tape
Strips of different shades of orange coloured paper or ribbon (tissue paper, handmade paper or craft paper – NOT thick scrapbook paper)
Scissors
A craft knife and cutting matt
Embellishments such as peel-off stickers, ribbon and flower toppers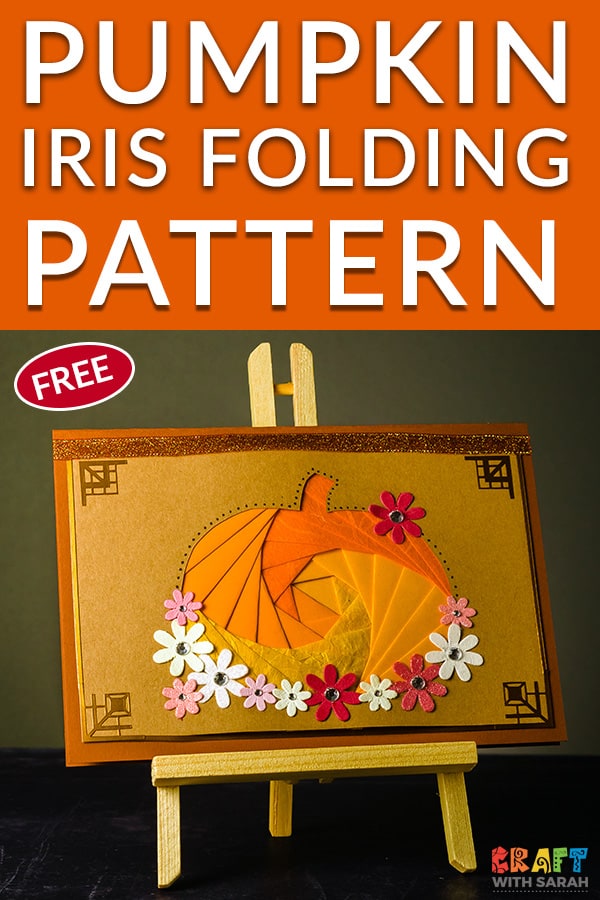 Make a pumpkin iris folded greetings card
Print the iris folding pattern on to standard printer paper and cut out the size pattern you wish to use.
Draw around the edge of the pattern using a pencil onto a piece of light brown card that's slightly smaller than A5 size.
Use a small piece of sticky tape to tape the iris folding pattern to your worksurface so that it won't move during the folding. Position the card on top and use another small bit of tape to hold it into position.
Cut your orange paper into thin strips about 1 inch thick and then fold them in half to get a crisp edge.
Stick the orange strips to your card with sticky tape, following the lines on the pattern. Don't be tempted to move the pattern or peek underneath during the folding as this can dislodge the pattern and cause your folding to become out-of-line.
Keep folding, following the numbers on the pattern, until you reach the middle. Use a larger piece of orange card to cover the middle. For my example card I used two shades to cover the middle, and stuck each one across 50% of the gap.
Carefully take off the tape that's holding your brown card down and turn it over to see your finished design.
Trim off any excess orange paper that's coming over the edge of the brown card.
Use double sided tape to stick the iris folding to the front of the darker brown card.
Decorate your card with ribbon, peel-off stickers, floral embellishments – or whatever you want!
About this Product
This is a downloadable product which you can download from your account page after checkout. No physical item will be shipped.
File type: PDF
Terms of Use for 'Pumpkin Iris Folding Pattern' Commercial use allowed

You may sell handmade physical craft items that you have made using this product.
You must NOT use this product to create new digital products or files.
You must NOT sell or share the files included in this product.
You must NOT share these files with anyone else. If you know someone who wants to download this product, please give them the link to this page so that they can download it for themselves.
Files must NOT be uploaded to any print-on-demand website or service.
Downloading this product signifies your acceptance of these terms.
More iris folding freebies...
How to make an iris folding card
Free iris folding patterns