Mermaid Decoupage for Card Making
£0.00
Terms of use: Personal use only. Read terms of use.
Please note that some of the links included in this article are affiliate links, which means that if you click through and make a purchase I may receive a commission (at no additional cost to you). You can read my full disclosure at the bottom of the page.
About 'Mermaid Decoupage for Card Making'
It's been a busy week over at Craft With Sarah HQ as I've been making LOTS of craft printables to be added to this blog. One of my favourites is this beautiful mermaid sitting on the beach - and I hope you like her too!
Mermaids are one of my most requested subjects for free printables - in fact, the only request I hear more often is for unicorn craft projects.
About the mermaid birthday card printable
The card front is a little bit smaller than 7x5 inches so that you can put it on 5x7 inch cards and have a little bit of a white border around the edge.
It also looks great on larger cards, such as the A5 card that I used in the mermaid tutorial instructions below.
How to make a mermaid birthday card
Follow these simple step-by-step instructions to create your own mermaid birthday card.
Note: Some of the links included in this article are affiliate links, which means that if you click through and make a purchase I may receive a commission (at no additional cost to you).
You will need...
Free mermaid printable card front & decoupage
Pale blue Mulberry paper
3D foam pads
Double sided sticky tape (or glue)
Mod Podge glue (or similar)
Scissors
A ruler
A paintbrush
Rounded corner punch (optional)
A selection of embellishments, e.g. flowers or hearts
Step 1: Print out the free mermaid printable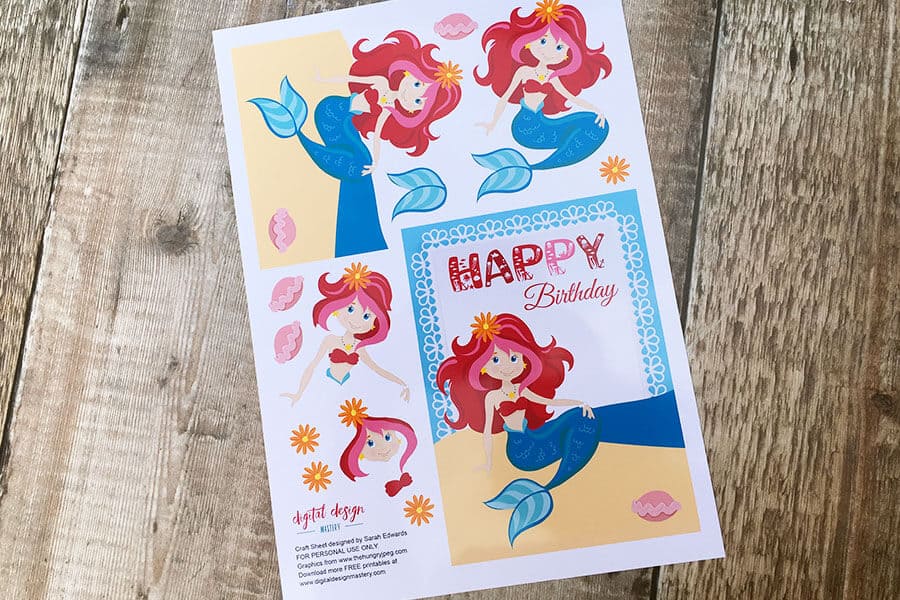 I print my craft sheets onto Crafty Bob Glossy Paper. This is a special type of paper designed especially for greetings cards and crafts. I love this paper because it dries instantly and is smudge-proof straight after printing, meaning that I can start using the printed sheet straight away.
If you aren't a fan of the glossy shiny look to your greetings cards then the paper is available in matte too.
Step 2: Cut out the card front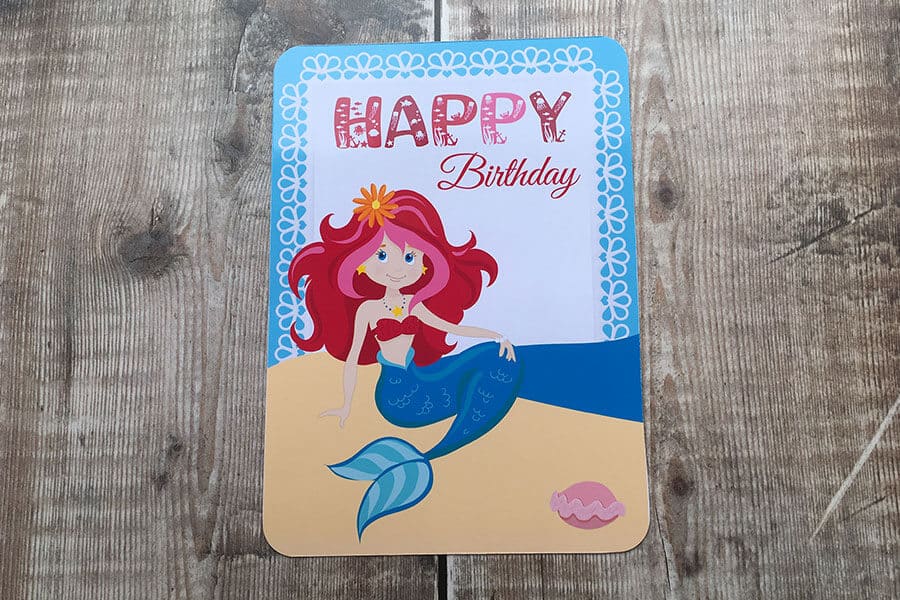 To keep the edges nice and straight use a paper trimmer or metal rule and craft knife (I use the latter).
I prefer my cards to have rounded corners so I used a rounded corner punch to round off the edges on the mermaid card front.
Step 3: Prepare your background paper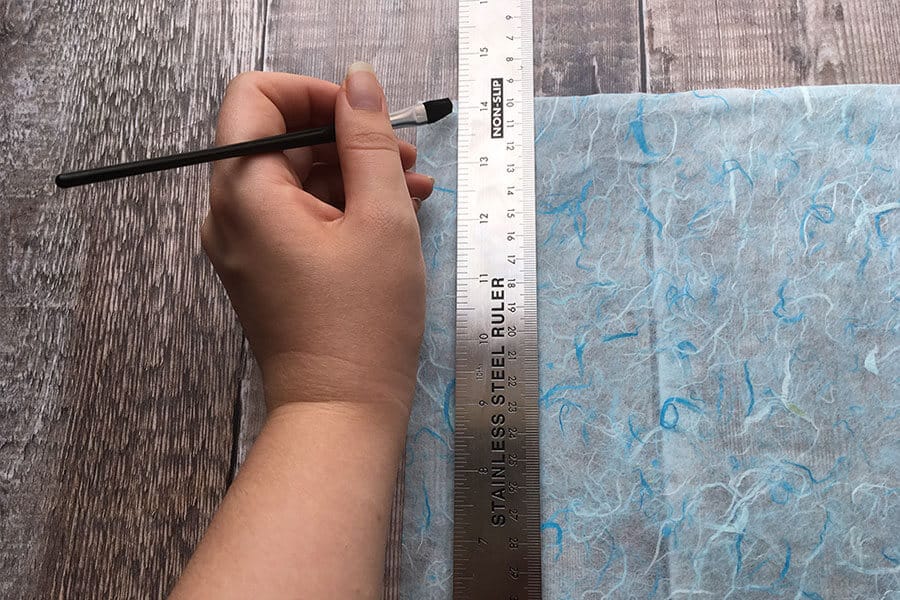 Take your sheet of handmade Mulberry paper and cut it to about the size of your card blank - you don't need to be completely accurate as we are going to be re-shaping it.
Place a ruler against one of the edges of the handmade paper and then lightly run down the edge of the ruler with a paintbrush that's been dipped in water.
The goal is to create a straight edge of water along the side of the paper so that we can tear it easily.
Step 4: Carefully tear the handmade paper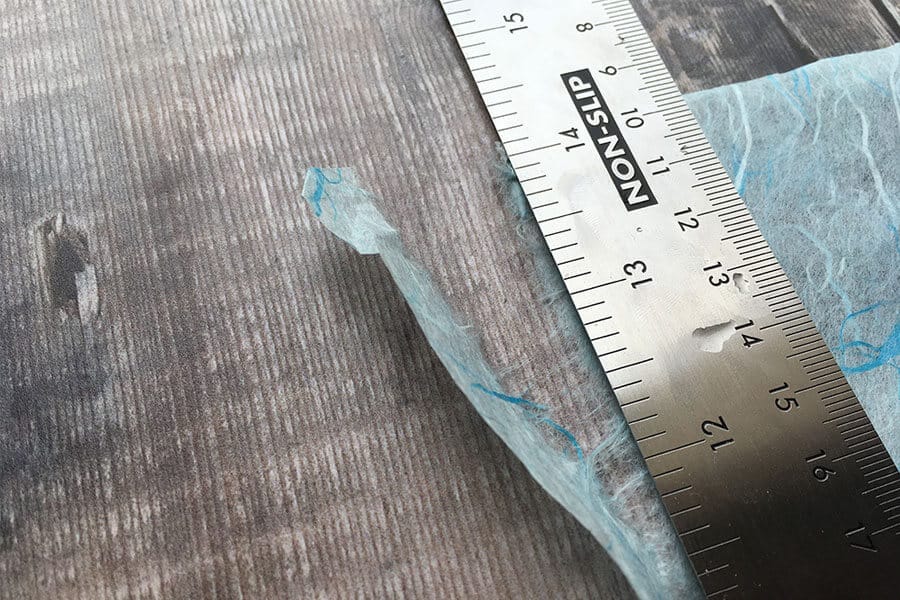 Hold the ruler with one hand to keep it in place and then carefully tug at the edge of the handmade paper.
The paper will tear along the water line that you just created, leaving a pretty frayed edge but the ruler will stop the paper from tearing too much and ruining the perfect straight line that was created in Step 3.
Repeat this for all edges of the handmade paper.
Step 5 - Attach the backing paper & card front to the card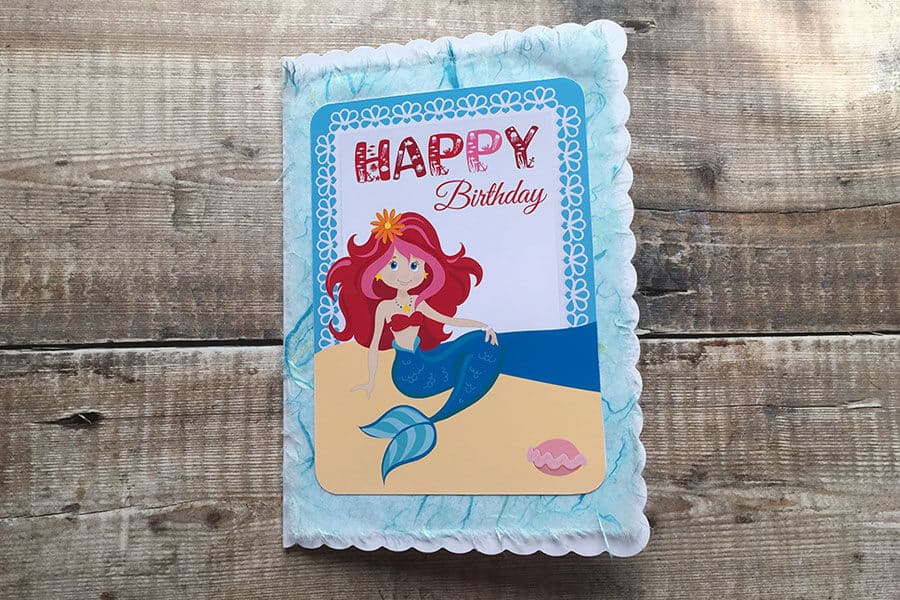 You can do this in whichever order you prefer, but I chose to stick the mermaid card front to the handmade paper first, and then attach the whole thing to the scallop-edge card blank.
I used a double-sided tape pen as it makes sticking pieces of card or paper together very quick.
Step 6: Complete the decoupage step-by-step layers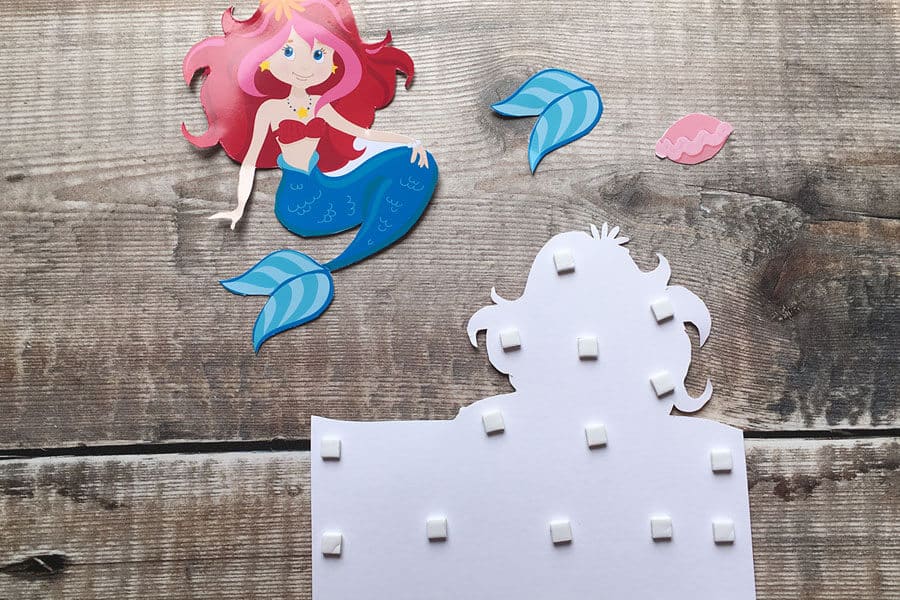 Cut out all the remaining layers of the mermaid.
Attach them to your card front using foam pads to create a 3D effect on your cards. Start with the largest shapes and then for each layer choose the next largest, until you end up with the smallest shapes being on top.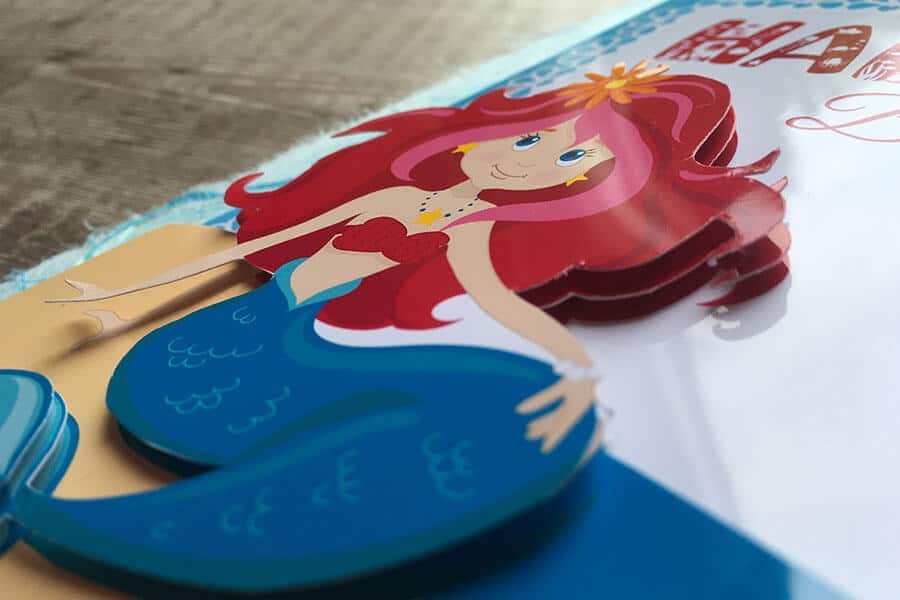 As I didn't want my card to be too thick I didn't use all the layers - as you can see from the photo above.
Step 7: Decorate your mermaid card!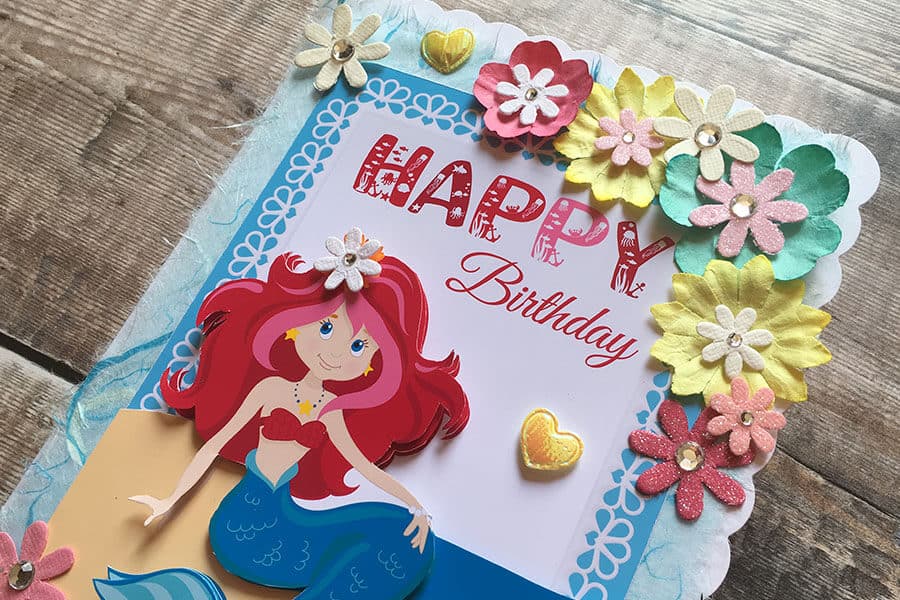 This is my favourite part of the handmade card process :D
Use flowers, embellishments, hearts, sequins or whatever else you have available to decorate the edges of the card.
I used a selection of flower embellishments from Hobbycraft as well as some puffy heart decorations that I found in my craft stash.
Most of them were stuck on using Mod Podge glue but I put a few of them on foam pads to make them stand out more and add to the 3D-effect of the card.
About this Product
This is a downloadable product which you can download from your account page after checkout. No physical item will be shipped.
File type: PDF
Terms of Use for 'Mermaid Decoupage for Card Making' Personal use only

You may print this product for your own personal use.
You must NOT use this product for any commercial benefit.
You must NOT sell or share the digital files, or use them to create any new digital file or product.
You must NOT sell any products or items made using these files. This includes both digital and physical items.
You must NOT share these files with anyone else. If you know someone who wants to download this product, please give them the link to this page so that they can download it for themselves.
Files must NOT be uploaded to any print-on-demand website or service.
Downloading this product signifies your acceptance of these terms.