Hilarious Halloween Jokes for Kids (Halloween Lunchbox Jokes)
£0.00
Terms of use: Personal use only. Read terms of use.
Please note that some of the links included in this article are affiliate links, which means that if you click through and make a purchase I may receive a commission (at no additional cost to you). You can read my full disclosure at the bottom of the page.
About 'Hilarious Halloween Jokes for Kids (Halloween Lunchbox Jokes)'
Give your kids a giggle with these hilarious Halloween joke cards to put in their lunchboxes.
Your kids will be the envy of all their friends when they pull a new Halloween joke out of their lunchbox every day at school!
Lunchbox jokes are a fun way to get your children excited about lunchtime – and for Halloween!
Halloween lunchbox Jokes
Looking for some funny Halloween jokes to add to your comedy repertoire?
You've come to the right place!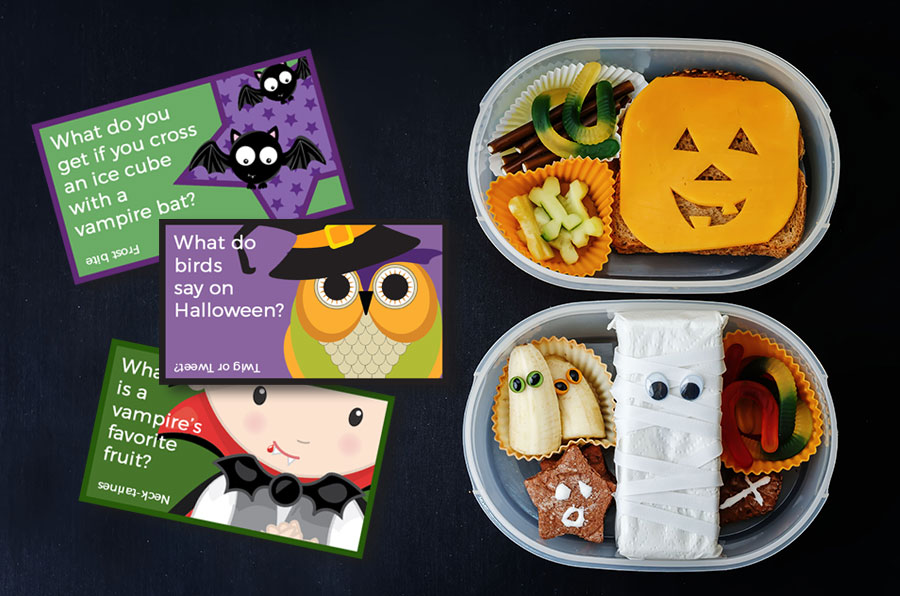 This free Halloween printable contains eight spooktacular Halloween jokes which can be cut up and hidden inside your kids' lunchbox.
Funny Halloween jokes for kids
Check out all the funny Halloween jokes for kids that are included on this free lunchbox jokes printable: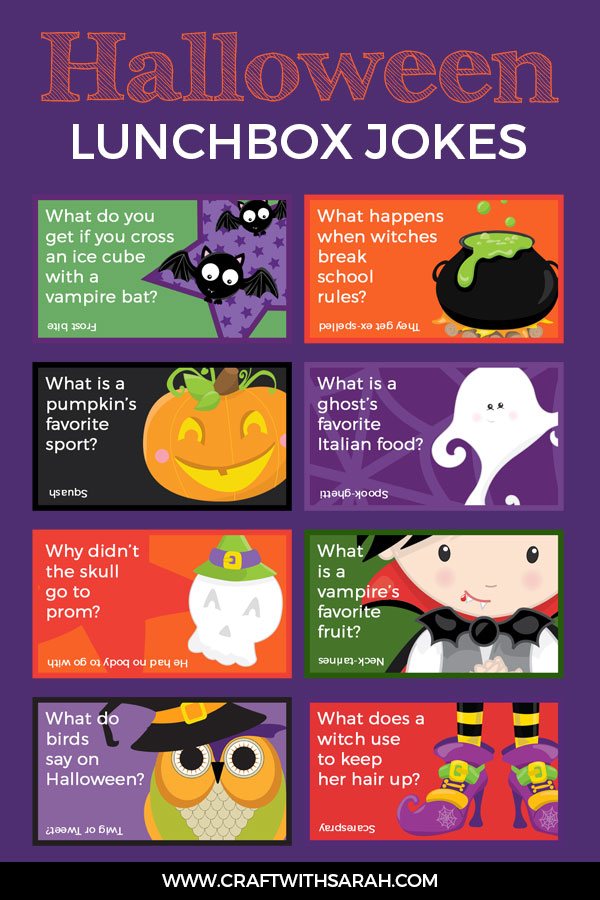 What do you get if you cross an ice cube with a vampire bat?
Frost bite
What happens when witches break school rules?
They get ex-spelled
What is a pumpkin's favorite sport?
Squash
What is a ghost's favorite Italian food?
Spook-ghetti
Why didn't the skull go to prom?
He had no body to go with
What is a vampire's favorite fruit?
Neck-tarines
What do birds say on Halloween?
Twig or Treat?
What does a witch use to keep her hair up?
Scarespray
Graphics by Prettygrafikdesign from theHungryJpeg.com
About this Product
This is a downloadable product which you can download from your account page after checkout. No physical item will be shipped.
File type: PDF
Terms of Use for 'Hilarious Halloween Jokes for Kids (Halloween Lunchbox Jokes)' Personal use only

You may print this product for your own personal use.
You must NOT use this product for any commercial benefit.
You must NOT sell or share the digital files, or use them to create any new digital file or product.
You must NOT sell any products or items made using these files. This includes both digital and physical items.
You must NOT share these files with anyone else. If you know someone who wants to download this product, please give them the link to this page so that they can download it for themselves.
Files must NOT be uploaded to any print-on-demand website or service.
Downloading this product signifies your acceptance of these terms.