Halloween Haunted House Card Making Project
£0.00
Terms of use: Some commercial uses are allowed for this product. Read terms of use.
Please note that some of the links included in this article are affiliate links, which means that if you click through and make a purchase I may receive a commission (at no additional cost to you). You can read my full disclosure at the bottom of the page.
About 'Halloween Haunted House Card Making Project'
I love Halloween and seeing all the pumpkins and decorations in the shop windows when I'm wandering through town.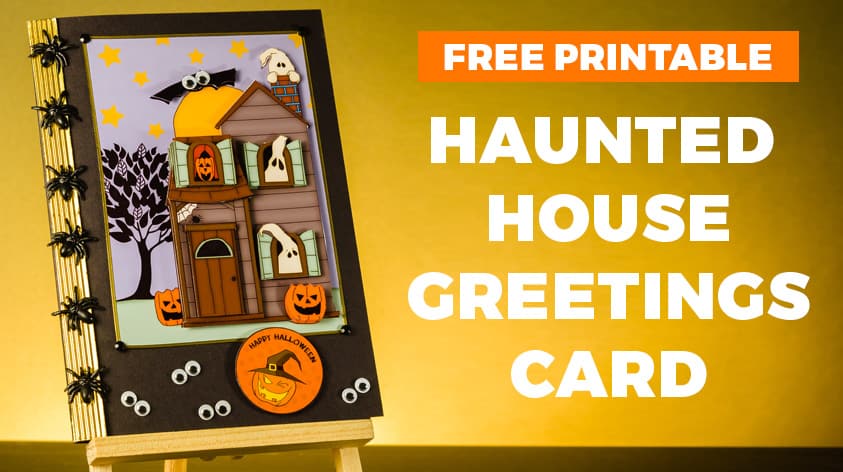 I live in the UK and Halloween is not as big of a celebration as it is elsewhere in the world, but every year it seems to get a little bit more popular and the decorations and sweets start appearing in the shops that little bit earlier.
As far as I know, Halloween handmade cards aren't really a 'thing' in the UK (at least, nobody I know sends them), but I've had a couple of requests from people in the USA for a Halloween card making printable - so here is my attempt!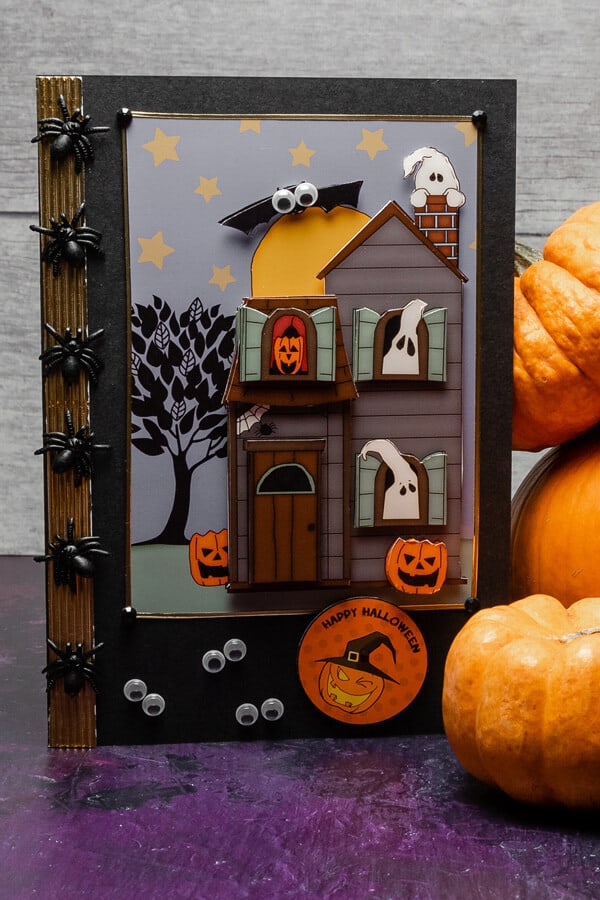 I'd love to know if you send Halloween cards (especially if you are in the UK - go on, prove me wrong :) !!), and if so - who to? Is it just to family, or to friends as well? Let me know in the comments!
Free Halloween card making download
I thought this haunted house graphic with all the little pumpkins and ghosts peering in the windows had just the right balance of spooky and cute, which is why I chose it for this Halloween card making printable.
Love spooky pumpkins? Here's another pumpkin card project for you.
The printable to complete this project is available right at the bottom of this post. Scroll down to the bottom to enter the password or sign up to receive it.
Please note that this decoupage printable is for personal use only.
How to make a Halloween greetings card
Here's how I made my Halloween card using the haunted house decoupage sheet.
Step 1: Print the decoupage onto photo paper
I print my craft sheets onto Crafty Bob Glossy Paper.
This is a special type of paper designed especially for greetings cards and crafts.
I like to use this paper because the printer ink dries instantly and is smudge-proof straight after printing, meaning that I can start using the printed sheet straight away.
If you aren't a fan of the glossy shiny look to your greetings cards then the paper is available in matte too.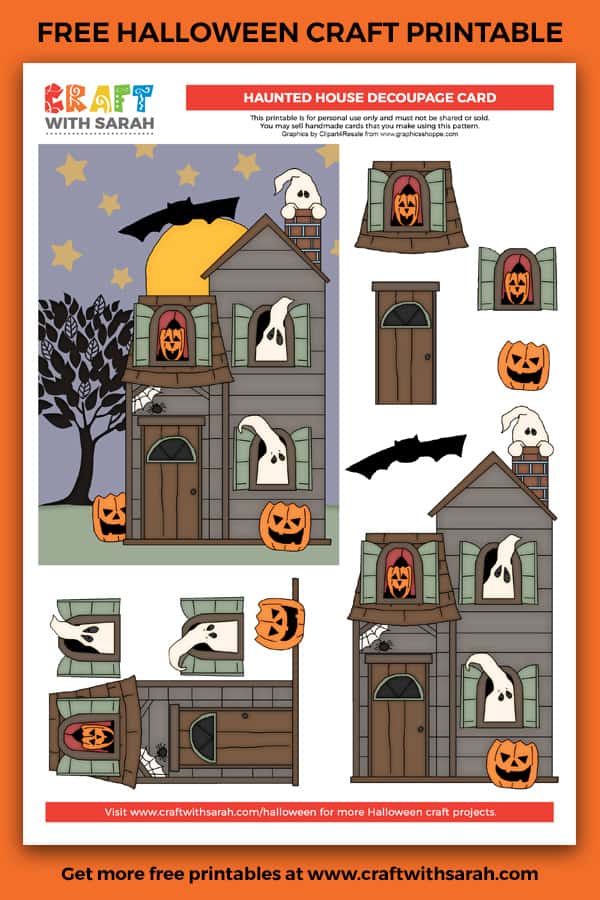 Step 2: Cut out all of the decoupage sections
Cut around all the shapes on the printable so that you can assemble your 3D design.
Step 3: Attach the base image to an A5 black card blank
Use double sided sticky tape to stick the base image of the haunted house onto a black A5 card blank.
I stuck the base image on the right side of the design so that I could add some extra decorations down the left edge.
Step 4: Complete your decoupage
Grab some sticky foam pads and assemble the decoupage layers by sticking the cutouts onto the base design in size order (largest pieces go on first).
This creates a fun 3D effect to your card which really helps the haunted house to 'come alive' - eek!!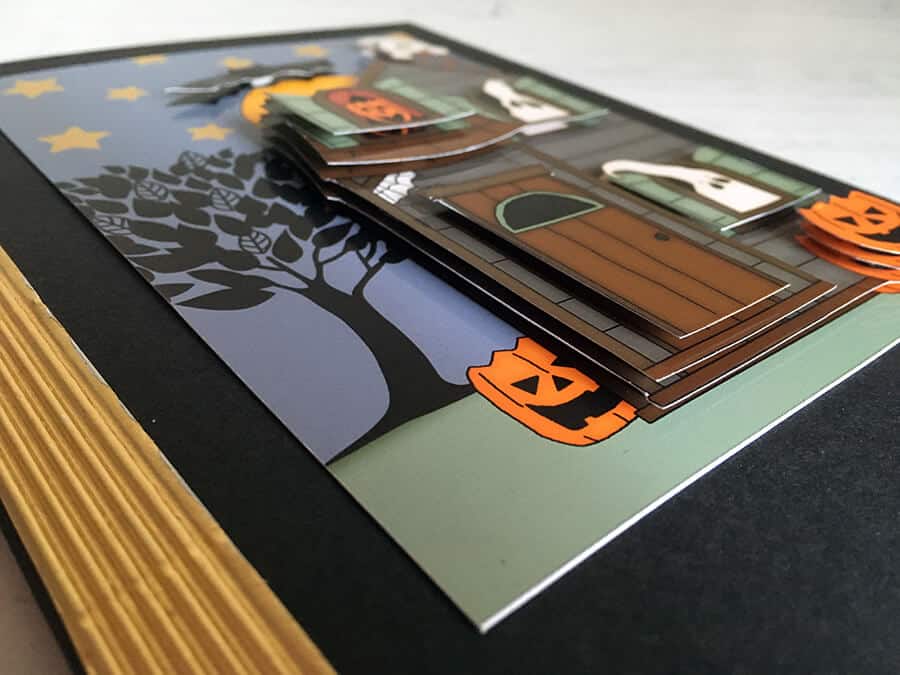 Step 5: Decorate the side
Add some standout colours to the left side of the card. I chose an offcut of gold corrugated card for some extra depth and texture.
I bought some plastic spiders from Amazon which I stuck on top of the gold card using Mod Podge glue.
Putting them all on at different angles gives the rather unnerving effect of making it look like they are about to crawl right off the card. Probably not one to choose if you don't like spiders!!
(if you DO like spiders, you may also enjoy these free spider web background papers)
Step 6: Add some googly eyes
To finish off the card, I stuck on a 'Happy Halloween' circular topper and then used my favourite Mod Podge glue to add some googly eyes to the bat graphic at the top of the house, and also to help fill the black space at the bottom of the card.
I do enjoy a craft project that I can add googly eyes too, they are so fun and I like shaking the card to see them move about :)
Step 7: Final touches
I felt like the card needed a little something else to help tie all the elements together, so I stuck some gold peel-off stickers around the edge of the haunted house decoupage, and then completed the card with some black craft gemstones on each corner of the gold peel-offs.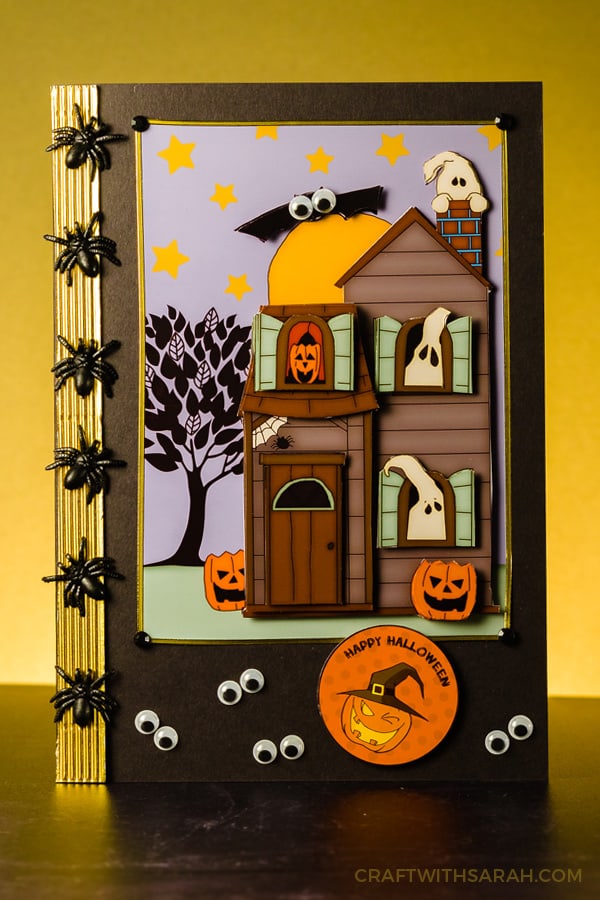 Now it's your turn to make a Halloween card!
If you use this Halloween printable for your card making, I'd love to see your finished design!
About this Product
This is a downloadable product which you can download from your account page after checkout. No physical item will be shipped.
File type: PDF
Terms of Use for 'Halloween Haunted House Card Making Project' Commercial use allowed

You may sell handmade physical craft items that you have made using this product.
You must NOT use this product to create new digital products or files.
You must NOT sell or share the files included in this product.
You must NOT share these files with anyone else. If you know someone who wants to download this product, please give them the link to this page so that they can download it for themselves.
Files must NOT be uploaded to any print-on-demand website or service.
Downloading this product signifies your acceptance of these terms.