Halloween Gingerbread Man Zigzag Stacker
£0.00
Terms of use: Personal use only. Read terms of use.
Please note that some of the links included in this article are affiliate links, which means that if you click through and make a purchase I may receive a commission (at no additional cost to you). You can read my full disclosure at the bottom of the page.
About 'Halloween Gingerbread Man Zigzag Stacker'
Try out a new 3D card making technique with this Halloween gingerbread man zigag stacker.
I first started making zigzag stackers way back in 2011 to sell in my Craftsuprint shop.
To this day, I still love making up zigzag stacker handmade cards!
Zigzag stackers are made in a similar way to traditional pyramage cards.
You cut out different shapes and then layer them on top of each other using foam pads to make a 3D effect.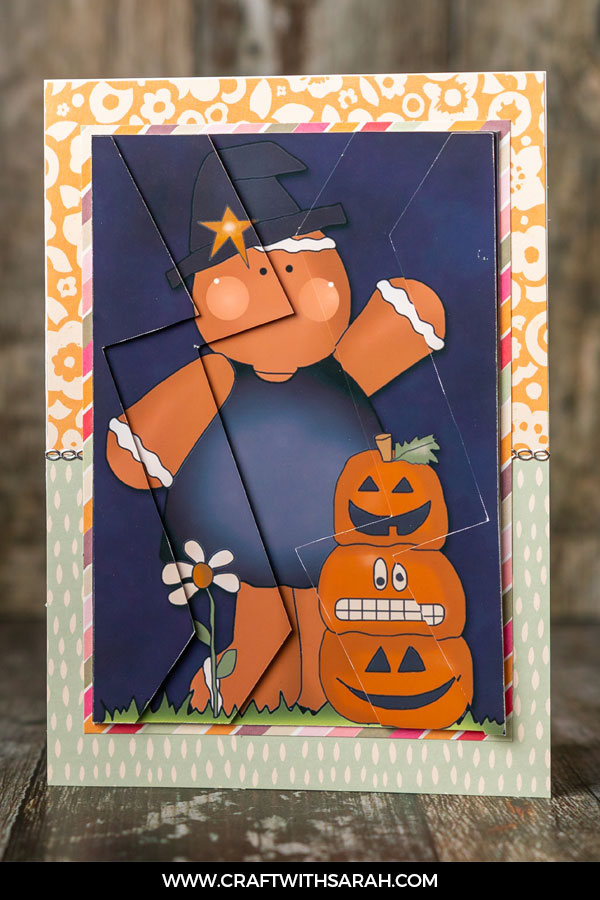 Materials list for Halloween Gingerbread man handmade card
Free Gingerbread Man printable (scroll to the top of this post to download it)
Scissors
Patterned background paper (I used these ones)
Need a new printer for printing out top-quality craft printables?
I have
this one
and it's BRILLIANT!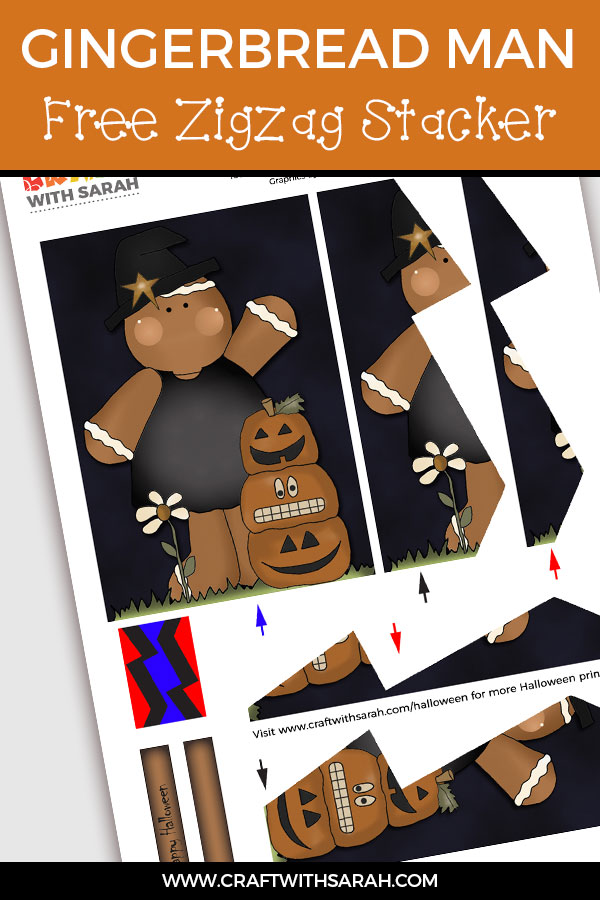 How to make a zigzag stacker
Print the free zigzag stacker printable onto photo paper or card. I like to use glossy photo paper as it gives a nice shine to the card.
Cut out all of the shapes on the card.
Take the large rectangle part of the design and place it in front of you. It's marked with a blue arrow on the printable.
Use 3D foam pads to stick the two largest zigzag pieces on the left and right of the rectangle design. These are marked with black arrows on the printable. The foam pads will give your card a 3D effect.
Use more 3D foam pads to stick the smaller zigzag pieces on top of the larger zigzag pieces. These are marked with red arrows on the printable.
Your zigzag stacker is now complete, so it's time to assemble your handmade card.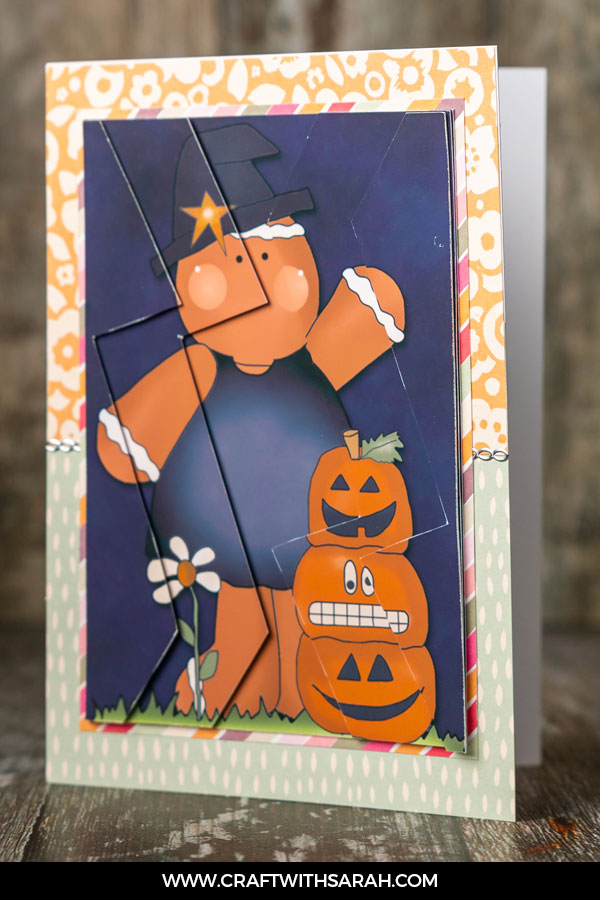 How to make a zigzag stacker handmade card
Once your zigzag stacker has been finished, it's time to add it to your card!
To make one exactly like mine, here's what you need to do...
Use a 5x7 inch white card blank as the base for your card.
Cut two pieces of patterned paper and attach to your card front.
Mine is from a 6x6 inch Dovecraft paper collection called "Painted Blooms".
I use a tape runner for sticking on background papers, and I love it!
Sale
Seriously, these tape runners are AMAZING - they make it so quick to stick things together when crafting.
Next, add some a silver peel-off border on the gap between the two pieces of paper to help hide the join and add a bit of glitz!
Stick the zigzag stacker to a different patterned paper and trim it so that only a small border of colour remains.
Attach the topper to your card using tacky glue or more double-sided tape.
I tend to find that tacky glue holds the topper on a little bit better than tape, and it means you can reposition it if you stick it in the wrong place.
Check it out:
anitas Tacky PVA Glue-60ml, Adhesive, White, 2.54 x 9.84 x 15.5 cm
Don't worry about children using this product as it's acid free and non toxic
Ideal for children, schools and art projects
The fine precision nibs enable more accuracy and control
Reduce wastage with this product as it can simply be poured back into the bottle
Unlike most glues this one dries clear and reduces the possibility of spotting mistakes/overflow
And there you have it - your finished Halloween gingerbread man handmade card!
About this Product
This is a downloadable product which you can download from your account page after checkout. No physical item will be shipped.
File type: PDF
Terms of Use for 'Halloween Gingerbread Man Zigzag Stacker' Personal use only

You may print this product for your own personal use.
You must NOT use this product for any commercial benefit.
You must NOT sell or share the digital files, or use them to create any new digital file or product.
You must NOT sell any products or items made using these files. This includes both digital and physical items.
You must NOT share these files with anyone else. If you know someone who wants to download this product, please give them the link to this page so that they can download it for themselves.
Files must NOT be uploaded to any print-on-demand website or service.
Downloading this product signifies your acceptance of these terms.