Halloween Gift Tags & Badges
£0.00
Terms of use: Personal use only. Read terms of use.
Please note that some of the links included in this article are affiliate links, which means that if you click through and make a purchase I may receive a commission (at no additional cost to you). You can read my full disclosure at the bottom of the page.
About 'Halloween Gift Tags & Badges'
Are you ready for another Halloween craft project? If so... you're in luck! I've designed a full set of Halloween gift tags for you ?
I hope all your spooky preparations are going well. Do you have any decorations up?
It's around this time of year that I kind of miss working in a big team and taking part in all the Halloween games and fun.
I work from home, so there's not really much point in a work-team fancy dress competition when it's only me and my husband here to see ?
We don't even get any trick-or-treaters around here, which makes me sad as I love to prepare special treat bags and put some effort into decorating the porch – but I don't do it any more as we haven't had anyone come round in the past four years.
I still dress my dogs up for the spooky group dog walk that we attend every year – got to show the Halloween love somehow!!
(and it helps keeps their tummies clean and dry when they are running through all the autumn leaves :D)
Despite the fact that we are normally ignored by trick-or-treaters, I still wanted to make up some gift bags because you never know - THIS might be THE YEAR that we get some kids ringing the doorbell expecting sweeties... and I'd hate to not have anything to give them!!
Get your Halloween gift tags printable
The Halloween toppers are available to download using the "add to basket" button at the top of this page.
I've included two different sizes so you can choose large or small depending on the Halloween craft project you are working on.
Please note that the printables are for personal use only.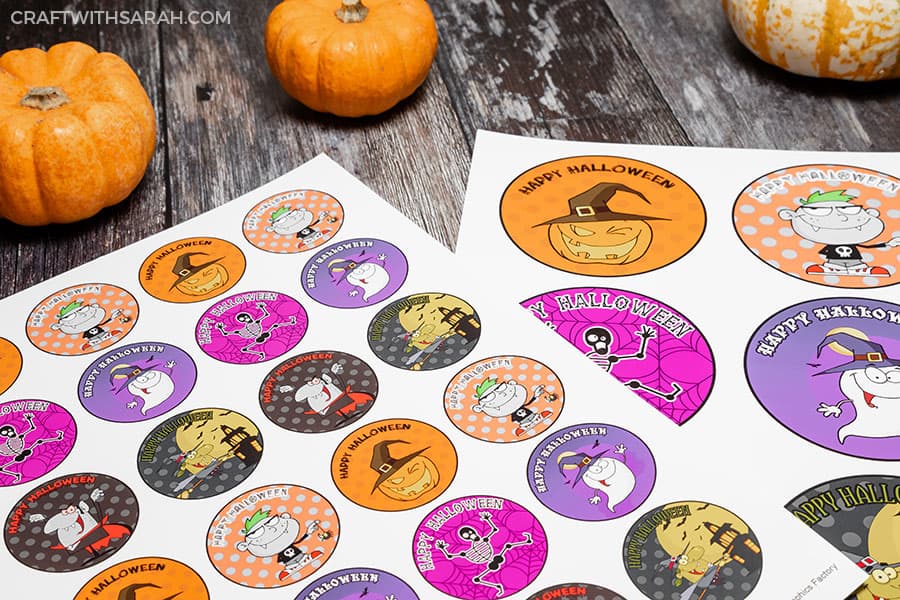 Make your own Halloween treat bags for candy
I wanted to test out the Halloween gift tag toppers before adding them to the website, so I decided to make up some little treat bags.
I've got a few of these all made up, so if this is finally the year that we get some trick-or-treaters then I've got my goodies already prepared! :)
How to make sweet bags with DIY Halloween gift tags
Halloween treat bags are really quick and easy to make, but will certainly impress all the trick-or-treaters that come to your door.
Here's how I made mine...
How to make Halloween sweet bags
I printed the small toppers onto Crafty Bob Glossy Paper which is a special type of paper designed especially for greetings cards and crafts.
I like to use this paper because the printer ink dries instantly and is smudge-proof straight after printing, meaning that I can start using the printed sheet straight away.
If you aren't a fan of the glossy shiny look to your printouts then the paper is available in matte too.
Next, I cut out a few of the circular Halloween badges and used a hole punch to put a hole in each one.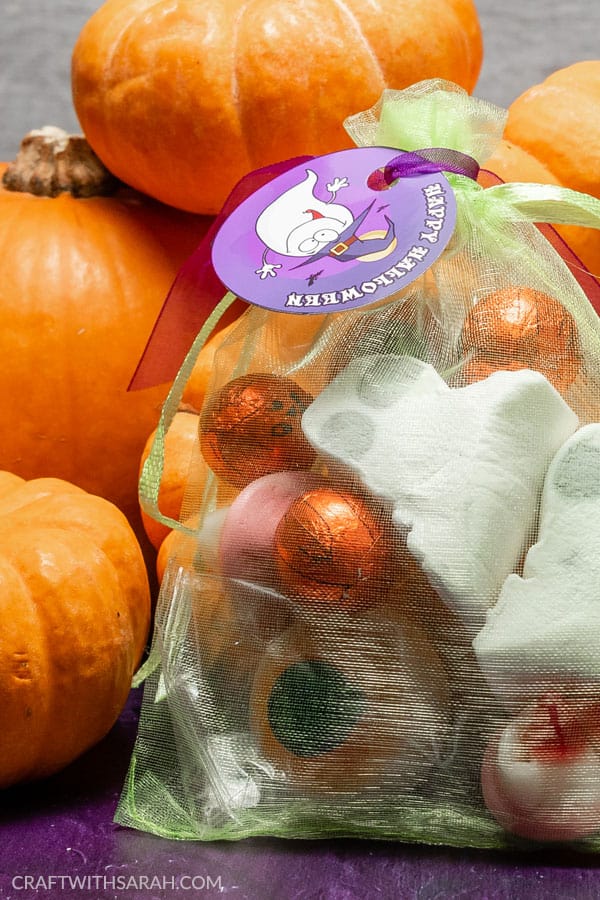 I filled some green organza bags with a selection of Halloween themed sweets and chocolates which I picked up at my local Poundland shop.
The bags have a drawstring top, so I pulled the ends tight to seal the sweets inside the bag and then used a little bit of scrap ribbon to tie the 'Happy Halloween' badges onto the bags.
Easy DIY candy bags for Halloween
If you don't want to go to the expense of buying the organza bags and are looking for a cheap way to make Halloween treat bags then you can use supplies from your craft stash to hold the sweets.
For the candy bag below, I used an C6 cello wrapper (I use these to put finished handmade cards in to display them to sell) and filled it with sweets.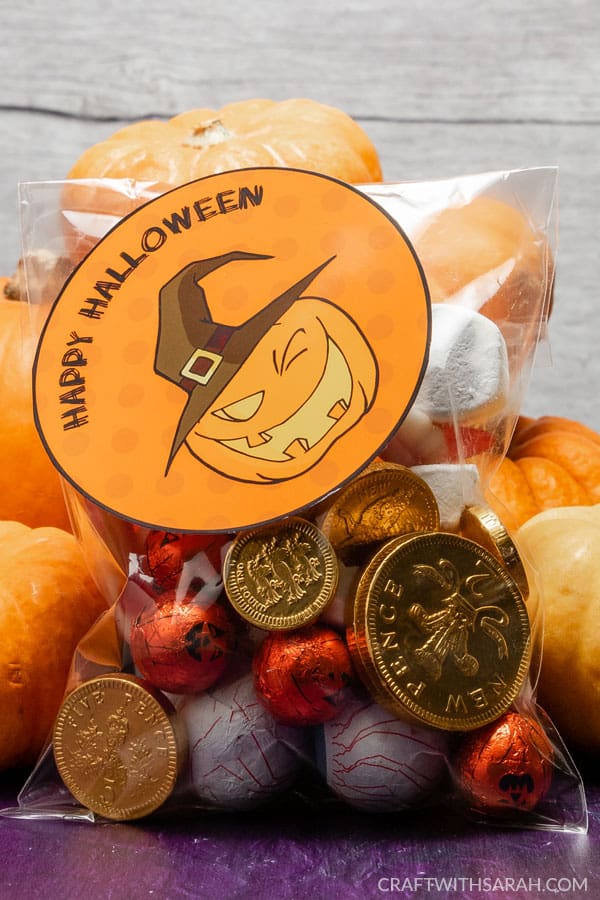 These bags are self-seal, so I sealed it up and then stuck on one of the large Happy Halloween toppers using double sided tape.
I think the results are quite effective, and it will give that extra-special touch to your Halloween handouts.
I would have had more to take photos of Halloween treat bag ideas to show you... but my cheeky husband decided to sneak a couple when I wasn't looking at eat all the chocolates before I could photograph them!
I'll have to keep a closer eye on him next year... :D
About this Product
This is a downloadable product which you can download from your account page after checkout. No physical item will be shipped.
File type: PDF
Terms of Use for 'Halloween Gift Tags & Badges' Personal use only

You may print this product for your own personal use.
You must NOT use this product for any commercial benefit.
You must NOT sell or share the digital files, or use them to create any new digital file or product.
You must NOT sell any products or items made using these files. This includes both digital and physical items.
You must NOT share these files with anyone else. If you know someone who wants to download this product, please give them the link to this page so that they can download it for themselves.
Files must NOT be uploaded to any print-on-demand website or service.
Downloading this product signifies your acceptance of these terms.