Free Unicorn Door Hanger to Color
£0.00
Terms of use: Personal use only. Read terms of use.
Please note that some of the links included in this article are affiliate links, which means that if you click through and make a purchase I may receive a commission (at no additional cost to you). You can read my full disclosure at the bottom of the page.
About 'Free Unicorn Door Hanger to Color'
Let your kids bling up their bedroom door with this cute unicorn door hanger to colour in.
Are your kids spending more time in their rooms than usual at the moment?
With the current pandemic situation meaning that we can't go out and enjoy our usual out-the-house activities, you might find that your kids are looking for a little bit of independence in their bedrooms.
This double-sided unicorn door hanger is a great way for them to let you know if they are happy for you to come in, or if they'd rather be left alone for a while.
And the best part is... they get to colour it in to make it truly unique and special for their bedroom!
The front of the door hanger says "Come in" and the back says "Keep out".
To assemble the door hanger, print it out, colour it in and then cut around the edge.
Don't cut down the middle of the hangers where the front and back meet each other - that's your fold line.
Fold down that middle line and then use prit-stick or other kid-friendly craft glue to stick the two sides together to make your double-sided unicorn door hanger.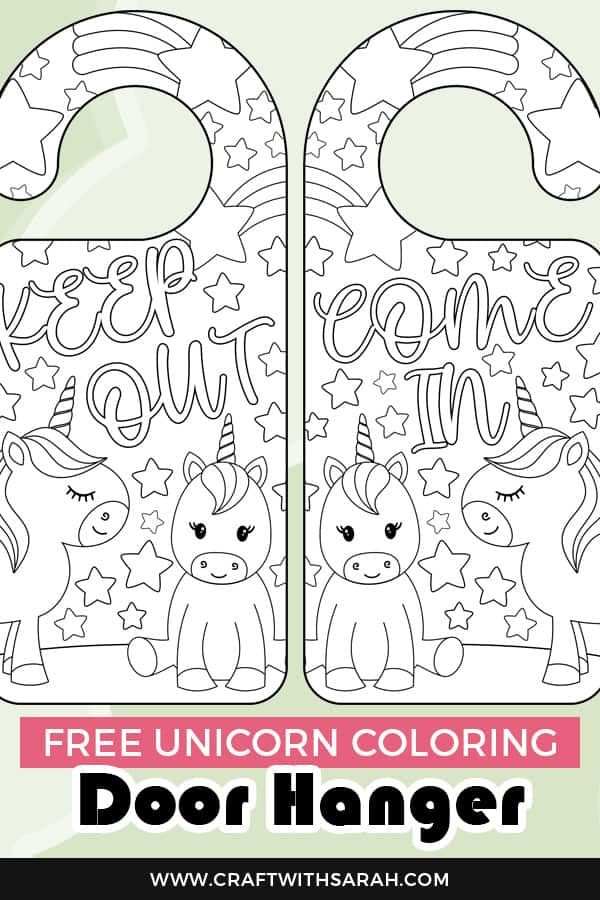 To make your door hanger last longer, cut it out and then mount it onto coloured card before you stick the two sides together to make it more sturdy.
You could even laminate it to make it waterproof!
Laminators can be purchased fairly inexpensively these days. You can use them in a wide range of craft projects, so they might be a well-worth it investment if your kids love to craft!
Laminator, Crenova A4 Laminator GS816, 4 in 1 Thermal Laminator, 9 Inches, 20 Laminating Pouches, Paper Trimmer, Corner Rounder
[Versatile for home & office]: The user-friendly starter set includes useful tools- Laminator, paper trimmer, corner rounder, and 20 laminating pouches (5*A4, 5*A5, 10*A6).
[Fast warm-up, high production]: The impressive 3-5 min heat-up time and remarkable 250mm/min laminating speed deliver an effective & efficient Production. It Laminates up to 50 A4 sheets per hour and is compatible with 2 x 60 mic ~ 2 x 100 mic pouches.
[No more paper jam]: the ABS Lever is specially designed to prevent paper jam. Just push the ABS Lever to release the stuck papers or pouches, and effortlessly remove them from the Laminator. This practical function lets you experience a smooth and rapid lamination for heavy workload.
[Compact, light, and portable]: thanks to its compact size and ultra-light weight, The newest Laminator gives super-convenient portability, absolutely beyond your expectations. It fits on every desk top, and helps to preserve frequently-handled documents and precious photos.
[Specifications] voltage: AC 220-240V, 50HZ, power consumption: 265W, Heating system: 2-roller system
Coloring pages are a great rainy-day activity for kids and will keep them entertained as they pick out the best unicorn colors for their door hanger designs.
If your children love unicorns, check out my HUGE collection of unicorn crafts for kids, as well as my free unicorn printables as there are so many different projects to enjoy.
I think these unicorn door hangers would be a fun project to do for a children's party or sleepover.
Print a few copies out so that each child has their own door hanger to color, then give them a collection of colored pencils, pens and maybe even some glitter or sequins so that they can make their door hangers come to life.
You could even perhaps have prizes for the best decorated door hanger?
Craft activities at birthday parties are an extra-good plan as it means you don't need to worry about party bags.
Each guest will have their very own, 100% personalized unicorn bookmark to take away instead, that they are sure to treasure for a long time.
If you're looking for unicorn slumber party activities, you might also be interested in these:
You'll have so many fun unicorn crafts & games to play that you might even run out of time to do them all!
Just in case you need some more though, here are some fun unicorn crafts to buy:
About this Product
This is a downloadable product which you can download from your account page after checkout. No physical item will be shipped.
File type: PDF
Terms of Use for 'Free Unicorn Door Hanger to Color' Personal use only

You may print this product for your own personal use.
You must NOT use this product for any commercial benefit.
You must NOT sell or share the digital files, or use them to create any new digital file or product.
You must NOT sell any products or items made using these files. This includes both digital and physical items.
You must NOT share these files with anyone else. If you know someone who wants to download this product, please give them the link to this page so that they can download it for themselves.
Files must NOT be uploaded to any print-on-demand website or service.
Downloading this product signifies your acceptance of these terms.