Easter Bunny Card Stitching Pattern
£0.00
Terms of use: Some commercial uses are allowed for this product. Read terms of use.
Please note that some of the links included in this article are affiliate links, which means that if you click through and make a purchase I may receive a commission (at no additional cost to you). You can read my full disclosure at the bottom of the page.
About 'Easter Bunny Card Stitching Pattern'
Celebrate Easter with this cute little Easter bunny card stitching pattern. This is a beginner paper embroidery pattern, so it's great for learning how to stitch onto handmade cards :)
Card stitching is really simple to do. All you need is a pricking tool (long needles work well too!), some foam, embroidery thread, a needle, some sticky tape, a piece of white card and a coloured base card (I used yellow).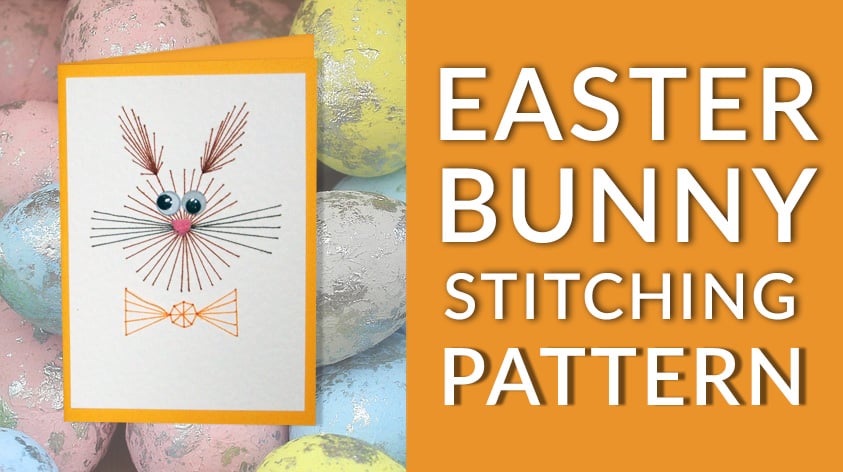 Simply print the free card stitching pattern onto ordinary printer paper, roughly cut it out and use some masking tape to stick it to the front of your white piece of card.
Next, use your pricking tool or needle to piece through all the little black dots on the pattern. The easiest way to do this is by putting your white card onto a piece of foam, so the needle goes into the foam rather than damaging your work surface.
This doesn't need to be anything fancy - I use an old piece of foam packaging from a parcel I received!
Once you've pierced all the holes, remove the paper pattern and thread your needle with the first colour that you want to use.
Use a small piece of sticky tape to stick the end of the thread to the back of your card, then start stitching, using the lines on the pattern as a guide.
When you come to the end of your thread, stick the last little bit to the inside of the card with some more sticky tape, then start again with a new piece of embroidery thread.
When all the stitching lines are finished, stick the white card onto a coloured card base, add some googly eyes and a little piece of pink card of craft foam for the nose, and there you have it - your finished Easter bunny handmade card!
Adding google eyes onto the bunny gives him a lovely cheeky look and really makes his personality come alive from the card.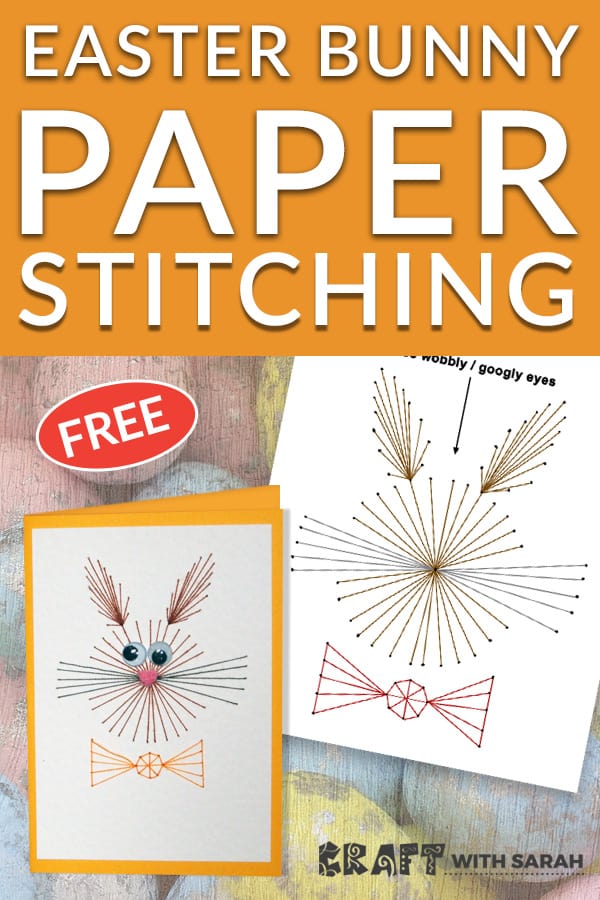 Want more Easter crafts?
Discover 50+ Easter craft ideas, or check out more paper embroidery patterns.
About this Product
This is a downloadable product which you can download from your account page after checkout. No physical item will be shipped.
File type: PDF
Terms of Use for 'Easter Bunny Card Stitching Pattern' Commercial use allowed

You may sell handmade physical craft items that you have made using this product.
You must NOT use this product to create new digital products or files.
You must NOT sell or share the files included in this product.
You must NOT share these files with anyone else. If you know someone who wants to download this product, please give them the link to this page so that they can download it for themselves.
Files must NOT be uploaded to any print-on-demand website or service.
Downloading this product signifies your acceptance of these terms.