Christmas Penguins Castle Card
£0.00
Terms of use: Some commercial uses are allowed for this product. Read terms of use.
Please note that some of the links included in this article are affiliate links, which means that if you click through and make a purchase I may receive a commission (at no additional cost to you). You can read my full disclosure at the bottom of the page.
About 'Christmas Penguins Castle Card'
Today I'm sharing a bit of an unusual card - a Castle Card.
I came up with the concept for Castle Cards back in 2010.
I was trying to create an easy-to-make shaped card that had a bit of "wow factor" when displayed next to other cards but still folded flat for postage - and I think I succeeded!
One of the great things about Castle Cards is that you don't need many crafting supplies to make one - just some basic craft tools such as 3D foam pads.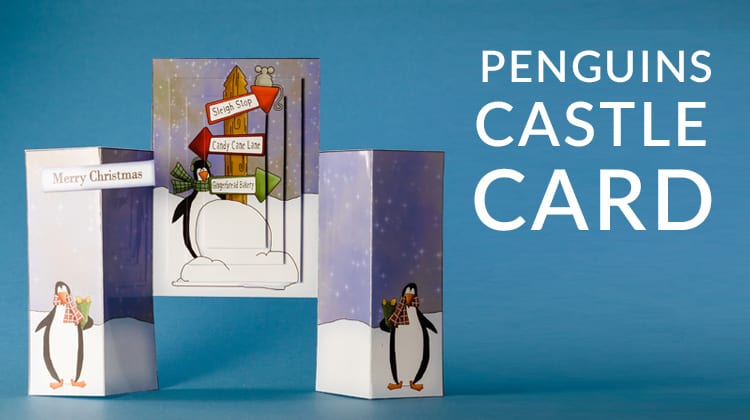 Christmas penguins Castle Card
You will need...
Free castle card printable
Photo paper to print on
Cutting mat
Metal ruler
Scoring tool
Craft knife or scissors
3D foam pads
Double sided sticky tape
How to make a 3D Castle Card
Step 1: Print the two craft sheets
Print the two craft sheet templates onto separate sheets of paper.
I use Crafty Bob Glossy Paper which is a special type of paper designed for greetings cards and crafts.
I like to use this paper because the printer ink dries instantly and is smudge-proof straight after printing, so you can use the printed sheet straight away.
If you aren't a fan of the glossy shiny look to your printouts then the paper is available in matte too.
Step 2: Score and cut
Take the main template sheet first and put it on a cutting mat to protect your work surface.
Use a scoring tool and metal ruler to score down all the fold lines as shown on the template.
When you have scored the lines, cut out the card shape.
I use a metal rule and craft knife for this to keep the edges nice and straight, but you could also use a pair of scissors.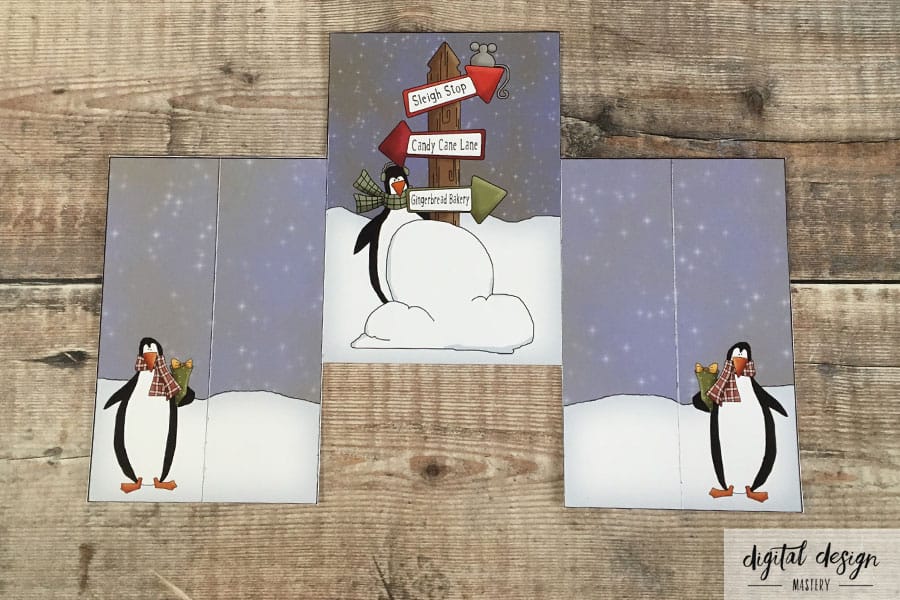 Step 3: Fold along the score lines
Fold each of the sides of the card along the score lines to shape your card.
The pattern template shows which folds should be valley folded and which should be mountain folds.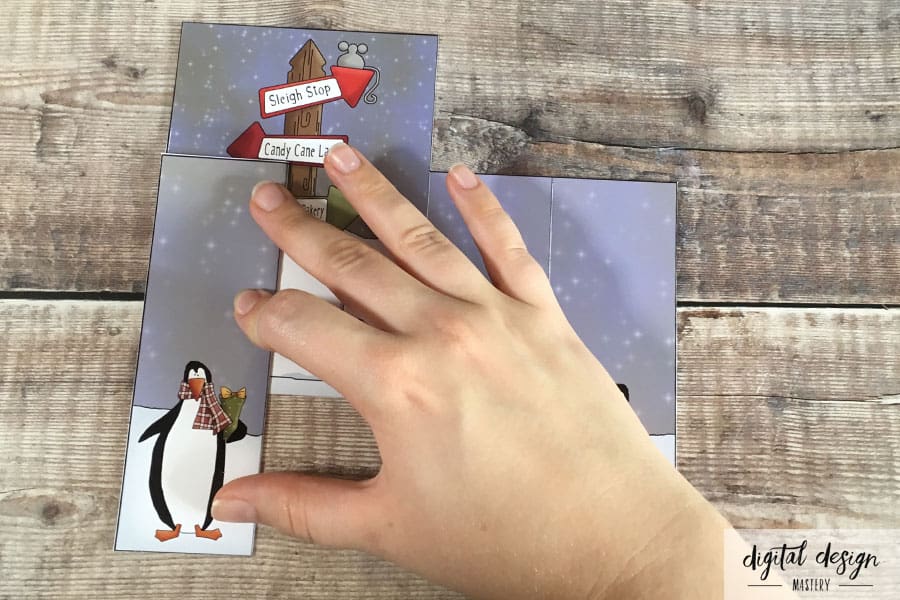 Step 4: Construct the pyramage
Cut out all the rectangle shapes on the second craft sheet.
Use 3D foam pads to stick the rectangles on top of each other with the largest at the bottom and the smallest on top.
This creates a fun "pyramid" effect for your card.
Stick the topper to the middle of your Castle Card.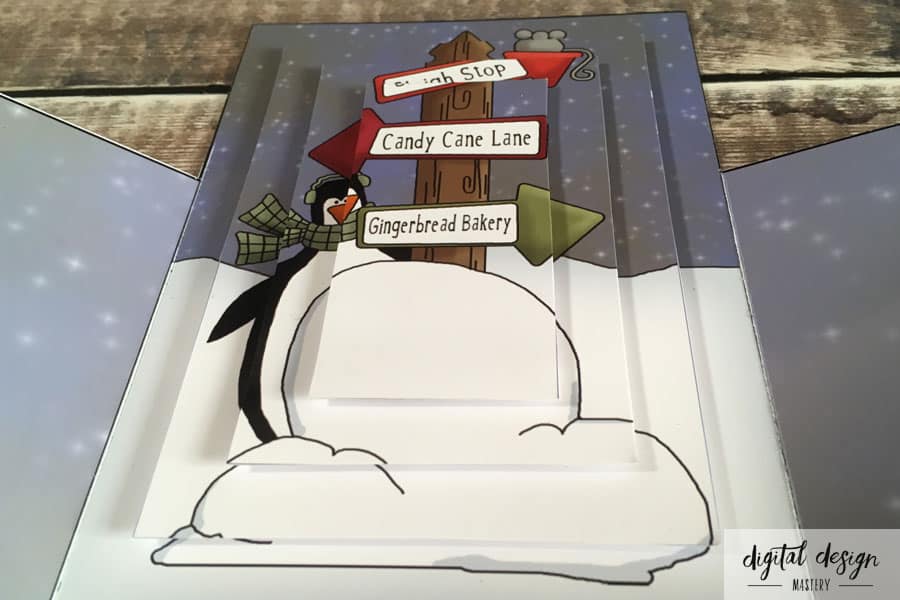 Step 5: Add a sentiment and the back panel
Cut out the back panel and stick it to the back of your Castle Card with double sided tape. This is where you will write the message to your recipient.
Finally, cut out your chosen sentiment and attach it to one of the sides of your Castle Card using double sided tape or 3D foam pads.
About this Product
This is a downloadable product which you can download from your account page after checkout. No physical item will be shipped.
File type: PDF
Terms of Use for 'Christmas Penguins Castle Card' Commercial use allowed

You may sell handmade physical craft items that you have made using this product.
You must NOT use this product to create new digital products or files.
You must NOT sell or share the files included in this product.
You must NOT share these files with anyone else. If you know someone who wants to download this product, please give them the link to this page so that they can download it for themselves.
Files must NOT be uploaded to any print-on-demand website or service.
Downloading this product signifies your acceptance of these terms.