Caticorn Birthday Card
£0.00
Terms of use: Some commercial uses are allowed for this product. Read terms of use.
Please note that some of the links included in this article are affiliate links, which means that if you click through and make a purchase I may receive a commission (at no additional cost to you). You can read my full disclosure at the bottom of the page.
About 'Caticorn Birthday Card'
What do you get when you cross a unicorn with a cat? A caticorn, of course! And aren't they just the CUTEST?
It's Day 4 of unicorn week which means we are already past the half-way point - can you believe it?
Seeing at this is primarily a card making blog, it's probably about time that I actually do a unicorn themed card, right?
So... here she is! My sparkly, glittery, pastel rainbow Caticorn in all her majestic glory. :)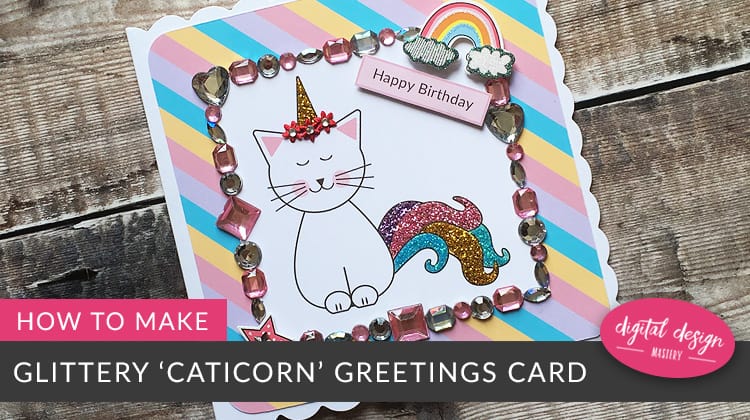 How to make a Caticorn birthday card
Follow the instructions below to make your own cat + unicorn greetings card.
You will need...
Free caticorn craft printable
Glossy photo paper to print on
Craft knife or paper trimmer
Double-sided sticky tape
Thin paint brush
Mod Podge glue or similar
Purple, pink, gold and blue/turquoise extra-fine glitter
Three small flower embellishments
Gemstones in various sizes and colours
Rainbow & star stickers (optional - mine are from Hobbycraft)
How to make a caticorn (cat + unicorn) handmade card
Step 1
Print out the free download onto glossy photo paper, or your favourite card making printer paper.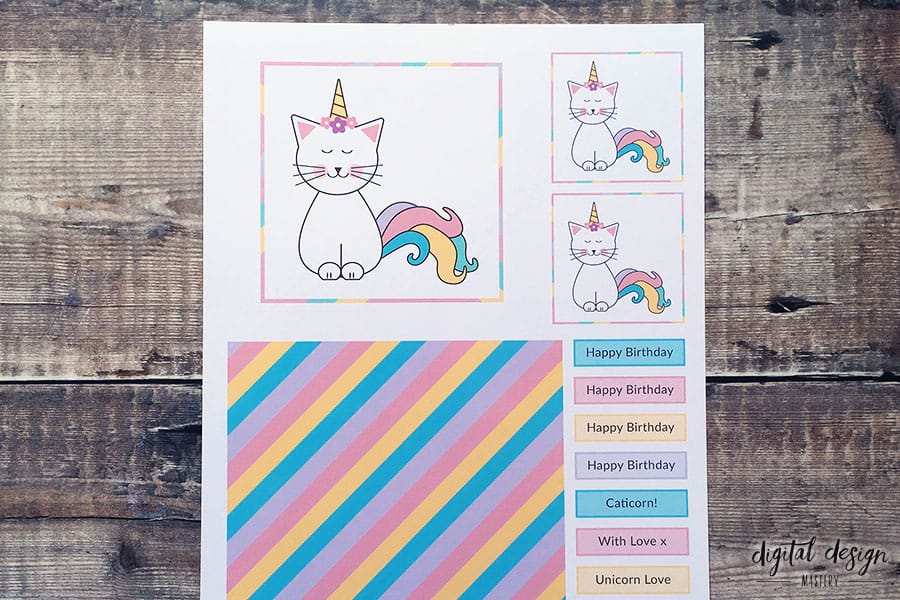 Step 2
Using a paper trimmer or craft knife and metal ruler, cut out the striped rainbow background and stick it to your card blank using double sided tape.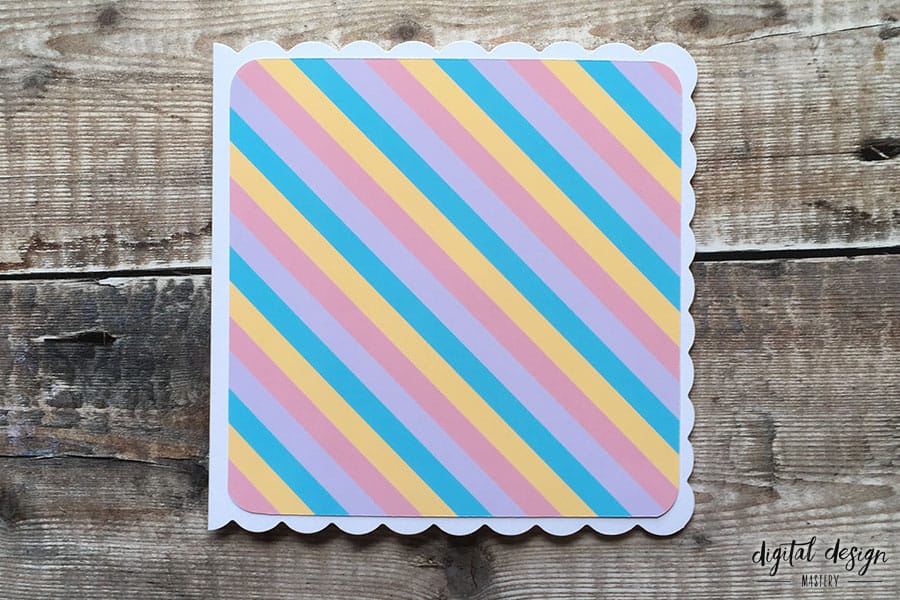 I prefer my cards to have rounded corners so I used a rounded corner punch to round off the edges on the caticorn card front.
Step 3
Cut out the large caticorn card topper and stick it to the middle of your card using double-sided sticky tape.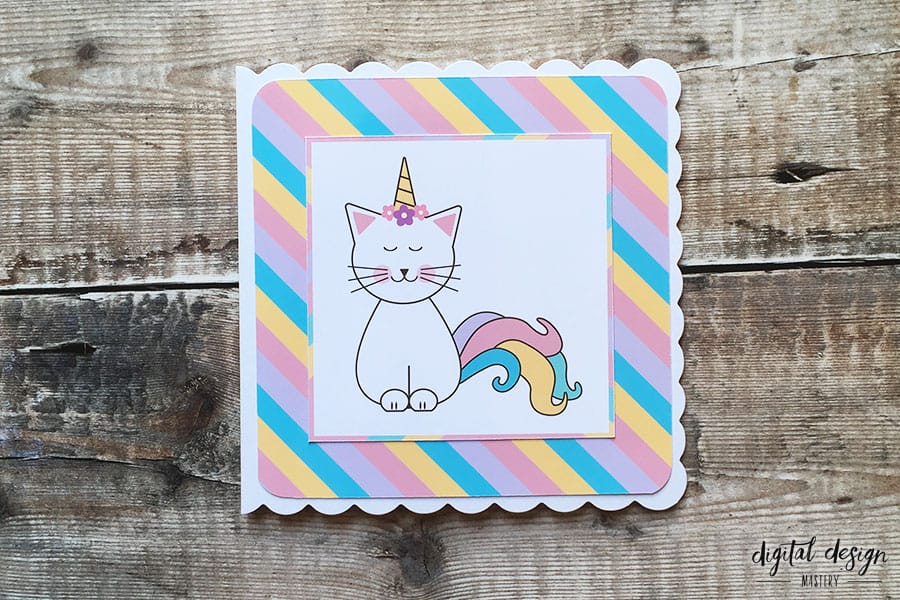 Step 4
Place your card on a piece of paper that you have folded and then opened up flat again.
Use a thin paint brush to carefully spread a thin layer of Mod Podge glue all over the pink section of the Caticorn's tail.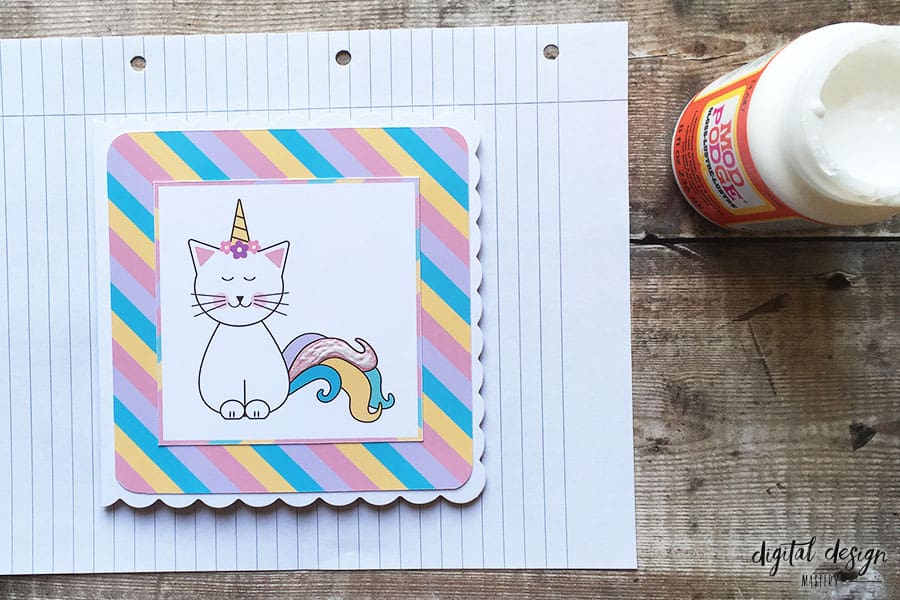 Coat this in pink glitter, wait a couple of minutes for it to start to dry and then tap the excess glitter onto the sheet of paper. You can then fold it along the fold line to trap all the glitter in a line which makes it really easy to put the excess glittery back into the pot so it doesn't get wasted.
Step 5
Repeat Step 4 for all of the other colours in the caticorn's tail - and don't forget to give her a sparkly gold horn too!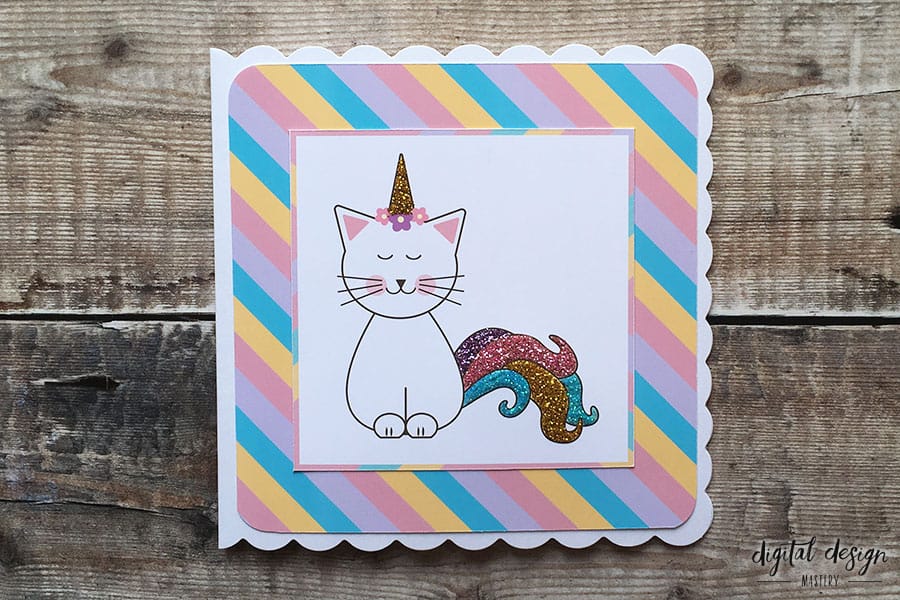 Step 6
This is the really fun part! It's time to decorate your card - woohoo!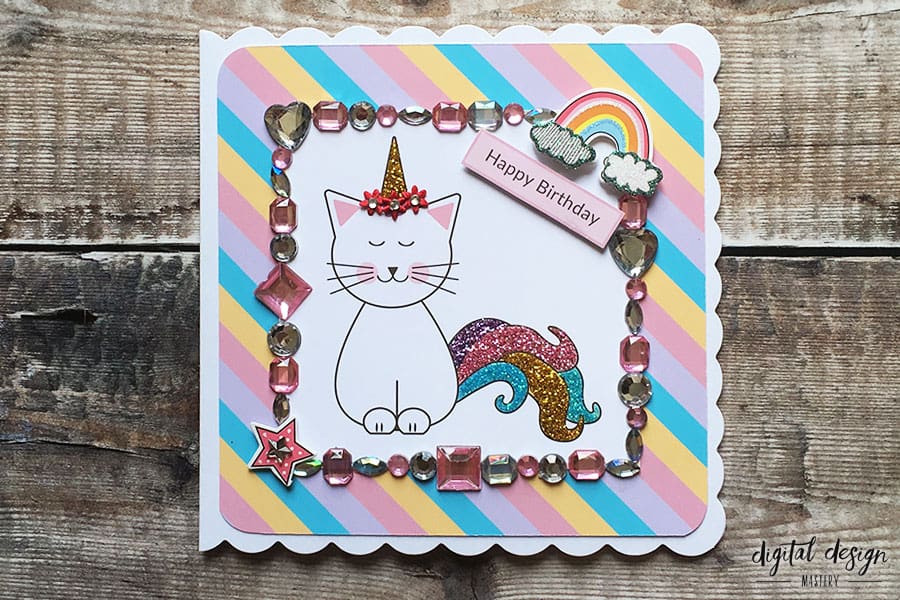 I started by placing a rainbow topper in the top right of the card and a star in the bottom left. This gave me something to start with so that I could then line up the pink and silver gemstones around the edge of the caticorn topper.
Mod podge glue was used to stick all the gemstones on as it dries quickly and holds firm.
I used three tiny red flowers from my craft stash for the flowers on the caticorn's horn and then stuck tiny silver flat-back gemstones on top for an extra bit of glitz.
Finally, I used a "Happy birthday" sentiment topper from the printable craft sheet to finish off the card. This was stuck on using 3D foam pads to give a bit of depth and make it stand out.
And there you have it... my Caticorn birthday card!
Take part in Unicorn Week
We're over half way through - but there's still more to come!
The list below will be updated as new projects are released:
Caticorn birthday card
About this Product
This is a downloadable product which you can download from your account page after checkout. No physical item will be shipped.
File type: PDF
Terms of Use for 'Caticorn Birthday Card' Commercial use allowed

You may sell handmade physical craft items that you have made using this product.
You must NOT use this product to create new digital products or files.
You must NOT sell or share the files included in this product.
You must NOT share these files with anyone else. If you know someone who wants to download this product, please give them the link to this page so that they can download it for themselves.
Files must NOT be uploaded to any print-on-demand website or service.
Downloading this product signifies your acceptance of these terms.