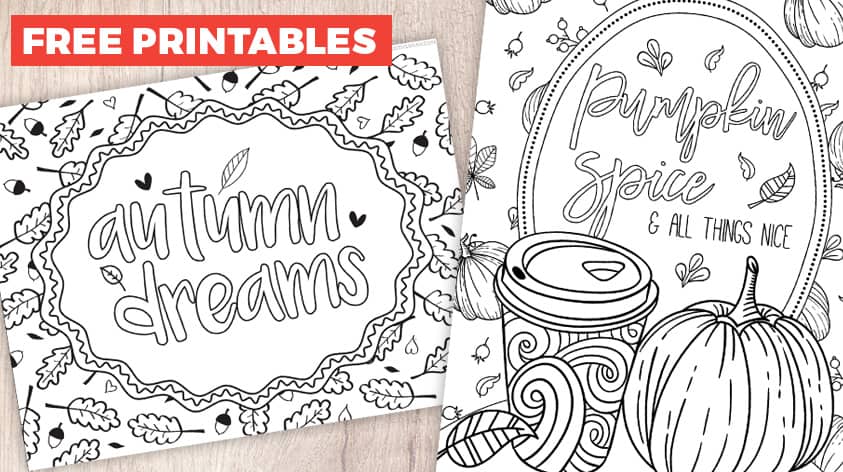 Pumpkin Spice Latte Coloring Pages
Updated on August 18th, 2019
Celebrate everyone's favorite fall beverage with two pumpkin spice latte coloring pages which you can download for free.
It's definitely autumn season now. My lawn is covered in leaves (I should probably rake them…) and the trees are looking empty and bare.
That means it's also coming in to Fireworks season, with bonfire night less than a week away.
Want the free printable? Scroll to the bottom of this post to download it!
One of my dogs HATES fireworks and so we always stay in on bonfire night to keep him company. We watch films with the sound turned up loud to help drown out the noise and he goes and hides underneath the sofa which is his 'safe place'.
As I am enjoying adult colouring at the moment, I thought it would be nice to have some autumn themed colouring pages to enjoy now that the clocks have changed and it gets dark so early.
I've heard lots of good things about pumpkin spice lattes, but I've never actually had one. Are they nice?
I know they are super-popular, so I themed a printable colouring page for all you coffee lovers out there!
Pumpkin spice latte colouring pages for adults and teens
Please note that some of the links included in this article are affiliate links, which means that if you click through and make a purchase I may receive a commission (at no additional cost to you). You can read my full disclosure at the bottom of the page.
These two free adult colouring papers are the second set of colouring pages that I have designed.
They are available to download in the box at the bottom of this post.
There are two different fall themed colouring pages included in this freebie.
The first is a pumpkin spice latte design which says "Pumpkin spice & all things nice".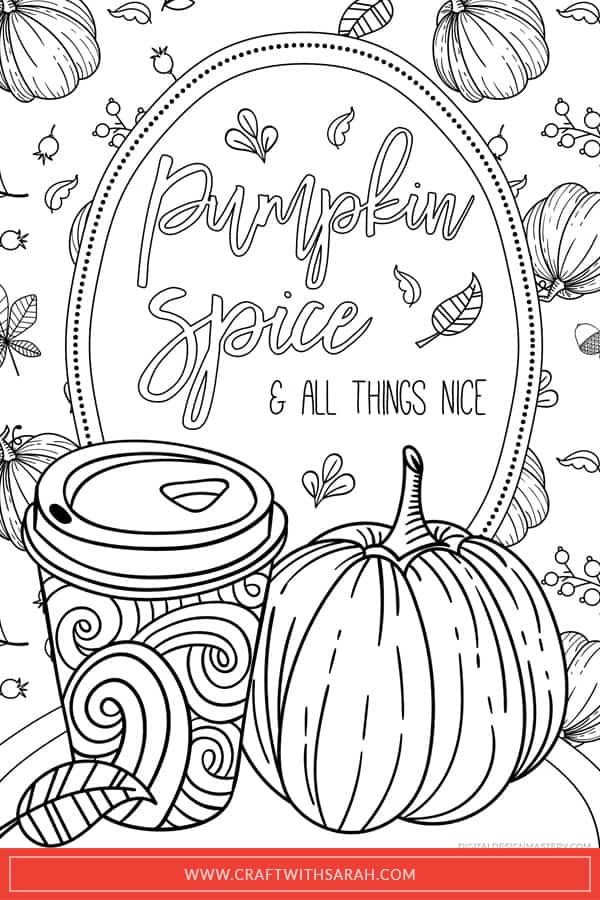 The second is a cute autumn leaves and acorns design that says "Autumn dreams".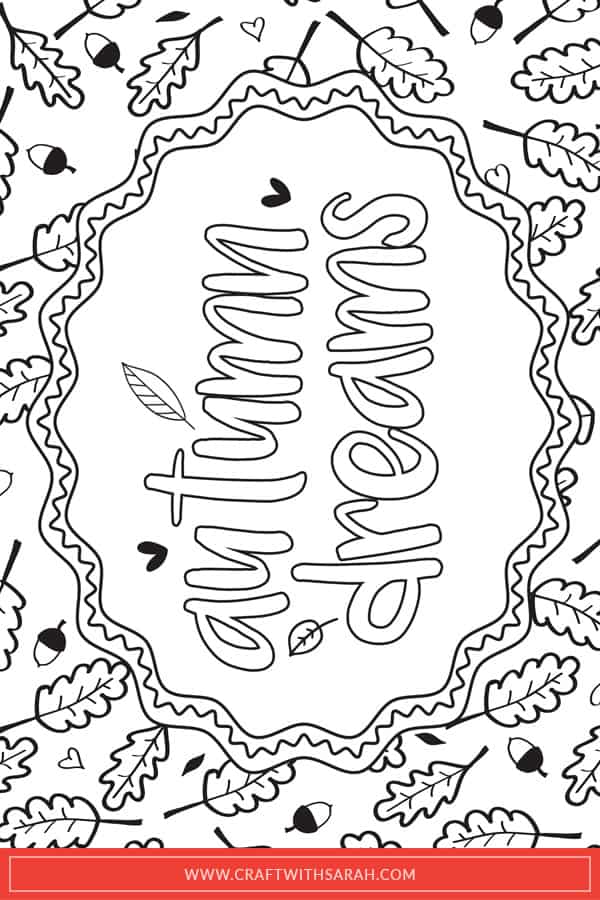 Fall coloring page tips
Fall and autumn are wonderful for seeing the natural colors in the world around us.
To make your coloring papers extra-special, why not try coloring them in some glittery gel pens like these?
Sale
Need more coloring book fun this fall season? Here you go…
Download full size versions of the fall-themed printable coloring pages:
As I am lucky enough to have blog readers from all over the world, I've tried to make it as easy as possible for you to print the pages by including two separate versions of each design – one in A4 paper size and one in US Letter size.
The designs are the same in each size version but have been resized to fit the two different paper sizes.
Love fall crafts? Check out this pumpkin card making project – it's easy to make but SO effective. You'll love it!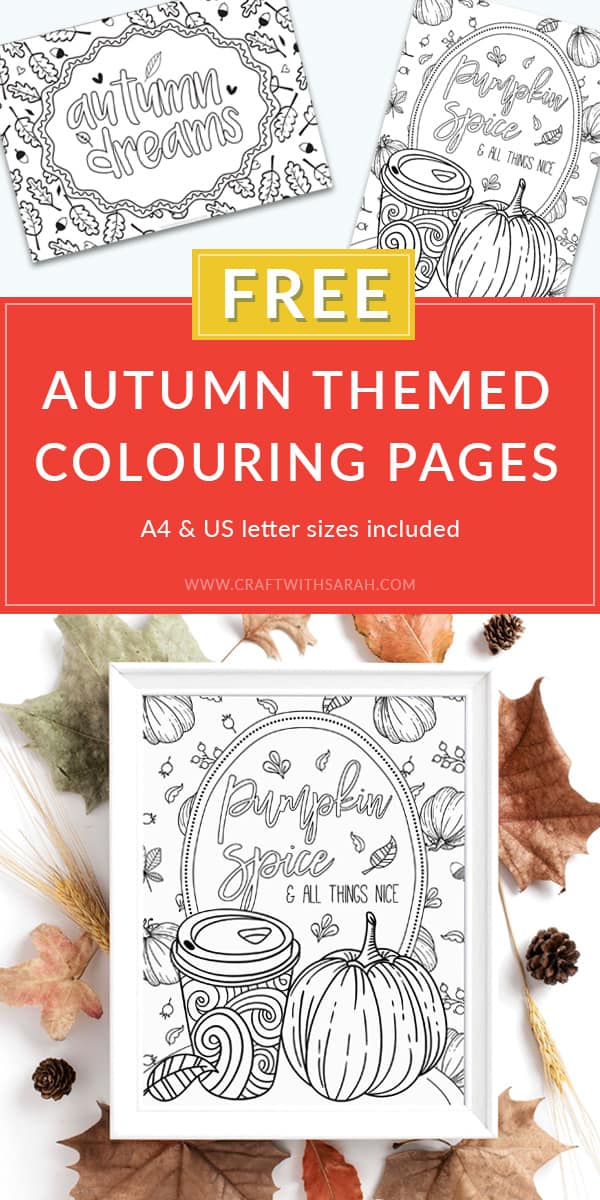 Autumn colouring pages terms of use
For personal use only
You may not digitally alter or redistribute the files without explicit written consent from Sarah Edwards at Craft With Sarah
If you want to share these papers with anyone, please direct them to this page so that they can download them – do not send them the PDFs directly.
I'd love to see your finished creations so please share them with me on Facebook!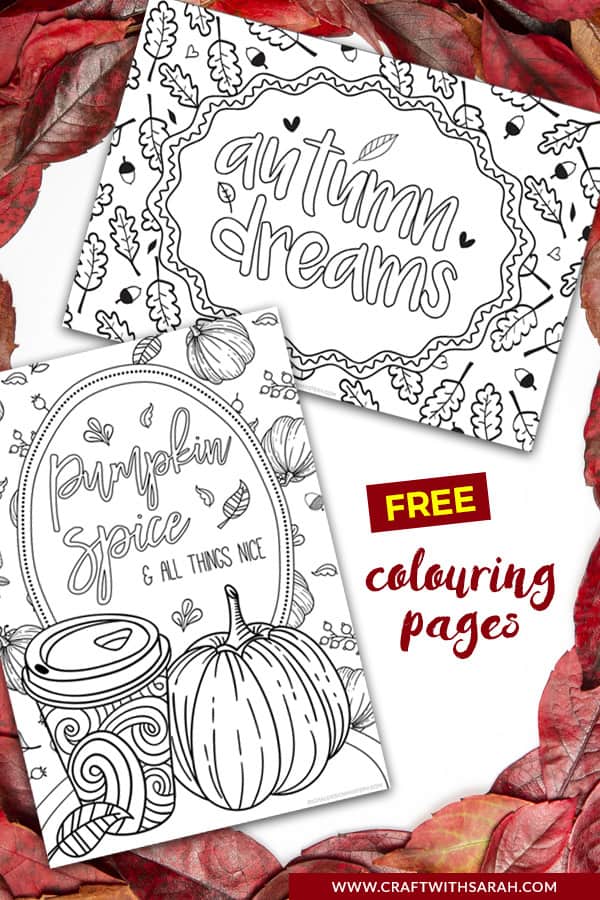 Download 'Pumpkin Spice Latte Coloring Pages'
Enter your 'Craft With Sarah' password to download this free printable.
Don't know the password?
If you have signed up before but can't remember the password, look through your emails for one from sarah@digitaldesignmastery.com as I include the password in all of the emails that I send.
If you can't find it, that's not a problem – just sign up again using the orange button above.
You might also like...