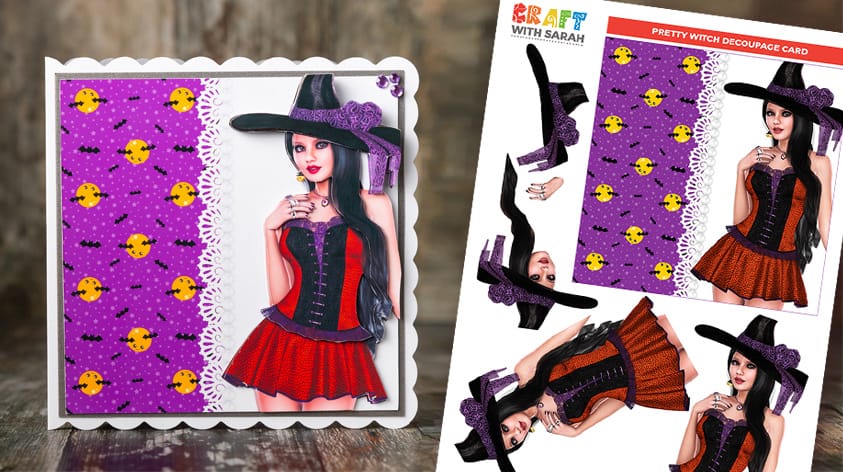 Pretty Witch Card Front & Decoupage
Published on October 6th, 2019
Make a stunning handmade card for Halloween with this pretty witch decoupage sheet & square card front.
How gorgeous is this Halloween witch?
She looks lovely with her elegant hat with purple ribbon and her stylish red-and-black corset and miniskirt.
Want the free printable? Scroll to the bottom of this post to download it!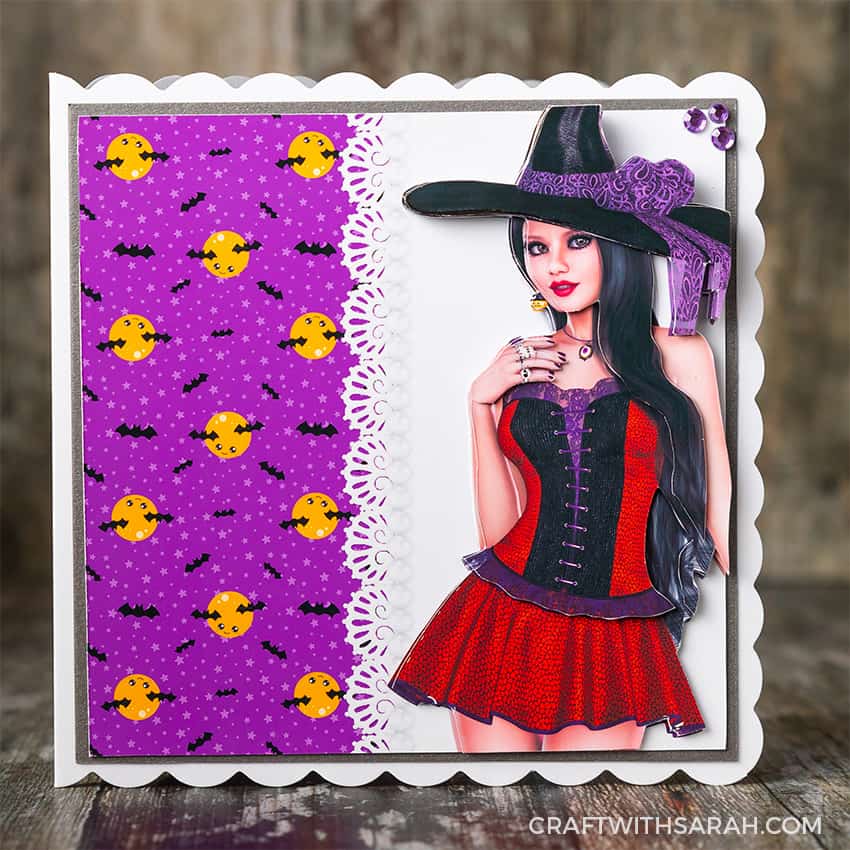 Please note that some of the links included in this article are affiliate links, which means that if you click through and make a purchase I may receive a commission (at no additional cost to you). You can read my full disclosure at the bottom of the page.
Halloween witch decoupage
This free card making printable contains a square card front design that's just smaller than 6×6 inches.
It's about 5×5 inches wide and tall.
When you mount it to a 6×6 inch card front, it means that there will be enough space on the card for a bit of the card blank colour to show through.
You could even layer the card front onto a piece of coordinating card before attaching to your card front for an extra bit of decoration.
That's what I did for my card – it's got a thin border of silver pearly card around the edge to help distinguish it from the white scallop-edge card.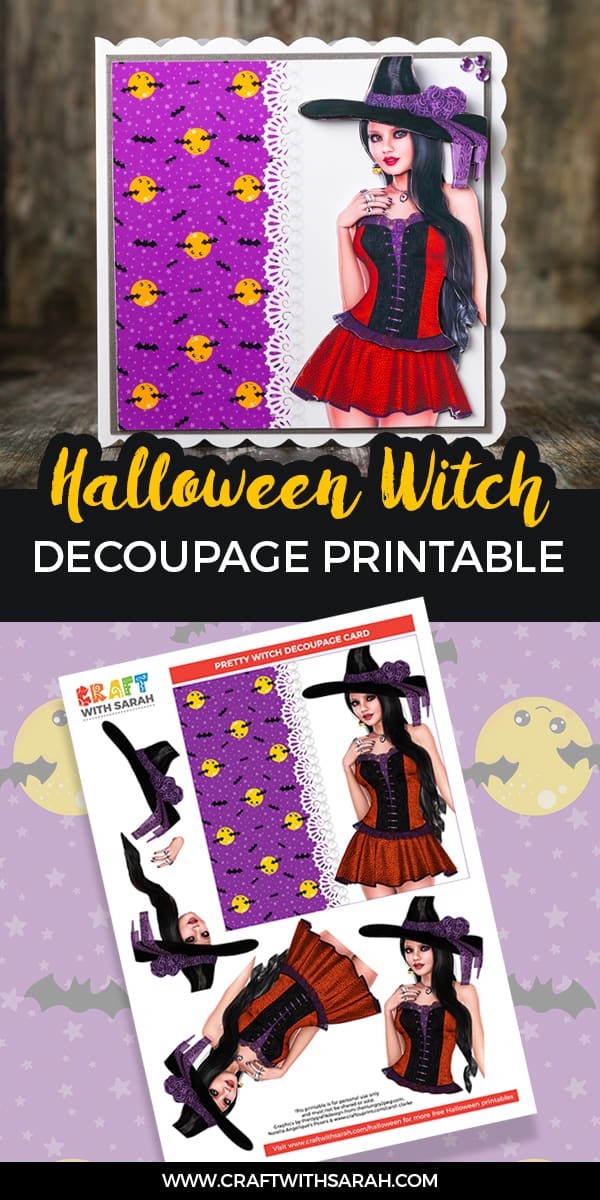 Halloween witch step-by-step card making download
As you can see in the image above, this card making download contains a good selection of step-by-step layers for you to make a decoupage card.
If you're new to decoupage, don't fret – it's really simple to make.
How to decoupage a handmade card
First, cut out all of the shapes on the card blank.
Some of the pieces are quite small so a a pair of decoupage scissors are recommended.
Sale
For even more precision, try using a rotating knife craft blade.
I used one to help cut around the witch's delicate fingers and around the ribbon on her hat.
Sale
Modelcraft Swivel Craft Knife - Pen Style 360° Cutter with 2 Spare Blades
Blade rotates 360 degrees, perfect for intricate cutting of curves and circles
Ideal for modelling, art and crafts
Easily cuts card, paper, film, stencils, thin foam, vellum, acetate
Features pen style handle with soft rubber grip for comfort and precision
Includes safety cap with pocket clip and two spare blades
Take some 3D foam pads and stick them to the backs of all the decoupage layers.
Starting with the largest shape, peel off the backs of the foam pads and then stick the topper onto the square card front, matching the edges of your cutout to the card design.
Repeat for the other cut out shapes, until finally you finish off with the smallest piece.
Adding the layers in this way will give you a wonderful 3D appearance to the card which helps the witch to 'come alive' on your Halloween card.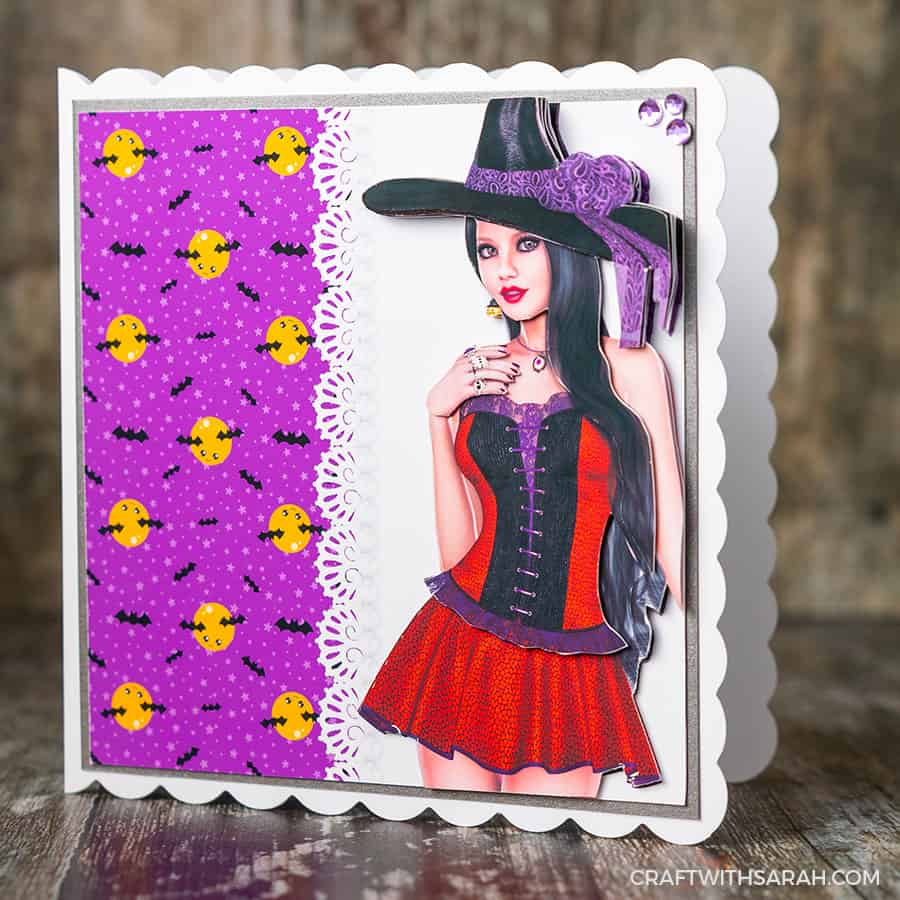 I took the above photo on an angle so that you can see the effect of the built-up layers from the side.
Decoupage is a fun card making technique and (apart from iris folding) is probably the one that I use most often when I'm making handmade cards for friends and family.
If you've caught the decoupage crafting bug, then you might also like this Haunted House decoupage card.
Happy crafting,
Sarah x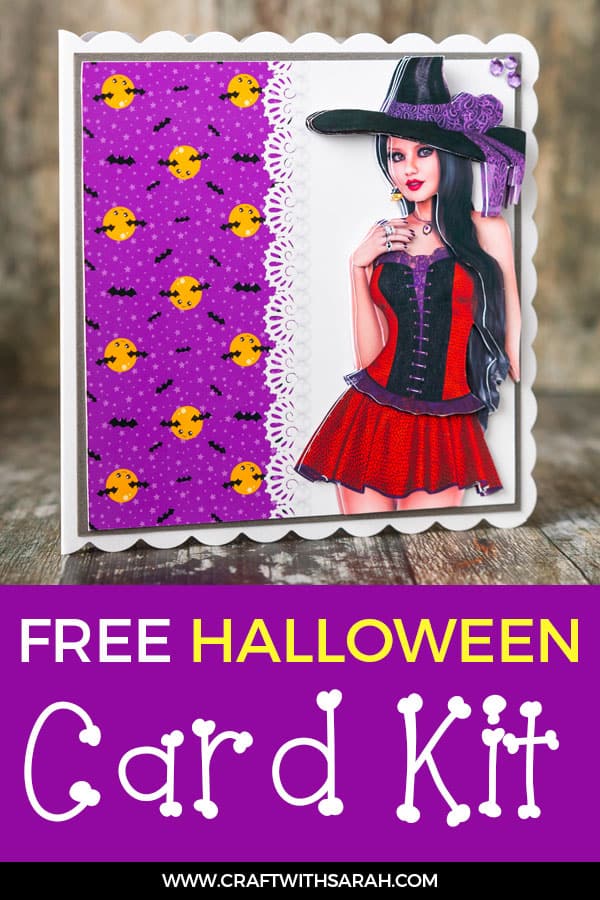 Download 'Pretty Witch Card Front & Decoupage'
Enter your 'Craft With Sarah' password to download this free printable.
Don't know the password?
If you have signed up before but can't remember the password, look through your emails for one from sarah@digitaldesignmastery.com as I include the password in all of the emails that I send.
If you can't find it, that's not a problem – just sign up again using the orange button above.