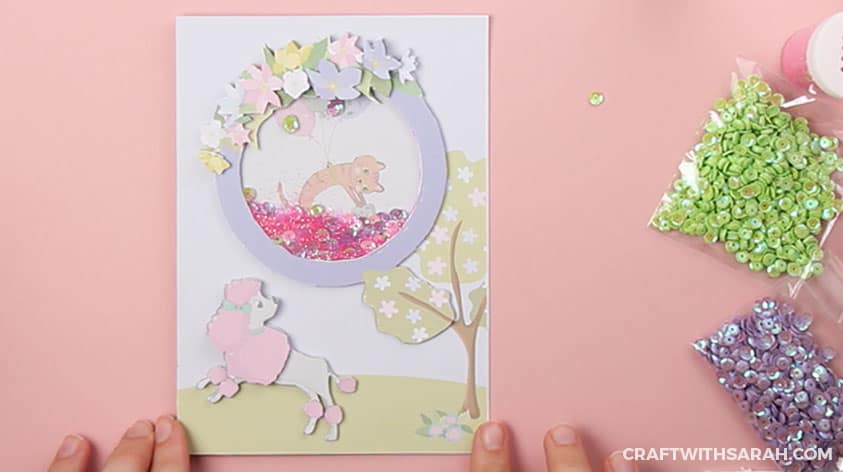 Springtime Poodle Shaker Card Tutorial
Published on August 4th, 2019
Make a handmade card with a difference with this springtime poodle shaker card. Never made a shaker card before? Don't worry – full shaker card instructions are included!
I really enjoy making floral handmade cards, and if they have a dog on them then even better as I'm a HUGE dog lover.
With this free card making design you can create a sumptuous springtime handmade shaker card which is perfect for spring or summer birthdays.
How to make a handmade shaker card
Note: Some of the links included below are affiliate links, which means that if you click through and make a purchase I may receive a commission (at no additional cost to you).
Print the free decoupage sheet (see top of this post for the download link) onto glossy photo paper or your favourite decoupage paper and then cut out all of the elements.
Some of the parts are quite small and fiddly to cut out (especially the flowers!) so a pair of decoupage scissors will help you to cut them out.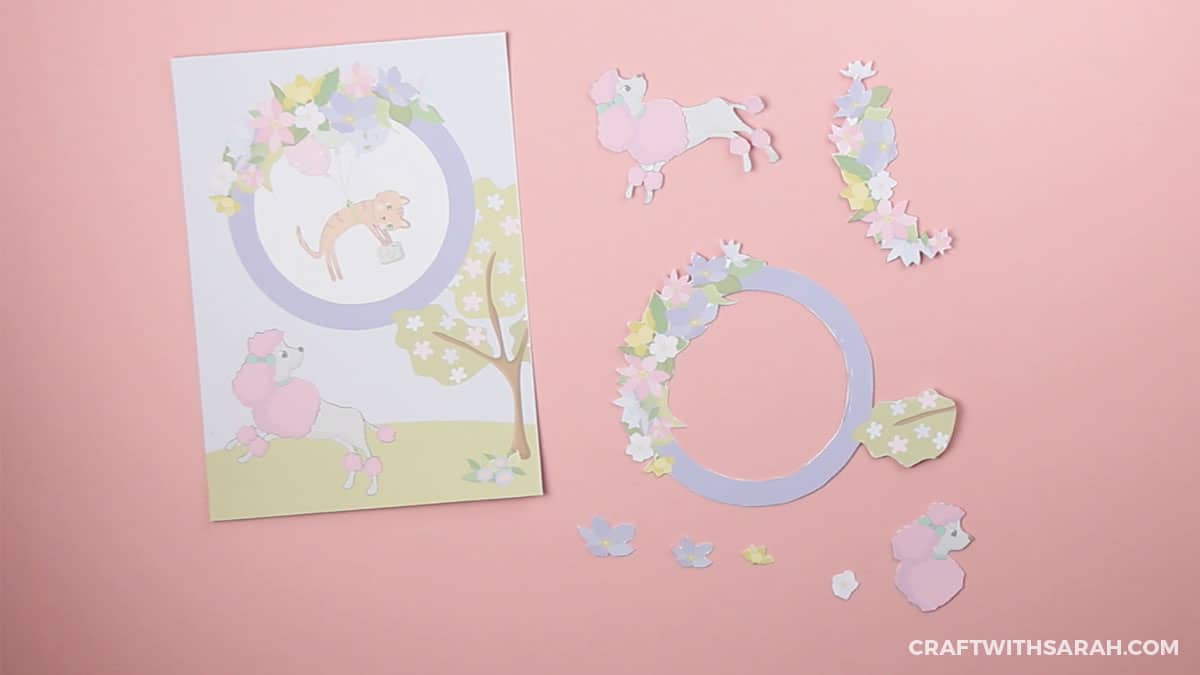 Place double-sided tape on the back of the card front.
I like to use a tape-runner as it means you don't have to worry about pulling all the fiddly bits of backing off of normal double-sided tape.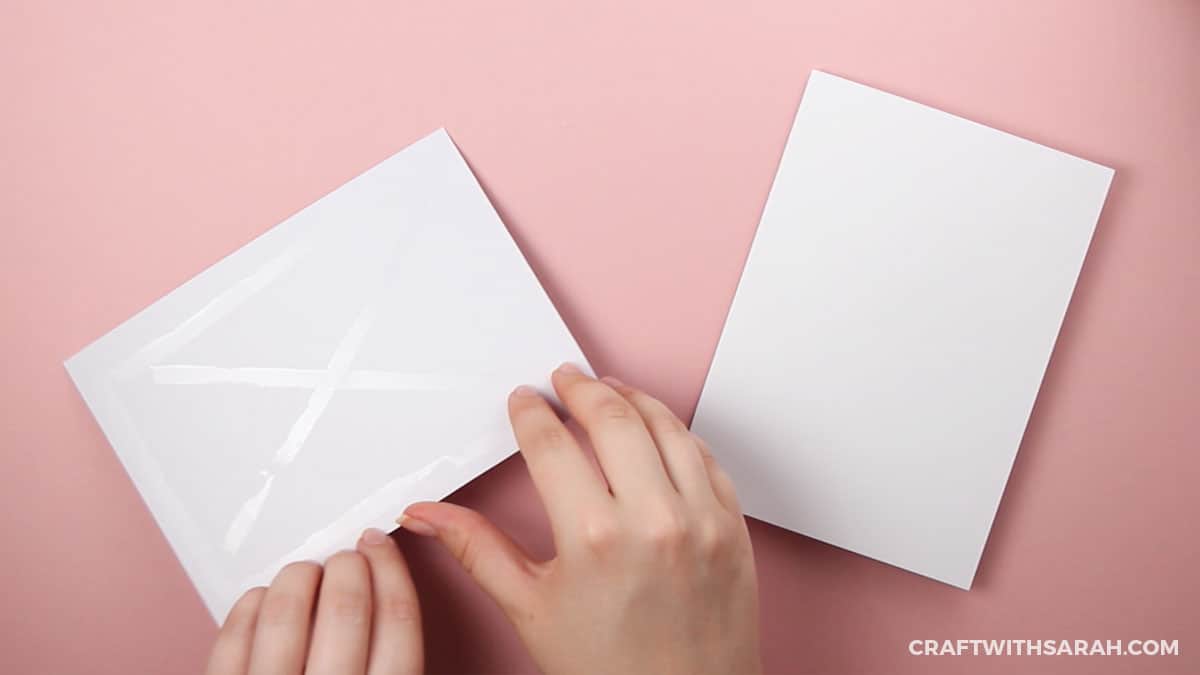 Firmly stick the card front onto a 5×7 inch card blank.
The card front will fit perfectly onto this sized card.
You could put it on a larger card blank if you prefer, but it means you will have some of the card showing around the edge.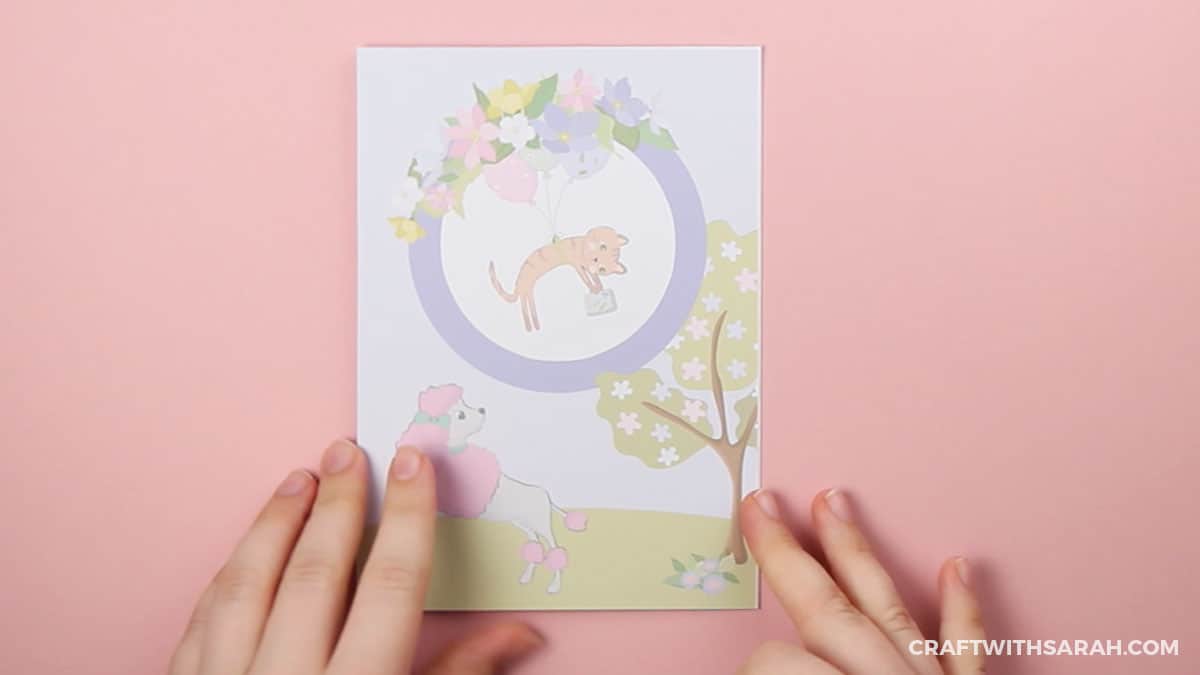 Select the piece of decoupage with the circle shape cut out of the middle.
We need to cut a piece of transparent acetate so that it fits into this shape.
This can take a little bit of trial and error to get it right, so stay patient.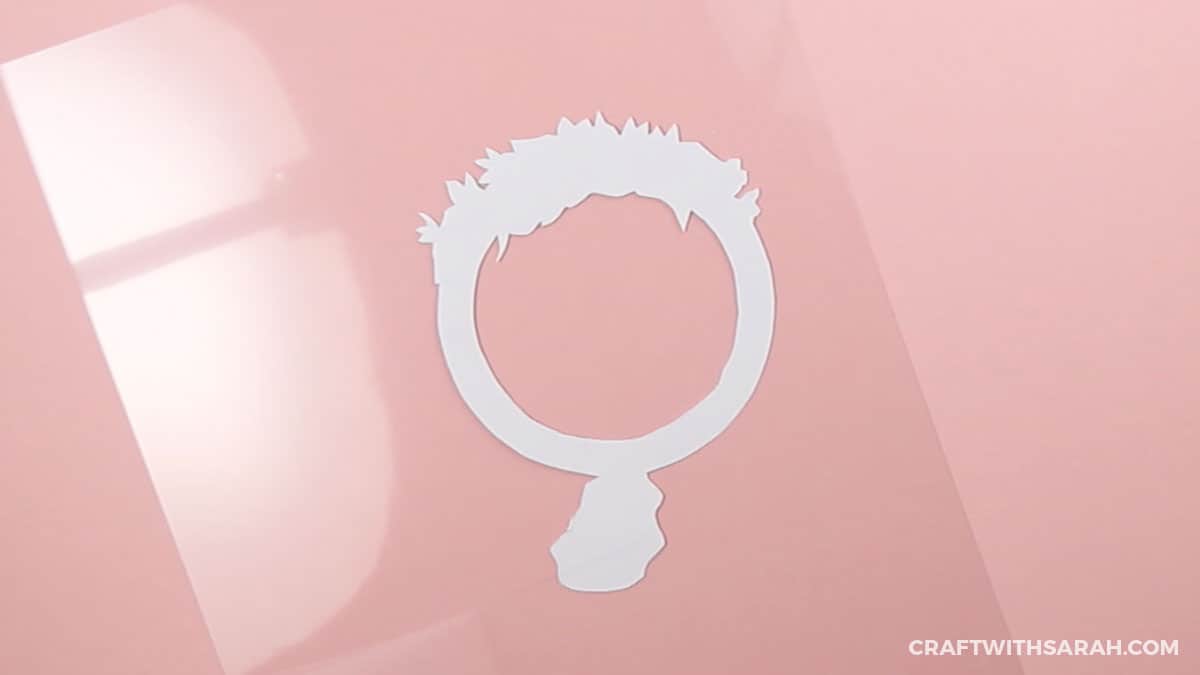 When you've cut the acetate to size, use tacky glue to stick it to the back of the decoupage piece.
Glue is better than tape to use here because it's REALLY important that the acetate is sealed all the way around the circle.
You can press the glue and "smush" it around to make sure they are no gaps, which is much harder to do with tape.
If there are any gaps then it means your glitter could escape from the shaker card, and we don't want that to happen!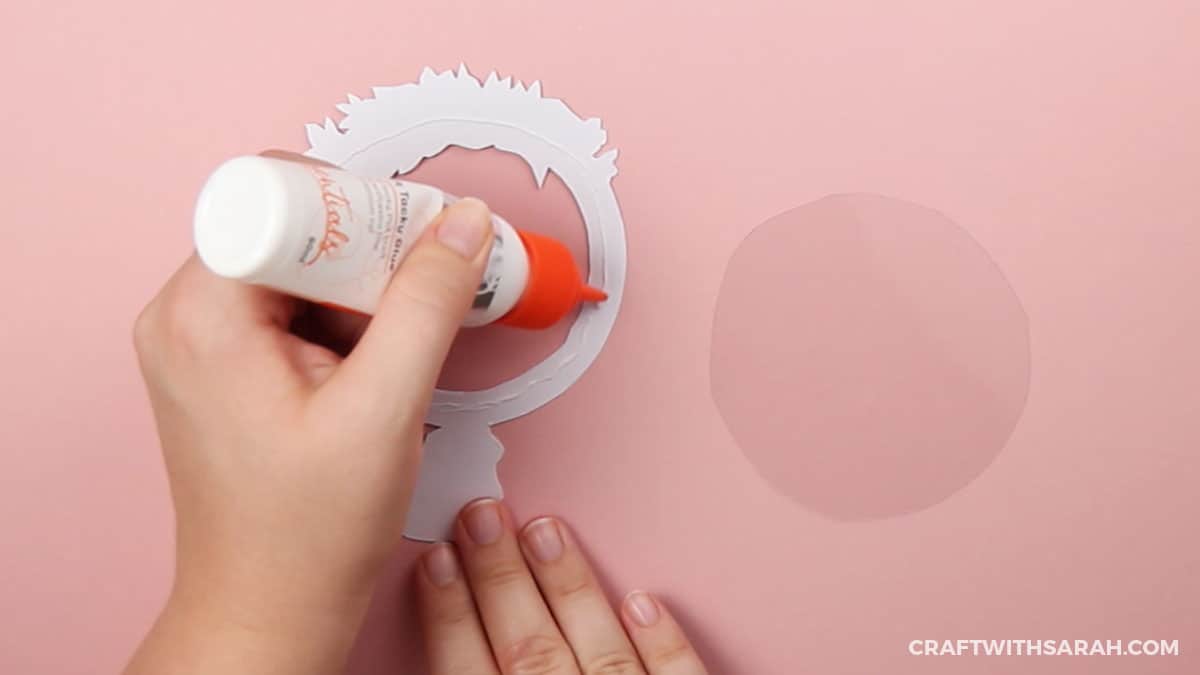 Cut a small strip of 3D foam tape and then cut small slits into it as shown below. This will make it easier to position around a circular shape.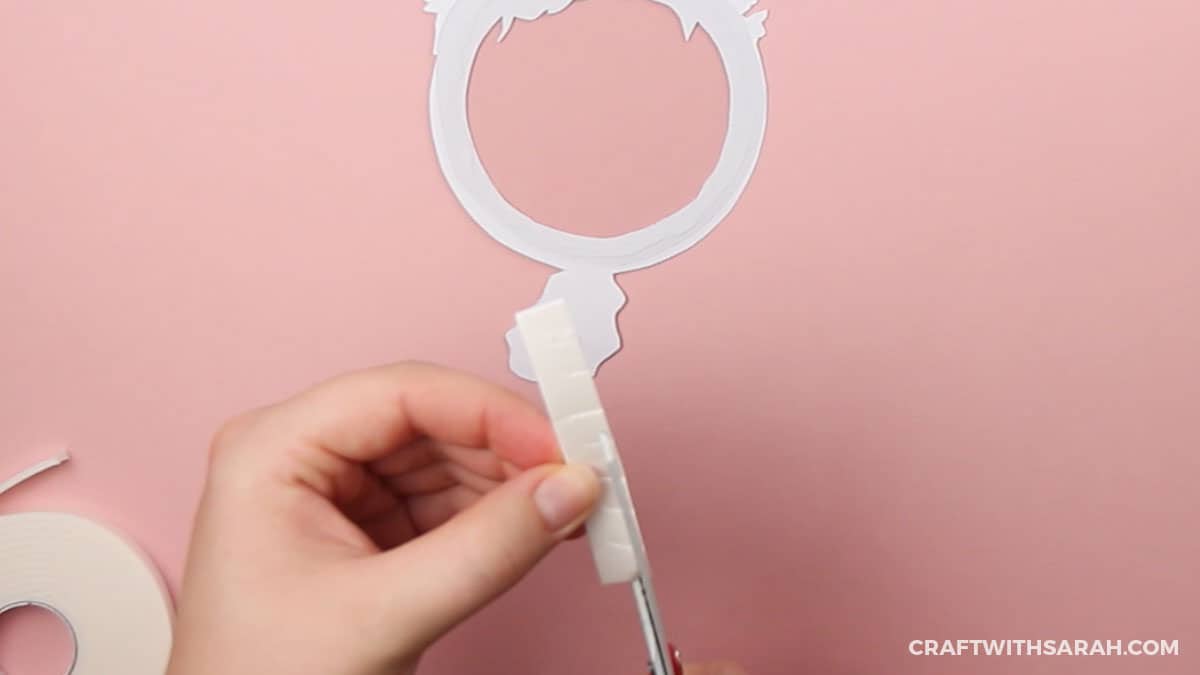 Stick the foam tape to the acetate on the back of your decoupage piece.
Make sure that no tape can be seen through the "window" or outside the edge of the circle, otherwise you'll see it on the finished card.
Keep sticking strips of foam tape until you have completed the circle.
Do NOT leave any gaps – the foam must form a complete seal around the edge.
If it doesn't, your shaker card will leak all the shiny bits!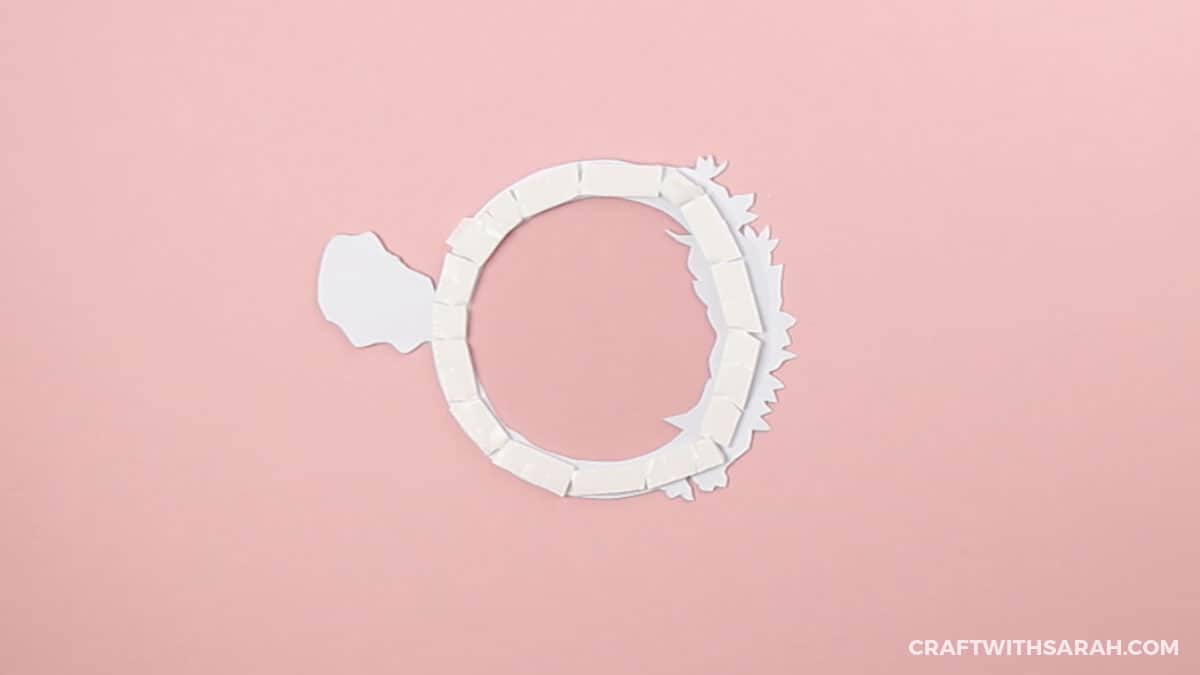 Place a selection of sequins and glitter into the circle on the front of your card.
I used pink, purple and green sequins, plus some white and pink glitter.
Don't pile the sparkles too high or the foam pad section won't fit on top.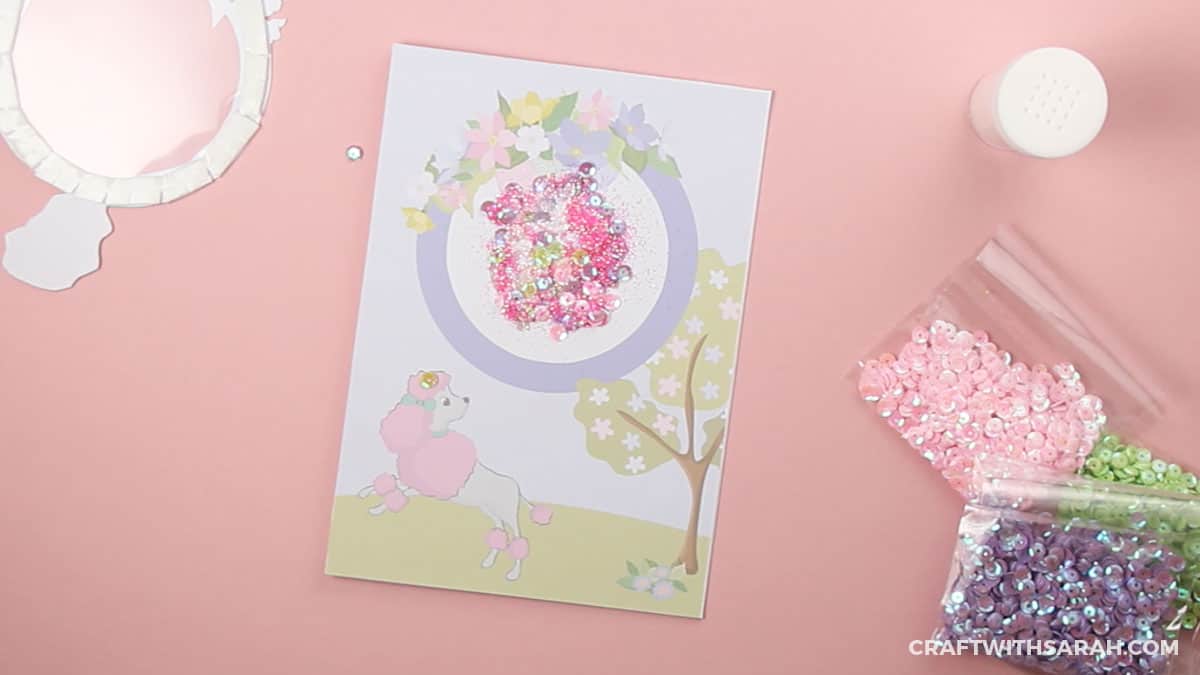 Peel the backing off of the foam tape and then firmly press the circle decoupage piece over the sequins.
Line it up with the pattern on the card front.
Be sure to press all around the edges to make sure everything is stuck down firmly.
The 'shaker' part of your card is now complete.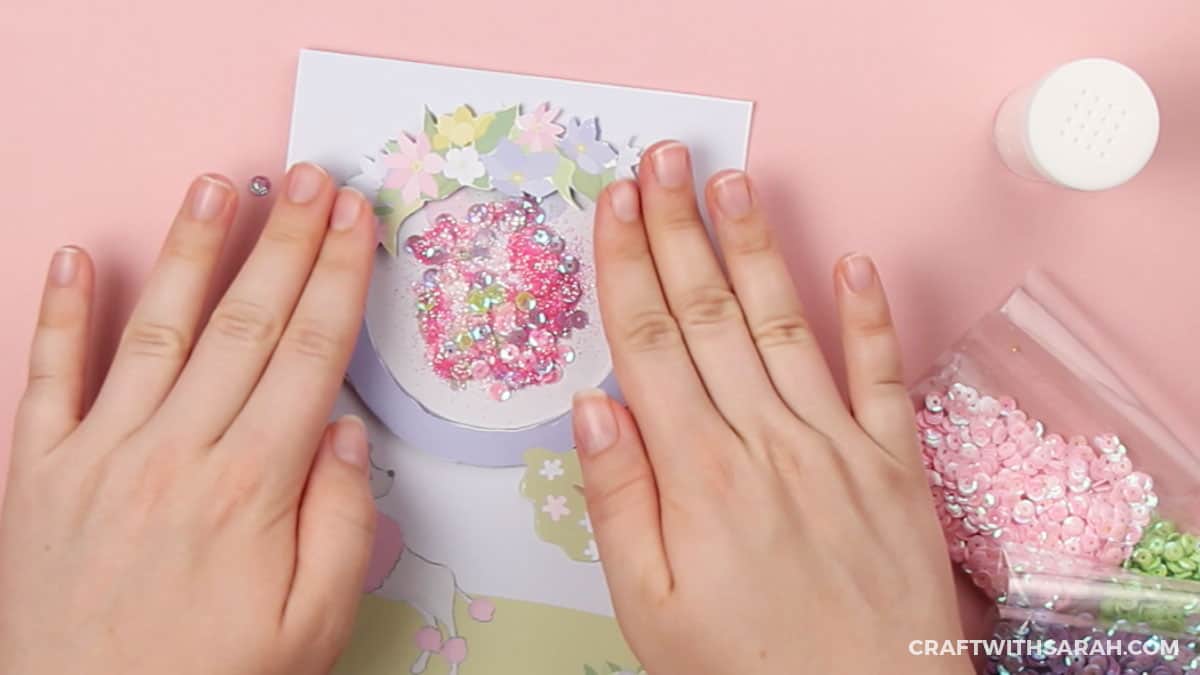 If you wanted to, you could leave the card as it is and call it finished – but I think we can add some extra pizzazz, don't you?
The remainder of the cutout shapes are for decoupage.
Decoupage means that you build up layers using foam pads to create a 3D design with realistic depth.
Start with the largest poodle piece and place foam pads all along the back.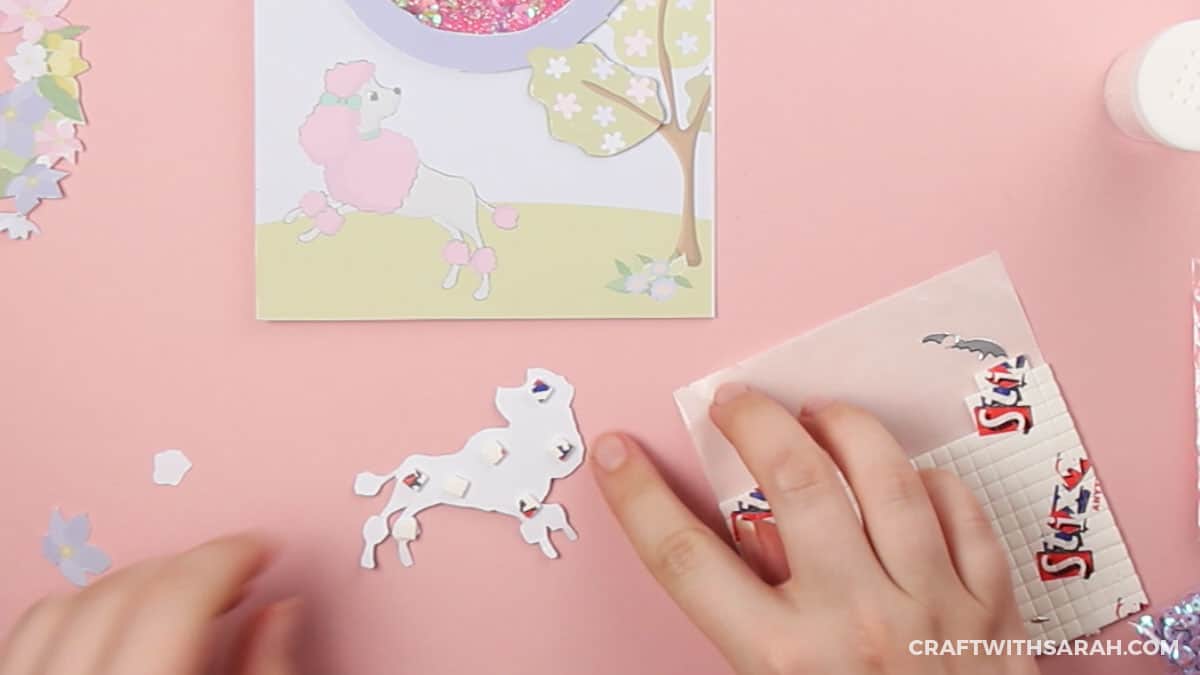 Peel the backings off of the foam pads and then stick the cutout onto the card front, lining it up with the poodle on the card.
Firmly press all over to make sure it's stuck down well.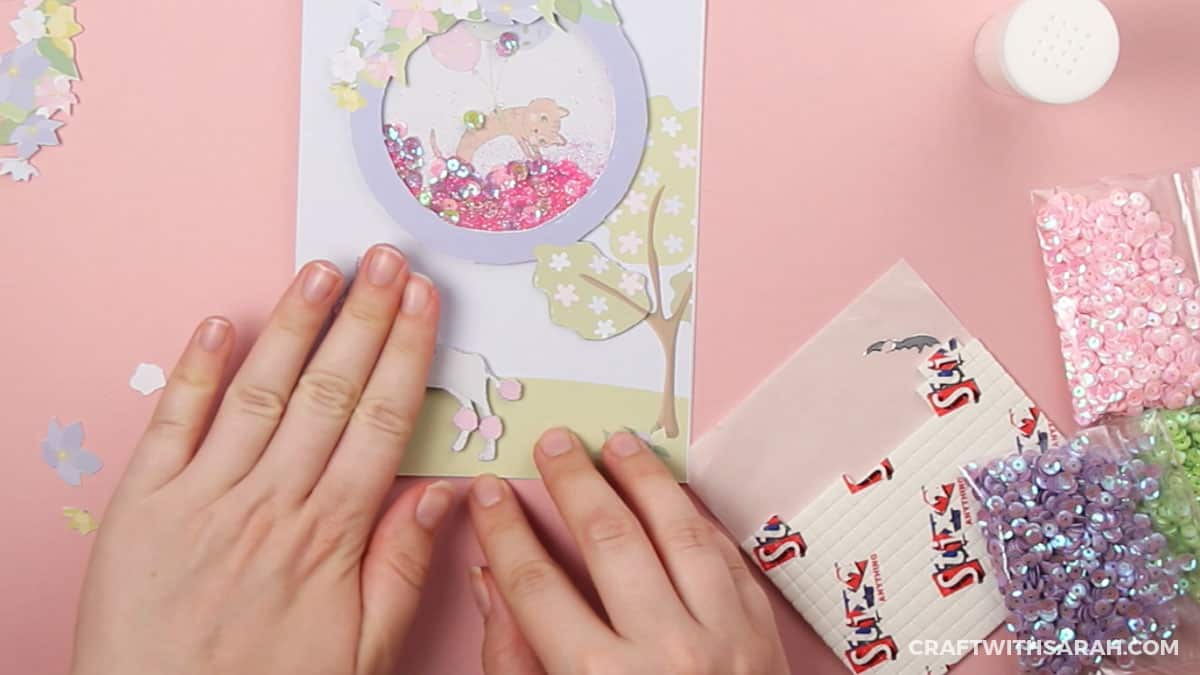 Continue with this method until all the decoupage pieces have been stuck to your card.
Use the largest cutout pieces first, then stick the smaller layers on top.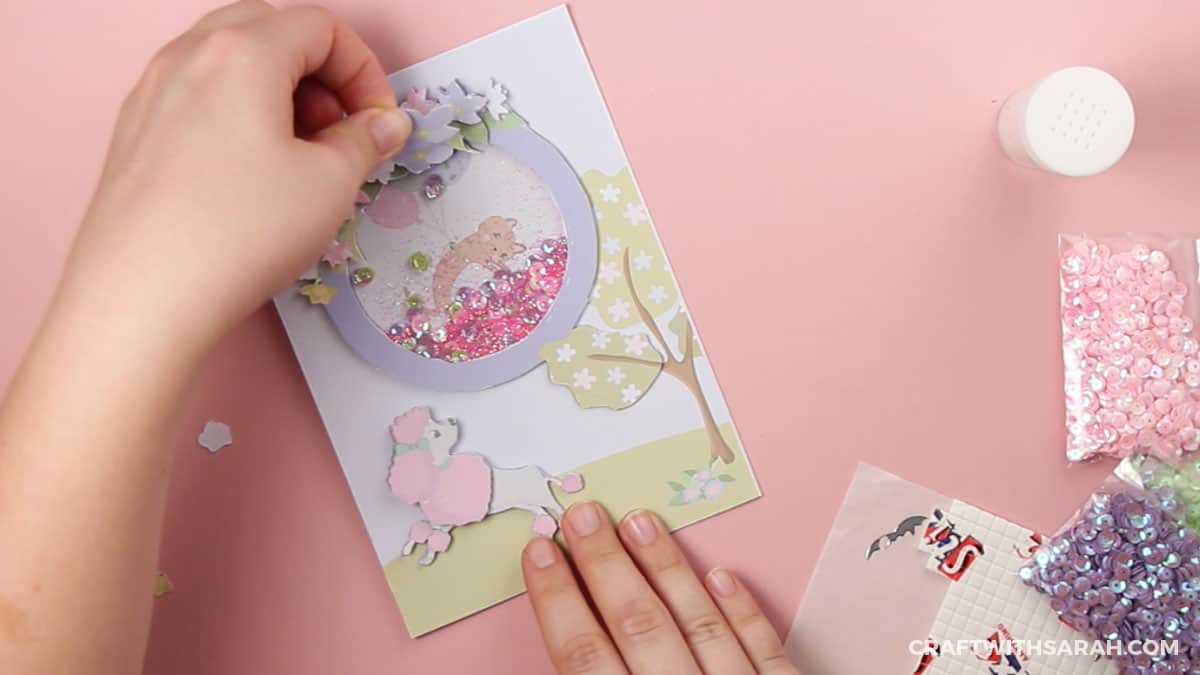 When you've added all the decoupage layers, your Springtime Poodle Shaker Card is finished!
Give it a shake and see what you think 🙂
You may find that some sequins get "stuck" inside the shaker. IF that happens, tapping the card firmly onto your work surface can help to dislodge them – or give it a really firm shake!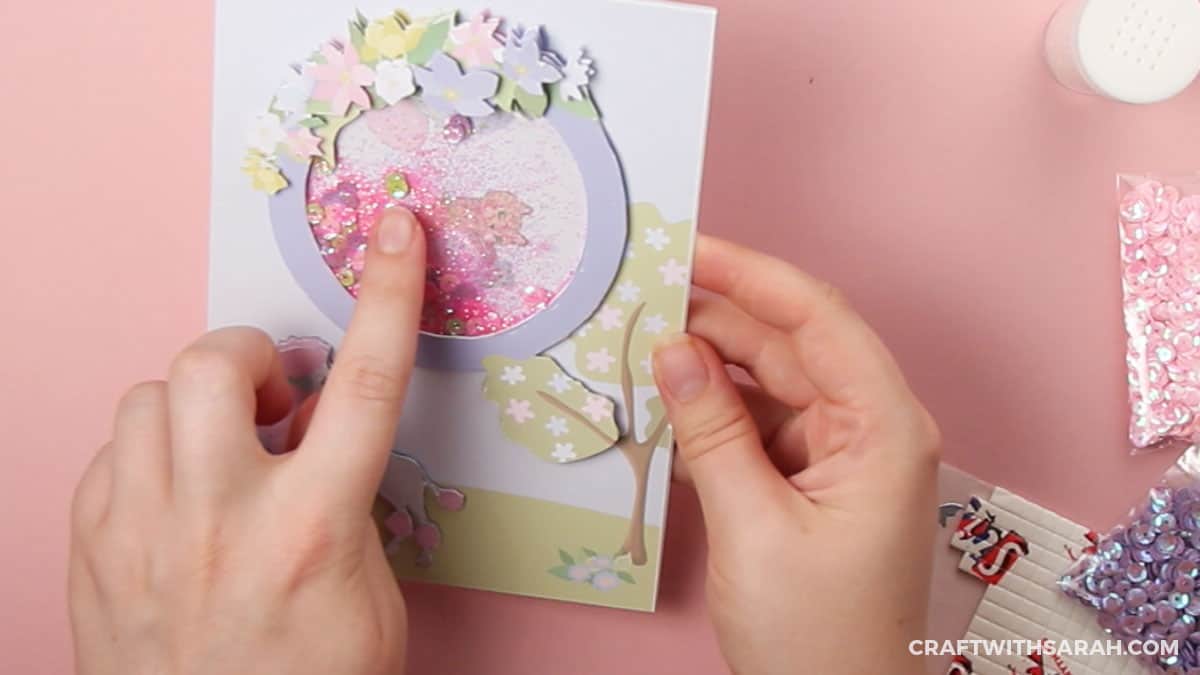 And there you have it – your shaker card is complete!
You could embellish it further by adding some peel-off stickers, sentiments or maybe even some gemstones or sequins around the edge of the purple circle frame.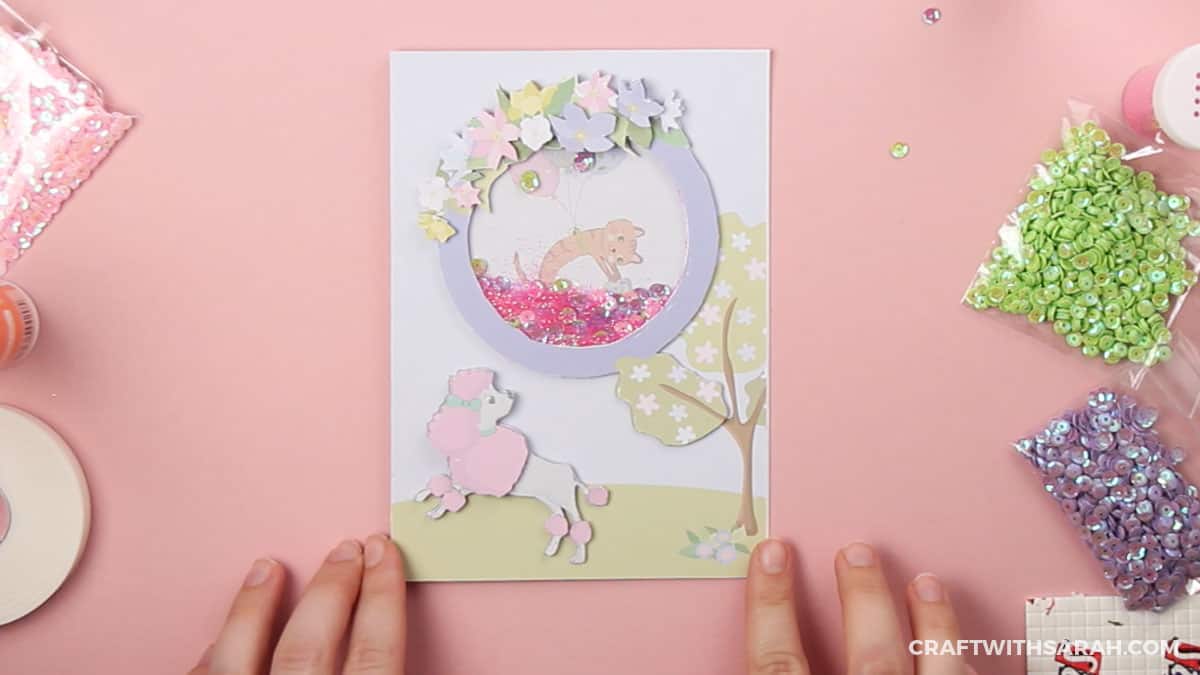 I hope that you enjoy following this shaker card tutorial.
Check out my freebie library for even more card making printables.
There are over 60 different projects to make in there!
Happy crafting,
Sarah x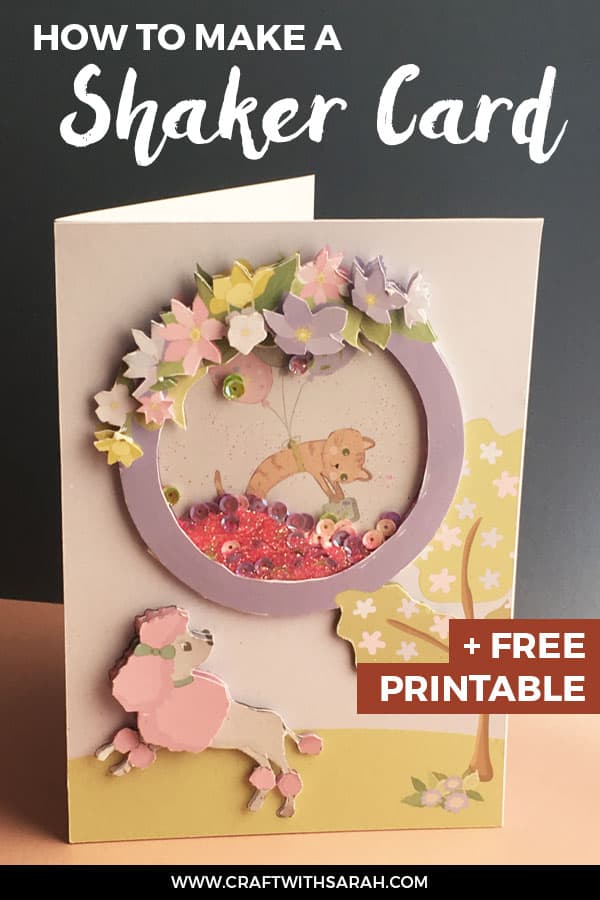 Download 'Springtime Poodle Shaker Card Tutorial'
Enter your 'Craft With Sarah' password to download this free printable.
Don't know the password?
If you have signed up before but can't remember the password, look through your emails for one from sarah@digitaldesignmastery.com as I include the password in all of the emails that I send.
If you can't find it, that's not a problem – just sign up again using the orange button above.