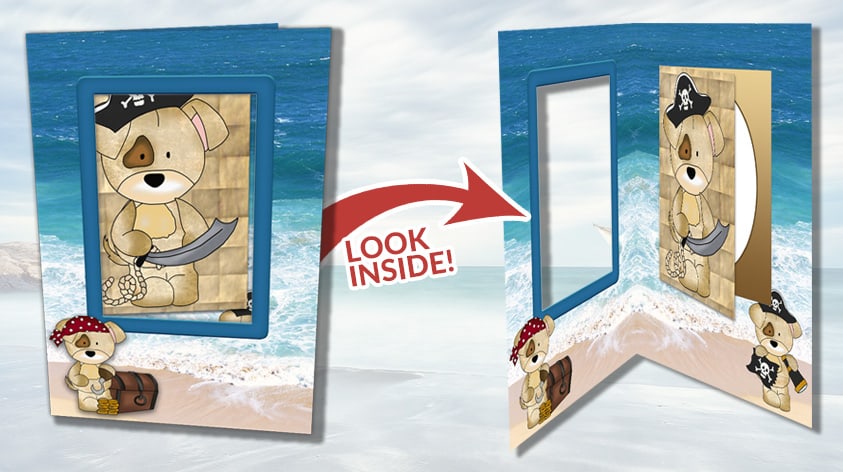 Pirate Dogs Card-in-a-Card
Published on August 24th, 2019
Make a greetings card that's perfect for pirate lovers with this free Pirate Dogs Card-in-a-Card craft kit.
Whether you know a child or an adult who loves pirates, or you just fancy making something in time for 'Talk like a Pirate Day' then this is a great card making project to work on.
Want the free printable? Scroll to the bottom of this post to download it!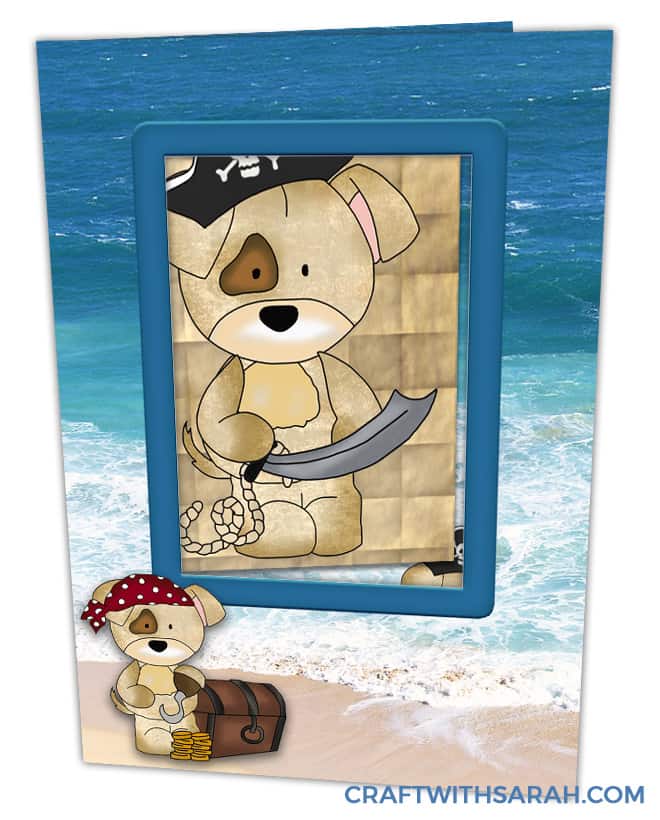 Please note that some of the links included in this article are affiliate links, which means that if you click through and make a purchase I may receive a commission (at no additional cost to you). You can read my full disclosure at the bottom of the page.
What is a Card-in-a-Card?
I first created the concept for Card-in-a-cards back in 2011. I uploaded a collection of different designs onto Craftsuprint and they quickly became on of my most popular card making kits at that time.
"Card in a card" designs feature a small card inside a larger one. This means that your recipient gets to open TWO cards instead of one – amazing!
The small card can be seen through the front of the large card as there is an aperture window.
Your written greetings to the recipient go inside the small card.
The great thing about "card in a cards" is that there is no white space anywhere on the card – everything is patterned, even the back!
"Card in a cards" are very simple to make. Full instructions are included in the kit.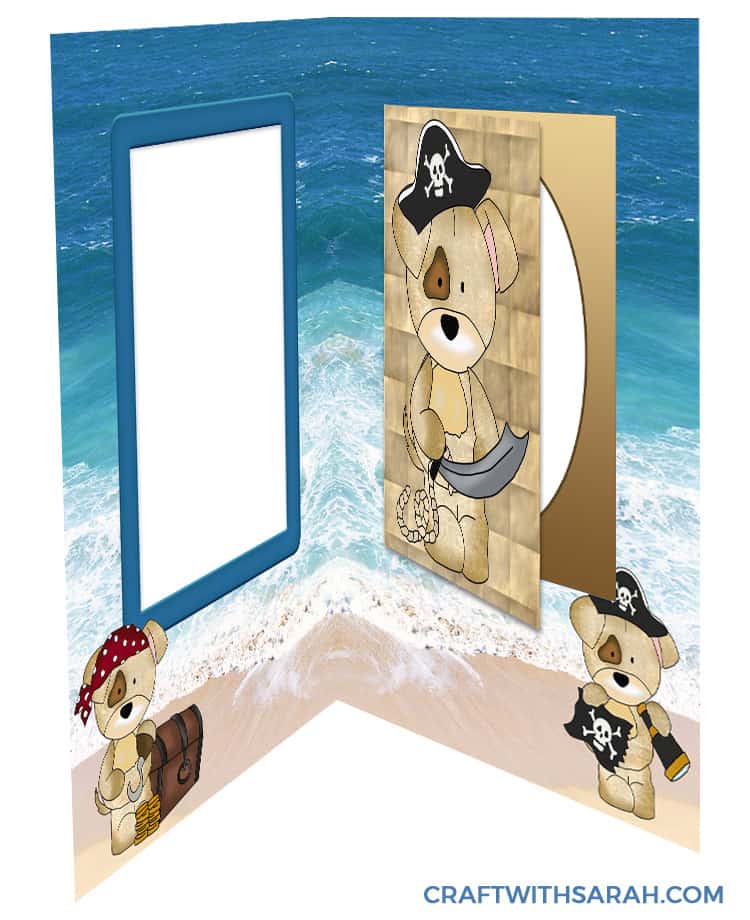 How to make a card-in-a-card
First, you need to download the free card making kit using the form at the bottom of the page.
Here are some step-by-step instructions on how to make a card-in-a-card. Full photographic instructions are included when you download the kit.
Card-in-a-card kit instructions
Print outside.jpg on one side of a piece of photo paper or card, and then turn the paper over and put it back into your printer and print inside.jpg so that it goes on the other side of the paper and you have a double-sided print.I print my craft sheets onto Crafty Bob Glossy Paper. This is a special type of paper designed especially for greetings cards and crafts. I love this paper because it dries instantly and is smudge-proof straight after printing, meaning that I can start using the printed sheet straight away.
Cut around the edge of the card, and then cut out the aperture on the front (inside left) of the card to create a "window" that lets you view right through to the back of the design. Do NOT cut out the white rectangle on the inside-right of the card.
Take the sheet called inner card.jpg and cut out the Inner Card and Inner Card Insert. Fold both of these down the middle and then stick Inner Card Insert inside Inner Card to create a standalone teeny-tiny greetings card.
Stick your tiny greetings card to the white rectangle inside your main card, and that is your Card-in-a-card completed!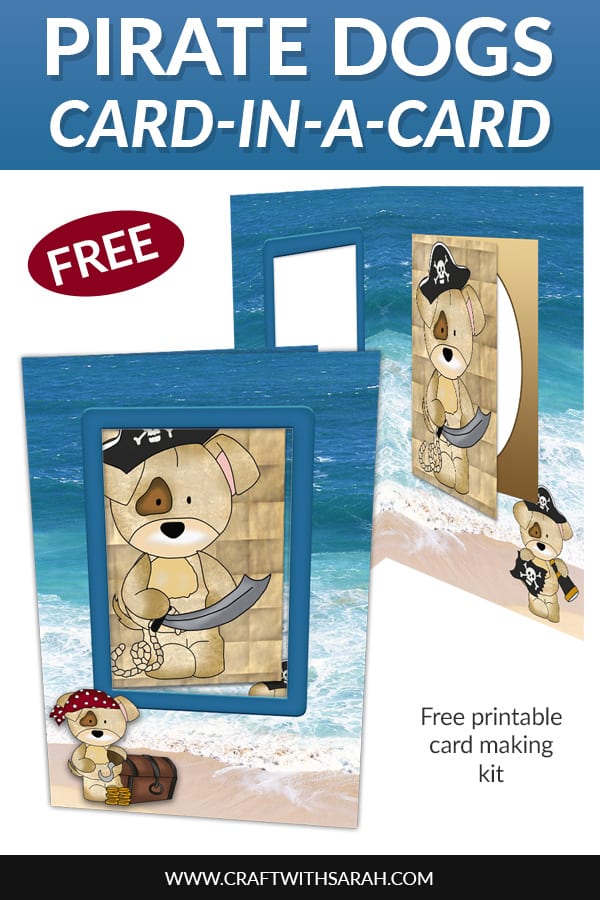 Download 'Pirate Dogs Card-in-a-Card'
Enter your 'Craft With Sarah' password to download this free printable.
Don't know the password?
If you have signed up before but can't remember the password, look through your emails for one from sarah@digitaldesignmastery.com as I include the password in all of the emails that I send.
If you can't find it, that's not a problem – just sign up again using the orange button above.
You might also like...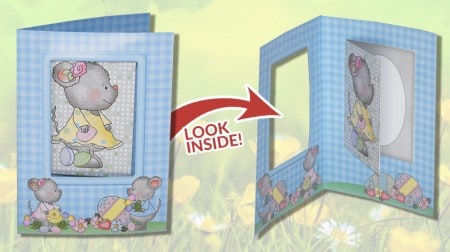 Easter Mice Card-in-a-Card