How to Make a Kawaii Pineapple Shaped Card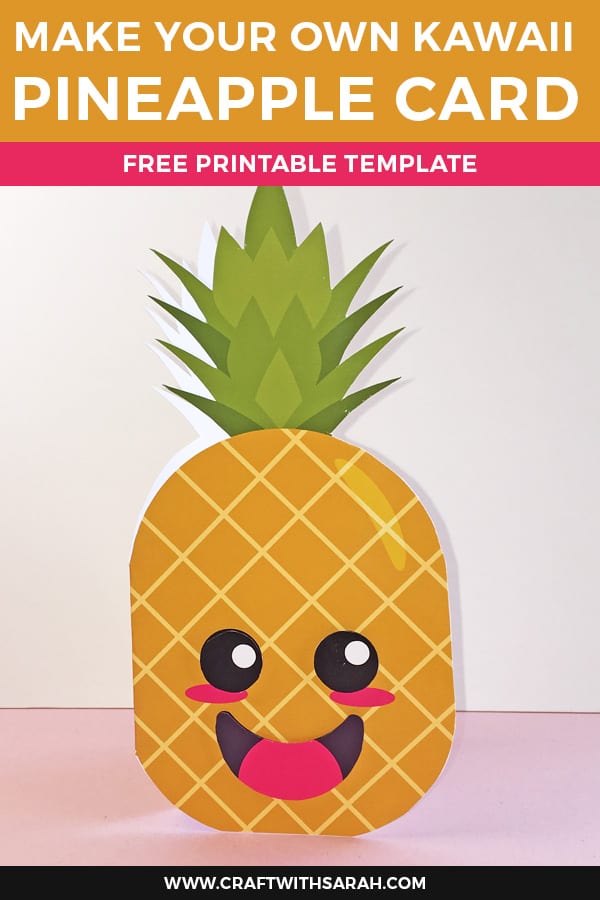 Enter your 'Craft With Sarah' password to download this free printable.
Don't know the password?
If you have signed up before but can't remember the password, look through your emails for one from sarah@digitaldesignmastery.com as I include the password in all of the emails that I send.
If you can't find it, that's not a problem – just sign up again using the orange button above.
Published on August 10th, 2019
If you're in need of a little pick-me-up this summer, this happy kawaii pineapple card is guaranteed to put a smile on your face!
I've been making fruit themed handmade cards this week (see the pear iris folding card and strawberry decoupage card) and wanted to finish off with something a little bit different.
When I saw these Kawaii fruit graphics, I couldn't resist buying them and making a super-cute pineapple shaped card.
To make your own card, use the form/buttons at the top of the page to download the free pineapple template.
This is a great craft project for older kids to practice their scissors skills.
After you've printed the free pineapple shaped card download, simple cut around the pineapple shaped card and fold down the middle to create your card.
If you want, you can stick on the eyes and mouth using 3D foam pads to add a little bit of dimension.
It's as easy as that!