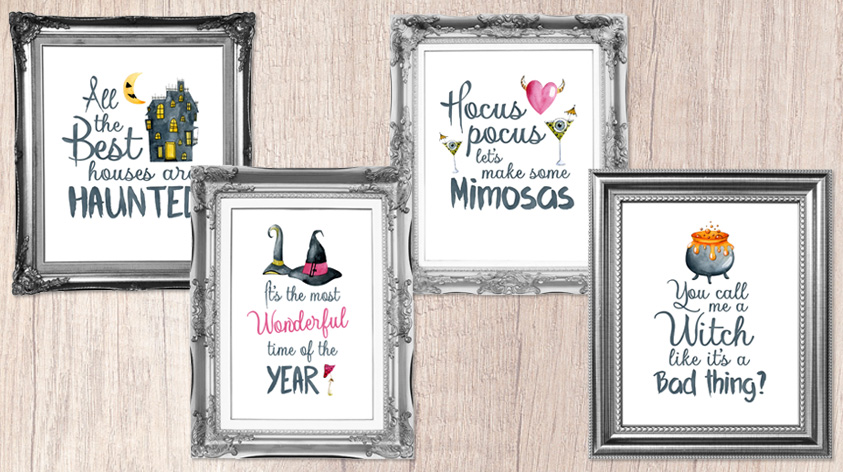 4 Spooktacular FREE Halloween Wall Art Printables
Published on October 15th, 2019
Decorate your home with these four matching FREE Halloween wall art printables.
Decorating your home for Halloween can seem like a daunting prospect.
There are SO many different themes, colour schemes and decorations to choose from – how do you decide?
I've made it easy for you with these four 8×10 inch wall art printables.
Each printable features a fun Halloween quote with pretty watercolour artwork.
Simply print, frame and hang to add some extra 'spookiness' to your home this October!
Want the free printable? Scroll to the bottom of this post to download it!
Please note that some of the links included in this article are affiliate links, which means that if you click through and make a purchase I may receive a commission (at no additional cost to you). You can read my full disclosure at the bottom of the page.
All the best houses are haunted
The first Halloween artwork features a watercolour haunted house with a spooky moon, and the phrase "All the best houses are haunted".
Hocus pocus, let's make some mimosas
Get ready for the Halloween party season with this cocktailed themed wall art printable.
The drink are complete with creepy eye decorations, making them the perfect beverage to go with the quote "Hocus pocus, let's make some mimosas".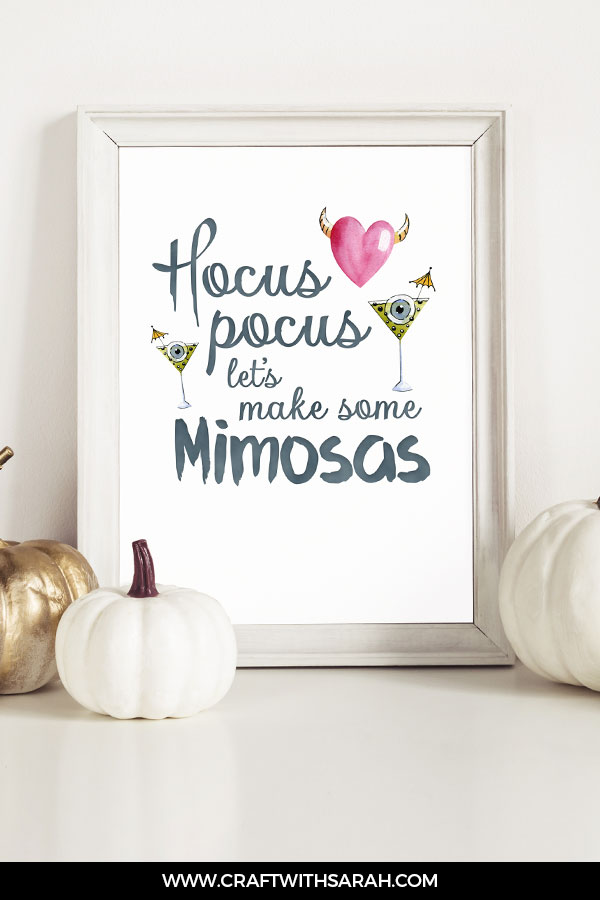 It's the most wonderful time of the year
Is Halloween better than Christmas?
I think I prefer Christmas crafting to Halloween crafts, but it's certainly a close call!
If Halloween is your favourite season then showcase your love for all things October with this play on the popular Christmas carol: "It's the most wonderful time of the year".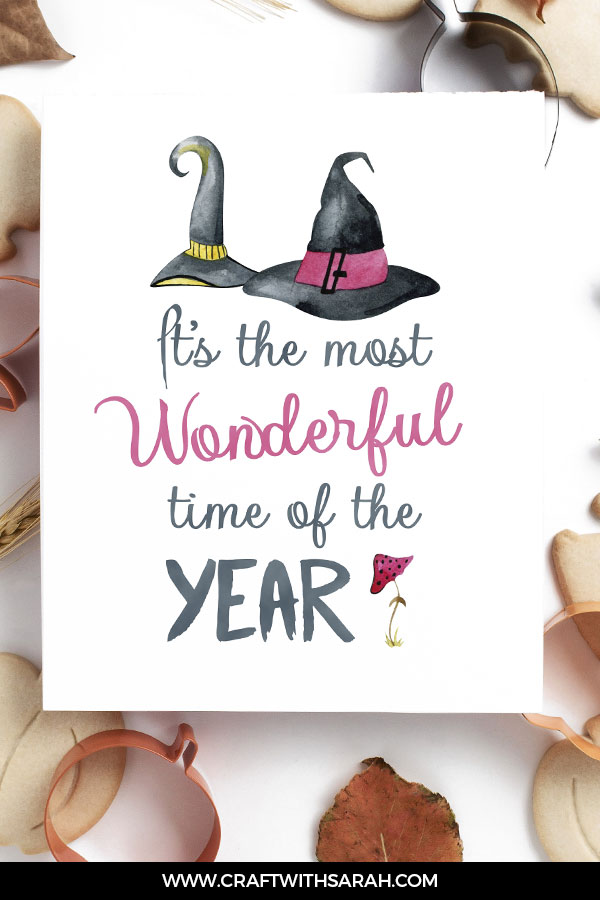 You call me a Witch like it's a bad thing?
This Halloween printable has been designed for all you Witches out there!
"You call me a Witch like it's a bad thing?" is the perfect comeback to those nay-sayers in your life!
This witch printable home decor has a couldren that's just bubbling over with thick, orange potion.
What kind of spell will you be casting on Halloween night?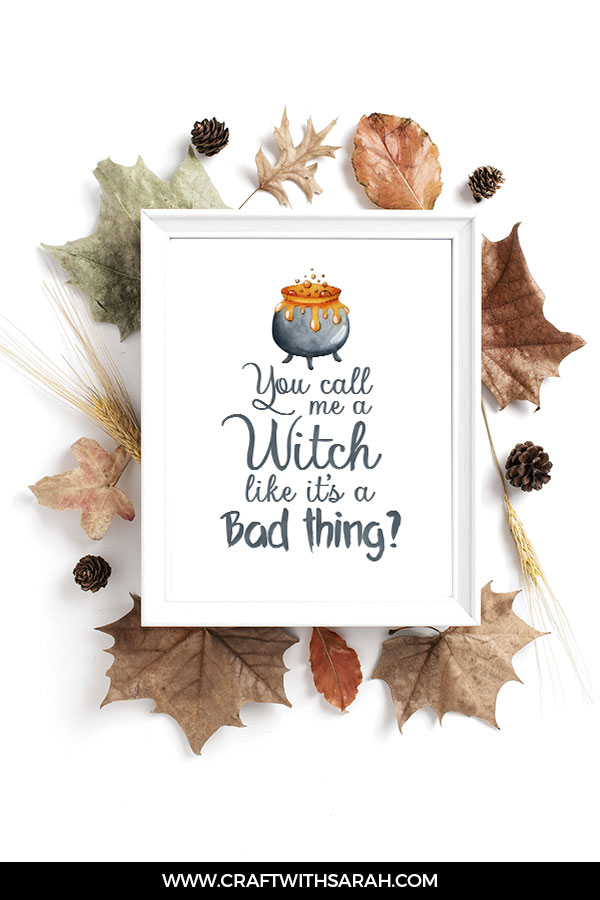 Free Halloween wall art printables
These 8×10 inch Halloween wall art printables are free for you to download and print for your own personal use.
You must not share the files online or physically, and you must not use these files for any sort of commercial gain.
Watercolour graphics and some fonts are from The Hungry Jpeg – my absolute favourite website for awesome designer resources!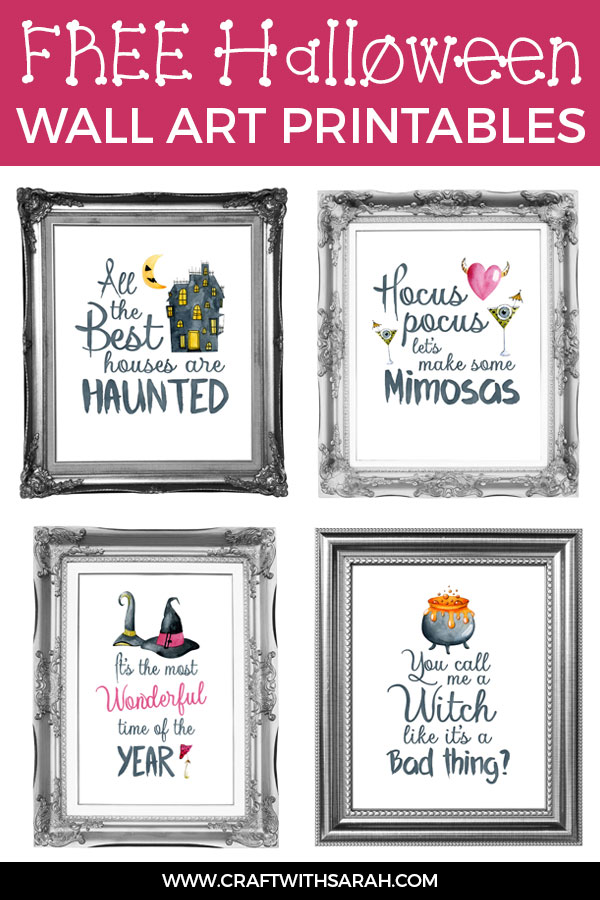 Download '4 Spooktacular FREE Halloween Wall Art Printables'
Enter your 'Craft With Sarah' password to download this free printable.
Don't know the password?
If you have signed up before but can't remember the password, look through your emails for one from sarah@digitaldesignmastery.com as I include the password in all of the emails that I send.
If you can't find it, that's not a problem – just sign up again using the orange button above.