Poinsettia Christmas Card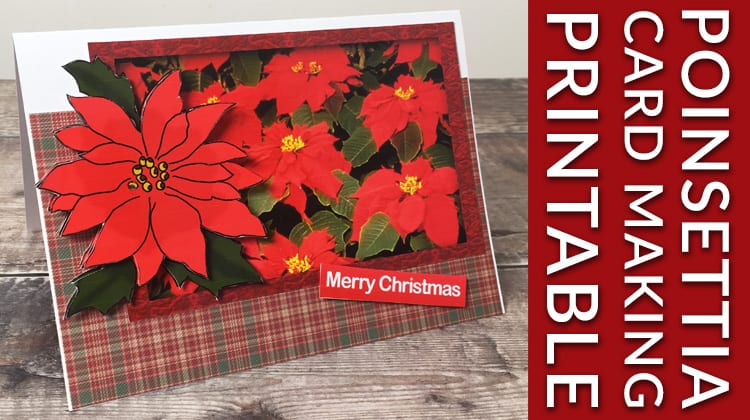 Updated on January 30th, 2019
It's Day 15 of my "Crafty Advent Calendar" where I'm revealing one new FREE craft printable every day for 25 days.
I received a couple of emails last week asking for some more traditional Christmas card making printables, so today and tomorrow's posts will be traditional festive designs.
We're starting off with this vibrant poinsettia design. It combines a cartoon-style poinsettia decoupage topper with a more traditional photograph showing these gorgeous red flowers.
Top tip: Make sure you don't miss a single day of the "Craft Advent Calendar" by signing up here.
Poinsettia Card Making Printable Instructions
Note: Some of the links included in this article are affiliate links, which means that if you click through and make a purchase I may receive a commission (at no additional cost to you).
You will need…
Free Poinsettia flowers craft printable (available in my free resource library — get the password at the bottom of this post)
Glossy paper to print on
Scissors
Paper trimmer or craft knife & cutting matt
5×7 inch card blank
Christmas backing paper (I used a tartan design from this paper pack)
Double-sided tape
3D foam pads
Make a handmade poinsettia Christmas card
Step 1: Print the craft sheet
Print the poinsettia flowers decoupage craft sheet onto photo paper or card.
I use Crafty Bob Glossy Paper which is a special type of paper designed for greetings cards and crafts.
I like to use this paper because the printer ink dries instantly and is smudge-proof straight after printing, so you can use the printed sheet straight away.
If you aren't a fan of the glossy shiny look to your printouts then the paper is available in matte too.
Step 2: Cut out the elements
Cut out all the parts of the sheet.
I used a craft knife and cutting mat to cut out the straight edges of the design so that all my edges were nice and straight.
Some of the decoupage parts are quite small, so go careful! You might want to use a small pair or scissors or perhaps a pair of specialist decoupage scissors.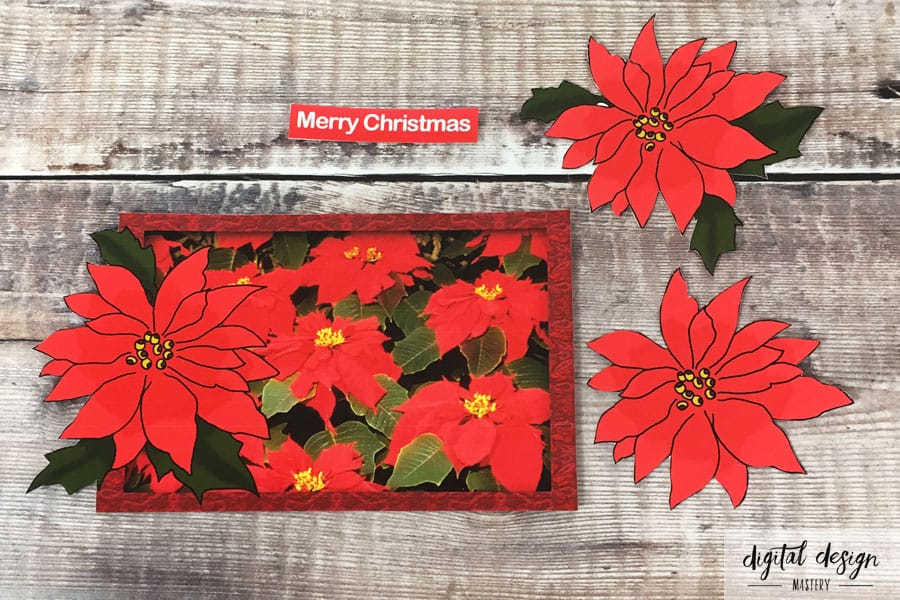 Step 3: Cut backing paper & stick to card
Cut a piece of background paper to 7 inches wide and 4 inches tall.
Stick it to the bottom of your card front (landscape!) using double sided tape.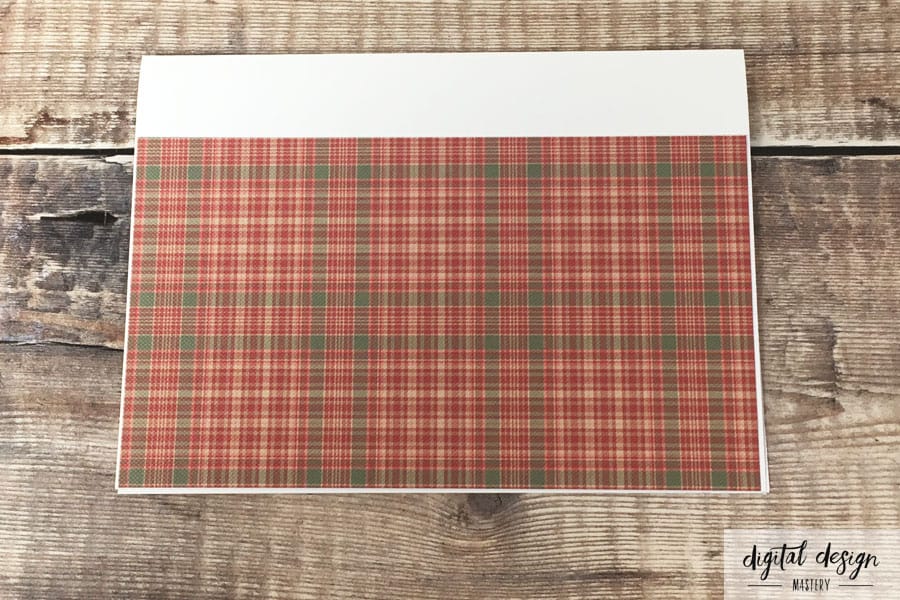 Step 4: Add the main design to your card
Use double sided tape to stick the main piece of the poinsettia card making sheet to your card.
I stuck mine to the top of the card so that there was space at the bottom to add a "Merry Christmas" sentiment at the end of the project.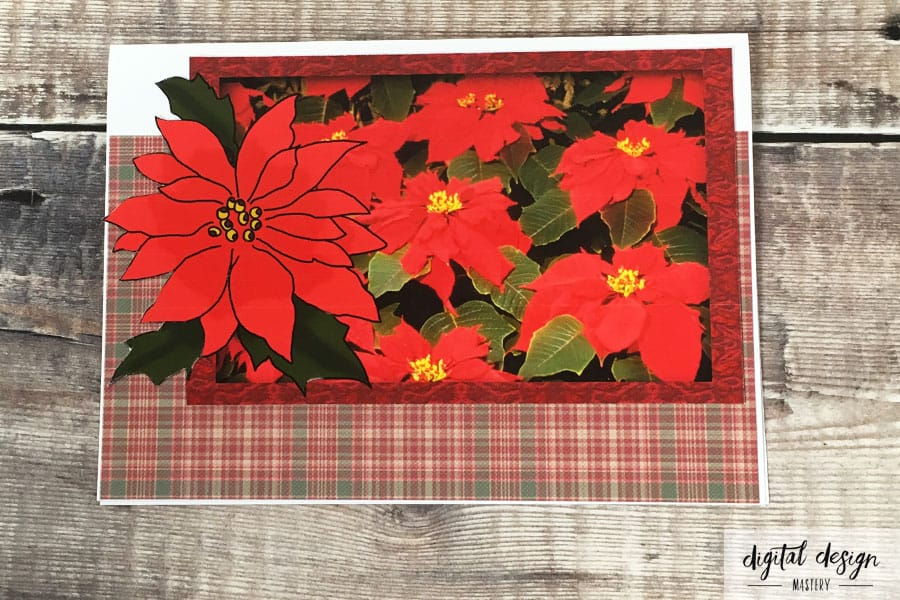 Step 5: Build the decoupage layers
Add 3D foam pads to the backs of all the decoupage shape cutouts.
Stick them onto the card front in size order, with the largest first.
This creates a 3D effect to your card which really helps to give it depth and makes the bells seem to be jumping off the page 🙂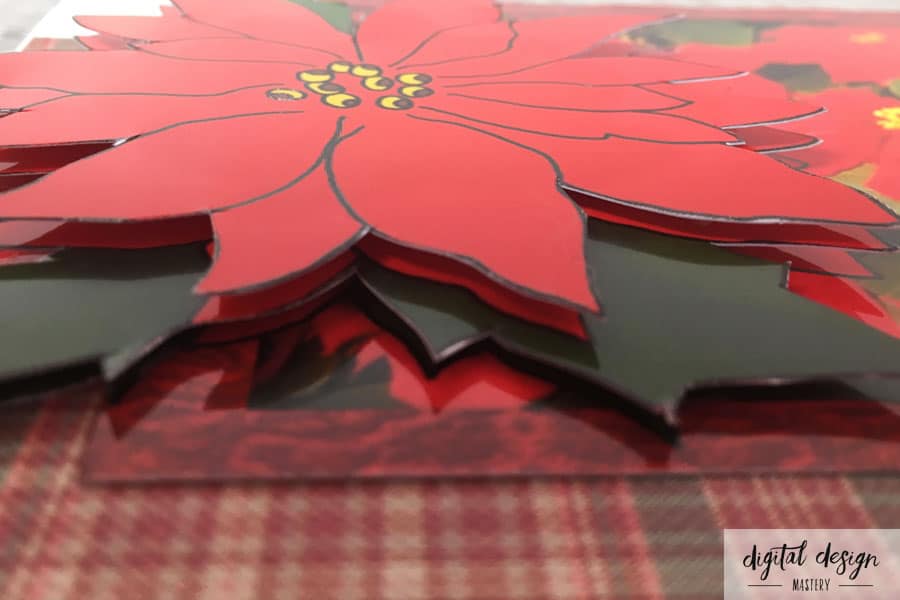 Get the free printable to make this Christmas poinsettias handmade card:
Do you want 25 Festive Freebies? Click here.