5 places to sell your card making downloads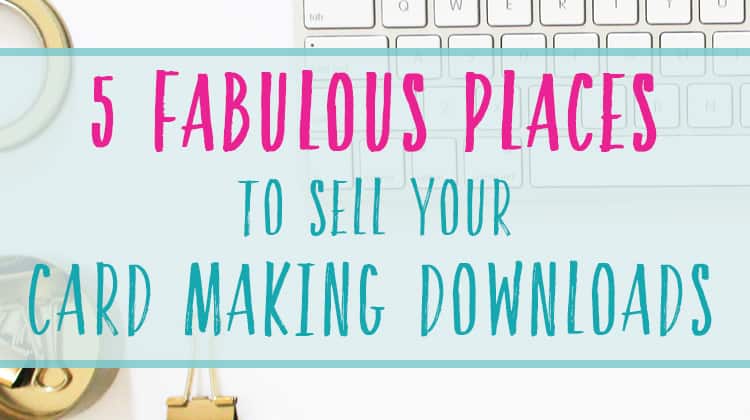 If you want to sell your own card making downloads online, one of the first decisions you'll have to make is where to sell your products.
There are many different choices available to you, from creating your own website to utilising one or more of the many card making download marketplace websites. A marketplace website (also called a multi-vendor website) is one that allows designers to create an account and set up their own virtual 'shop'.
Marketplace websites often take a percentage of all sale costs in exchange for allowing the designer to sell on their website. Multi-vendor websites are one of the most popular choices for designers looking to sell their card making downloads.
If you're unsure of where to sell your digital downloads, check out these five options for some entrepreneurial inspiration.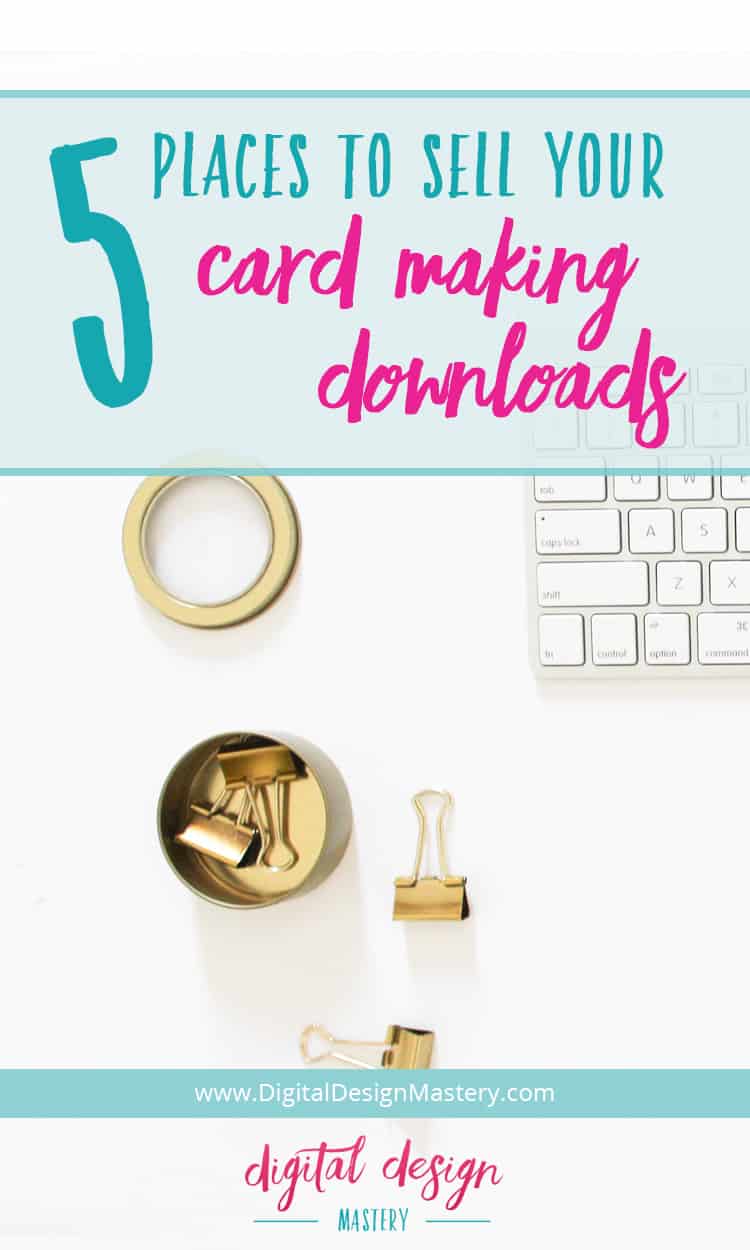 Where to sell your card making downloads
Craftsuprint
CraftsUPrint.com is Europe's leading card making download website. There are hundreds of designers and – more importantly for you! – thousands upon thousands of customers.
I have been selling my card making downloads on Craftsuprint (also known as CUP) since 2009. In fact, it's the only place where I sell my designs.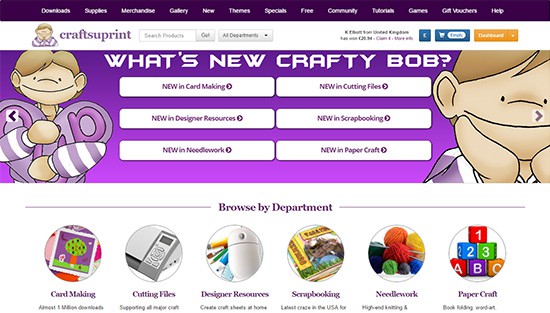 One of CUP's most attractive features for new designers is that they don't charge you listing fees when you upload your products. You can upload as many products as you want, absolutely free of charge. Then, every time they sell, CUP takes a percentage of the sale price. This is a great way of doing it because it means that designers don't have to pay listing fees for items that may never sell, making it a super-cost-effective way to get your products online.
The reason why I choose to sell my own downloads exclusively on Craftsuprint is their commitment to customer satisfaction and the amount of time and money they put into marketing their business. As a designer, all I have to do is upload my products – CUP do all the marketing for me! Also, if you sell exclusively with them, you get some fab benefits such as increased promotion of your designs.
Craftsuprint are the masters of encouraging repeat customers. Whenever someone places an order they get a free game play which gives them the chance to win a CUP voucher and other prizes. If a customer wins a voucher… that means they will almost certainly place another order, which means more sales for designers!
Last year CUP had a big website redesign and introduced lots of fancy features to give designers even more ways to make sales. You get free 'advertising credits' whenever you upload a product which you can 'spend' to promote your own downloads in prominent places across the website. The more customers who see your products, the better chance you have of making sales. Whoop!
Your own website
If you aren't so sure about joining a marketplace website such as CUP, having your own e-commerce website might be the choice for you. There are many different ways in which you can have your own website.
Some website builders such as SquareSpace will allow you to create your own website, however I strongly recommend that you pay a competent website designer to build your website for you.
They will be able to advise you as to the best e-commerce software to use to make sure you pay the least amount in commission and fees. They will be able to build you a website that emails customers their downloads immediately after payment so you don't have to worry about manually emailing them.
Best of all, hiring a website designer means that they will ensure your downloads are 100% safe – so that nobody can "steal" them from your website and access them without paying.
(As a slightly cheeky side note, I might possibly just happen to be a web designer… drop me a message if you need a website!)
The Designer Twins & Friends
The Designer Twins & Friends is a new website created by crafting sisters Sandie Burchell and Sue Douglas. The pair have been selling their card making designs online for seven years and have put all their experience at being digital designers into building their own marketplace website.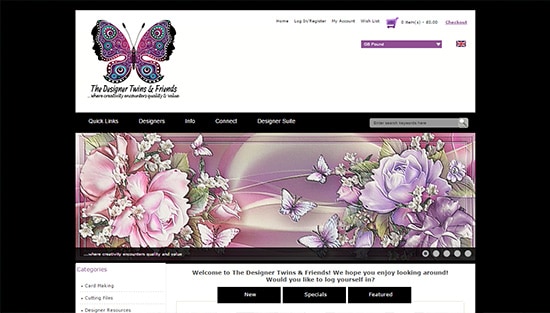 At the time of writing, there are around 20 designers on the website. This makes The Designer Twins & Friends an ideal choice for new designers as it means you have a good chance of your designs getting noticed by customers.
With some of the larger marketplace website you are selling alongside hundreds of other designers (with hundreds of new designs going live every day) so it can be more difficult to 'stand out' and attract buyers to your designs.
Etsy
Etsy is a creative marketplace with over 24 million customers from around the world. It's a website where sellers can make their own shop and upload their items for sale. Etsy only allows handmade and vintage items on their website which makes it perfect for selling your card making downloads!
You can set up your shop so that your products can be automatically downloaded by the buyer as soon as they have paid. Automating your sales process in this way means that you don't need to worry about manually emailing files and it gives greater customer satisfaction when they receive the downloads instantly.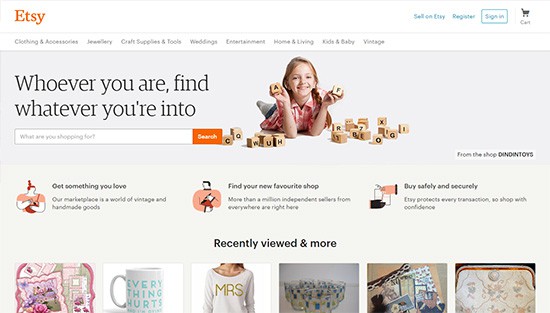 You have to pay a listing fee on a per-item basis when uploading products to Etsy. Because of this, it's a good idea to sell on another website as well as Etsy, and only upload your most popular designs to Etsy. After all, you don't want to be paying listing fees on items that you never sell!
There are other fees relating to selling on Etsy too so make sure you price your items accordingly so that you still make a profit. Click here for a guide on Etsy commissions and listing prices.
Card Making Downloads
Card Making Downloads (CMD) is another marketplace website that allows you to set up your own 'store' and sell your designs as instant digital downloads. There are no setup fees when you register as a designer and you'll get paid 50% commission on all your sales.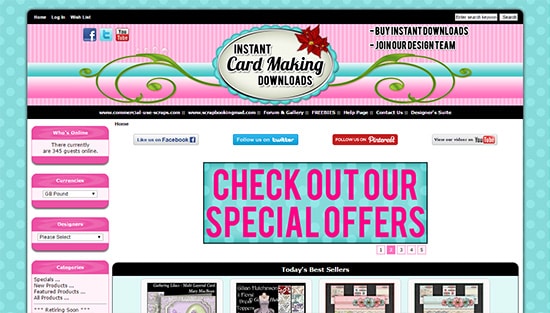 CMD give you a variety of promotional tools to use to help promote your designs, for example contributing freebies to their newsletters and running special offers on a selection of your products.
They have a couple of 'sister websites' too, including Scrapbooking Mad which is another website that you can sell your downloads on and Commercial Use Scraps where you can purchase graphics to use on your designs.
So, which option should you choose?
Ultimately, it's all down to your personal preference as to which website to sell your card making downloads on. Take a few hours to fully explore each possible place of sale. Familiarise yourself with their terms and conditions and work out how much it will cost you to sell on that platform. Find out if they will charge you money even if you don't sell anything (Etsy), or if you only pay when you make sales (most multi-vendor/marketplace websites).
Getting as much information as possible will help you to make an informed choice about where to sell your products.
If you're just starting out as a seller then I would recommend choosing one – or at a push, two – options to start out with. You don't want to overwhelm yourself with having to upload your products to loads of different sites. After all, you could be spending that time designing pretty new products instead!
As you become more established as a designer and more familiar with the product upload process, you could then start to expand into additional places of sale. Although it can be tempting, you shouldn't sign up to every marketplace website that you find just because you can. It's better to focus on selling on a few websites and do that really well then put your products here, there and everywhere and then not have any time to promote your designs.
Are you a card making download designer? If so, where do you sell your designs? Do you have your own website, or do you rely on marketplace websites? Please share your experiences in the comments below – including any marketplace websites I may have missed from this article. I'd love to hear from you!