Card Sketch #001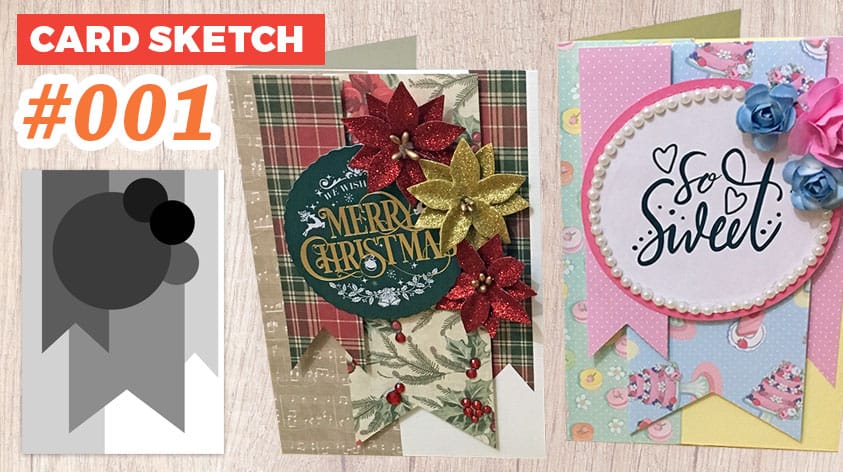 Have you ever tried card making using a card sketch for your layout inspiration?
If you ever suffer from "blank page syndrome" where you WANT to craft, but you don't really know where to start, then card sketches could be JUST what you need!
I only discovered card sketches last week, and since then I may have become a little bit obsessed…
My Pinterest feed is full of them now as I've been looking at them so often that it's started to recognise that I'm interested in them so it's showing me LOADS.
Looking through all the card sketches designed by other crafters is a great source of card making inspiration… but I wanted to go one step further and design my own card sketch!
Here's my first attempt at creating a card sketch layout – what do you think?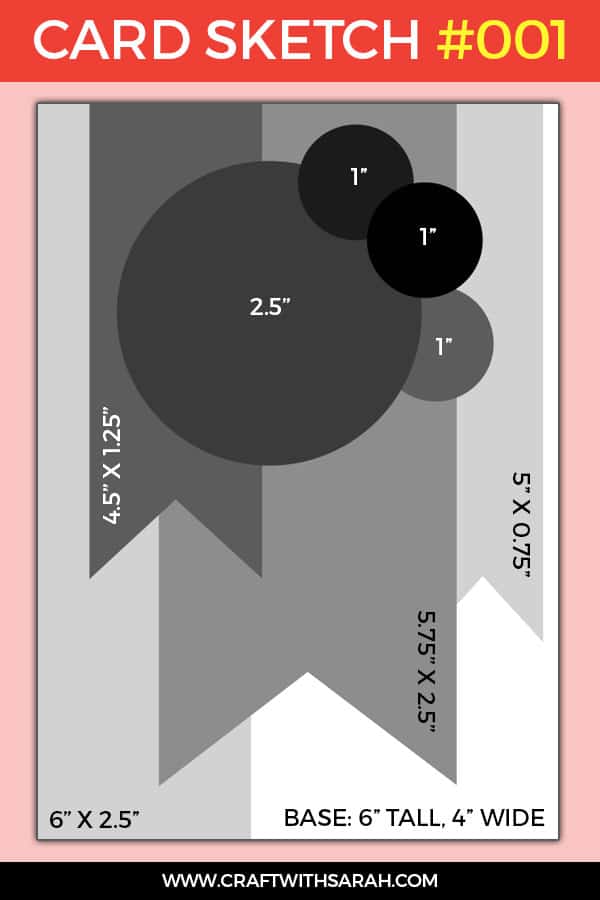 Please note that some of the links included in this article are affiliate links, which means that if you click through and make a purchase I may receive a commission (at no additional cost to you). You can read my full disclosure at the bottom of the page.
How to use a card sketch
Card sketches are really easy to use. You don't even need to print them out – just look at them on your computer, tablet or phone!
All you need to do is create your own handmade card or craft project following the layout shown on the card sketch.
So, you take the shapes and layout shown on the sketch, then recreate them using your own craft supplies such as card blanks, paper packs and embellishments.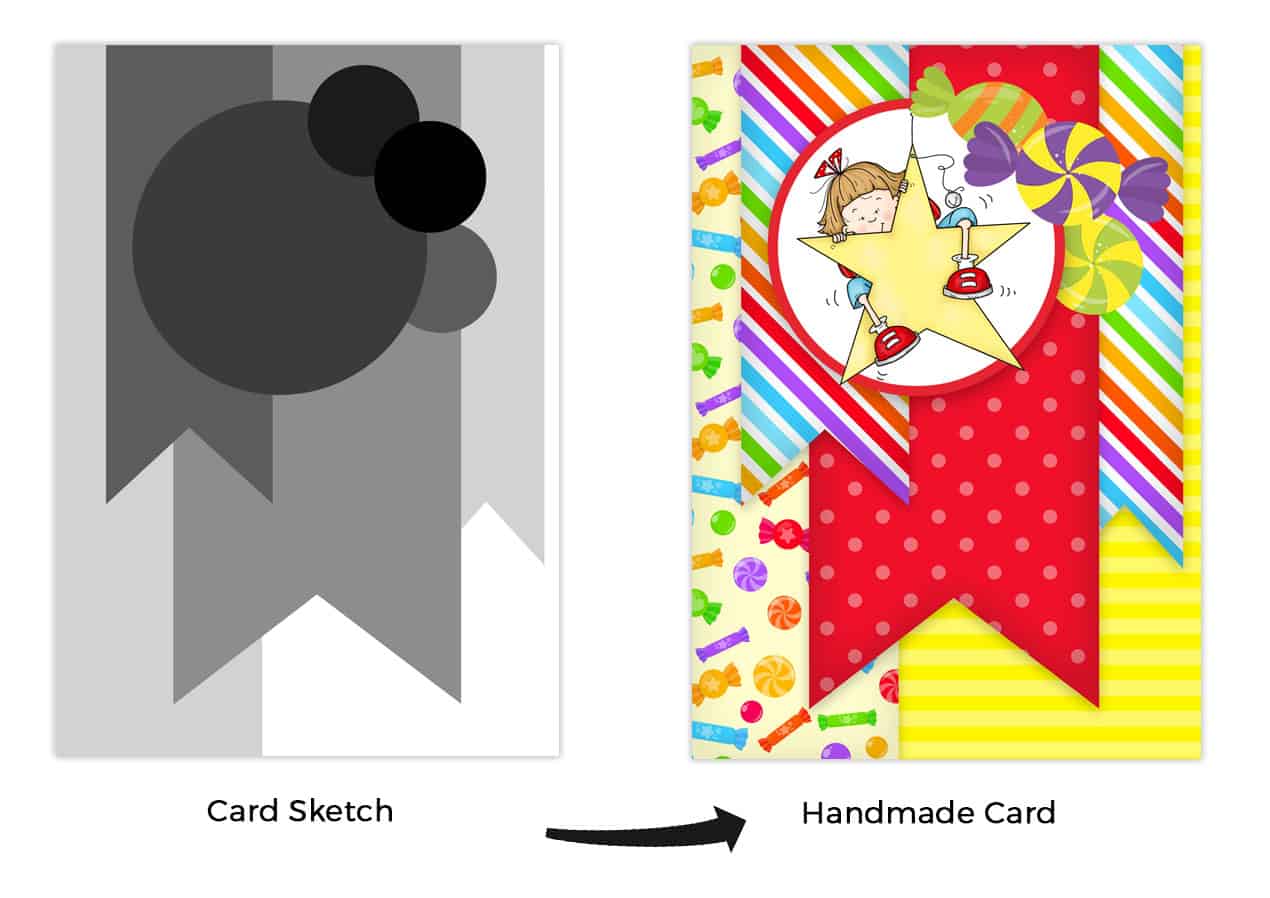 Some card sketches contain measurements (usually in inches) for if you want to make your card exactly the same dimensions as the sketch, but you don't have to stick to them that rigidly.
If you want to make a different sized card, change the proportions of the shapes, or even go completely outside the box and make a square scrapbook page or box frame artwork then GO FOR IT!
Card sketches layouts are a guide to aid your creativity – not a hard-and-fast rule that you have to stick to exactly.
Plus, they are BRILLIANT for using up all your pretty papers that you have filed nearly in a drawer… go on, admit it, you're a bit of a paper hoarder!
ME TOO!! I have so many gorgeous paper designs that I've never used which are FINALLY getting their chance to be made into cards!
Which, of course, means that I'll then have more room to buy NEW papers… right? 😀
Sample cards from Card Sketch #001
Below are two cards that I made using Card Sketch #001.
I wanted to see how the same sketch could be used to create different themed cards.
I made a traditional Christmas card and a more contemporary birthday card: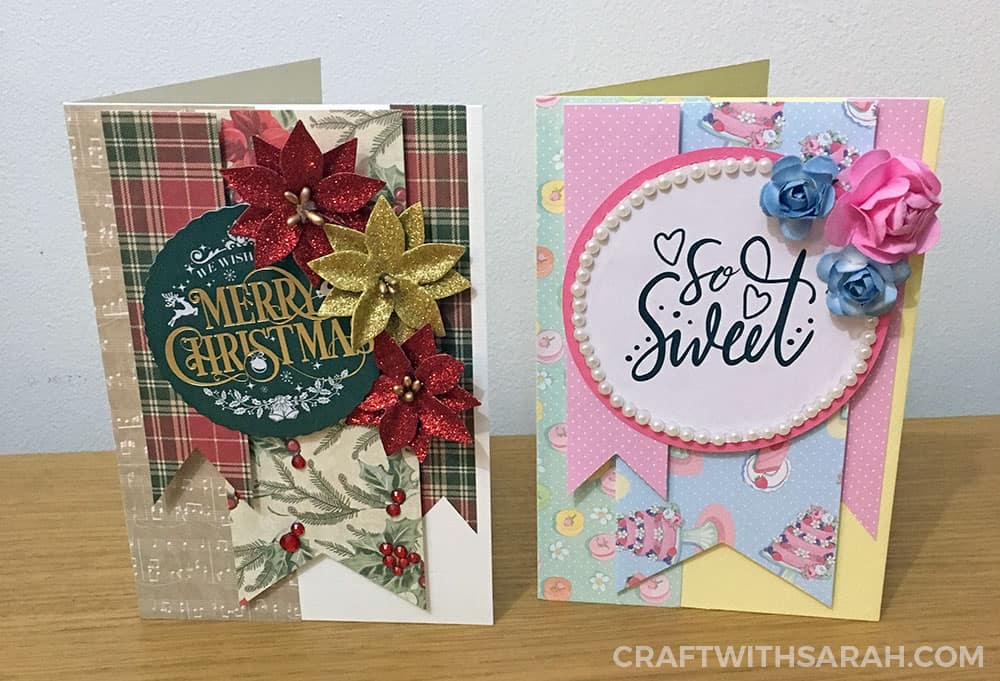 How cute did they turn out?
I'm really happy with them 🙂
Now it's your turn…
I'd love to see your creations that you make using this card sketch!
Email photos of your card to sarah@craftwithsarah.com or post them on my Facebook page.
Make your own Christmas card
Here are the supplies that you will need to recreate the Christmas card.
I have linked some of the products to places where you can buy them online. If a product isn't linked then it may be discontinued, or not currently available.
'Little Red Robin' paper pack from Dovecraft (this one is similar)
Die-cut Christmas sentiments from Buzz Craft
Make your own sweet treats handmade card
Here are the supplies that you will need to recreate the dessert-themed card:
I hope you enjoy this card sketch and that it helps spark some inspiration the next time you're looking for ideas of what to craft!
I'm going to be making more card sketches in the future, so keep checking back to see all of the latest designs or sign up to my newsletter to make sure that you don't miss any.
Happy crafting,
Sarah