5 tricks for selling more card making downloads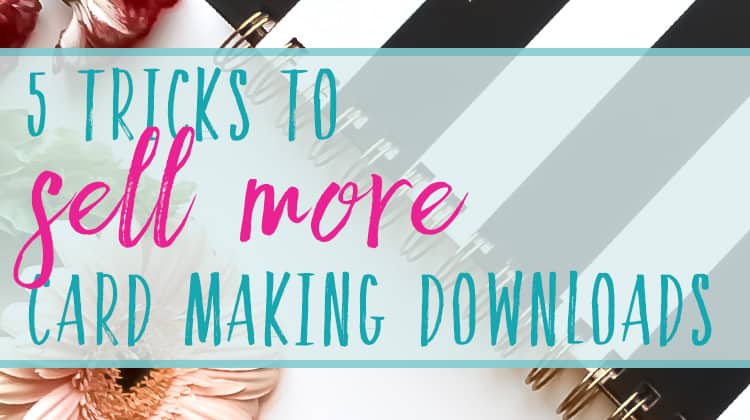 With hundreds of thousands of craft downloads for card makers to choose from, it's so important to make your products stand out from the rest. But how can you do that? Is it difficult?
Well the short answer is… NOPE! It's definitely not hard (woohoo!).
That's because there are some pretty simple tricks that you can use to add perceived value to your designs and make your card making downloads extra-special.
1. Add personalisation options
Card makers love to be able to personalise their cards. If they're browsing through your sheets with a certain person in mind and you've designed a download that specifically targets that recipient then they will be more inclined to purchase that over a more generic design.
You can target multiple people in the same design by adding sentiment toppers with different messages.
For example, on this design Sue Douglas has included messages such as "Happy Mother's Day", "Happy Birthday Dad" and "Best wishes on your retirement".
If a card making needs to make a retirement card for someone, the fact that they could personalise this design specifically for that occasion will work in your favour and might be all they need to purchase your design.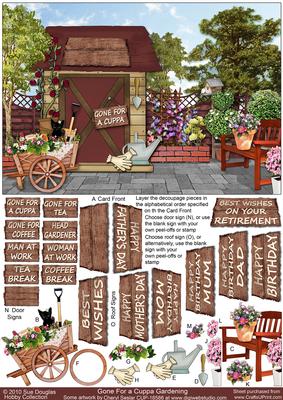 2. Add multiple 3D elements
If your design has several graphical elements to it, you can take advantage of this by creating 3D layers for each separate part.
In the design below, Amy Perry has given her design two separate decoupage elements – the shoe and the flower. This gives the card more complexity as the card maker can layer up different parts of it.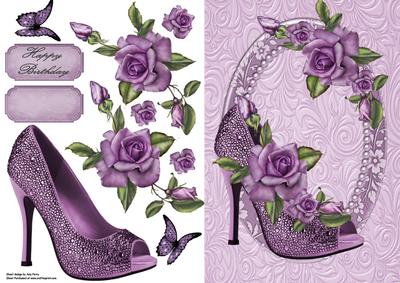 Kim Blundred has done similar with this design. Both the bouquet that the teddy is holding and the gift by his feet can be decoupaged by the card maker: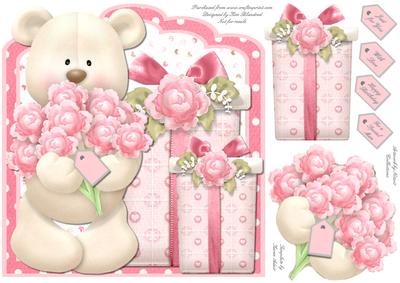 3. Design matching inserts or backing papers
When you have put hours into designing the perfect product, you want to be able to earn the most money possible from that craft sheet.
One way to increase your earnings potential is to create supplementary products that match your original. Two popular choices for that are background papers and card inserts. These are usually sold at a lower price point than the main craft sheets, however they take much less time to design as they reuse elements from your main design.
Cynthia Massey creates detailed matching inserts for her craft sheets that perfectly match the main designs.
Inserts appeal to card makers as they let them create cards with matching insides which gives a more 'complete' look. Backing papers allow crafters to create more intricate, unique designs that showcase their card making talents.
4. Photograph of a completed card
Sometimes it can be difficult for potential customers to visualise how your card making download will look as a finished card, particularly if it contains a pattern rather than a finished design such as for iris folding.
When I design my iris folding patterns I usually have the pattern tested and include a photograph of a completed card with the design. This gives a better impression as it shows that a) the pattern works and b) the type of cards that can be created with the pattern.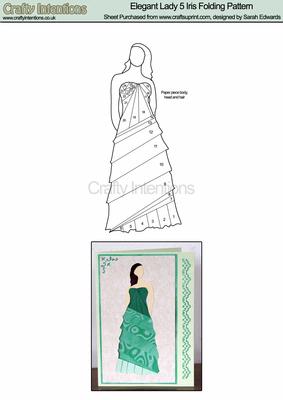 5. Digital mockup of a finished card
Sometimes it isn't practical to create a finished card for every design that you create.
Designers such as Carol Clarke have come up with a time-efficient solution to this by creating digital mockups of their designs in their finished forms.
If Carol only showed preview of the individual sheets that make up this impressive 3D card, it probably wouldn't get much interest as it would be impossible to visualise the final design so card makers wouldn't understand what they are actually buying.
Carol has overcome this issue by creating a clever digital mockup in her graphics software. It's not a 'real' physical card but it absolutely shows potential customers exactly what they will be able to make if they buy this product.